Review: Trail Kitchens' The Compact Camp Kitchen
Compact Camp Kitchen To Go
Packing all the gear you need for a romp into the wild often times requires extra room that you wish you had access to. Jamming all of your supplies, sleeping gear, recreational equipment, automotive tools and spare parts, surplus fuel as well as your food, water and cooking utensils can tend to quickly eat up space in and on your vehicle.
If you're strategic about what you bring on your trip, are mindful about the size of the items you pack and your truck has a decent amount of storage space, you can usually get away with bringing everything you need. Just because you're packing for a compact space, doesn't mean that you need to skimp on the niceties of life.
Trail Kitchens
Located in Truckee, California, just a stone's throw away from Lake Tahoe, Trail Kitchens is a company that specializes in providing portable kitchen and clean-up workstations that can help organize your gear into the most compact and space efficient packages as possible. Planning for the limited storage space found in cars, trucks, SUVs, RVs, canoes and even pack animals, Trail Kitchens has a space-efficient workstation solution that will fit just about any situation.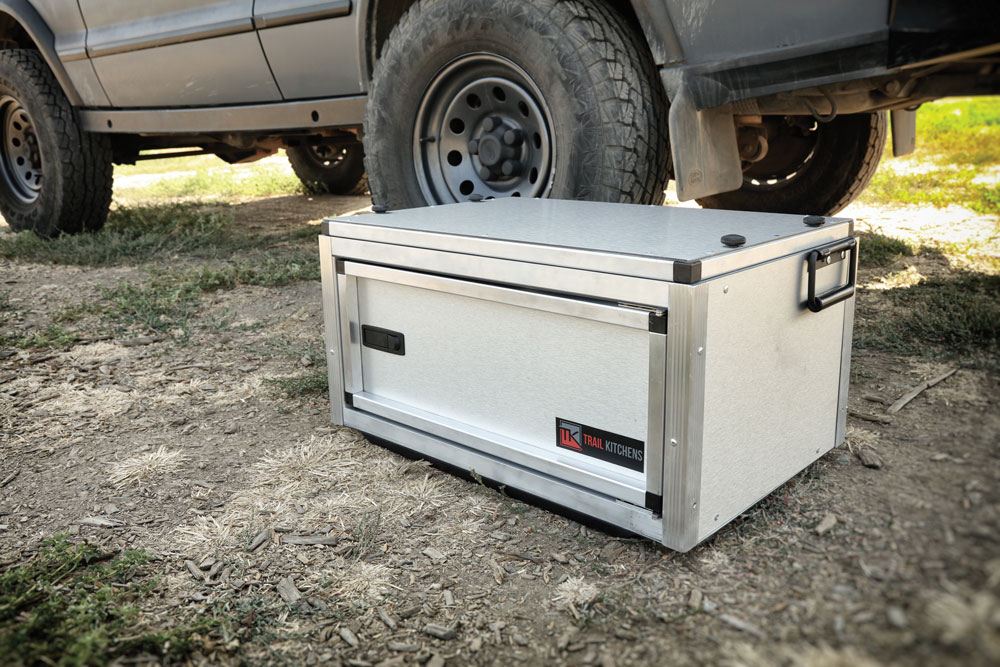 The last time we went camping, we split our kitchen equipment into two large duffel bags, a medium duffel bag and had loose accessories stuffed into our truck's drawer system. While it was handy to break all the gear up into three bags to Tetris the gear into the back of the truck, the bags and wasted space in them also ended up taking up more room than the stuff actually required.
It's All In The Box
It seems as if the designers at Trail Kitchens have been on every camping trip that we've ever been on and went ahead and did us a huge favor by designing a storable kitchen workstation that suited us perfectly. The Compact Camp Kitchen starts out as a compact storage unit—roughly the size of a large microwave—that expands by using easily mountable, self-contained pieces to become a stable and generously sized kitchen and work station.
Designed for maximum space efficiency as well as utility, The Compact Camp Kitchen is built to last from lightweight aircraft-grade aluminum and durable stainless steel. It looks and feels like it will last through many rugged adventures and provides not only a solid surface to work and cook on, but also has plenty of storage space to hold essential gear in.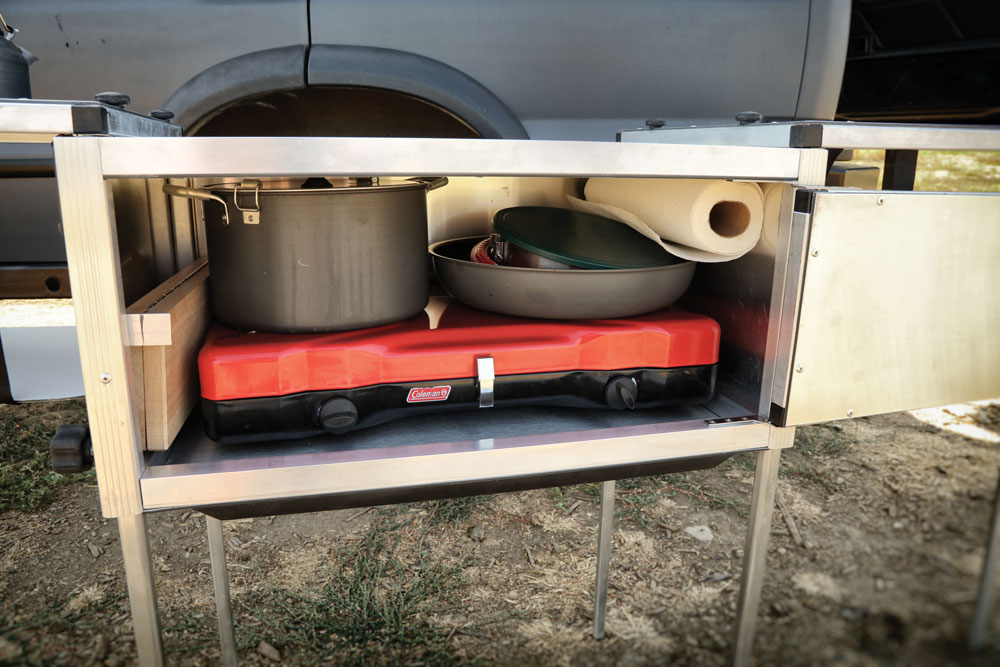 The Compact Camp Kitchen contains all of its attachments inside of its storage compartment. By unlocking its latch, the door swings open to reveal roughly 56 liters of storage space inside, which is more than enough for our usual kitchen loadout. We were able to fit our 2-burner stove, a 12-inch frying pan, cutting board, a nesting pot set, compact kettle, plates and more still with room to spare. That's in addition to The Camp Kitchen's own parts.
Putting The Camp Kitchen together took us only 5 minutes without the benefit of instructions (who reads those anyway?). The more we assembled and tore down the unit, the quicker we got.
When fully assembled, the entire setup is bigger than expected. The top surface allows for an impressive 12.2 square feet of tabletop that is split up into three sections. The center portion is recessed about two-inches deep when compared to the left and right tabletops. This recessed center section has enough space for a two-burner stove to sit in it. The tabletops to the left and right of center each measure approximately 16 inches by 23 inches. Under the side tabletops are suspended shelves that nearly double the available storage space.
Compact & Durable
When collapsed into its box form, The Camp Kitchen is easily carried by one person thanks to two offset mounted spring-loaded handles on its sides. We found that the offset handles do a good job balancing out the workstation's 25.5 pounds. To keep it from being banged up on the trail, it is equipped with aluminum plating for corner protection and plastic bottom slide rails. For those who require their kitchens to be as mobile as their off-road vehicle, an optional set of 10-inch pneumatic wheels are available as an option.
Final Thoughts
Not only does The Camp Kitchen look cool (we're suckers for its utilitarian aluminum box look), its table boasts a respectable 300-pound load capacity too. That means when its not being used as a kitchen to prepare your next meal, it can also make for a sturdy workstation capable of tackling most any job.
The takeaways after our time with it are that we really enjoyed the unit's sturdy build, well thought-out design, compact size when in its minimum packed size, impressive size when fully deployed and its seemingly endless storage space. You can be sure that we'll be packing The Camp Kitchen on our next camping trip.
Dimensions Closed: 13.4" x 16.6" x 26.5"
Weight: 25.5 lbs
Table Space: 12.2 sq ft
Table Height: 32"-34″
Table Load Capacity: 300 lbs
MSRP: $499