Badass Bandoola: A 1953 Willys M38A1 Beast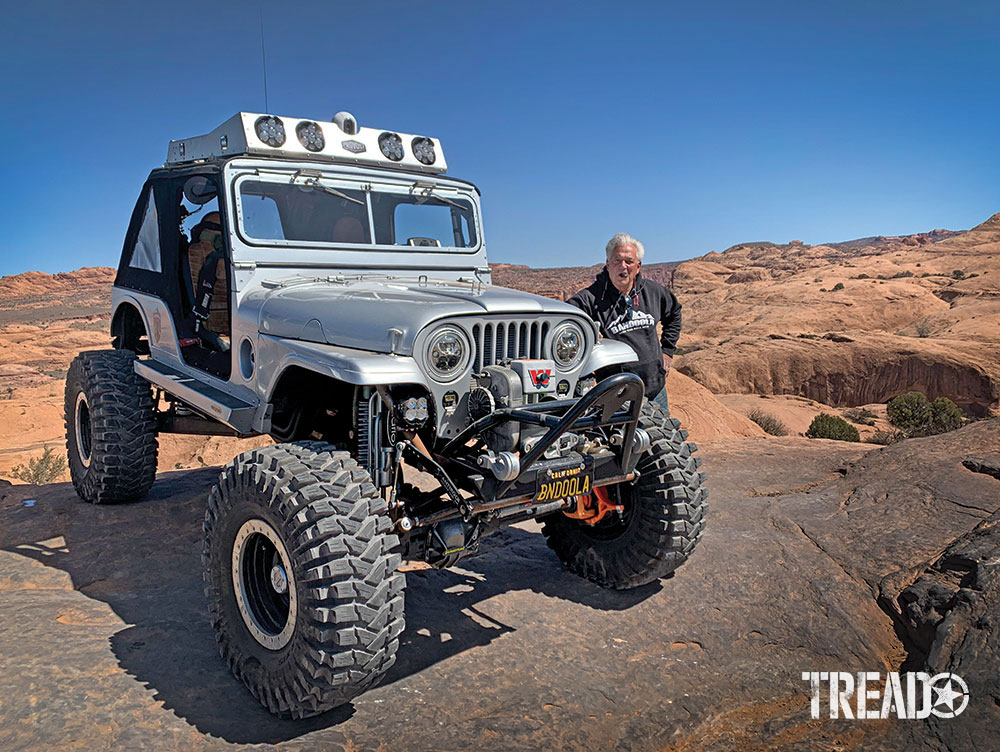 A lifelong bond between a son and his dad's 1953 Willys M38A1 surplus Jeep
G. Denny Ghiringhelli spent most of his life as a commercial airline pilot and mechanic. Used to piloting planes and wrenching on them, he recently traded in wings for wheels, with this Willys M38A1 Jeep.
Little did he know that a military Jeep his father bought in the early 1970s would play a pivotal role in his life decades later. The bone-stock 1953 Willys M38A1 became a true part of his family.
The Willys M38A1's History
Ghiringhelli's father paid about $500 for the 24-volt Korean War surplus Jeep that donned its military paint scheme.
"An interesting coincidence is that the date of delivery stamped into the data plate and stenciled under the hood was the same day, month and year as my birthday," Ghiringhelli said.
In high school, Ghiringhelli's first foray into off-roading was "to load up a couple of friends and head down to the local river to test out the 'fording' features." (His father wasn't amused when the teenagers had to be extracted from the river with the family's tractor.)
The Willys M38A1 was occasionally driven to school and through vineyards (the family lived in California's wine country). Eventually, the 24-volt system was discarded in favor of 12 volts.
Although Ghiringhelli didn't pilot the Willys for another 40 years, his dad drove it.
"He and my mom would drive around the Napa Valley, go mushroom hunting, etcetera."
Eventually, his father quit piloting it, and it "slept" in storage until 2013.
The Grand Reawakening
"I was retired from the airlines. One day, my dad said, 'Why don't you get that old Jeep running?'" (For those who aren't Italian, what Ghiringhelli's father actually meant was, "Get that damned thing out of here!") So, he did.
"We towed it to my shop, where I pulled the fuel tank and the carb. We flushed out the tank, threw the carb in the trash and put in a new one."
Bandoola became the impetus for several off-road trips and many months of upgrades, money and time.
Armed with a fresh set of plugs, new oil, new coolant and a few gallons of fuel, the 1953 Willys "spit, sputtered and smoked its way back to life." The family had resurrected the old Willys M38A1 4×4 once again.
Bandoola's Beginnings
Ghiringhelli fondly shares memories of an early outing he took in the Willys M38A1 with his wife. With the intention to show off the Jeep's capability, he drove her—on steep terrain—to the vineyard that belonged to his brother-in-law.
"On one of the steepest descents," Ghiringhelli said, "the transmission popped out of gear, and the Jeep accelerated down the hill."
His wife was frightened, but Ghiringhelli slowed down the 1953 Willys with its brakes and re-engaged the transmission. Without knowing she controlled the fate of the Jeep, she exclaimed, "This is dangerous! If you're going to drive it, you need to fix it!"
He simply said, "Yes, dear."
When she asked what it would take to fix the Jeep, he answered truthfully. "Oh, not much. Maybe a transmission swap."
His wife seemed satisfied with the answer, and years of work on the Jeep soon began. This was the beginning of "Bandoola, the 1953 Willys Beast."
"For the record—I swear—that was my plan!" Ghiringhelli exclaimed.
Bountiful Upgrades to the Willys M38A1
Familiarizing himself with local Jeepers, Ghiringhelli met Shawn Carmichael of Carmichael's Customs.
"If you're going to put in a V-6," Carmichael mentioned, "why don't you just put in a V-8?"
Because Ghiringhelli had flown some of the most powerful jet aircraft, thanks to his profession, as well as piloting fighter jets and World War II bombers as a hobby, he wasn't going to turn down horsepower. So, the V-6 was set aside in favor of a V-8.
"I voiced my concern about cleaning and boxing the frame," Ghiringhelli explained. "I could see Shawn shaking his head. 'No need. I'll build you a new frame out of square tube. We could even stretch it.'"
Under his wife's instructions to repair the 1953 Willys, Ghiringhelli said, "Well, that would fix it, and I am under direct orders to fix it. It works for me."
With the help of a donor M38A1, the frame was stretched and the suspension was changed to a spring-over type. Multiple upgrades were completed: 37-inch tires, Dana 60s, a Chevy 350 V-8 engine and a SM420 transmission (he remembered his wife's all-important request to swap the transmission). An Atlas transfer case, roll cage, a rebuilt Warn 8274 winch, Luna fridge/freezer and an espresso maker (yes, that's correct) rounded out Bandoola's first major upgrade.
Status Update
About a year into the project, Ghiringhelli's wife asked him what happened to his dad's old Jeep.
"It's over at Shawn's. Want to see it?" The words came out of his mouth before he could contemplate the consequences. "For an instant, I was a ventriloquist's dummy—my lips were moving, but the words weren't mine."
"Sure. When can we go?" she responded. She was eager to see his father's fixed-up Jeep.
"I could try to describe the feeling overwhelming me at that moment, but every guy who reads this has experienced it for himself. If he hasn't, he will," Ghiringhelli joked.
They arrived at Carmichael's Customs. The transformation was such that she didn't recognize it. "Which one is it?" his wife asked.
For a brief moment, Ghiringhelli considered pointing to one of the other Jeeps.
He shared, "One of the guys pointed to it, she stared for a moment, turned to me, laughed and said, 'Just how do you plan to get into it?'"
Ghiringhelli had no clue.
Ready for the Rubicon 
After successfully piloting easier trails in Moab, Ghiringhelli's buddies coerced him to tackle the Rubicon Trail. It was a completely different experience for him.
"I had no idea the obstacles these Jeeps could conquer and no clue as to how to accomplish it." If he hadn't witnessed it in person, Ghiringhelli wouldn't have believed their capability.
After successfully navigating the Rubicon Trail (with the help of spotters), Ghiringhelli said he wasn't quite hooked but found it intriguing. "One thing was for sure, if I was going to try [the Rubicon] again, I needed better equipment."
Enviable Upgrades to the Willys M38A1
Ghiringhelli upgraded the 1953 Willys to be even more capable for his next trip to Moab. The military surplus Jeep went back to the shop for a coilover front suspension, coupled with Radflo shocks.
Moab proved a challenge. It was an invitation to learn more. At one point, Ghiringhelli felt like the guy in Jaws when the actor says, "We're gonna need a bigger boat."
After a consultation with Phil at Liberty Mountain Fabrication, Ghiringhelli added a coilover on the rear. Additional off-road trips equaled more upgrades. Long trailing arms and upgraded Radflo quad bypass shocks for the rear, and a new fuel tank featuring a through-tube allowance for the torsion bar were incorporated. Wheels were upgraded to 17-inch Battle Born beadlocks shod with massive, 40-inch Maxxis Trepador tires.
More Trips, More Upgrades
Yet another outing to Moab and California's Fordyce off-road trail (located about 25 miles outside of Truckee) taught Ghiringhelli that he needed more experience and horsepower to turn those 40-inch tires. Another round of upgrades was in order … and they were extensive.
A linked leading arm suspension with Radflo quad bypass shocks was added on the front. RCV axles were also added, and a new, late-1990s Chevy 350 (bored and stroked to 383) replaced the existing powerplant. A beefier SM420 Con-Diesel transmission was installed, and a custom Atlas transfer case and a larger Luna fridge/freezer rounded things out.
Further mods included electrical upgrades with Provost Motorsports. They installed sPOD control units, a MoTec engine management system and electric fans. A new custom roof rack, Baja Designs lights and a Raymarine forward-looking infrared unit were also installed.
Alligator seats were also integrated (yes, you read that right). Additionally, a Wilwood cutting brake, electric parking brake and an improved feed system for the aux fuel tank were implemented—really making Bandoola one bad-ass beast.
Payback Time
Bandoola became the impetus for several off-road trips and many months of upgrades, money and time. Ghiringhelli's wife continued to support her husband's massive 1953 Willys 4×4 build.
She never objected, and her only question was more like a statement: 'So, you're getting it how you really want it?'
Then, one fateful morning, Ghiringhelli was stopped by his wife.
"Do I want to know how much you've spent on that Jeep?" she asked. (The theme from "Gilligan's Island" played in his head: "The weather started getting rough … ") He thought he was in trouble.
"No," Ghiringhelli said—and kept walking. There was no rebuttal.
The next morning, he walked downstairs. Before him sat his laptop. "It was open, and there was a picture of a Mercedes SL550," he remembers. "There was also a note affixed to the screen with a smiley face and a list of dealers who had them in stock."
"One thing was for sure, if I was going to try [the Rubicon] again, I needed better equipment." —G. Denny Ghiringhelli
Acceding to his wife's request, he finished breakfast and drove her to the Mercedes dealership. Now, it was time to fulfill her dream of vehicular adventure.
You can follow G. Denny Ghiringhelli's adventures on Instagram @bandoolajeep.
Ghiringhelli would like to recognize the following people for their support, participation and contributions to the design and construction of this vehicle: his wife, who came up with the idea, as well as her continued support for all the mods; Shawn Carmichael of Carmichael's Customs for all the initial "build-and-stretch"; Phil Licciardi at Liberty Mountain Fabrication; Dennis Meyers and the crew at Provost Motorsports; Aaron Orlick at Battle Born Wheels; Baja Designs Lighting; Scott Weems at Napa Valley Ag Repair; and Doug McNeely at Snap-on. 
UPGRADES
1953 WILLYS M38AI
Engine: Late-1990s Chevy 350 (bored and stroked to 383) AND balanced; roller cam; aluminum heads;
Edelbrock: Pro-Flo 4 EFI (Built by Chris Douglas/Douglas Auto Machine)
Transmission: GM SM420 Con-Diesel (NOS)
Transfer case: Custom Atlas (race case, right drop, short tail, 4:1); Built by Advance Adapters)
Differentials: (front) Custom Dynatrac Dana 60; Detroit Locker .500 DOM tubes, trussed; RCV axles—full float; Reid Racing C's & knuckles; Yukon hubs; Wilwood disc brakes; (rear) Custom Dynatrac Dana 60; Detroit Locker; .500 DOM tubes, trussed; SOLID axles—full float; Yukon hubs; Wilwood disc brakes; Wilwood electric parking brake
Suspension: (front) Liberty Mountain Fabrication custom coilover Radflo quad bypass shocks, leading arms; Currie Anti Rock sway bar; Limit straps; (rear) Liberty Mountain Fabrication custom coilover Radflo quad bypass shocks; 4 link trailing arms; Currie Anti Rock sway bar; Radflo bump stops
Wheels & Tires: Battle Born Bootlegger 17×9 3.5" backspacing; Maxxis Trepador Competition 40X13.50-17
Exterior Accessories: Vision X headlights; Baja Designs S2 (modified) turn signal; LP6 in-grillE rock lights; LP6 Pro S2 Pro in-LINE roof rack; Buggywhip; Warn 8274 with upgrade; Bubba Rope synthetic line; Factor 55 Flatlink; Custom main gas tank by Liberty Mountain Fabrication; custom aux gas tank by Provost; custom storage by Provost; Custom engine/transmission/transfer case skid plates by Liberty Mountain Fabrication; custom 3/16 aluminum side panels; Rock Slide Engineering Sliders; Custom bodywork by Carmichael's Customs (in Napa, CA); Safari windshield; Monster Hooks; Extreme Outback onboard air system; Borla Exhaust custom headers
Interior Accessories: PRP heated seats; Custom alligator hide covering by Provost Navigation; Lowrance GPS; Raymarine FLIR/night vision; MoTec engine management and display; SPOD systems control; SOBEK ignition kill switch; Kenwood 110-watt radio; PCI intercom/headsets/Bluetooth; SAT phone; 2 Odyssey 12V batteries; 200-amp alternator; 12V-to-110 inverter; National Luna 60L fridge/freezer; Handpresso 12V espresso maker
EDITOR'S NOTE: A version of this article first appeared in Tread September/October 2021.