2018 Toyota Tacoma TRD Off-Road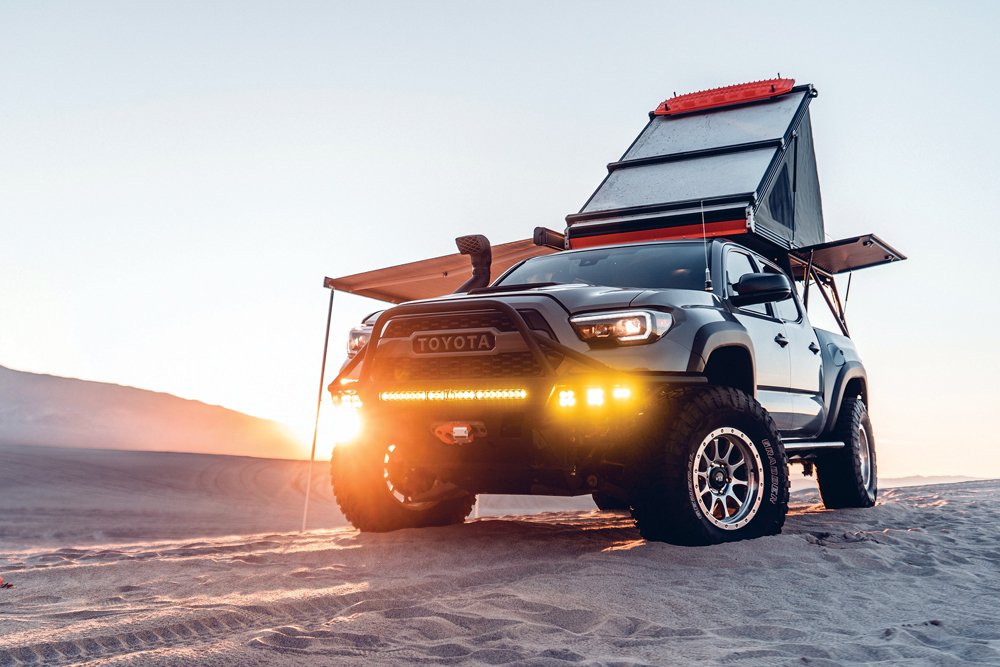 Tacodust's Toyota Tacoma Dream Truck
It's not every day that a person finally gets to purchase his dream truck. And it's not every day that a person sees his dream truck get totaled after only having it six months. But while some may look at that loss as a dream crusher, Jason Denney saw it as an opportunity for improvement and a way to mimic the impeccable design and thought put into his company's new product, the RIGd Supply UltraSwing. Just like a phoenix rising from the ashes, this 2018 Tacoma TRD Off-Road was born from the ashes of its predecessor.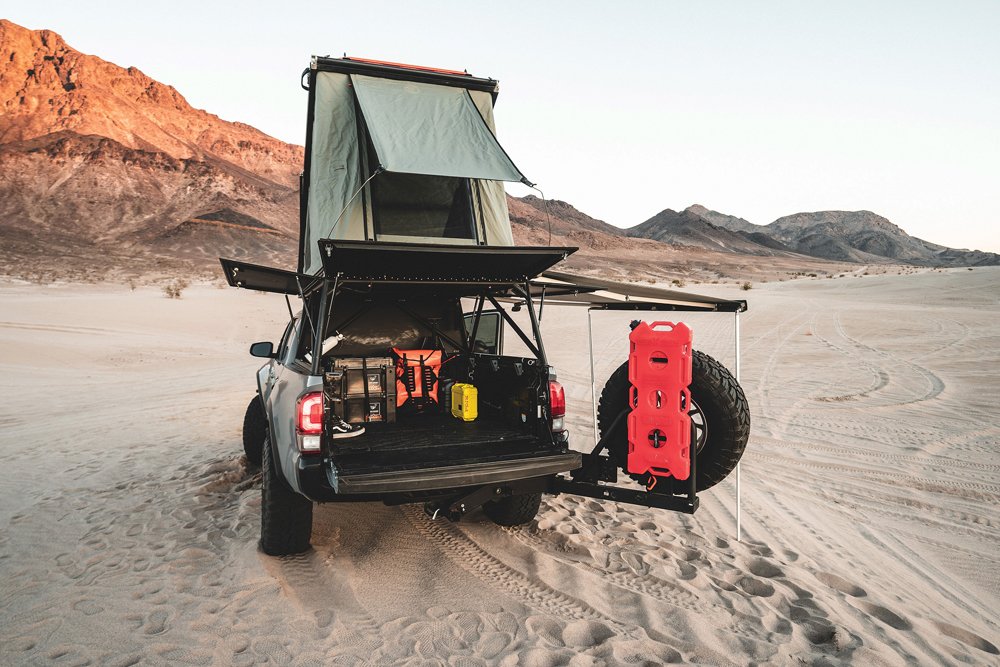 Dreams Come True … and Crash
Ever since Denney was a boy, he dreamed of one day owning a Toyota pickup. He wanted to follow in his father's footsteps, who owned a 1992 Toyota pickup bought brand new for $9,000 without any options or power anything—it was rad. As Denney entered high school and got his license, he wanted a Tacoma more than anything but couldn't afford it. Through the years he was able to obtain a few secondhand trucks and 2WD prerunners, but not the off-road truck of his dreams.
"… within five weeks of having it, the brand-new truck that was bought with zero miles on it was leaning on its side, held up by a VW Bug–sized boulder …"
Fast-forward to 2017 when the stars lined up, his hard work paid off, and he was finally able to purchase his dream truck, a 2017 Toyota Tacoma TRD Off-Road 4×4. It was the nicest and most capable truck he had ever owned. It was also the most expensive thing he ever owned. The best part: it was a 4×4. This opened up a whole new world of possibilities for Denney. Over the next six months he drove that thing to the ground, literally. He proceeded to smash the stock bumper, taillights, doors, rocker panels (he didn't see the need for sliders), tailgate, and eventually ended up rolling the truck, resulting in a total loss. Denney was completely devastated. It's not every day you finally get the truck of your dreams. There was definite emotional attachment to it, so much he even debated on replacing it. With its demise, dreams were crushed. However, Denney wasn't going to let his own carelessness dictate the fate of his dreams. He learned from the experience and got wiser.
Feeling like he got a "get out of jail free" card when he was able to walk away from the incident, Denney took his insurance money and sought his new ride. He removed all his modifications from the now-totaled Tacoma, since insurance wouldn't cover the costs, and saw it as a chance to start over. He was not going to make the mistakes he made with the previous truck. It was then that the gears started turning on a new build—the one you see today.
The Rebirth of a Dream
It was right about the time the new model TRD Off-Road line was being released. Denney had his eyes set on one with the new color and trim. He and his fianceé, Rachel, set out to find it by calling and emailing dealerships for a solid two weeks with no luck. But as the tides would turn, an impromptu trip to a dealership after hours proved itself worthwhile. A quick glance around the dealership turned into the unveiling of not-yet-inventoried Tacomas in a parking garage. Denney stepped out of the elevator and as if a spotlight shined upon them, there sat two of the very trucks Denney and Rachel had been so desperately seeking. One was already sold and the other went home with Denney the very next day. Ecstatic to find the exact truck he wanted, he was ready to pay full price, but his savvy lady wasn't having it. She was able to lower payments a $1 a month even though the new truck stepped up in trim level. Now that's what we call teamwork.
The Dream Build Gets Better
Going into the new build, Denney found his wants and needs were always changing. When he first bought the truck, all he wanted to do was go play in the rocks. And he did. So much, he thought he should have gotten a Jeep and even advertised that on his Instagram, showing his enthusiasm. In fact, within five weeks of having it, the brand-new truck that was bought with zero miles on it was leaning on its side, held up by a VW Bug–sized boulder in Johnson Valley, California. And not to be trumped by his new love for boulders, he also wanted to be sure it was capable to go camping—the whole reason he bought the first truck in the first place. Then add to that the amount of travel he was doing for work with his then newly launched company, RIGd Supply, and this truck needed to be capable to do it all.
Gracious for the opportunities that arose from building the Tacoma TRD Off-Road, he worked with C4 Fabrication on the design and fit of their Hybrid bumper, which you see on many Tacomas today. Add to that the addition of C4 Fab Rock Sliders, Skid Plates, and Diff Skid, and the rig was armored up and ready for any rocky terrain—and Denney's love for boulders. This truck wasn't going to get smashed up like the last one.
"When I want to go fast through the rough stuff, slow through the big stuff, and still make it to that epic spot all in one day, I know this little truck will do it."
Other similar opportunities were presented as Denney's vision and needs came to fruition. He also got the chance to work with VTX Wheels and sported a one-off finish of the Rogue wheels, which they now offer. Those wheels meet the pavement wrapped in General Tire Grabber X3s sized 35×12.50-17, front and rear.
His love to go out to the desert is complemented by his love to go fast. Soon Denney learned that he was asking a lot from the very underpowered and overloaded Tacoma TRD Off-Road. He had kept his truck mid-travel for the first year and a half he had it, but realized that it needed something else. It was then that he learned about weight distribution. He realized it wasn't just about the weight, but where the weight is located that affects performance. And that is how each component on the build was then prioritized.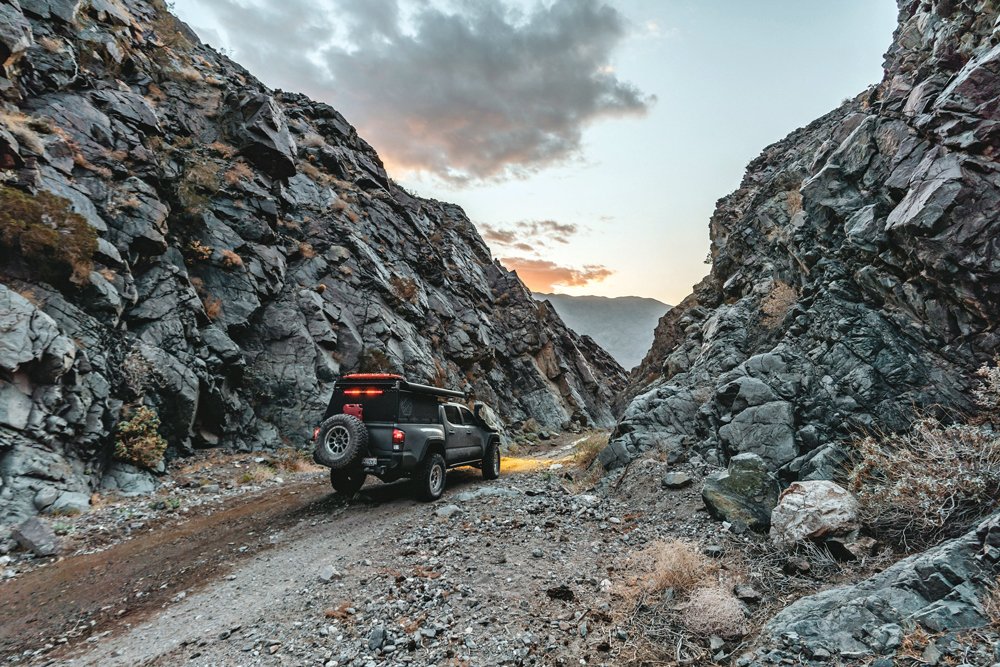 Gone went the heavy components, on came the thoughtful modifications that would enable it to be a versatile beast. Built to mirror the benefits of the RIGd Supply UltraSwing, the Tacoma gained new parts to make it utilitarian and perform well in a variety of situations. In January 2019, the addition of the Go Fast Camper inspired the desire to keep things lightweight and able to speed down dirt roads. It was then that the gears cranked harder in his mind and he realized he wanted to switch the mid travel to long travel. With Overland Expo West quickly approaching, Denney worked with his good friend Ruben Clark, owner of Ruben Clark Auto in Ventura County, California. Clark cleared his schedule for a week so they could install the Camburg +3.5 Long Travel kit to go along with the Fox 2.5 coilovers, 700-pound Eibach springs, Camburg secondary shock hoops, and Fox 2.5 Triple Bypass secondary shocks from AccutuneOffroad. And not to be outmatched, the rear suspension got Fox Factory DSC 2.5×14 Smoothie with remote reservoir from AccutuneOffroad and a Deaver U402 Stage 2 leaf pack. The Camburg long travel kit was one mod Denney wishes he had done sooner. A major alteration like that on your brand-new vehicle can be quite intimidating, but looking back, had he known then what he knows now, Denney would have added it much sooner for the benefits it brings.
"While this journey of Denney's started with the dream of owning a 4×4 truck, he meandered down a path to build his ultimate dream truck."
Along with the Camburg long travel kit and suspension upgrades, Denney challenged himself and installed McNeil fiberglass 3-inch bulge fenders and bedsides. Not having any experience prior in installing, repair, and fitment of fiberglass, the frustrating process was a test to his patience and needed great finesse. The results prove his hard work well done as the stance of this Tacoma is unbelievably eye-catching.
This Swiss army knife truck could now handle it all.
Built like the jack of all trades, this 2018 Tacoma TRD Off-Road leaves others in the dust with how well it performs and the versatility it displays. It will rock crawl, smoothly speed down dirt roads, provide comfort while camping, and is also his daily driver. Not one activity is sacrificed for another with the thoughtful design.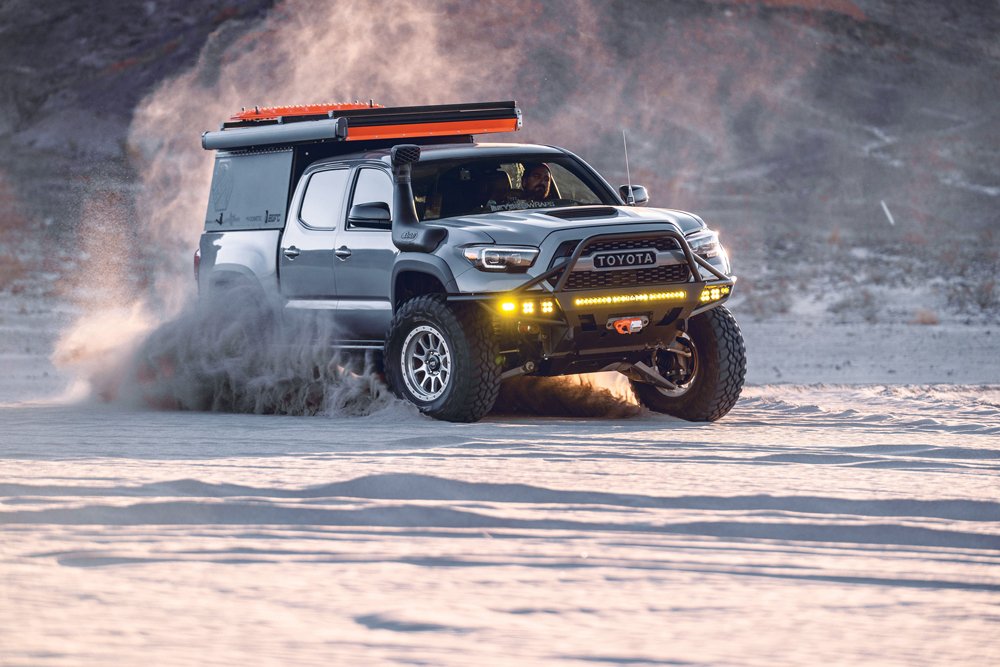 Living the Dream
Already having been a part of some most memorable trips, this Tacoma TRD Off-Road has earned its worth. It has traveled to the East Coast for Overland Expo East and taken several trips to Utah and Arizona. The most memorable experience being the one where he and his fianceé got engaged. Denney and Rachel were on a trip through Utah and Arizona together, where Denney had already planned out the place in Monument Valley for the proposal, a place where they had camped together a few years prior. They were met with inclement weather and Rachel was hesitant to continue to the planned spot, but Denney knew he had to get there. As if the universe knew the plan, the weather cleared up 10 minutes from the destination and the skies opened up to the clearest blue beautiful scenery they've ever seen. It was perfect and she was blown away, especially with how well Denney hid his emotions while driving through the storm. The day couldn't have gone better, and that fond memory will be forever tied to the Tacoma.
Keeping the Dream Alive
Although the beginnings of this truck build came from an accident, it only led to the opportunity to create an even better driving experience. Live and learn. That's exactly what Jason Denney shows with this magnificent 2018 Toyota Tacoma TRD Off-Road build. He built the ultimate off-road truck that does it all in the most efficient way possible. He took the knowledge gained from his experience and building a product and company to have a truck that does everything he wants without any sacrifice. Just like the RIGd UltraSwing, this Tacoma was built to be the "ultimate combination of functionality and reduced weight to be your companion on the aimless journey." While this journey of Denney's started with the dream of owning a 4×4 truck, he meandered down a path to build his ultimate dream truck. And like many others, the wheels are already spinning on what to do for his next dream truck.
"Just like a phoenix rising from the ashes, this 2018 Tacoma TRD Off-Road was born from the ashes of its predecessor."
To follow along on Denney's adventures and enjoy his humor, check out his Instagram @tacodust.
---
UPGRADES
Platform: 2018 Toyota Tacoma TRD Off-Road
Engine: 3.5L 2GR-FKS V-6
Suspension: (Front) Camburg Engineering +3.5 Long Travel kit, Fox 2.5 coilovers with 700-pound Eibach springs, Camburg Secondary Shock Hoops, Fox 2.5 Triple Bypass secondary shocks, shock tuning by Accutune Offroad; (Rear) Fox Factory DSC 2.5×14-inch Smoothie with remote reservoir, Deaver U402 Stage 2 leaf pack
Wheels & Tires: VTX Rogue (17×8 with -10 offset); General Tires Grabber X3 (35×12.50-17)
Accessories: Safari Engineering 4×4 Snorkel; Nitro Gear 5.29 gears; Alpine Design cab mount relocation brackets; Bay Area Metal Fab hangers and shackles; Archive Garage rear shock tower relocation; Camburg Engineering extended axle shafts; TRD Pro Grille; 2017 Toyota TRD Pro hood; Spyder LED headlights with sequential turn signals; Baja Designs S8 30-inch Amber Driving combo bumper light bar; Baja Designs Squadron Sport Amber Driving Combo; Baja Designs Squadron Sport Amber wide cornering; Baja Designs S2 Sport Amber Work Scene bumper lights; Baja Designs S2 Pro Amber work scene chase light on GFC; Warn Zeon 10s winch; C4 Fabrication Hybrid front bumper, rock sliders, skid plates, and differential skid plate on rear diff; RIGd Supply UltraSwing Multi-fit hitch mounted tire carrier; McNeil Fiberglass fenders and bedsides 3-inch bulge; Go Fast Camper with custom black colorway, Goose Gear rear seat delete storage; Expedition Essentials TPAM accessory dock with Blue Sea Systems rapid charge USB, Hondo Garage Perfect Squeeze phone mount; Swith Pros 9100 switch panel power system; Rugged Radios GMR25 Dash Radio; Odyssey 34 PC1500 T Extreme Series deep-cycle battery; Dometic PLB40 AUX battery; Blue Sea Systems Below Deck panel; Dual USB chargers; 12V Socket; ARB Dual On Board air compressor; DMOS Stealth Shovel; WaterPort water tank; Outer Limit Supply 6000 Series first-aid kit; Maxtrax Minis; Avery Gloss Rock Gray wrap by Beyond Wraps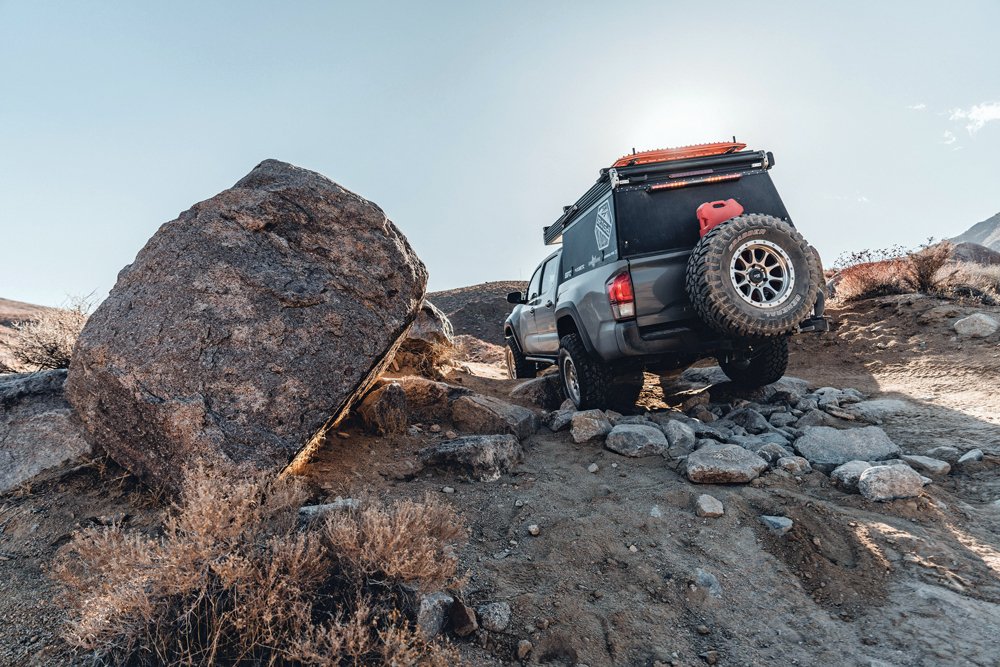 Enjoy this story? Enjoy the whole issue … for free! Click here to download your FREE copy of Tread March/April 2020.