2019 Overland Expo East: Improved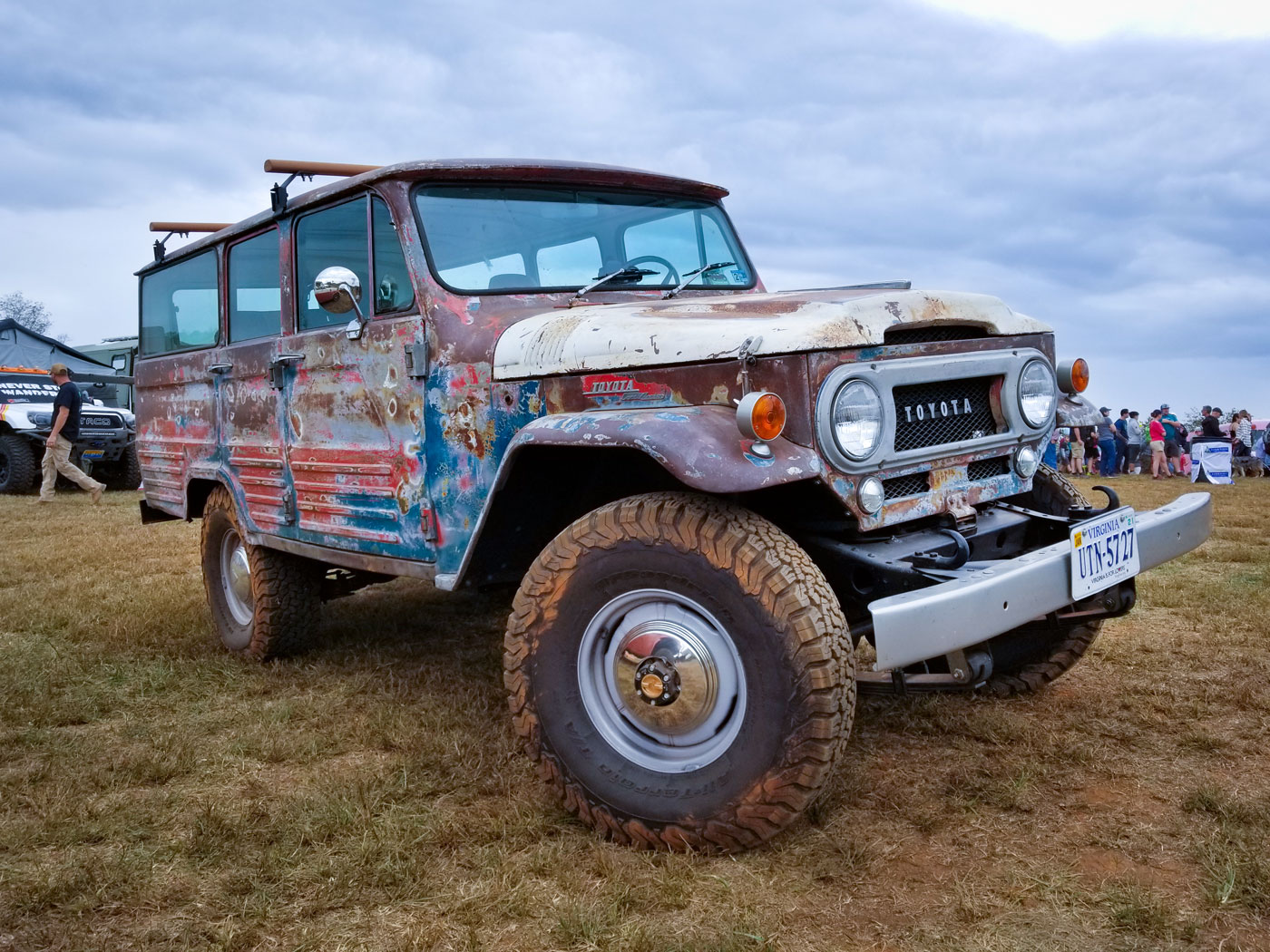 The 2019 Overland Expo East attracted overlanding enthusiasts and globe-trotters from all over North America, and beyond. This year, the event was held a month earlier and moved to a different part of the East Coast, from Oskar Blue's REEB Ranch south of Asheville, North Carolina, to the picturesque rolling hills of Infinity Downs, located near Arrington, Virginia. This proved to be a great move, both weather-wise, as well as event location-wise.
From emergency preparedness to various vehicle recovery classes—an abundance of curricula and hands-on courses were available for everyone.
Vehicles to See
Interesting, unique, and rare adventuremobiles were also showcased. Classic Toyota Land Cruisers, like Jonathan Lawson's '73 FJ55, and a rare multi-colored LV Wagon were on hand. Although we couldn't find the owner of the LV to learn more about it, we admired it's impeccably redone seats through its windows and pondered its adventurous history.
Also on display was Drive the Globe's brightly orange painted '79 four-door Unimog and matching home-built trailer. This unique setup includes a Schutt Industries M1102 military trailer base (bought at an auction with its original sticker price still attached), with fully customized living quarters sitting atop it. The owner's long-term goal is to travel the world with it, hopefully within the next few years.
Other rolling adventure homes were also witnessed: from travel-ready Mitsubishi Fuso EarthCruisers to a Ford F-350 with a customized Fifty Ten box on the back with interior by Goose Gear — there were oodles of modified 4×4 vehicles to look at.
Products That Caught Our Eye
Vendors at 2019 Overland Expo East brought their latest and greatest wares to sell. From big ticket items like off-road trailers to small yet impactful items like bungee cords or leather-wrapped journal notebooks, there wasn't a shortage of cool products to peruse. We took notice of a few that may perk your interest.
Endeavor Hardware Supply, from Mooresville, North Carolina, is a husband and wife team who recently launched American-made aircraft-grade anodized aluminum tent stakes via Kickstarter. They set out on a quest to improve a product they've struggled with in the past. They wanted to improve upon current designs that lack durability; the heavy-duty Endeavor tent stake may just be the perfect answer. A variety of colors are available. One can purchase a set of six for $44, a set of four for $29, or get them natural (non-anodized) in a set of four for $18.
Also made in America and born out of the need to improve an existing product, Keith Wilson created the Trail Creeper. This handy item is a durable and compact folding mat, roughly 24"x9"x3" when folded. How can you make a floor mat better? Keith partnered with Blue Ridge Overland Gear to construct them and kept them lightweight at about three pounds each with heavy duty Cordura on one side with vinyl on the other. The Trail Creeper is wipeable and cleanable. They can gang together and can be used in a multitude of ways. Each mat will run you $75.
Helinox showcased its yet-to-be-released Royal Box shade unit. This interesting SPF50 sun shade protects you from the elements. This quick-to-set up three-sided shelter has taped seams, toggles and loops to roll up each side, and could be your new perfect portable lightweight shelter. It is priced at $199, with availability expected in January 2020.
Warn Industries recently released its all-new Warn VR EVO winches, their latest standard-duty offering. The new line boasts IP68-rated waterproof construction, a two-in-one wireless/corded remote, includes a limited lifetime warranty on mechanical components, plus a seven-year warranty on electrical parts. With features like these, the price tag of $489.99 to $849.99, depending on model, is well worth it.
One of the more clever items found at 2019 Overland Expo East was a headlamp. Princeton Tec showcased an adaptable headlamp that works as intended, but also switches up to become a bike light, flashlight, lantern, or even a magnetic light for hands-free work. Known as Snap, this headlamp package includes a head unit, headlamp attachment and strap, two-way carabiner mount and clip, as well as a handlebar attachment for $42.99.
In Conclusion
If you want to experience an event on the East Coast where you can check out cool overlanding rigs, review and buy a variety of gear, and learn how to better prepare yourself for off-road adventure travel, then Overland Expo East is the place to be. It's a great place to relax, learn, shop, and make new friends—especially at its new location.