Custom Toyota Land Cruiser 200 Series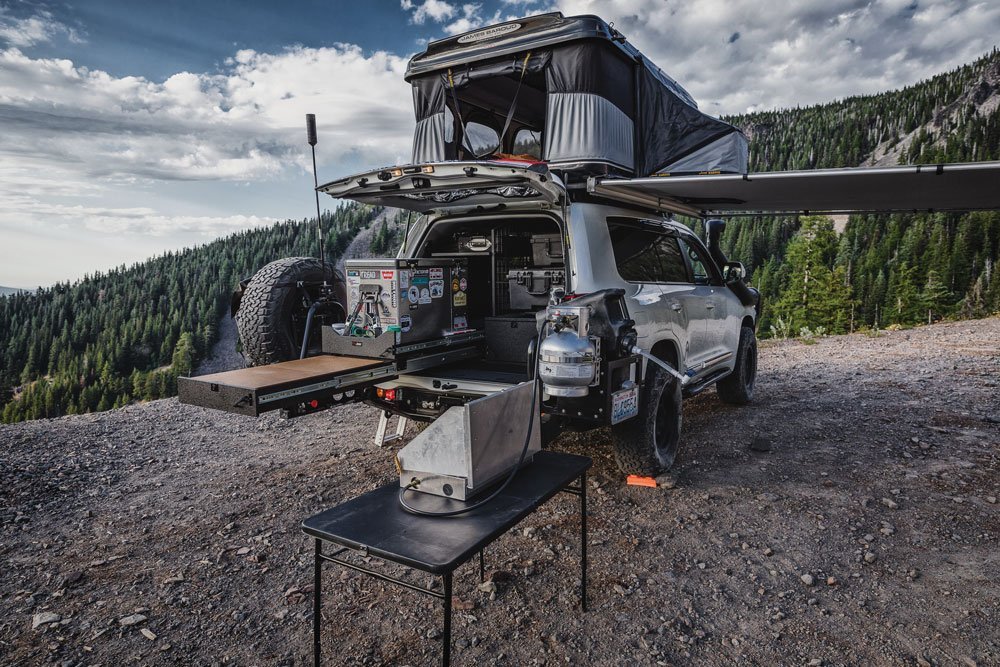 This Toyota Land Cruiser 200 Series is Built for the Adventure of Life
For some, a fully built, extremely capable off-road vehicle is a necessary tool to get themselves and their tools from one place to another. For someone else, it can be a symbol of freedom and a conveyance that takes them to new adventures. For the owner of this Toyota Land Cruiser 200 Series, this vehicle was a life saver, and we're not speaking metaphorically, we'll get into that a bit more later.
According to its owners, Chris and Shauna Wood of Woodland, Washington, the Land Cruiser you see before you has been called the "most built out 200 series in North America" and has gained worldwide attention from Australia, Africa and other countries due to the quality of the build. That's saying a lot since the Land Cruiser following is one of the strongest in the world. We were recently at the Toyo Tires Trailpass overland event in Hood River, Oregon, and can attest that this SUV was a true head turner from the many reactions we saw it get from casual spectators and industry insiders alike.
This Land Cruiser was built as a purpose-built adventure vehicle, not a daily driver. The entire process from selecting the vehicle to deciding what they wanted to do with it to completing the build took well over a year. Chris initially wanted a Jeep build, but upon further research, he found that long expedition travel wasn't done much in Jeeps. The Land Cruiser, however, was a proven world platform that has maintenance parts available in most countries. It was then that he decided long distance travel in the Land Cruiser was a better fit for him and his family.
Chris told us that three months of the build's wait time was waiting for parts, due to very limited new aftermarket parts availability at the time. During this time he carefully did his research into which parts he wanted to install in the Cruiser. He made sure to use parts from companies with a proven track record, no matter the cost. Firmly believing in the buy once, cry once principle, he spared no expense on his rig. For another three months, the 200 Series was in the talented hands of the crew at Adventure Ready for the build itself.
Adventure Ready fused their many years of overlanding experience with knowledge of high-end, quality products to create this build. Known for their purpose-built, adventure-orientated vehicles, Chris knew that he found the right partners that could help him get his ride set up correctly for his own expeditions.
As one of the first companies to import South Australian brand Redarc's products, Adventure Ready helped Chris select a high-end electrical management system using Redarc equipment. The Redarc BCDC 1225D In-Vehicle Dual Battery Charger helps feed a Lithium-Ion RELiON LiFePO4 75AH battery, which can be pricey but pays dividends in weight reduction and features more usable power and can handle more robust charging.
Of the many custom touches that Adventure Ready included in the build, we really liked the truck's custom lighting options. Creating a custom setup of six Rigid Industries A Series "rock lights," this type of under-truck mounted ground lighting is great for lighting up obstacles on the trail and can also serve as pleasant campsite lighting. Also, a custom fit rear bumper was needed to allow it to fit and still use the tow hitch.
To keep in touch with the outside world, a custom setup for long-range cell phone service using a WeBoost Drive 4G-X OTR Cellular Signal Booster was employed. It is collapsible and folds down for protection while driving. This Series 200 was one of the first to have a James Baroud Tunnel Awning. The awning allows users to enter their rooftop tent while completely shielded from inclement weather. As you can imagine, this awning design increases the comfort level when camping.
Other improvements that the Adventure Ready crew made to the Land Cruiser include a custom fitment of its sPod SE Source system that was cleverly tucked into the Cruiser's OE sunglass holder location. Additionally, a durable Trekboxx Alpha storage system can be found in the rear. This is a great storage system that can stand up to the rigors of off-road travel.
Up front, you'll see an ARB Summit bumper with an ARB dual-swing out bumper in the rear. Mounted in the front bumper is a Warn Zeon Platinum 12K winch in case things get dicey. The winch itself carries a Bubba Rope Synthetic Winch Line as well as a Warn Epic Sidewinder Direct-Connect Recover Link. You never can be too prepared after all.
We spoke to Chris and Shauna about what their impetus was to build this vehicle and what we learned went much deeper than what we usually hear. Let's let Chris tell it in his own words, "This Land Cruiser build has saved our lives and our family."
Both Chris and Shauna spent their childhoods traveling, camping and growing up in outdoor environments. After meeting each other, Chris and Shauna spent many of their days just jumping in the car and exploring locations they both had not been before. Eventually the responsibilities of adulthood were allowed to overshadow their passion for travel and adventure.
While he loves his profession with the railroad and puts 110 percent into it, over the last 16 years, Chris has had a very demanding work schedule. Oftentimes it takes him away from his family for weeks at a time.  Upon returning home, all he wanted to do was sleep in his own bed and go nowhere. This resulted in the majority of his off days and vacations spent at home. Eventually, the stress of such a lifestyle manifested in physical concerns, sleeping disorders and the inability to relax. Looking back and realizing that he had not taken his family on any real vacations, or spent time with them to build quality memories, something had to change.
"We have a fridge full of food and drinks, tents and sleeping bags, a half tank of fuel … we can survive for a few more days … KEEP GOING!"
Shauna is a full-time stay at home mom and runs the household. With her husband gone the majority of the time, her routine was sometimes more demanding and stressful than Chris' profession. Often being at home by herself with their daughters, Shauna is always trying to create fun experiences.
This is where the story of this Land Cruiser begins. One day not long ago, Shauna asked Chris to buy them a tent so they could camp out in the 4 acres of their property. Chris started down the rabbit hole of camping gear and eventually ended up with the Land Cruiser expedition build you see today.
The world of expedition vehicles checked all the boxes of past adventures Chris and Shauna used to take but had grown out of touch with. Chris chimes in, "Since building and using the Land Cruiser, our family has grown closer than ever. It has taken us to places we would have never experienced without the Land Cruiser's legendary capability and reliability. Unlike an RV where often the majority of time spent is inside, an expedition vehicle forces the occupants to live, interact, problem solve and rely upon each other in an outdoor environment—living around the platform, as opposed to living in it."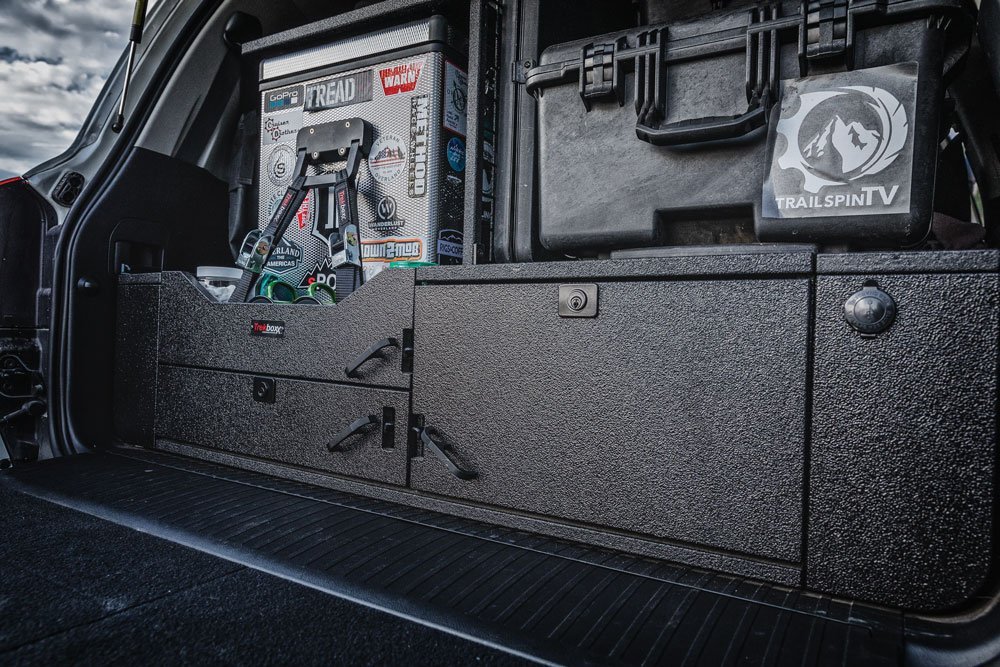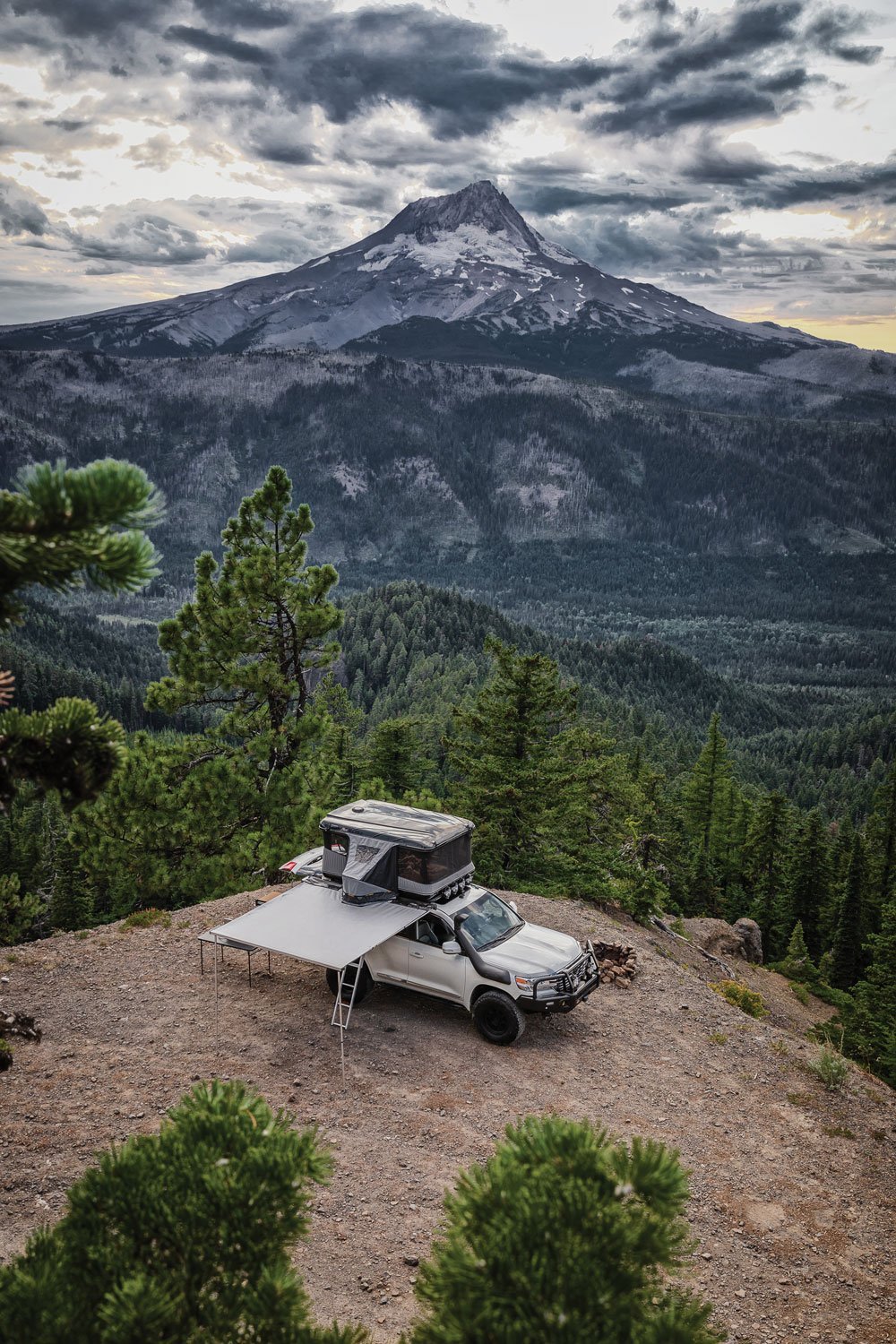 Like many people who live the "overlanding lifestyle" can attest to, this vehicle, the places it has taken the Wood household to and the people they have met along the way have changed Chris, Shauna and their family in more positive ways than can be listed.
When asked what their most memorable experience they've had with the 200 Series was, they told us of not just one but three memories that stand out. Event wise, it was Chris' trip to Overland Expo West 2019. This trip was his longest to date at 2,618 miles, as well. The vehicle was featured in the James Baroud booth and was the first major show that Chris went to. It really opened his eyes to the wonderful lifestyle and people who populate the overland community. Even though he was there solo, he felt very much at home.
"Sitting in a stream, out in the middle of the National Forest, he suddenly realized this is about working to live, not living to work."
Their favorite camping memory came at Painted Hill, Oregon, which saw them drive five miles down a dry riverbed to get to the camping spot, then they drove another four and a half hours off road out in the middle of eastern Oregon to get back to the highway, with limited navigation. Chris told Shauna, "Maybe we should turn around and go out the same way we came in." Shauna replied, "We have a fridge full of food and drinks, tents and sleeping bags, a half tank of fuel … we can survive for a few more days … KEEP GOING!" We wouldn't have it any other way.
The big one would be what Chris calls, the "Paradigm Shift." Sitting in a stream, out in the middle of the National Forest, he suddenly realized this is about working to live, not living to work. That's a lesson we can all learn.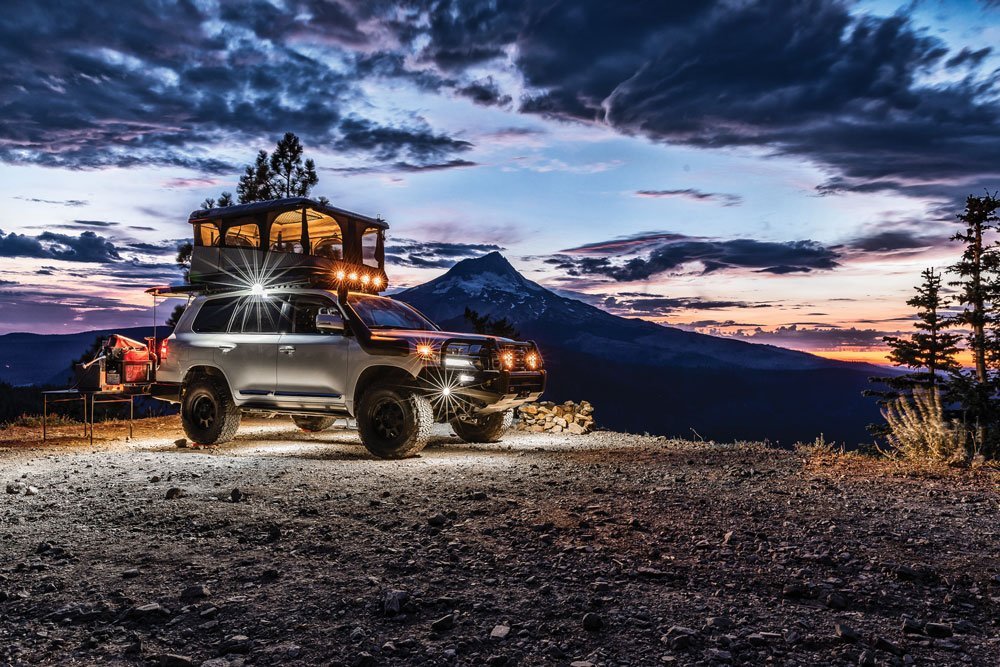 As far as future travels are concerned, Chris has a list that so far consists of the Trans-American Trail up to Alaska, Seattle to Baja, and the Backcountry Discovery route. Other than that, Chris and Shauna's future plans for the Land Cruiser boil down to, "Expedition, exploration, overlanding, camping and taking us to locations we have not drunk White Claws at yet!" Cheers, we'll drink to that!
UPGRADES
PLATFORM: 2016 TOYOTA LAND CRUISER 200 SERIES
ENGINE: TOYOTA 5.7L V-8
SUSPENSION: ICON VEHICLE DYNAMICS STAGE 6 KIT WITH BILLET UCA'S WITH DELTA JOINT / ARB OME HEAVY REAR SPRINGS
WHEELS & TIRES: METHOD RACE WHEELS TRAILS SERIES 701 IN MATTE BLACK 17X8.5 / BFGOODRICH ALL-TERRAIN KO2S
ACCESSORIES: ARB SUMMIT FRONT BUMPER / ARB DUAL SWINGOUT REAR CUSTOM FIT FOR THE LAND CRUISER 200 SERIES WITH CUSTOM-BUILT FUEL CAN AND FULL-SIZE SPARE TIRE / CARRIER FOR TWO JERRY CANS INSTEAD OF ONE / CUSTOM DROP-DOWN WEBOOST ANTENNA MOUNT WITH SECURE IN-TRANSIT CRADLE / POWER TANK CUSTOM-MOUNTED PROPANE TANK CARRIER / ROOF – BAJA DESIGNS LP6 PRO X4 / FRONT BUMPER – BAJA DESIGNS LP9 PRO X2 / FOG – BAJA DESIGNS SQUADRON SPORT – AMBER X2 / SIDE UTILITY – RIGID INDUSTRIES SCENE LIGHTS – X1/SIDE / REVERSE – RIGID INDUSTRIES SR-Q PRO X2 / UNDER CARRIAGE/ CAMP LIGHTING: RIGID INDUSTRIES A SERIES X6 / REAR GATE/ HATCH – RIGID INDUSTRIES A SERIES X2 / UNDERHOOD – RIGID INDUSTRIES A SERIES X2 / MAIN BATTERY – ODYSSEY EXTREME PC1500 / AUXILIARY BATTERY – LITHIUM-ION RELION LIFEPO4 75AH / REDARC BCDC 1225D IN-VEHICLE DUAL BATTERY CHARGER / MOLE OVERLAND LAND CRUISER 200 SERIES AUXILIARY BATTERY TRAY / MOLE OVERLAND LAND CRUISER 200 SERIES AUXILIARY ELECTRICAL MOUNTING BRACKET / SPOD SE SOURCE WITH HD CONTROL PANEL ON CUSTOM MOUNT / POWER TO REAR OF VEHICLE FUSE BLOCK, HARDWIRED FRIDGE & AUXILIARY USB SOCKETS / VICTRON ENERGY MULTIPLUS 12/800VA INVERTER/CHARGER, 700W PURE SINE / VICTRON ENERGY SMARTSOLAR MPPT CHARGE CONTROLLER 75V 15A / VICTRON ENERGY COLOR CONTROL GX BMS DISPLAY / WEBOOST DRIVE 4G-X OTR CELLULAR SIGNAL BOOSTER / COBRA C 75 WX ST HANDHELD CB RADIO WITH FIRESTIK 4-FOOT BLACK FIREFLY CB ANTENNA / GARMIN INREACH EXPLORER+ WITH POWER MOUNT / RAM MOUNT TABLET HOLDER / SAMSUNG GALAXY TAB 4 / BUDBUILT FULL ALUMINUM SKID PLATE KIT / WHITE KNUCKLE DOM SLIDERS / SAFARI SNORKEL / LONG RANGE AUTOMOTIVE 24-GALLON AUXILIARY FUEL TANK / SPECTER 5.5-GALLON JERRY CANS FOR WATER X2 / OEM TOYOTA LAND CRUISER WINDOW RAINGUARDS (NOT AVAILABLE IN THE U.S., SENT FROM DUBAI) / JAMES BAROUD GRAND RAID XXL / RHINO-RACK PIONEER PLATFORM W/ BACKBONE / JAMES BAROUD TUNNEL AWNING 98X106" / JAMES BAROUD SIDE AWNING ENCLOSURE 98X106" / NATIONAL LUNA 60L 2-IN-1 FRIDGE/ FREEZER / PARTNER STEEL 2 BURNER 24-INCH STOVE / PELICAN 1650 CASE WITH PADDED DIVIDERS AND LID ORGANIZER FOR DRY FOOD STORAGE / WARN ZEON PLATINUM 12K / BUBBA ROPE SYNTHETIC WINCH LINE / WARN EPIC SIDEWINDER DIRECT-CONNECT RECOVER LINK / MAXTRAX MKII RECOVERY BOARDS / ARB HIGHPERFORMANCE TWIN ON-BOARD AIR COMPRESSOR CKMTA12 ON CUSTOM MOUNT / ARB 1-GALLON FORGED ALUMINUM AIR TANK, CUSTOM MOUNTED UNDER REAR FENDER / TREKBOXX ALPHA SYSTEM / BLUE RIDGE OVERLAND MOLLE SEAT BACK PANEL DRIVER & PASSENGER / BLUE RIDGE OVERLAND TIRE STORAGE BAG XL / BLUE RIDGE OVERLAND MIL-SPEC MESH LAND CRUISER ATTIC / BLUE RIDGE OVERLAND VELCRO VISOR ORGANIZER
Editor's Note: A version of this article first appeared in the November/December 2019 print issue of Tread Magazine.