Profile: 1971 Ford Bronco
The Scottsdale
The year 2021 looks to be the year of the Bronco. The highly anticipated and long-awaited return of the iconic Ford looks to regain its place amongst the off-road elite. Soon you will see many on the road and on the trails. Sean Jennings is one person who couldn't wait for the new Bronco, so he decided to build his own modern version.
"The Bronco I just finished is by far the biggest project I have ever attempted—down to the frame, nut and bolt modern restoration, and drivetrain." –Sean Jennings
Jennings grew up drawn to the outdoors where he spent his free time camping and fishing. He served two tours with the Marine Corps and often found himself out in nature riding quads, dirt bikes, and hitting the trails. After his time in the military he wanted to figure out what was next. He went to college, studying marketing and graphic design, and now works with clients in the automotive and firearm industries. His diverse background has come together symbiotically where his love for the outdoors, passion for all things automotive, and his creative vision have aligned to build custom vehicles.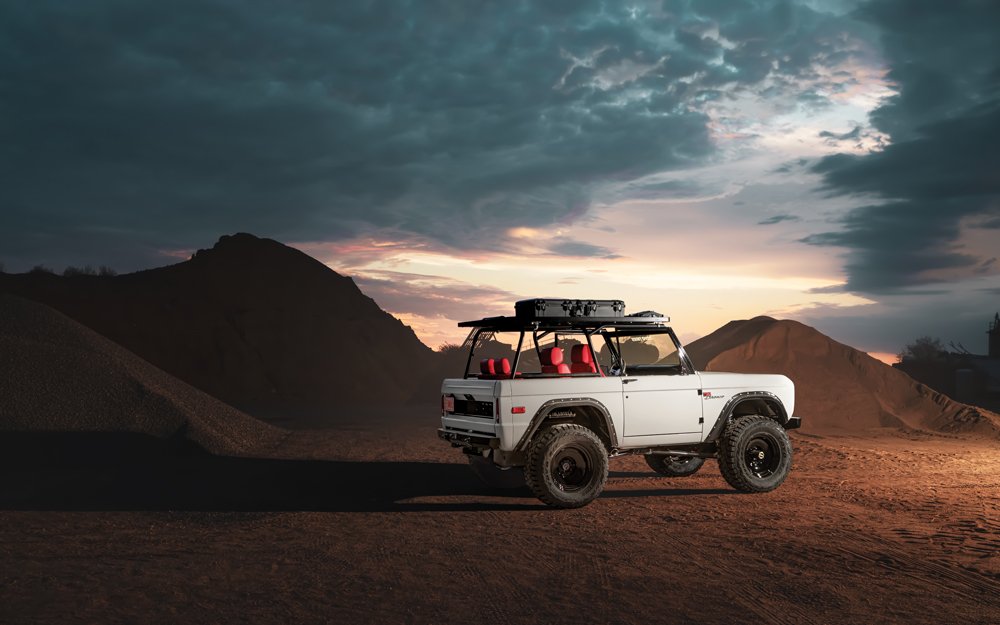 What began as a project for a client to build a marketing vehicle quickly became a personal project after the original plans were scrapped. Jennings always wanted an older Bronco and when plans fell through with the client he decided to make the purchase for himself. The timing was right for the Idaho native, who lived in Arizona at the time—a place where he could enjoy the vehicle all year round.
"So many sleepless nights and way over budget, but the first time it fired up and I was able to drive it made all those pain points go away." –Sean Jennings
Jennings was able to find the vehicle locally from a gentleman who only used it to haul his mountain bikes. It was in good condition with a mild restoration but still had its fair share of issues, which he knew needed to be improved. Initially, a few minor cosmetic changes were done after the purchase, as the vehicle was used for daily driving and as a weekend vehicle to hit the trails and camping. Like with any of these projects, he wanted to put his signature touches on it to make the Bronco his own, but after almost a year of daily driving he decided he wanted more out of the vehicle.
With his background and a desire to customize an older Bronco to incorporate a modern drivetrain, the project began. The Bronco project was dubbed "The Scottsdale," as a nod to the city where he found the vehicle as well as for its lifestyle. He was inspired by his surroundings in Arizona and his daily encounters with high-end supercars, he wanted to ensure the Bronco would not only stand out but also fit in amongst these fancy vehicles and hold its own on the trails with the most capable of vehicles.
With over a dozen vehicles under his belt, Jennings has progressively pushed the limits for his creations. His first truck as a teenager taught him a few valuable lessons on what to do and what not to do. "I had my first truck about a year before I could drive, which is where I learned all the ways to ruin a great truck by not knowing what you are doing and wanting to modify everything. You know, spray paint all the dash panels that can be easily removed."
Since then he's used his experience to hone in on a distinct style for his builds, taking each one further and further with customization. The current Bronco started off with the intention of being a reliable vehicle that would be able to take on moderate to technical trails with his kids on the weekends. That quickly changed once he decided to convert it to a modern drivetrain with a Coyote motor. With age his desire to do more and push himself has grown stronger, and that dedication, vision, and know-how led to this one-of-a-kind Bronco.
"I knew when I bought the Bronco I would modify it to my style. At first it was going to be cosmetic, mostly because it was such a great driver, but after I decided the engine needed to be modern instead of old-school carbureted, it all really snowballed from there—all of a sudden my imagination and goals escalated very quickly," Jennings shares.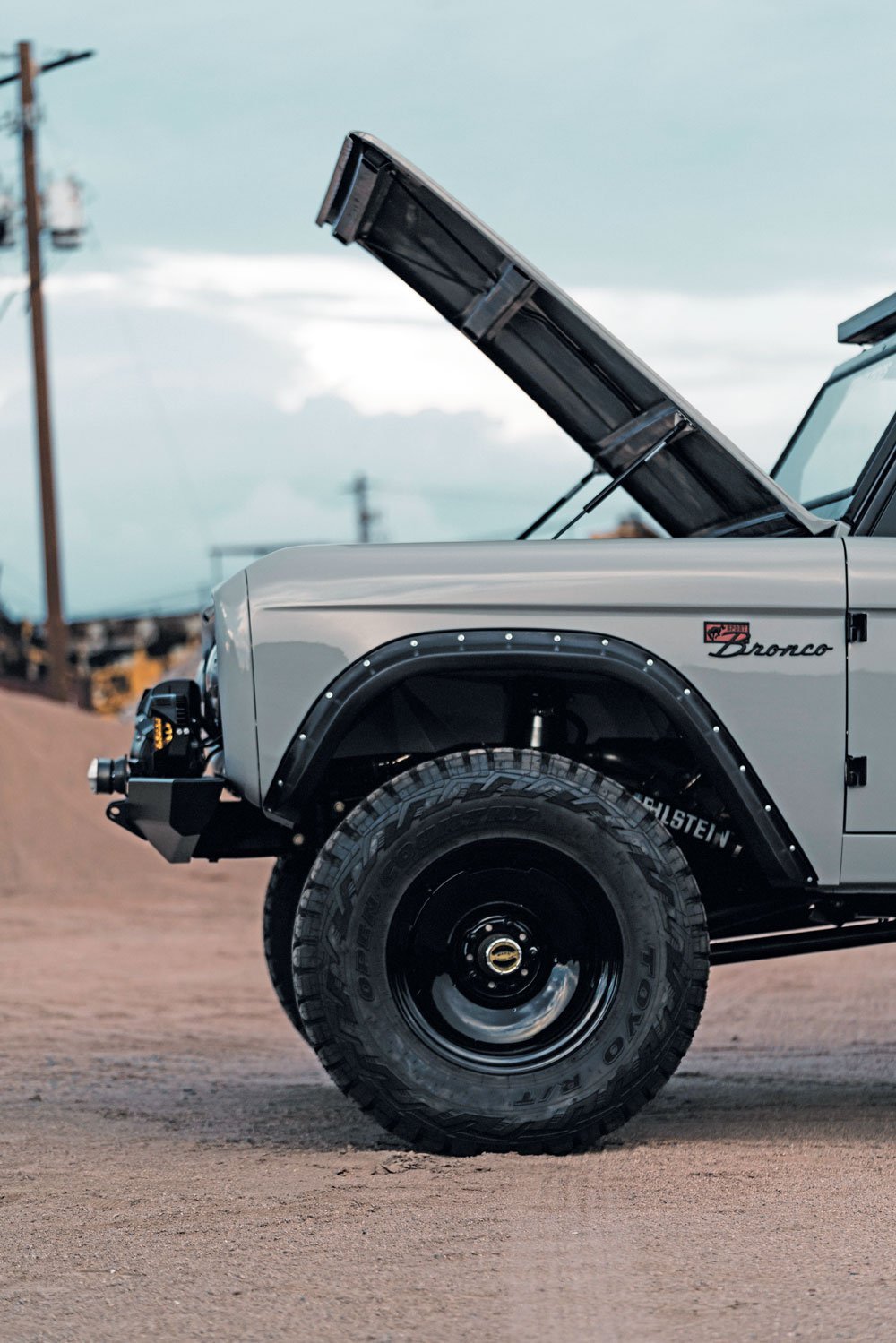 He set an almost-impossible goal of completing the restoration in a mere seven months to make its debut in the Toyo Tires Treadpass area at the annual SEMA Show in 2019. Starting from the ground up with a vision of building a Bronco to be as reliable as a new vehicle, he knew he would need to replace and upgrade practically everything. Although he was very intentional when it came to the body and frame, and while modified, they are still original and not a reproduction.
The first part was to pull the engine and begin the disassembly process. He wanted to make sure the Gen 2 Ford Performance 5.0L Coyote engine swap would fit and work properly. Everything was overhauled in the engine bay, including a host of Krawlers Edge products with motor mounts, an accessory bracket kit, stainless steel headers, radiator, and electric fan. He installed a Power by the Hour engine and transmission wiring harness and swapped out the transmission with a 6R80 4×4 automatic that bolted directly to the Coyote engine and paired it with a Lokar cable floor shifter. For peace of mind, performance for both daily driving and off-road trails, mud, sand, and other conditions, an Advanced Adapters Atlas 2 transfer case was installed. Much like everything else, a Krawlers Edge stainless steel fuel tank was installed to replace the factory tank. Rounding out the performance modifications is a custom Airaid intake and MagnaFlow exhaust.
The factory-restored chassis was secured with a Krawlers Edge Sport Cage. The lifted suspension itself is a masterpiece, combining various parts to come together to work in unison. A set of Bilstein coilovers with air bumpstops and Eibach springs were installed to give about 4 1/2 inches of total lift, which includes a 2-inch body lift to help clear the Coyote engine. To offer more geometry options and to keep the rear axle centered, a custom three-link front and four-link rear suspension was designed and installed with a pair of Currie F9 front and rear axles. The entire wheelbase was lengthened, with the front axle moving forward an inch and the rear axle moving back an inch. Connected to the axles are Warn locking hubs, which provide the ability to disconnect the front wheels from the drivetrain to help increase fuel economy and decrease drivetrain wear. To ensure maximum traction for any terrain, ARB Air Lockers were installed.
The Bronco was outfitted with a full set of Wilwood brakes with a six-piston kit up front and four-piston kit in the rear, along with a Hydroboost setup to help add stopping power for the vehicle. Jennings went with 18×9 JohnR version Detroit Steel Wheel Company wheels wrapped in 35×12.5 Toyo Tires Open Country R/Ts for added grip and performance both on the street and in the dirt.
The interior wasn't ignored and every part was carefully curated. The eye-catching plush red leather upholstery complements the custom dashboard painted to match the exterior paint and is paired with black weather-resistant vinyl with contrast red stitching by Bell Auto Upholstery. The console also features Vintage Air billet in-dash vents to allow the driver and passenger a more-comfortable ride. An Icon 4×4 center console was added for a factory look. The front seats were swapped out for a pair of scheel-man front bucket seats that received the same red leather treatment. The minor details weren't excluded as a host of Ring Brothers interior components were installed, including rocker switches, window cranks, and tie-downs. A Flaming River steering column connects to a wood Wild Horses steering wheel completing the vintage look. To finish off the interior a layer of Line-X was applied for additional durability and protection.
One noticeable modification that stood out for Jennings is the Wild Horses wing window delete kit. "It might seem simple compared to the rest of the build but my favorite modification is the wing window delete," Jennings says. "Having a larger window is not only more modern but seemed to change the driving experience."
The vehicle was originally painted a matte black from the previous owner. Jennings wanted a more sophisticated yet timeless look for the new version and elected to spray the exterior in a PPG Porsche Chalk Gray, which was applied by Kreative Image. This was complemented with Wild Horse fender flares and Hanson front and rear bumpers that provide additional clearance and protection. Attached to the front bumper is a Warn Industries Zeon 8S winch with a Factor 55 fairlead. Ring Brothers billet mirrors were carefully installed to the doors as one last detail.
No expense was spared and no stone was left unturned as Wild Horses billet headlight bezels surround the United Pacific LED headlights. Additional lighting is provided by Baja Designs LP6 amber lights and a 10-inch Lazer Lightbar to help provide ample light coverage in the dark.
"… after I decided the engine needed to be modern instead of old-school carbureted it all really snowballed from there … my imagination and goals escalated very quickly." –Sean Jennings
One to be always prepared, Jennings opted for a Front Runner Slimline II roof rack topped with a Pelican case for storage and a DMOS shovel. For recreational use, a 1up bike rack was installed on the back to hold his custom Rad Power Bikes Fat Tire bike.
The project was not without any trouble. Much like many restoration builds there seemed to be endless issues as he encountered problems throughout the process. This led to many sleepless nights for Jennings as he worked continuously to make the deadline. Jennings told us, "I encountered every possible issue it seemed like. So many sleepless nights and way over budget, but the first time it fired up and I was able to drive it made all those pain points go away."
The hard work and dedication of Jennings, along with his team and family, made it possible for the vehicle to debut at the 2019 SEMA Show at the last minute. He even installed the front windshield the night before the event from inside the booth. The entire process was a memorable experience and one that he won't likely forget anytime soon. For now he looks forward to enjoying the vehicle with his family before finishing another project, a 1980 Dodge D50, which was his grandfather's daily driver. The Bronco may have been the first of many full-restoration builds.
"If my wife and budget allow, I'll start something new this winter," Jennings hints. We hope his wife is on board so we all can experience another one of his masterpieces.
You can follow Sean Jennings' adventures on Instagram @defconbrix.
UPGRADES
1971 Ford Bronco
Engine: Gen 2 Ford Performance 5.0L Coyote engine swap; Krawlers Edge motor mounts, accessory bracket kit, stainless steel headers and fuel tank, radiator, and electric fan; Airaid intake; MagnaFlow exhaust; 6R80 4×4 automatic transmission; Advanced Adaptors Atlas II transfer case; Lokar cable floor shifter; Power by the Hour Engine/Transmission Wiring harness
Suspension: Factory-restored chassis, Krawlers Edge Sport Cage, Currie F9 front and rear axles, ARB air lockers, Warn locking hubs, Bilstein coilovers and air bumps all around, custom three-link front and four-link rear, front axle moved forward approximately 1 inch, rear axle moved back approximately 1 inch, Wilwood Disc Brakes six-piston front and four-piston rear, Hydroboost braking
Wheels & Tires: 35×12.5R18 Toyo Tires R/T, 18×9 Detroit Steel Wheel Co. JohnR
Interior Accessories: Line-X tub sprayed by Arizona Line-X; Scheel-mann front bucket seats; custom red leather by Bell Auto Upholstery; Icon 4×4 center console; Vintage Air with billet in-dash vents; Ring Brothers rocker switches, window cranks, and tie-downs; Flaming River steering column; Wild Horses steering wheel and wing window delete kit
Exterior Accessories: PPG Porsche chalk paint sprayed by Kreative Image, Wild Horses fender flares and billet headlight bezels, Ring Brothers billet mirrors, United Pacific LED headlights, Baja Designs LP6 (amber) and 10 inch Lazer Lightbar, Warn Industries Zeon 8s winch, Factor 55 Fairlead, Hanson front and rear bumpers, Front Runner Outfitters roof rack, Pelican case mounted on rack, DMOS shovel mounted on rack, 1up Bike Rack
Editor's Note: A version of this article first appeared in the November/December 2020 print issue of Tread Magazine.