Putting the DMOS Delta Shovel to the Test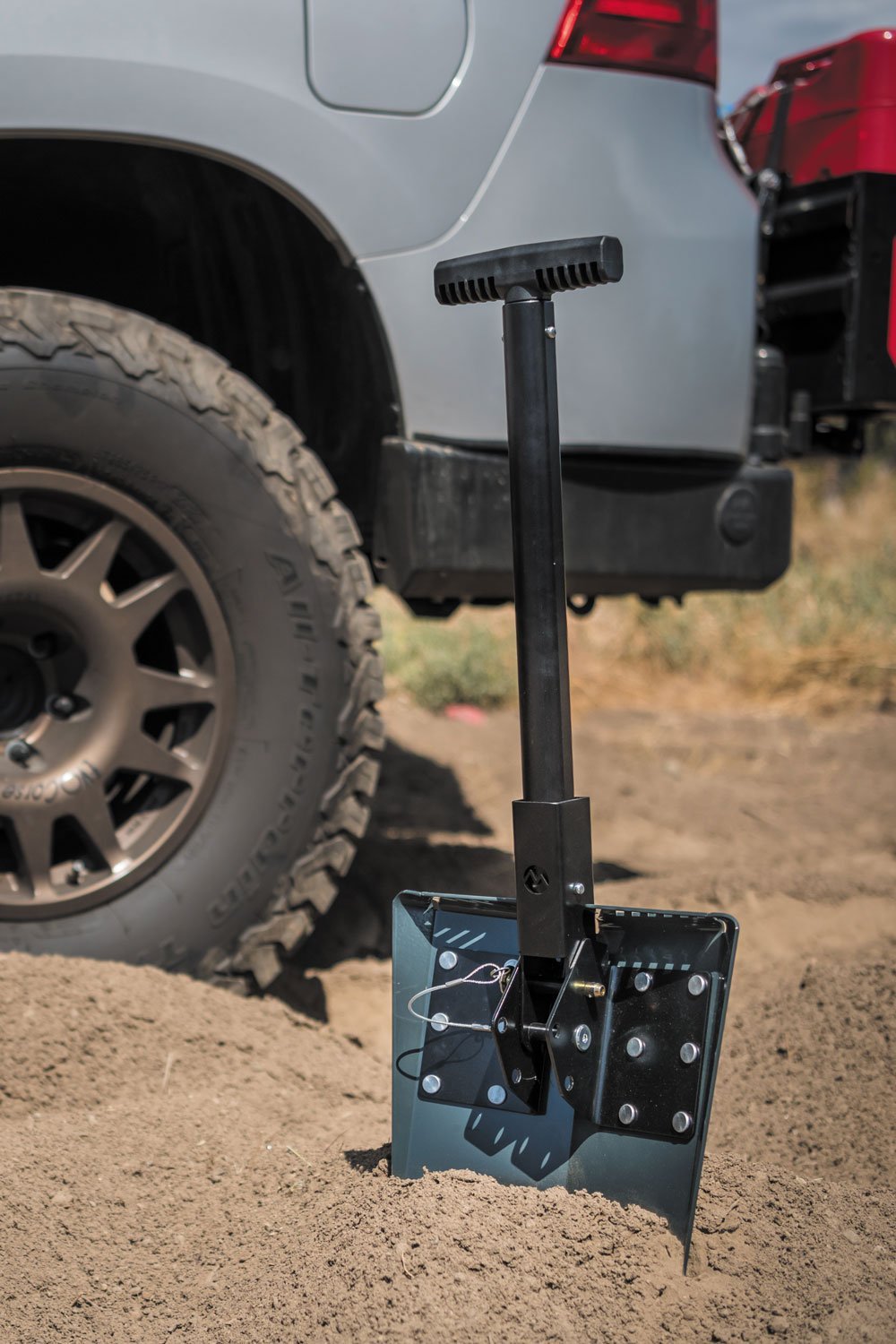 The DMOS Delta Shovel-and-Mount Combo is an Impressive Piece of Gear, but it's Far From Perfect
We not only got a pre-production DMOS Delta shovel to play with months ago, but we also received one of the very first production DMOS Delta shovels to leave the factory. We, of course, mounted it up and put it straight to work so we could bring you our thoughts as the shovel finds its way to a dealer near you soon.
This shovel-and-mount combo is specifically aimed at off-road enthusiasts, overland travelers, and car campers. It is an effective tool for general around-camp duties and vehicle recovery in a wide range of environments. You may have already seen it, as it is getting attention and turning heads.
Used & Abused
This is one strong shovel! We've dug with it, made trenches with it, pried with it, and even smashed it repeatedly into sharp rocks. We wanted to see if the shovel lived up to the hype surrounding it. DMOS even claims the Delta can "lift over 1,000 pounds." While a lofty claim for a collapsible lightweight shovel, we found no reason for it not to be true.
Our testing so far has proven that the DMOS Delta shovel can take some serious abuse, but it will quickly show signs of that use. Straight out of the box, the powdercoating on the tip of the blade started falling off. After our abusive testing, there are lots of chips and scratches in the blade, and even a bit of deformation in the 2-inch footpad at the top of the blade. With that said, it still performs flawlessly and fits snuggly in the mount as intended. We're impressed.
Handle
The highlight of this impressive tool is the 2mm-thick three-piece collapsible black-anodized aluminum handle. The handle shaft is indexed for strength and maximum control. It does have a little play in it, but the movement doesn't seem to affect performance. The collapsible shaft allows the shovel to pack down to 24 inches, and expanded it goes all the way to 51 inches long. Strong, lightweight, collapsible, and with fullsize shovel capabilities.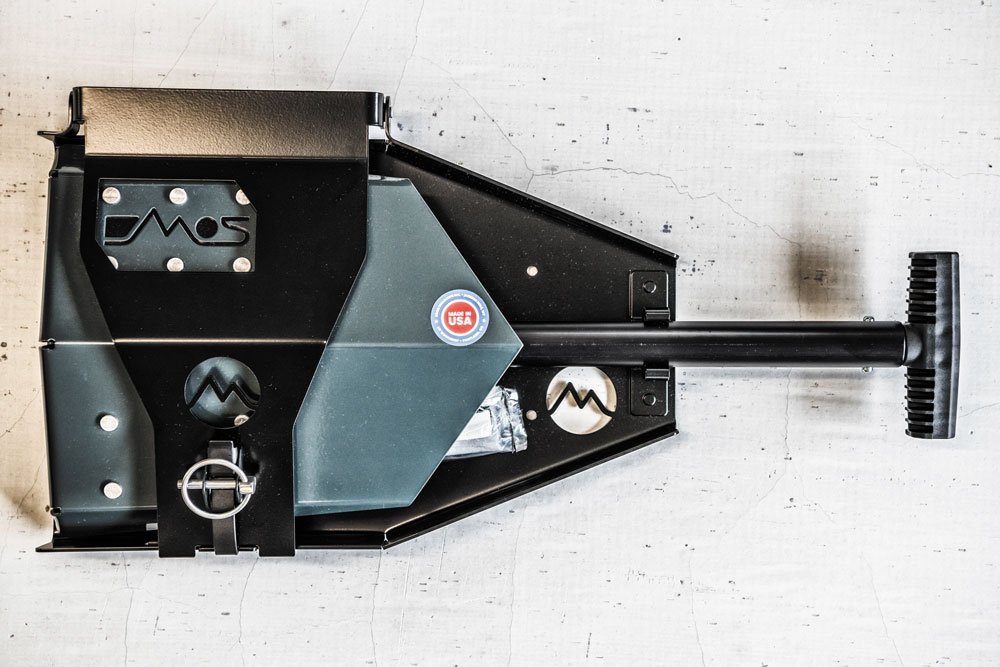 The shaft segments expand and collapse through the use of basic stainless-steel push pin connectors. We found it intuitive to try and collapse the shovel starting at one end and working to the other, but the DMOS Delta shovel design doesn't allow for that. To fully collapse and lock all segments into place, you must use a specific collapsing sequence: Release the middle push pins first, then the top, then the bottom, and then the top again. While this is a bit annoying, we got used to it pretty quickly.
Atop the handle shaft is a basic nylon Zytel T-grip handle, which is lightweight, strong, and compact. Our pre-production shovel came with a D-grip style handle, which we found to be better for digging, but also heavier and bulkier. We expect DMOS to offer a variety of handle options in the future.
Connector
Attaching the blade to the handle is a 12-gauge steel pivot mount. It is attached to the blade with 12 big rivets and to the shaft with a pivot pin. A stainless-steel thumb actuated detention pin on a retainer wire makes orienting the blade for use as a shovel, hoe, or stowed away for compact transport super quick and easy. The holes for this pin are super tight, which does make it a bit tricky at times to get the pin into place when adjusting the blade angle.
Blade
The shovel blade is made of 3mm-thick 6061 aluminum, is powdercoated agate-gray, and is a spade-style design. Another blade material option on offer is 12-gauge cold-rolled steel. The aluminum DMOS Delta shovel weighs in at only 3.5 pounds while the steel version weighs 6.3 pounds. We have only used the aluminum version, which felt light but substantial and was super easy to use. Both the 12-inch-wide spade design and the 2-inch-wide footpad at the top of the blade make moving big quantities of material quick and easy.
Vehicle Mount
The Delta vehicle mount is a clean clamp-style design that is 12×15 inches, made of 6061 aluminum and weighs in at 4 pounds. It comes with all the hardware necessary to mount it to a roof rack or onto some tire carriers. We found a cleaner solution on our vehicle's swing-out rear bumper, which required drilling a few holes and some new hardware, but was super quick and easy. The DMOS Delta shovel fits snuggly in the mount, even when driving down rough dirt roads.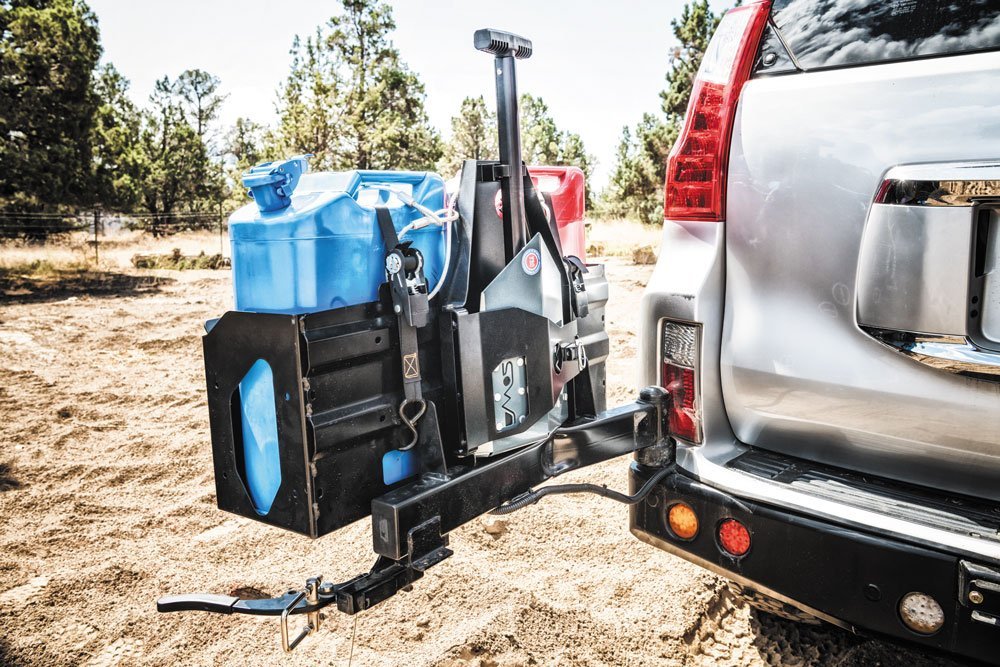 We did find two flaws in the mount, however. The first is extremely minor. The metal squeeze bracket that holds the shovel in the mount scratches the anodizing off the shovel handle. The second flaw is pretty serious. The latch mechanism is super easy to release, even when locked, by just applying a good bit of pressure to the mount. We were able to do this with just our hands, even with a lock in place on the latch. This makes the shovel extremely vulnerable to theft and is especially concerning when you consider the price tag on the shovel.
Big Price, Little Shovel
The DMOS Delta shovel and mount are quality pieces of awesome gear that you're probably going to want on your next adventure. That awesomeness comes at a price though, as the shovel will set you back $199 and the mount another $160. You'll have to ask yourself, is a versatile shovel, one even this good, worth that kind of coin?
DMOS Elite
DMOS didn't stop at the Delta, though, as they also offer an Elite Delta shovel and mount. The Elite version is black anodized, everywhere, and features a machined billet aluminum handle. This beauty will set you back $299 for the shovel and another $210 for the mount. That is one expensive shovel.
More DMOS Delta
The DMOS Delta launched on Kickstarter in August and was funded in under an hour. Kickstarter orders should be fulfilled in late 2019, with DMOS planning to release more options and accessories. They will first start with a few colored blades of orange and blue. They also plan to offer a custom soft carry ba, so you can store your shovel in your vehicle, and a basic wood handle option for even more serious use.
DMOS Delta Shovel
MSRP: $199 + $160 (mount); Elite $299 + $210 (mount)
dmoscollective.com
PROS
Versatile, ergonomic, and durable adventure tool
Compact, lightweight design is easy to use, store, and carry
Easy to use, versatile vehicle mount
American made
The latest quality vehicle bling out there
CONS
Not inexpensive: $199 for shovel and $160 for mount
Mount offers extremely poor theft resistance
Shovel won't look pretty for long when put to use
Editor's Note: A version of this article first appeared in the January/February 2020 print issue of Tread Magazine.