New Issue Is Out! Tread July/August 2021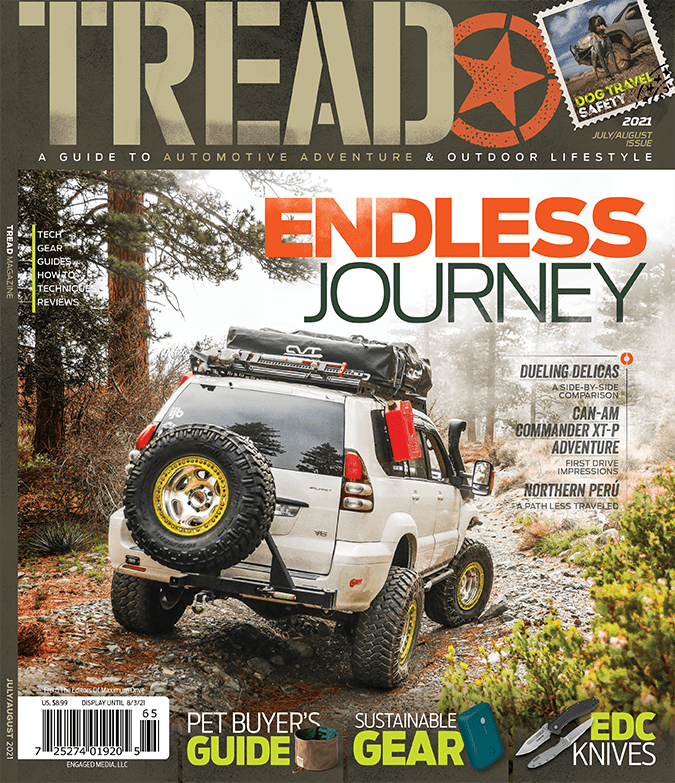 The July/August 2021 issue of Tread brings international travels, tips for travel with your doggo and need-to-have dog gear, features of unique and impressive builds, winching know-how and more. Another well-rounded issue with something for everyone, this issue will inspire, engage, and impress.
Vehicle Features
A couple spins on vehicle features this issue, we take a closer look at some more unique off-road setups in Tread July/August 2021. Bryon Dorr gives a closer look at the Can-Am Commander XT-P Adventure. He compares what it's like driving one of these side-by-side machines versus a 4WD vehicle. Mercedes and Andy Lilienthal share their experiences with owning two generations of Mitsubishi Delica vans, the Star Wagon and the Space Gear. A Subaru Crosstrek built to camp anywhere impressed us at King of the Hammers 2021. Kelly Nomura shares its tale of creation and of its owner, Andre Vasquez. Not to be missed is the Tread July/August 2021 cover vehicle, a Lexus GX470, owned and photographed by Brian McGee.
Adventure Features
Adventures abound in Tread July/August 2021 with international stories from Peru and Australia, while we also take a closer look at fishing and pet travel safety. Ashley Giordano shares her journey through Northern Peru complemented with husband Richard's eye-catching photography we relish and admire. We are introduced to outdoor cooking extraordinaire, Sophie Hollingsworth, who resides in Australia. Mercedes Lilienthal shares the story of how this city slicker moved to the Outback and learned to cook simply over an open fire.
And if cooking over open fire is your forte, then brushing up on how to obtain your own fresh catch in "A Fish Out of Water" will appeal to you. New to the Tread contributor lineup, Matt Hardinge shares with us his advice on why fishing is the perfect pairing to overlanding. He explains why fishing can give something to look forward to on your next trip. And what would an overlanding trip be without your best friend? In Tread July/August 2021, Matt Hardinge also shares his tips for safe travels with your dog, a great read for any dog owner. To supplement the travel tips, Tread July/August 2021 also includes a dog product buyer's guide to keep your pup's camp kit complete.
How-to and Industry News
Any good auto magazine isn't complete with out any tech tips or industry scoop. Tread July/August 2021 provides both. Mercedes Lilienthal provides a detailed write-up about the basics of winching. We also take a closer look at the man and his story behind the famous Active Cargo bed rack by Leitner Designs. Learn why innovation and detailed design comes naturally to its founder, Bernhard Leitner.
Gear
And last, the gear lineup in Tread July/August 2021 is unstoppable and sustainable. John Pangilinan shares with you gear from companies that put the environment first and do their part to lessen their carbon footprint and create goods from sustainable products. And as always, we give you the latest in automotive accessories, camp gear, and pocket knives.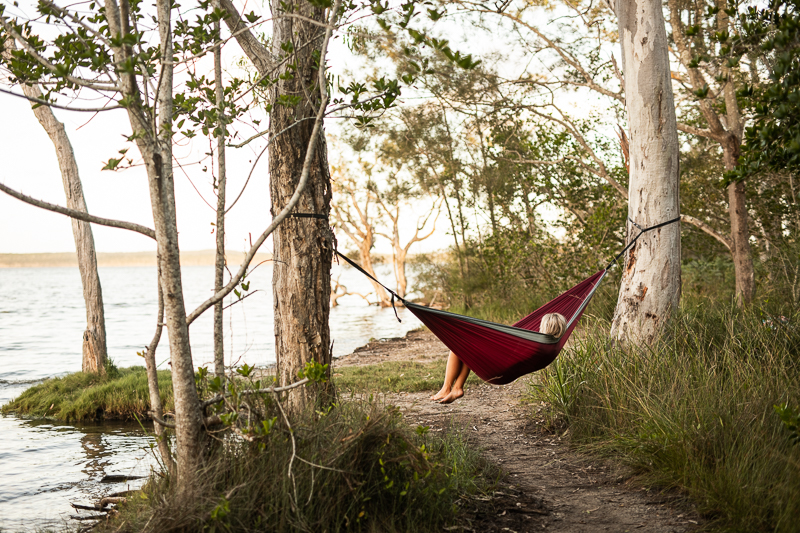 TABLE OF CONTENTS
Tread July/August 2021 – FEATURES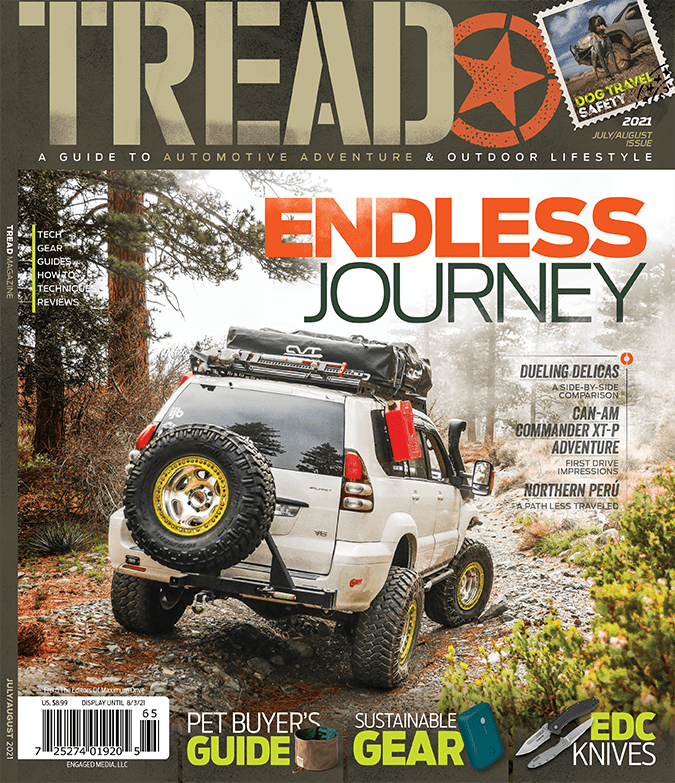 36 MAUL-CRAWLER
CHASING THE PERFECT MEMORY
48 ENGINEERING THROUGH BLOODLINE
LEITNER DESIGNS PROVES HOW GENERATIONS PUSH INNOVATION.
56 OFF-ROAD READY
WINCHING KNOW-HOW AND TECHNIQUES
62 FOUR WHEELS AND FOUR LEGS
TIPS TO ENSURE SAFE AND SMOOTH ADVENTURES, ON- AND OFF-ROAD
70 THE UTV OFF-ROAD EXPERIENCE
A CAN-AM COMMANDER XT-P ADVENTURE
82 THE PATH LESS TRAVELED
AN OVERLAND JOURNEY THROUGH NORTHERN PERÚ
90 REDUCE. REUSE. RECYCLE.
A GUIDE TO REYCLED PRODUCTS
102 A COMMUNITY-BUILT 2019 SUBARU CROSSTREK
THIS COMPACT COMMUTER VEHICLE TURNED INTO OVERLANDING EXPLORER.
114 A FISH OUT OF WATER
OVERLAND ADVENTURES BECOME MORE FULFILLING WHEN YOU'RE FISHING.
122 STARS VS. SPACE
DUELING DELICAS OF THE 1980s AND 1990s
136 'PAW-SOME' CANINE GEAR
THE LATEST PRODUCTS FOR YOUR ADVENTURE PET
142 FUELED BY FIRE
CREATIVE, HERITAGE-STYLE CAMP COOKING
Tread July/August 2021 – DEPARTMENTS
8 EDITOR'S LETTER
14 OUTFITTED
A ROUNDUP OF THE LATEST AUTOMOTIVES ACCESSORIES
16 GEAR BOX
SUPPLIES FOR LIFE OFF THE BEATEN PATH
20 ROCK 'N' ROLL
PUT YOUR BEST FOOT FORWARD.
22 MADE THE CUT
POCKET KNIVES FOR EVERYDAY USE
24 WATERBORNE
BOTE DEUS AERO 11' CLASSIC TEAK INFLATABLE KAYAK
28 VIEWFINDER
THE ART OF AERIAL IMAGING … AT YOUR FINGERTIPS
150 COOKING IN STYLE
COMPACT VERSATILITY
154 LAST