Guide to Creating the Perfect Camp Kitchen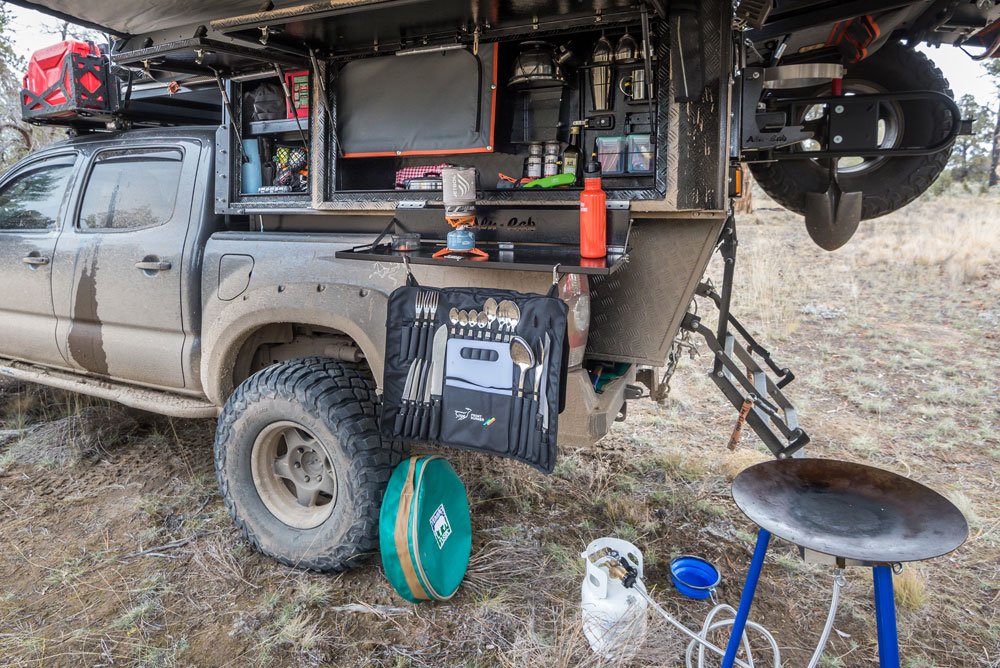 Every Camping Set Up Needs An Ultimate Camp Kitchen
Nothing beats cooking under the open sky. Whether it's preparing a few eggs in the morning to complement a cup of coffee or a hearty steak dinner to end a long day on the trails, cooking while camping is awesome. You don't need to be a professional chef or have any culinary training to create an enjoyable and satisfying meal outdoors. With all the tools and gear available today, the comfort and convenience of a home kitchen is easy to find on adventure travels.
To help get started on building up a collection of gear or to add a bin already full of the essentials, we've compiled a list of items we feel help create the "perfect camp kitchen."
Storage
You'll want to assess the type of trip you'll be taking. Whether it's a weekend getaway or a multiple-month excursion, the key is being prepared and having the proper tools with you. One thing that will help not only save time but also your sanity is to keep everything organized and protected while traveling.
There are a few things to consider while selecting the best storage solution for your perfect camp kitchen setup. Typical items for cooking consist of cookware, utensils, food, and more. Depending on the amount of space and what is being held inside, you may want to opt for a hard case. This will allow you to have peace of mind when storing items and avoid damage. We love the Front Runner Outfitters Wolf pack for several reasons, including the lightweight design and stacking abilities, along with a lower price point when compared to other options. They also nest perfectly next to onboard fridges. There are other options, including cheaper bins and cargo boxes, such as the ones you may find at your local hardware store. Or there are more durable, but pricier, options from companies such as Pelican, Yeti, and Roam. The benefit with those are that they can be mounted to the outside of your vehicle or can double to store other gear.
Other storage solutions include drawer systems, such as the ones from Decked, ARB, and Front Runner Outfitters, to help store and keep your kitchen gear safe. These typically are built for truck beds and popular SUV models. They are more permanent, but can also contain portable cases, packs, and larger items.
Additionally, brands such as Hydro Flask produce dedicated food storage. Similar to their amazing double-wall insulated water bottles, these food jars can help keep food fresh and safe for days on end. This is great for leftovers, fruit, and other perishable items that need to remain safe as well as easy enough to throw in a pack for a meal while hiking on a trail.
Depending how you cook, you may want to consider storage for extra necessities, such as propane tanks, fire starters, wood, and so on, to ensure everything is in its correct place and not damaged.
Refrigeration
Unless you plan on eating only dry foods or boil-in-a-bag meals, you'll need a proper way to keep your food from spoiling. A perfect camp kitchen includes a refrigerator and sometimes a combo refrigerator/freezer unit. For long-term travel, the latter is suggested to ensure meats and other food can last as long as possible, and gives the added perk of having ice and ice cream. A fridge does require electricity and many overlanders install additional battery systems and even solar to keep things powered without draining the vehicle's main battery. There are many great options out there to choose from. We especially like options from National Luna, ARB, and Dometic.
A cooler is great in a pinch or for short-term travel, but there are downsides as ice will eventually melt and you may be stuck looking to keep food fresh, especially during hot summer days. For longer travel, coolers are also great to keep beverages cold and hands constantly going in and out of the refrigerator. We've found bringing along a cooler and a fridge for long trips ideal so long as you have the room. Coolers are great for their portability and come in various sizes, shapes, materials, and price points.
Stoves and Grills
Unless you plan on taking the rustic approach and building your own fire with wood or coals, the easiest solution is to have a gas-powered grill that typically uses propane tanks. There could be an issue with propane tanks in that the large reusable ones take up quite a bit of space and the small disposable canisters create excess trash in landfills as they are extremely difficult to recycle. To help remedy this, we suggest the Ignik Gas Growler, a 5-pound reusable tank that holds enough gas for most short trips and comes in its own carrying case.
One thing to note is due to the increased amount of forest fires, there may be regulations in the area in which you're camping. Some may not allow open flames or charcoal. In this instance, gas-powered grills are the best solution.
With all the tools and gear available today, the comfort and convenience of a home kitchen is easy to find on adventure travels.
There are countless options for gas-powered stoves and grills, and we've used several from brands such as Primus, Camp Chef, Kovea, and GSI Outdoors. In all honesty, most do a great job for what it's intended, but there are a couple of things to consider when choosing a stove/grill.
First is size. How many mouths do you have to feed? How much space do you have in your rig? What type of food do you plan on cooking? All of these factor into your decision for the addition of a stove for your perfect camp kitchen. If you're traveling solo you may not need a larger stove. Or if you simply do not have the space, then a smaller grill may be the best solution, as it's more portable and takes up less valuable cargo room.
Along with size, how many burners does the stove have? Most are single- or double-burner stoves. A double provides the ability to cook multiple items at once. Even if it's as simple as grilling a hot dog and a can of beans, having two burners is very convenient to ensure a nice, warm meal.
Another important thing to think about is the amount of time spent setting up. Most camp stoves and grills only take a couple of minutes to get set up and start cooking, but some may require more time or are a bit more difficult overall.
Depending on what you plan on cooking you may need the ability to reach specific temperatures (i.e. getting that proper sear on a steak). So a more powerful stove with the ability to reach higher temperatures may be needed.
Finally, the weight and durability of the stove can play in your overall purchase decision. Typically, the more durable and strong grills will be heavier due to the materials and build quality. However, there are also a few solutions that are small, compact, and may even come with its own protective carrying case, such as the Kovea Mini All-in-One stove system.
Cookware
From pots and pans to even Dutch ovens, there are several cookware options available. Finding the one that suits your needs best is the key to completing the perfect camp kitchen.
Let's start with pots. These are always great to have on hand as they not only heat up food quickly but can boil water as well. We suggest pots specifically made for travel and camping over using pots from home. They are typically lightweight and can nest within themselves to save overall space. Also, having a separate set from the items at home allow for added convenience to keep with the rest of the camping gear. That is one less thing to worry about when packing up before a trip. Brands such as UST, Camp Chef, and Primus have great lines.
There are several options for camping pans or skillets, as well. More than likely, having one solid pan option is good. GSI, Sea to Summit, and Snow Peak have a full line of cookware options for camping, in various sizes and materials, from stainless steel to titanium.
The one item that many of our more-experienced camp chef friends highly suggest is a cast-iron skillet or Dutch oven. These are timeless and will last for years if taken care of properly. They are great for retaining heat, making for easy cooking, and can be placed directly on hot coals or an open flame without getting ruined, expanding cooking options. One drawback is that they are extremely heavy. With proper seasoning, a cast-iron pan is ready to cook upon and provides non-stick properties. Lodge and Camp Chef both have great designed cast-iron options to choose from.
Utensils
Camp utensils are essential to not only cook your food but help you consume it. We encourage you to Leave No Trace and avoid creating extra trash when possible. This includes using utensils that can be washed and cleaned. Yes, it's more work but it's beneficial for the environment in the long run and we highly recommend it. Reuseable, camp-friendly utensils come in many different materials from wood to aluminum to even titanium. One of the most popular dinnerware and utensil sets is from Front Runner Outfitters. It includes everything you may need for up to four people and all in a simple roll-up bag that can easily be hung for access.
Cooking and food prep knives are another critical component to your camp kitchen. Just like in any kitchen, there are several types of knives to help with both preparation of your meal and eating. The thing with knives is that each may have a specific design and purpose and can range in materials and ultimately cost. Primus has great options with their Campfire Knife made with stainless steel or their Field Chef knife that is foldable with a blade built to chop, slice, and fillet. For those who are looking for a professional-grade chef knife, Messermeister and their Adventure Collection may be the best solution as it is portable, foldable, and chef grade quality. They come single or as a set, complete with cutting board. Of course you may need something larger, and there are plenty of cutting board options available.
Table
Having a table at your side is both handy and convenient for the perfect camp kitchen set up. They are great to set your grill/stove for cooking, but to also help prepare your food and eventually provide a place to eat from. The downside to bringing your own table is lack of storage space, as tables are often large and can be a bit on the heavy side, especially for one durable enough to confidently hold a grill.
Kovea's One Action Table is available in a couple of sizes and is a versatile solution that sets up in seconds. The beauty of this table is that it folds in half and has telescoping legs to allow for three different heights. It also has an optional carry bag that we highly suggest pairing with the table. It provides easy storage and the handles make it easy to carry and pack away.
Another option is the Stainless Steel camp table from Front Runner Outfitters, which can be stored under a Front Runner rooftop rack. This durable table wins as far as packability, easily tucking away into unused space if you mount it to the roof rack. Its downside is that it does not fold, is usually exposed to the elements, and is a bit on the pricier side.
Also available are fold-down tailgate tables, which are convenient if you cook directly from the back of your rig and can hold a grill or be used for food prep. There is also the Tailgater Table that uses one leg to hold it up on one side and your tire to support it on the other. For a single traveler, or when you do not need a ton of table space, it fits the bill, and is much better than the lesser-quality roll-up aluminum tables often used.
Coffee Maker
Nothing beats a warm cup of coffee first thing in the morning. It may not be convenient to bring a home coffee maker on the road, but there are many options to get your daily dose of caffeine without the need for electricity. Depending if you want more of a pour over, french press, or even espresso, there is a portable solution available for the perfect camp kitchen.
The Planetary Designs OVRLNDR Press is convenient, portable, and easy to clean. The great-looking system is durable and built for travel. For those looking for espresso on the road from the comfort of their car, AeroPress Go is an incredible all-in-one solution. It's easy to use and packs down with all the tools in a simple container that doubles as a mug.
Hot water is key and there are a couple of options to get boiling water quickly outside of using a grill with a pot or kettle. We like the JetBoil system for its fast, efficient, and ultra-portable design, which can provide hot water in less than two minutes. The single-burner model is also a great for when traveling solo and you need to heat up quick meals.
A proper coffee mug or tumbler will ensure that your beverage remains warm. Typical ceramic mugs tend to break, so you'll want to invest in something that will withstand moving around while stored or an occasional drop. We like the options by Hydro Flask, Pelican, and Yeti for their bulletproof strength and ability to retain heat. As for the coffee itself, there are plenty of great options depending on your tastes, but right now, we are loving the beans from Drive Coffee, and the packaging is a bonus.
Sink
Finally, no perfect camp kitchen is complete without a sink and the ability to wash your dishes. Again we opt for items that are reusable to ensure we have less trash while doing our part for the environment. This means having to wash all of the cookware, utensils, and more. A good sink comes in handy.
Not everyone has the convenience of a camping trailer or fully built camper van with a separate kitchen and sink. There are a couple of options of tables with built-in sinks, but they are bulky and again take up valuable storage space. We like the convenience and ease of collapsible and portable sinks from UST and Sea to Summit. They don't take up much space and won't break the bank.