Chef Adam Glick Adventures in Quigley 4×4 Van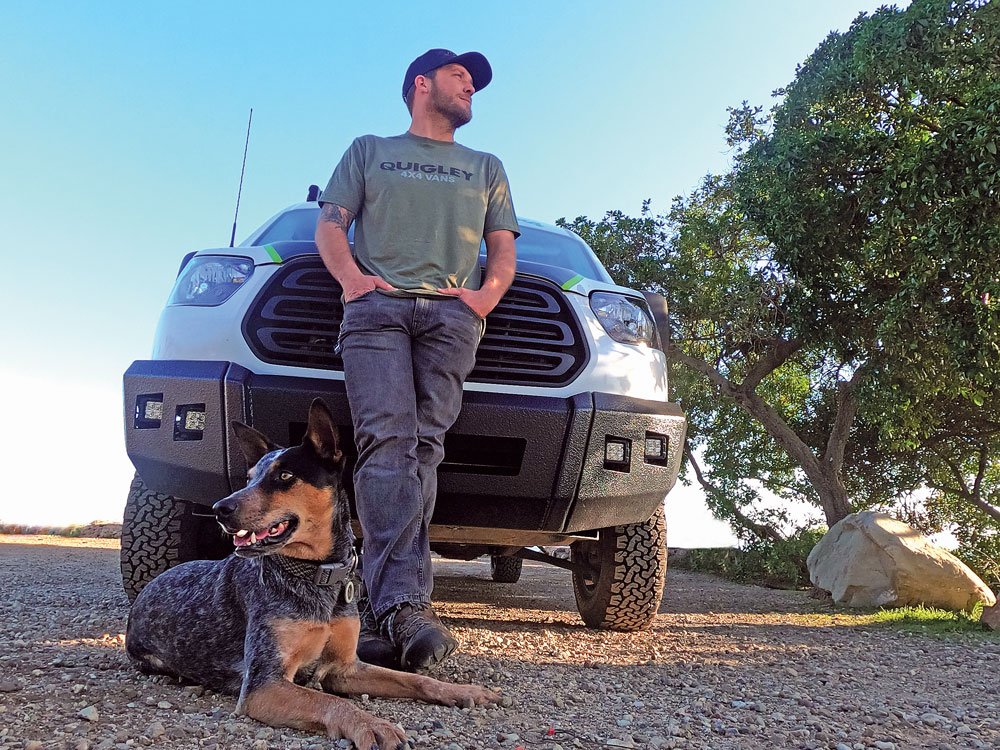 Adventure Chef Adam Glick Takes Outdoor Cooking To New Heights
Adventure is nothing new for Adam Glick. After spending over 10 years sailing the seven seas as a yacht chef, moving to life on land out of a van was a cinch. Not only did it translate well since he was used to living in small quarters with minimal possessions, but it also gave him the ability to move about the country freely to visit with friends, explore the land, and surf as much as he could. Between sailing gigs, Glick chooses to roam along the coast and across the country looking for epic waves, seeking adventure, and cooking up amazing meals. He brings his skills as a chef to the outdoor community to prove that we don't need to sacrifice delicious meals for unreal adventures. Now traveling across the country to share his Adventure Chef Collection, Glick partnered up with Quigley 4×4 who stepped in to make his travels limitless and bountiful.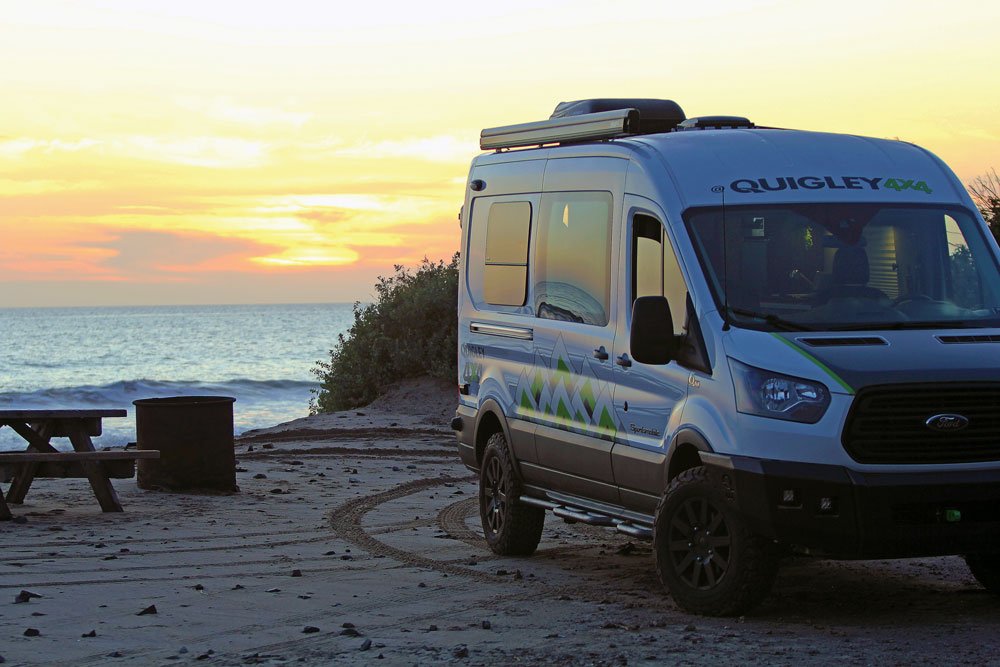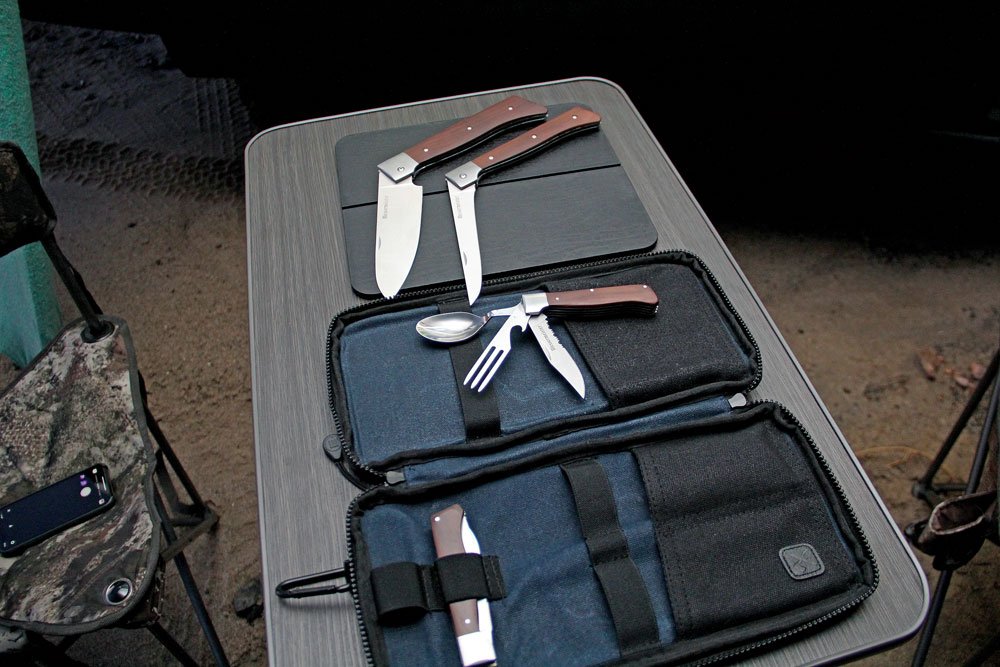 Background
It's not every day that someone decides to live on open water for 10-plus years to make a living. But for Adam Glick, it was meant to be. He grew up traveling and eating food from all over the world. As he entered college, he realized that the traditional schooling path just wasn't for him. With his sister's encouragement, Glick packed up his life in Chico and moved to San Diego to attend culinary school. After three years of surfing and learning culinary magic, he was aboard a 120-foot super yacht and his journey of 100,000 nautical miles began.
"… [wholesome cooking developed over an open flame with friends and family] is the tastiest and most delicious meal one can have."
Life on the open seas, living in a cabin below deck, creating high-end delicacies may not be for everyone, but Glick found his passion and a fruitful career. Challenges arose when he was finished with a job and back on land looking for a place to call home until his next job on a boat. It didn't make sense to rent an apartment and fill it with furniture to then have to sell it all and move out three months later when he received a job offer on another yacht. It seemed pretty natural to explore the idea of living on the road when he wasn't on a boat. And it gave him the opportunity to travel between yacht chef jobs. With the help of his father, Glick custom built a Ford Transit 250 and starting racking up more miles—only this time on land.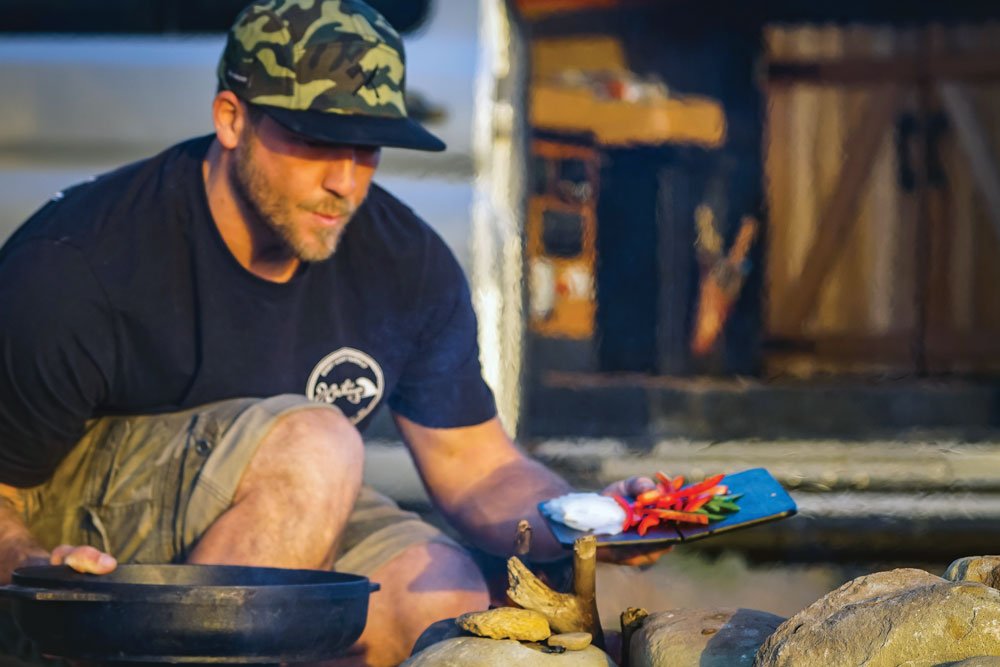 Déjà Vu or Another Familiar Face
Adam Glick may look familiar. We've followed his Instagram account for a few years to gain some outdoor cooking insight and get inspired from his fun adventures with his dog, Tex. What we learned more recently was that he partook in a few seasons of Bravo's Below Deck, where he was chef aboard the yacht sailing the Mediterranean, and most recently a part of the cast of Below Deck Sailing Yacht. However, what we enjoy watching most is his series with OutsideTv called Stoked.
In this series, he meets up with a professional athlete, often action sports athletes, and he/she teaches Glick about his/her sport or they go on an adventure together. Best part? While in the outdoors, Glick shows the athletes how to prepare a meal in whatever locale they are in. And what he cooks up always seems so feasible and easy enough to prepare—all while making you salivate on the spot. It's great inspiration for the foodies out there looking to step away from their skottles and try something different. Glick says, "You can make a kitchen anywhere." Usually he cooks over an open flame, but Glick says, "Create a kitchen space most comfortable for you based on what you're cooking. It's easy to make a pizza oven in a berm, or use what's around you already, like rocks or boulders, to make a kitchen space." He goes on to say, "Heat, a pot, and creativity is all it takes."
He demonstrates ease of this thinking in Stoked. One of his favorite memories was making blackened fish sandwiches in the Florida Keyes with Sydney Schwartz, a local Florida angler, for an episode of Stoked. He made a hole in the sand berm, built a fire, and cooked the fish over the open flame. He told us that it was such a great feeling to fillet and cook up fish he and Schwartz had just caught that day right there on the sand of the beach while enjoying the scenery.
Adventure Chef Knife Collection
As Glick spent more and more time on the road seeking adventure, exploring, and cooking, his worlds blended together and, like most, he saw a need. He realized there weren't any professional-grade chef knives, or anything remotely like them, available for easy, portable outdoor use. Most of the time, people resort to using their foldable blade from their pocket or risk the possibility of cutting themselves when pulling out a sharp knife from a drawer or storage container. Those who like to make fresh and tasty meals while out on the trail were at a loss, just because of portability. Well, not anymore. Glick partnered up with Messermeister to launch a line of Adventure Chef Knives that are portable, well-crafted, chef-grade, and don't take up too much space. Glick makes it simple to cook wherever you wanted. These knives are easy to travel with; simply throw it in your vehicle, boat, UTV, or camper. For all the cooking aficionados, keep an eye out for a future issue with Tread's review on the Adventure Chef Collection.
Quigley 4×4 Van
Adam Glick's original van is a Ford Transit 250 conversion he built with help from his father. It was plenty capable to take him from coast to coast, but he needed something more to take him to areas less traveled—the spots off the beaten path that we all like. Quigley Motor Company, based out of Manchester, Pennsylvania, teamed up with Adam Glick and provided him with an adventuremobile to tackle the tougher terrain so he can go further and see more.
"Not afraid to try something new … he went from culinary school to working yachts to traveling the country in a van full time, to the biggest test of spirit—reality television."
This Ford Transit 148-inch Midroof Cargo van with 3.5L Ecoboost engine touts seating for five and sleeping for two. It received the Quigley 4×4 System to make it plenty off-road capable. This includes a Magna transfer case, addition of two speed (4-Hi and 4-Lo), manual shifter, front hub assembly, 4×4 indicator light, and 2-inch ride height increase. The F-Series components used included a front independent axle, front axle shafts, front hub locks, and steering. With these changes, Quigley is also able to maintain factory components. It maintains the OEM front suspension and brake system, traction control, four-wheel antilock braking system (ABS), tire pressure monitoring system (TPMS), and Advance Trac with Roll Stability Control System (RSC). For those worried about wear and tear, Quigley matches the powertrain warranty on their components while not voiding the Ford warranty.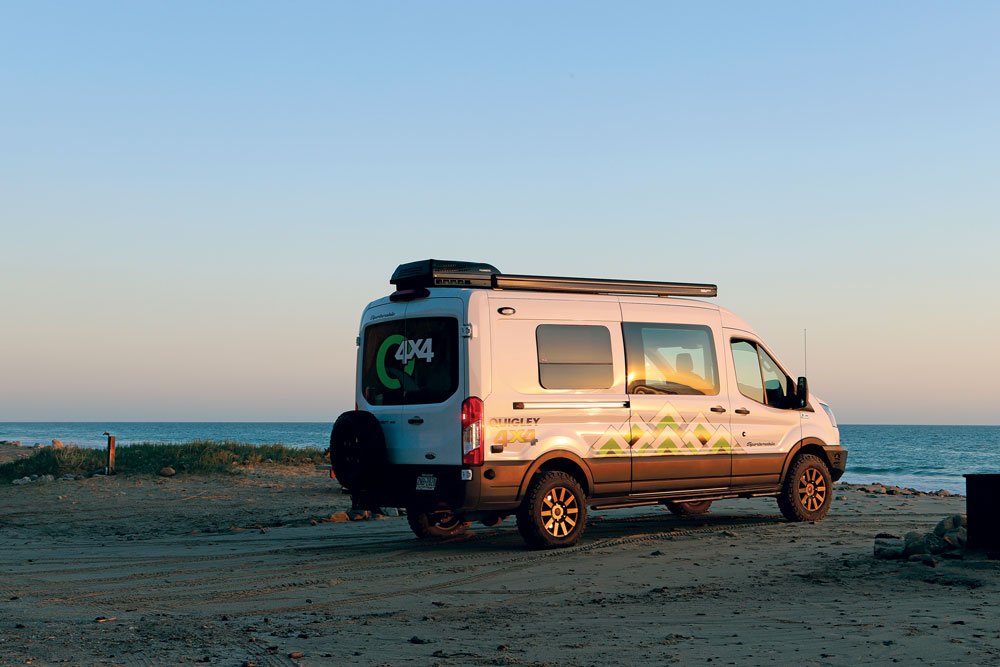 Quigley was also thoughtful about the interior modifications. The open floorplan provides an abundant amount of storage for all your gear and personal belongings. When weather changes with the seasons, the weather-resistant flooring helps maintain consistency. On board there is a 16-gallon water tank and 4-cubic-foot fridge to store your perishables. A gasoline-powered furnace and water heater keeps things warm when temperatures drop, along with the extreme weather insulation. Living on the road does not mean you have to sacrifice creature comforts either. It has a PortaPotti with cover and exterior shower and a microwave. It utilizes a 200Ah AGM battery and 2000W Magnum Inverter, along with two 110-watt solar panels for when off grid. There is an awning off the side to provide extra shade when parked camping and a MaxxAir vent fan to help circulate air. Additional mods include a side ladder, raptor liner, Black Rhino Wheels, and BFGoodrich tires. Even the sofa is customized in leather with contrast stitching.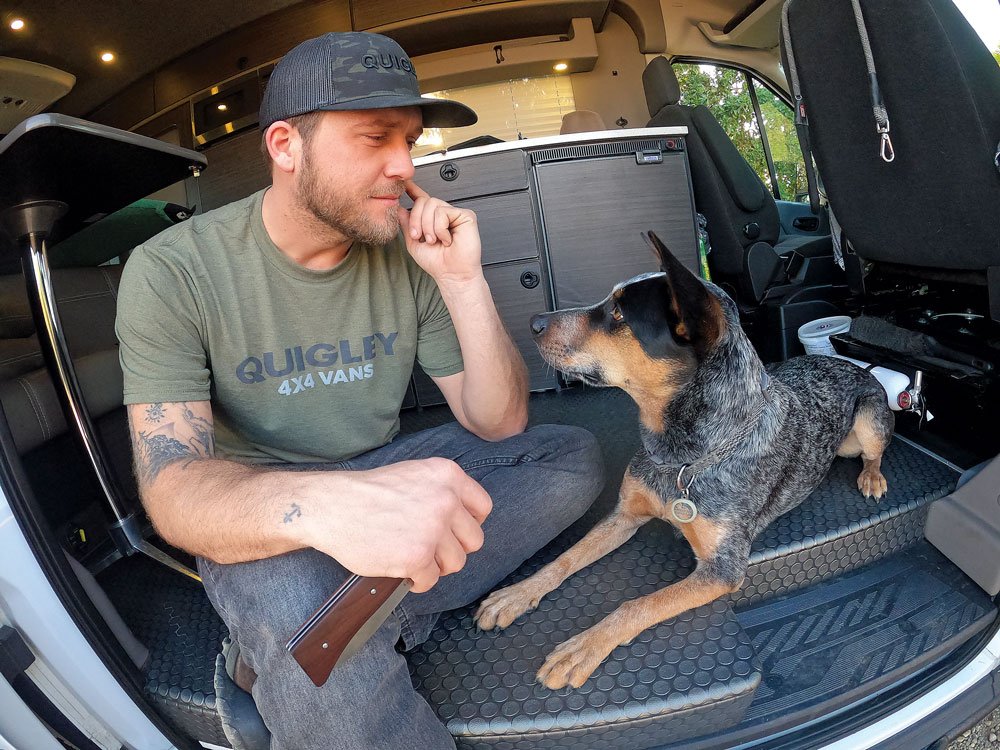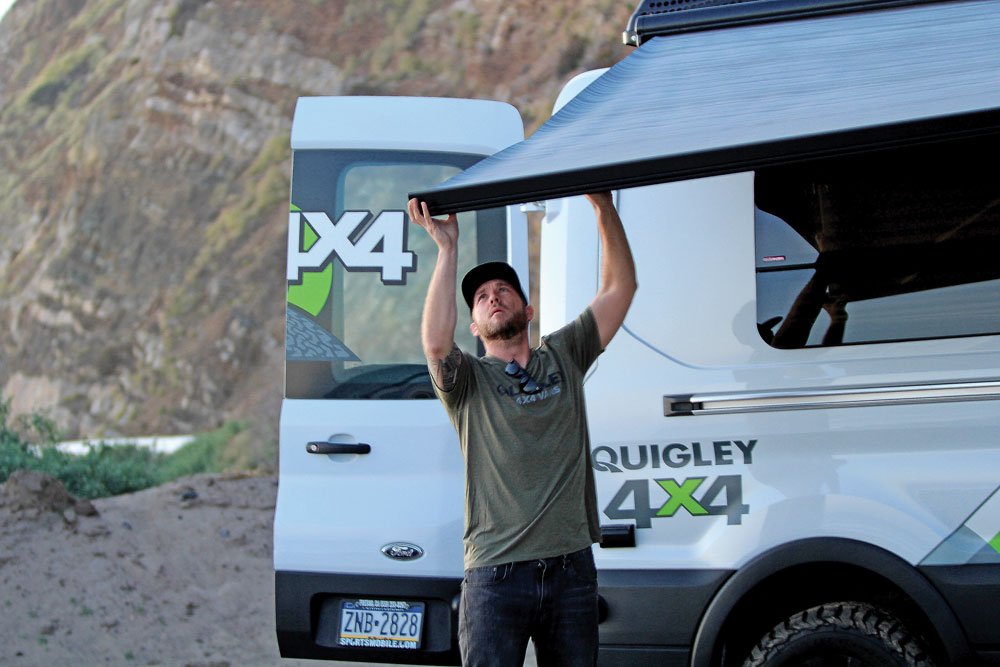 Back to the Basics
Laid back, creative, inspirational; those were words we'd use to describe Adam Glick. Not afraid to try something new, as evidenced in Stoked, he went from culinary school to working yachts to traveling the country in a van full time to the biggest test of spirit—reality television. For a guy who has seen a lot in his life so far, his humble side shines when he talks about food. He expressed how as a society we got a bit caught up in good food having to be fancy to be considered "good." But that's not necessarily the case. He's happy to see the farm-to-table movement rise, which shows the beginning of going back to more simplistic but delicious cooking. Things don't need to be complex. As he reflected on his worldly cooking and eating experiences of Brazilian cookouts and cooking camel over an open flame, he says how wholesome cooking developed over an open campfire with friends and family. "That is the tastiest and most delicious meal one can have," Adam Glick says. Having those experiences anywhere make it taste better. Next time you're packing up your rig for an adventure with friends, we challenge you to bring the ingredients to cook a simple yet delicious meal over an open flame. It goes without saying that the meal would be quite tasty, most definitely better than an MRE, and more enjoyable because of where you are and who you are with.
"[Adam Glick] brings his skills as a chef to the outdoor community to prove that we don't need to sacrifice delicious meals for unreal adventure."
To follow along on Adam Glick's adventures, visit him on Instagram @chefadamglick.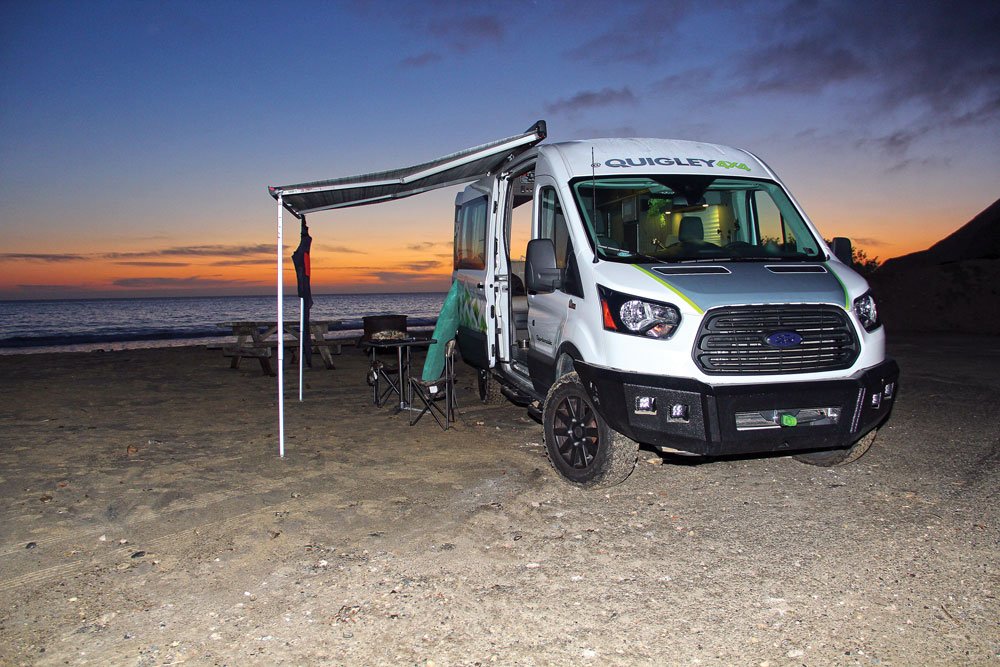 Editor's Note: A version of this article first appeared in the May/June 2020 print issue of Tread Magazine.