2021 Jeep Concept Vehicles at Easter Jeep Safari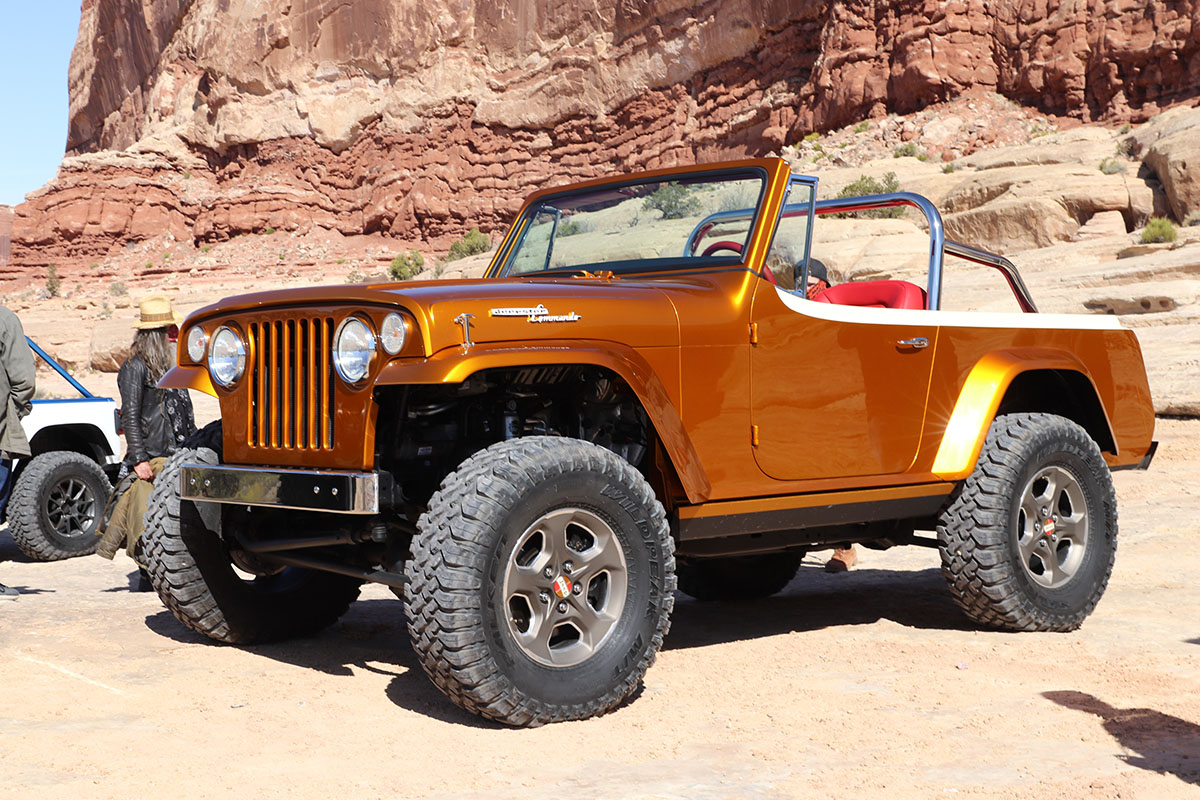 Moab Hosts Jeep Concept Vehicles for 2021 at Easter Jeep Safari
On Monday, April 5, Jeep debuted their concept vehicles for 2021. Select media were invited to meet at an undisclosed location to experience the new Jeep concept vehicles and builds. Following coordinates given, we all met in the hills of Moab, Utah, with excitement on our faces to see what Jeep brought out to show off. Participants got the chance to hear about the ideas behind the builds from Head of Jeep Exterior Design Mark Allen, and Vice President, Jeep Brand North America Jim Morrison. We also got the chance to test drive them around a closed course of authentic Moab terrain.
Jeep Wrangler Magneto EV
The one that caught the most attention was the Jeep Wrangler Magneto EV. This all-electric Jeep is based on the two-door 2020 Jeep Wrangler Rubicon, but runs off four battery packs with a total of 70.0 kWh. It has 4×4 capability with its six-speed manual transmission. As was told to us, it is a vehicle that one who doesn't normally drive a manual can still operate with ease. Putting out 273 lb-ft of torque and 285 hp, this Jeep didn't lack in the quality and performance you'd expect from an off-road vehicle. Speeds top out at 90 mph and 30 mph in 4 Lo.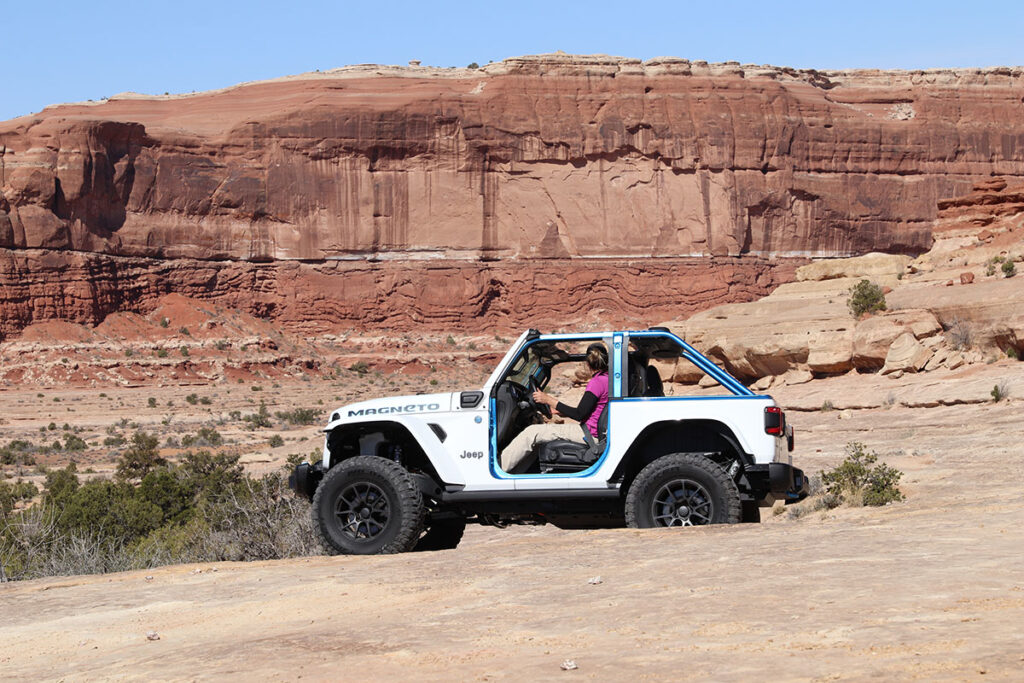 Jeep Gladiator Rubicon Red Bare
Tauting a 3.0-liter EcoDiesel V-6 engine, 8-speed automatic transmission and a 91:1 crawl ratio, this Fire Cracker Red Jeep did not disappoint. The extra torque that a diesel vehicle brings was felt at the pedal, with 442 lb-ft of torque and 260 hp. It uses Dana 44 front and rear heavy-duty axels with 4.88 axle ratios. The 37-inch BFGoodrich Mud-Terrain tires rolled easily over the slick rock shelves of Moab, reminding us why the Jeep is so perfect for the rock crawling trails.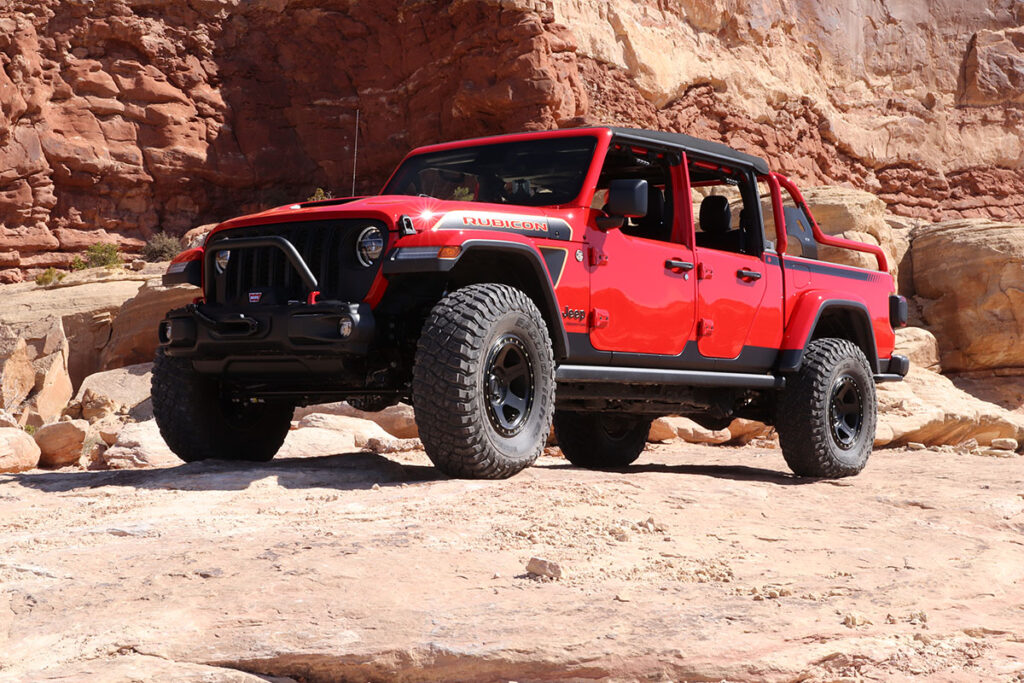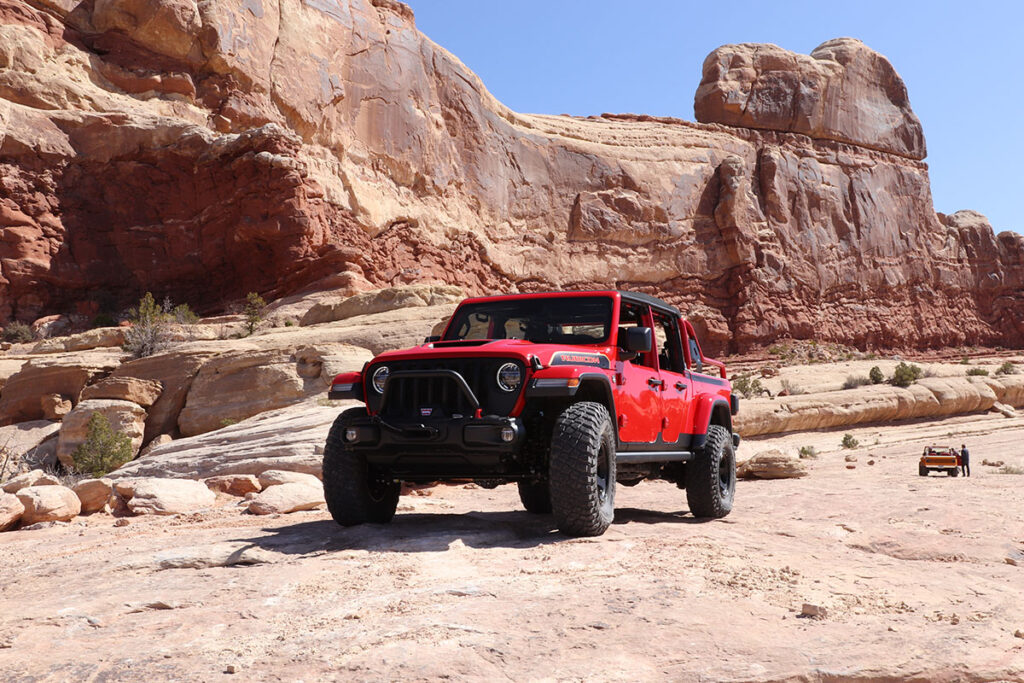 1968 Jeepster Commando Beach
One of the coolest vehicles we've seen in a while, the 1968 Jeepster Commando, called Beach, turned heads with its throaty motor and bright paintjob. It could not be missed with the two-tone Hazy IPA and Zinc Oxide painjob with bright red interior. The modified 2.0-liter turbocharged four-cylinder engine produces 340 hp and 369 lb-ft of torque. We especially enjoyed watching Marco A. Hernandez drive it around in his Hawaiian lei, perfect fit for this vehicle.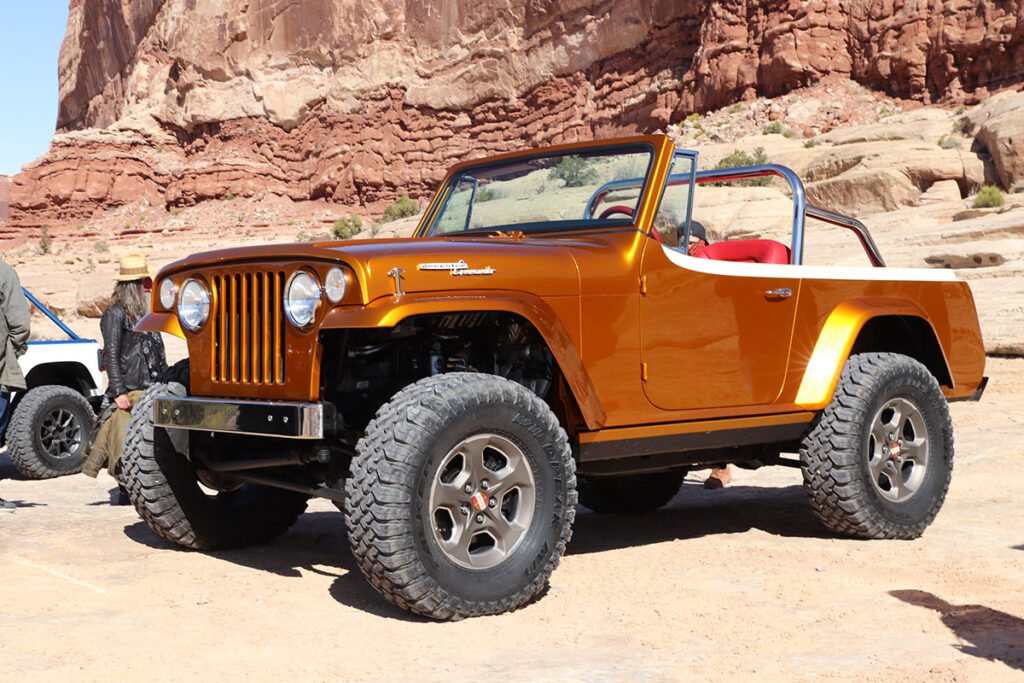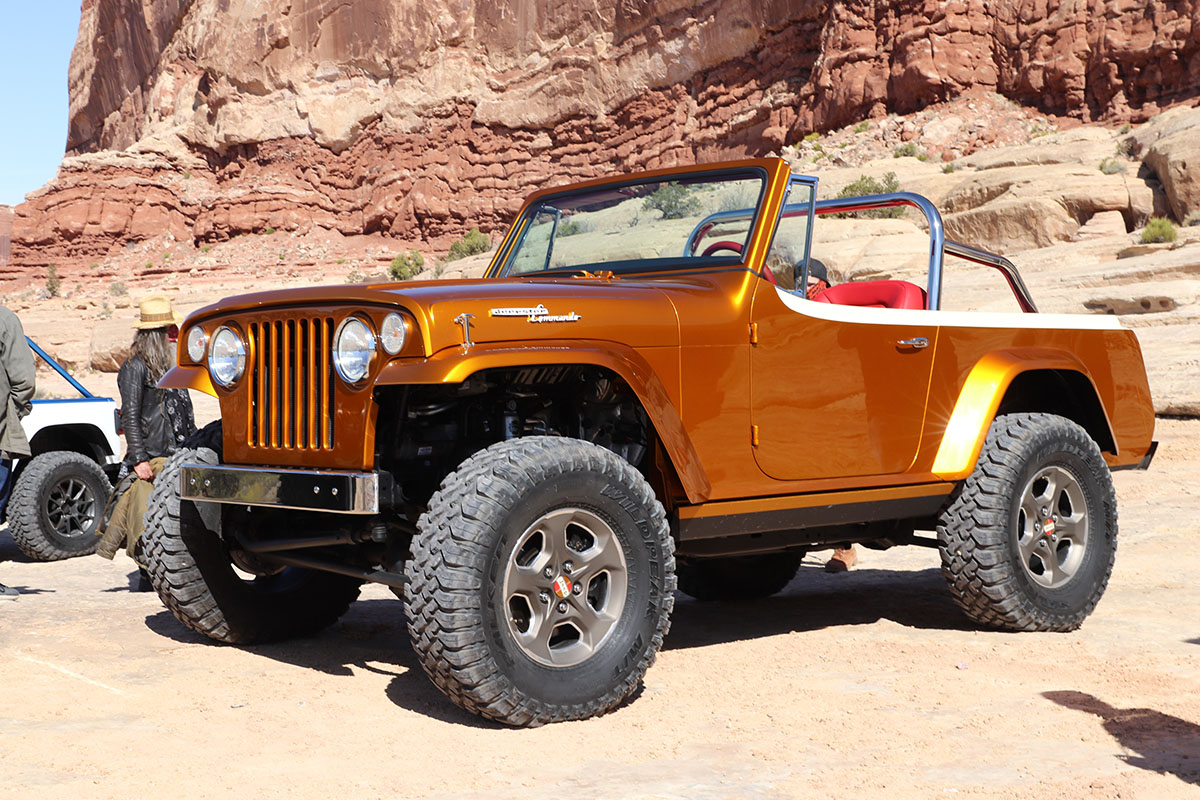 Jeep Gladiator Rubicon Farout Overland Build
Our favorite, of course, was the Jeep Gladiator Rubicon sporting an AT Overland Habitat. Making use of the same 3.0-liter EcoDiesel V-6 engine as the other diesel Rubicons, this Jeep concept vehicle caught our attention with its moondust color, Earl, color-matched to the Habitat. Most noteworthy, was the attention to detail to the camper design. Mark Allen shares the idea and thoughts behind the build and what brought about the retro-style design of the camper interior, with orange coloring and teak wood accents.
Jeep Wrangler Rubicon 392
People have been dropping V-8s into their Jeeps for some time. Now one can buy one straight from the factory with a Hemi V-8 giving 470 hp and 470 lb-ft of torque. This 6.4-liter V-8 is the same engine that comes in the Dodge Durango SRT. We might have originally thought the extra power boost wasn't that necessary for off-road driving. However, we were quickly shown how relevant and fun it truly is. It's easy to change a mind when you hand over extra power under the pedal. A simple tap of the toe gives the rumbling engine the go-ahead, but not in a way that is unnecessary on dirt.
With some time behind the wheel, we experienced fun power gains and ease with off-road terrain. As with most Jeeps, shifting into 4Lo brought ease to the wheels as it climbed up the rock ledge. No sweat for this powerhouse. The electric soft top was a nice touch. It allowed sunshine to flood in as we took it on two tours around the drive course. The interior was comfortable and the half doors proved helpful and stylish.