Free Digital Download – March/April 2020 Issue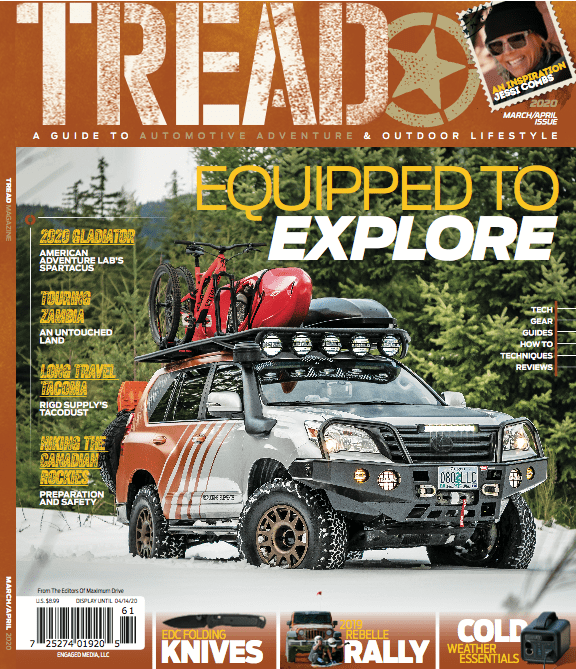 For a limited time, you can get a
FREE

digital download of  March/April 2020 Tread magazine.

To help provide you with some content while you #stayhome, we have decided to offer a free digital copy of the March/April 2020 issue. Click the link below, enter your information, receive a confirmation email with instructions on how to obtain your copy, download and enjoy!

I WANT MY FREE DIGITAL DOWNLOAD!
Contents
Features
A Long History with Nissan Continues
40 Off-Grid Grit
Taking It Old School at the Rebelle Rally
46 Hiking in the Canadian Rockies
Preparation and Safety for Off-Season Adventures
56 Spartacus: A Natural Leader
American Adventure Lab Gladiator
70 Baby, It's Cold Outside
Cold Weather Gear Essentials
Jessi Combs: An Inspiration We'll Never Forget
88 Lost and Found
The Right Gear and a Little Knowledge Can Keep Your Wilderness Travel on Course
Lexus GX460 Adventuremobile
108 Touring Zambia
An Untouched Land
118 Drift
Simple Tips to Increase Your Chances of Landing a Trophy Brown Trout When Streamer Fishing
126 Dust to Dust
The Rebirth of a Tacoma Dream Proves Itself Worthwhile
136 Generation Showdown
An Overland Discovery Comparison
148 Cast-Iron Cooking
With Dutch Ovens, There's No End to the Delicious Meals You Can Make Outdoors
DEPARTMENTS
8 EDITOR'S LETTER
14 ROCK 'N' ROLL
Put Your Best Foot Forward
16 OUTFITTED
A Roundup of the Latest Automotive Accessories
20 GEAR BOX
Supplies for Life Off the Beaten Path
22 MADE THE CUT
EDC Pocketknives
26 REC