Campworks NS-1 Trailer Revolutionizes Solar-Powered Remote Travel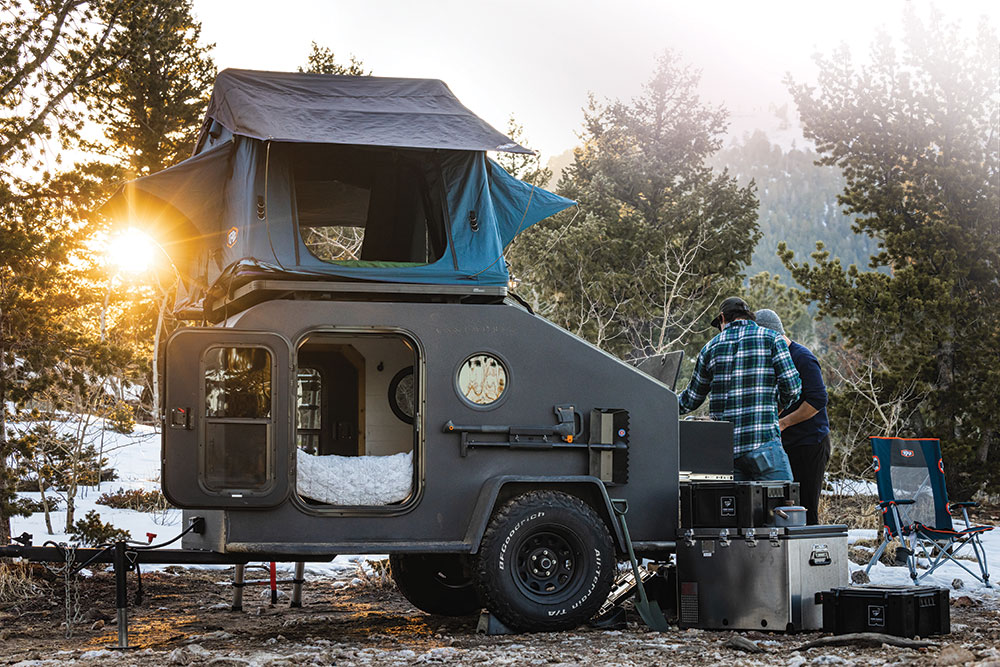 Campworks creates off-grid charging stations — the sun powers their trailer anywhere you tow it.
Imagine a world in which off-road adventurers can pilot their electric vehicles (EVs) anywhere in the country—without battery charge stations nearby. Soon, we might be able to power up whenever needed, no matter where we are. The Campworks NS-1 trailer makes it possible.
What if you're traveling via remote country roads with camp gear in tow or driving over miles of dirt? How about slushing through snow while heading to an off-the-grid campsite? No problem.
Adventure enthusiasts can soon self-sustain off the grid while piloting an EV. Can you envision an environment in which "range anxiety" doesn't exist? Where being tethered to EV charge stations doesn't limit the adventure? Is there a way away from generators or battery chargers when traveling remotely? How about exchanging intricate charge station plans for "just going," no matter how far you travel?
We're explorers at heart. We strive for the next adventure. However, we also want to leave a minimal impact.
Campworks' History
Campworks created a premium, solar-powered, off-road trailer that can sustain itself during remote living. The company is also developing systems to send power back to EVs in order to give them go-go juice while off the grid. Its goal is to self-power a robust EV-and-trailer camping setup via solar power in the middle of nowhere—no matter where you are.
Based in Longmont, Colorado, Campworks is a young company with big ambitions. Founded in 2019 by Thomas Hoffmann (a former employee of luxury off-road RV manufacturer EarthRoamer), Campworks created the NS-1, a self-sustaining, solar-powered, off-road trailer. It could potentially revolutionize how EVs travel remotely when exploring Mother Nature.
"As a student at the University of Colorado, I studied environmental design," stated Hoffmann. "We learned about architecture and the issues we face with climate and our built environment."
Not knowing how to solve any of the large issues he faced, Hoffman customized a van and traveled. He shared, "I found inspiration to return to school and take courses again."
What was his senior capstone project? A teardrop camper.
"It was more a DIY project than it was a polished product. It turned into a job at EarthRoamer," he said.
As a result, the Campworks NS-1 trailer was born, redefining off-grid travel.
"The NS-1 demo was built in a backyard and went on to capture the imagination of many as we worked through the production model in Solidworks."
He and a core team of dedicated, Colorado-based craftspeople meticulously crafted parts for mold-making. "Now," explained Hoffmann, "We've sold out of our year-one build slots and delivered our first units."
The Impetus Behind the NS-1 Trailer
To Hoffmann and the team that comprise Campworks, the NS-1 doesn't just signify a handcrafted, off-road trailer generating its own power. Rather, Hoffmann pointed out that it's "a truly sustainable and resilient home."
Campworks designed the NS-1 as a durable, long-term home-away-from-home.
The Campworks NS-1 trailer allows you to fully experience the outdoors without boundaries. The adventure trailer runs on BFGoodrich KO2 tires, allowing you to handle any conditions. "When we look around the industry, there are simply too many parts meant to last just a few seasons, at best," Hoffmann explained. "The largest manufacturers simply care about low cost and low weight, and those attributes lead to products that don't perform."
The company's goal is to manufacturer off-grid-ready trailers that should last for years to come and leave a minimal impact on Earth.
Summing Up the NS-1
With its full-composite body measuring 66x54x105 inches, the Campworks NS-1 trailer boasts approximately 4 feet of interior headroom and a 25-degree departure angle with 15.5 inches of ground clearance. It also has a dry weight of 1,750 pounds. Along with 8 cubic feet of under-bed storage, the NS-1 has multiple opportunities to mount exterior accessories. This includes RotopaX containers, awnings, a shovel, an axe and more.
CAMPWORKS' TRAILERS HAVE BEEN DESIGNED TO USE THE SUN'S RAYS TO FUEL OFF-ROAD ADVENTURES.
The base NS-1 trailer is armed with 240W, fixed Nashati solar panels, a 400 amp-hour lithium battery and AC 3000W inverter/charger to power a variety of systems. This includes LED lights, a cabin heater, AC and DC outlets and a dual-burner induction cooktop. It also has the ability to heat water. Marine-grade wiring and fuse panels, along with an upgradable electrical system, can grow with you as your needs change. (Note: As the company develops its closed-power system to feed solar power back to EVs, the above stats might change.)
Interior Luxuries
The NS-1 is loaded with premium sustainable and long-lasting materials … plus a comfy, 62×82-inch, queen-sized, high-density foam mattress. The NS-1 interior showcases a variety of LED lights, premium cabinets and power outlets, as well as a power management display system and five windows. An integrated ventilation system rounds out everything, making for comfortable sleeps along the way.
The Campworks NS-1 trailer offers a kitchen drawer box and a stainless steel sink with running hot and cold water supplied by an in-body, 17-gallon water tank. Soft-close drawers, as well as USB, 12V and kitchen-mounted power outlets, can have you making margaritas in no time after a day on the trails.
As a test, the NS-1 cooked an entire Thanksgiving dinner using solar power—the company has a video to prove it. Campworks' next iteration is to not only power the trailer, but to also send power back to any electric vehicle towing it. It will be a closed loop power system for traveling remotely, with no need to use battery charging stations.
Exterior Envy
The NS-1 trailer includes 2 inches of wall insulation between engineered, epoxy-bonded, closed-cell composite panels. And, as Campworks strives to streamline its operation, it's substituting existing materials for eco-friendly or recycled ones.
It's working to build the entire composite unit out of bio-resin and flax fibers. Hoffman stated, "This would make our unit built out of waste materials."
IMAGINE A WORLD IN WHICH OFFROAD ADVENTURERS CAN PILOT THEIR ELECTRIC VEHICLES (EVs) ANYWHERE IN THE COUNTRY—WITHOUT BATTERY CHARGE STATIONS NEARBY; POWERING UP WHENEVER NEEDED, NO MATTER WHERE THEY ARE.
In addition to electrical and interior accoutrements, the construction of the Campworks NS-1 trailer's body keeps severe duty service in mind. Its sealed and powdercoated protects it from the elements. It boasts electric drum brakes, a trailer tongue storage tray and jack and a Lock 'N' Roll articulating trailer hitch.
The NS-1 also includes a Timbren 3500 HD axle-less suspension and 15-inch Trailmaster wheels wrapped in 235/75R15 BFGoodrich KO2 all-terrains. An onboard air compressor makes short work of airing up tires after off-road jaunts.
On its exterior, the Campworks NS-1 trailer's body boasts amenities such as rock sliders, built-in shower with heated water, LED lights and a Front Runner Outfitters platform roof rack. A rear hitch receiver can haul bikes or a ski rack. Beefy, flat fender flares and cabin-access steps double up as small shelves during camp. Campworks also offers upgrade packages.
Campworks Plans
In addition to making future trailers from bio-resin and flax fibers, the company plans to offer better battery packs and up to 20,000 watt hours of power. Its goal is to produce a long-lasting trailer made from sustainable or discarded materials to "double down and divert waste from the food industry."
Hoffmann's goal is to produce products that will "make a truly positive impact on the world of sustainable building."
The company's next iteration, the NS-2, will incorporate major design changes to make it more comfortable. They're also planning on upping the solar power and including sustainable materials.
"We absolutely need to use local craftsmanship and resources in the future," Hoffmann stated. "We aim not only to employ U.S. workers, but also to create a space and a product that empowers everyone to reopen their craft and be proud of the things they create." Hoffmann and his team feel they create better communities and better places in order to "empower craftsmanship as a tool to live sustainably," he said.
To Hoffmann, a good home "shouldn't be renewable; it should be resilient." It should exist, even when the environment changes and the unforeseen occurs. "In an off-grid, off-road trailer, you will see every temperature, weather condition and more. To use sustainable materials is important, but to create a resilient product that maximizes its life cycle is our focus. Real, honest materials stand up better and create more value."
Thinking Sustainably
Hoffmann mentioned that folks should stay on the trail and camp in campgrounds.
"I know that sounds antithetical to the overland community, but truly leave no trace," he pointed out. If people leave places they love better than they found them, they will be able to continue to enjoy them. "As so many more people try to get off grid and away, it's going to become our responsibility to lead and teach." He added, "Study ways to lower your impact."
ADVENTURE ENTHUSIASTS CAN SOON SELF-SUSTAIN OFF THE GRID WHILE PILOTING AN EV. ENVISION AN ENVIRONMENT IN WHICH 'RANGE ANXIETY' DOESN'T EXIST AND FOLKS AREN'T TETHERED TO EV CHARGE STATIONS.
"We still get our power on the grid from fossil fuels," Hoffmann explained. "So, an electric vehicle just shifts the problem away from the driver. At Campworks, we are creating your own charging stations—powered by the sun, anywhere you tow your vehicle."
To him, there are limitations to solar panels, which he sees as positives. "As you move, let the power of the sun dictate how far." Hoffmann believes limitations like these shouldn't be viewed as problems. Hoffmann explained, "The journey is where the fun of life lies. You can recharge your EV to extend the range and even fully recharge over a few days as you take in the sights and sounds of the place you're in."
Campworks designed their trailers to use the sun's rays to fuel off-road adventures. "We are all about creating an incredible experience that's powered by the sun—wherever you are."
You can follow Campworks' adventures on Instagram @campworksco.
---