Regular Cab Tacoma Build by Lizzy Siegel: Let's Look Inside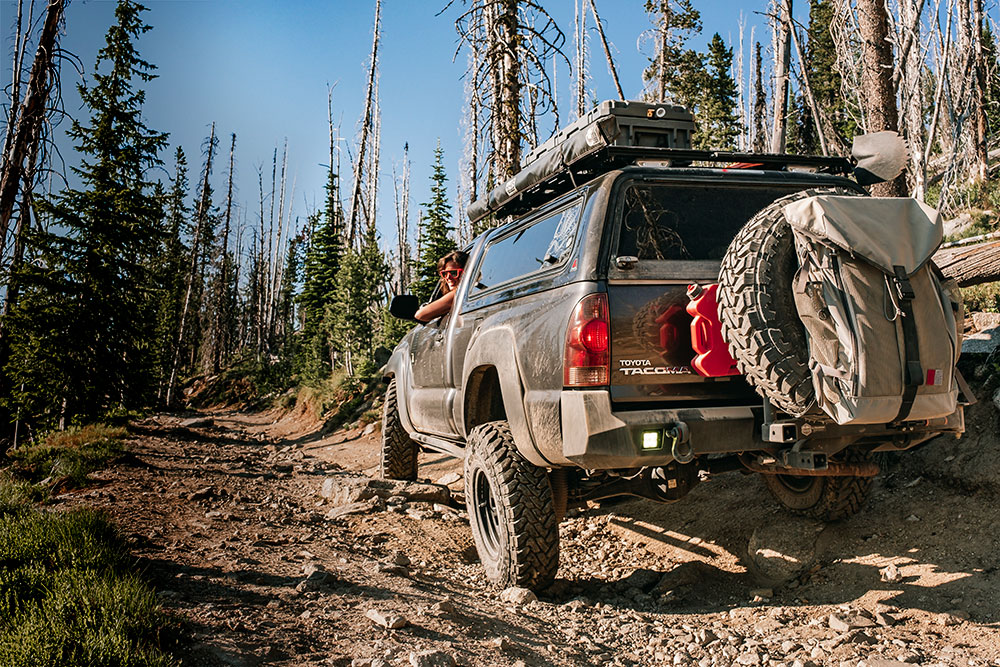 Full-time overland living with two drivers, two rigs and two dogs
Chasing Dreams On Dirt Trails
A sense of adventure runs through one's blood. It doesn't come in a pre-determined package of male or female. Either you got it or you don't. Even if outdoor adventure and camping weren't hobbies one had growing up, that adventurous spirit most likely lead the person to the outdoor lifestyle. That's how it went for Lizzy Siegel. And that's how she found herself in a 2-door regular cab 2013 Toyota Tacoma. This creative Tacoma build requires thinking outside the box in more ways than one – you can trust that Lizzy did just that.
In March 2021, she took off for a month on her own where she explored Arizona and Utah, met up with friends for a bit and then independently hunted hot springs.
Independently Adventurous
The Tacoma may not be her first off-road vehicle, but Lizzy proves that when you like driving dirt trails as much as your husband, you drive your own rig—even when you live on the road full-time.
Lizzy Siegel and her husband, Brett, opted to hit the road with their dogs for an extended adventure experience. After several years of saving and planning, they ventured off and haven't looked back. Brett started out in a Tundra built for overlanding, complete with roof top tent and a kitchen build out, but now drives a 4×4 E350 van.
We fell in love with Lizzy's rig from the first time we laid eyes on it. We agree with her that it's adorable, but it's also pretty badass, like her. As we learned more about Lizzy's off-road past, it makes perfect sense that she would outfit her own rig. Besides, how else would she be able to break away from the hubby to go on girl's trips?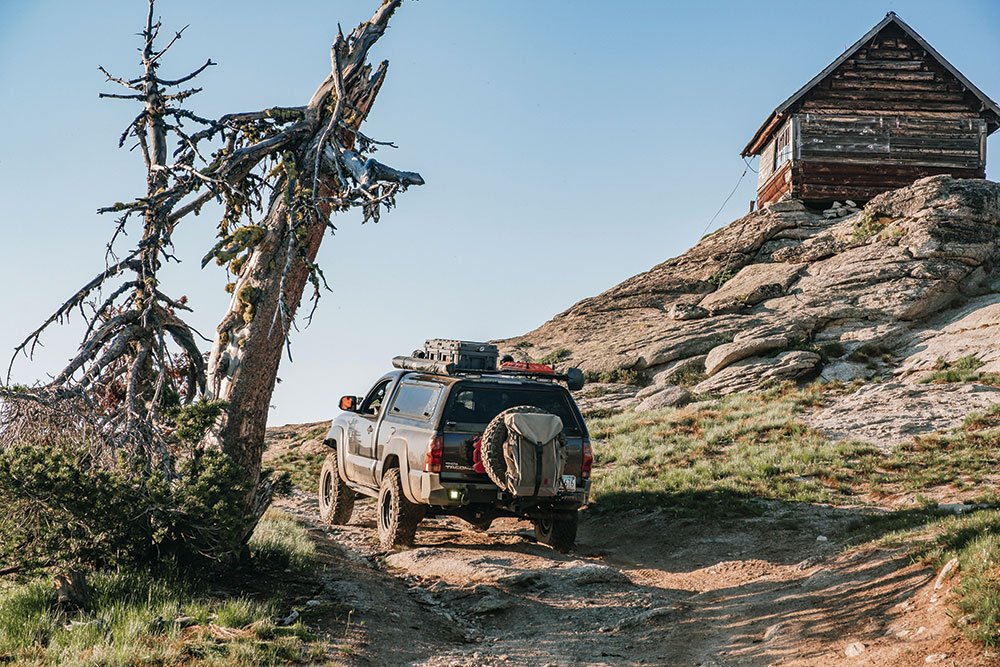 The Camping Trip That Changed It All
Born with an adventurous spirit, Lizzy enjoys driving on dirt roads, hunting down hot springs and engaging her creative side in her builds. However, she wasn't raised in this lifestyle. Having grown up on sunny San Diego beaches, camping wasn't a regular weekend activity. It took meeting Brett and boldly agreeing to a two-week camping trip to put her on the path of finding a new hobby—and ultimately a new life.
As Lizzy shares, "It could have completely backfired and I could have absolutely hated it, but I loved it." They spent a week exploring Death Valley taking photos, sleeping on an air mattress in the bed of Brett's 2WD Tundra and cooking up Cup O' Noodles and cheddar brats. For the second week, they headed over to explore Big Sur. Now that is evidence of a gal born for adventure.
While that trip sparked a new desire for camping, Lizzy and Brett fell into the daily grind of life and the few camping trips they took a year lessened with time. They soon realized that they were working seven days a week to fund their suburban lifestyle, and not enjoying life as much as they wanted. A four-day road trip to New Mexico rejuvenated their spirits and got them out camping much more, especially since Lizzy bought a little black Jeep TJ upon their return.
The Start Of Running Single
That was the first of three Jeeps Lizzy would own, all which had challenges and lead her to ultimately choosing the regular cab Tacoma. The original Jeep TJ got outfitted with a roof top tent, roof rack and storage bins. The rear seats came out for a custom fabricated platform to hold their cooler. Whether heading to Moab or camping within a few hours of home, they were hooked.
They spent the next 6 months taking weekend trips with friends, with mostly Brett driving the Jeep and Lizzy as passenger. One day she sent him a Craigslist ad while he was at work for a red Jeep LJ, his dream Jeep. She told him to buy it because she wanted to drive her Jeep. He bought that red Jeep and from then on they have run two vehicles. Over the years the vehicles have changed, but running trails in tandem remains the same.
Living Dreams Now Rather Than Later
Weekend camping trips were great and got them closer to living the life they wanted, but they still yearned for more. After watching family members battle debilitating illnesses, they questioned the idea of waiting until retirement to travel and see the country. The thought of waiting until they were older to then possibly never have the experience, as they saw happen with close family, motivated them to get out of debt, save up and travel like carefree retirees for a year.
It wasn't easy, but making the life adjustments needed to save money was worthwhile. An added perk was the ability to learn how to live lean. "I'd say one of the benefits to having a couple years to plan out our full-time travel was it allowed us to pare down our things from the items we thought we needed to the items we actually use," said Lizzy.
Choosing The Perfect Truck 
Believe it or not, being a previous Jeep owner is what lead her to this regular cab Tacoma. Lizzy had plenty of experience building a vehicle to meet her needs and also time behind the wheel driving. She knew exactly what she wanted. When asked, she told us, "I wanted a small reliable off-road vehicle that I could chase [Brett] down the trails in, and would be capable to handle the dirt roads, some tougher trails and back highway routes we had planned. But I still wanted something comfortable to hit tarmac for a solid push when necessary."
The highlight of the hard shell is the fully opening side windows, so Lizzy can grab her gear without having to always crawl in from the tailgate.
Those goals lead her to the 2-door regular cab Toyota Tacoma. While she thinks it's adorable, there's more technical rationale behind her decision. She likes the super short wheelbase it offers. "It's light and nimble for a truck and coming off three Jeeps, it was a good transition," she explained. She also likes the low end torque the inline 4 cylinder has, and its reliability. Being a diehard manual gearbox owner, she couldn't pass up the opportunity to have a 5-speed manual. And finally, the look of the 2-door with the bench seat and its nod to the original Toyota trucks helped seal the deal.
The Tacoma Build
When the adventure is long term, the regular cab Tacoma is obviously the daily driver. Essentially, the Taco is currently still on its longest trip. At times they opt to store it for a few weeks to use one vehicle, depending on where they are traveling to. They have also had to all pile into the Tacoma for several weeks when the Tundra needed repairs. Brett, Lizzy and three dogs drove all around the west for five weeks on a bench seat. That also forced an opportunity to dial in the essentials and keep only what was necessary.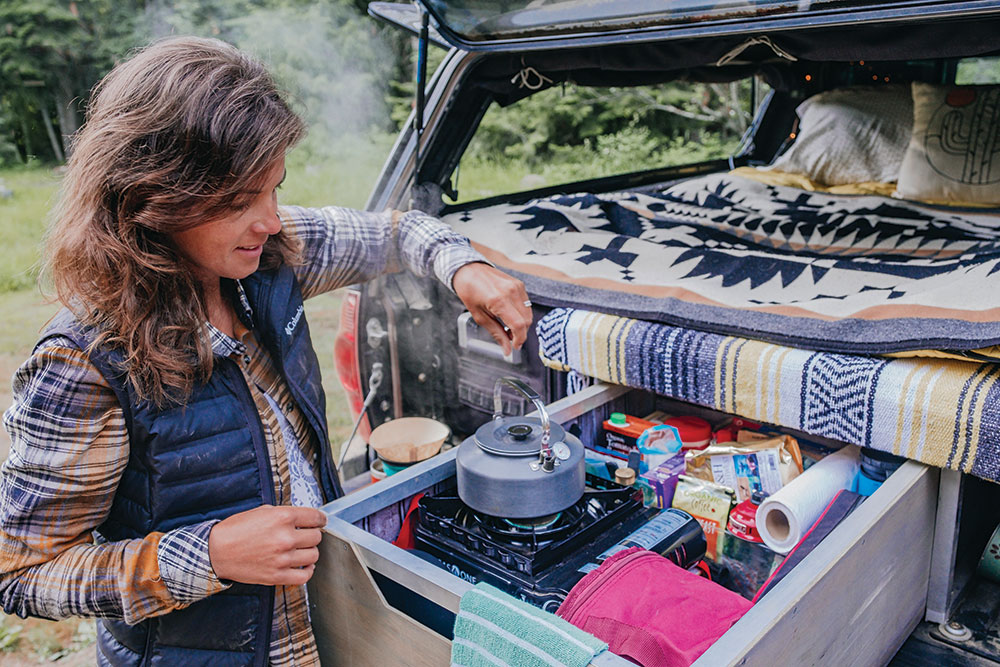 Making It Perfect Outside…
To keep her comfortable and ready for anything, Lizzy has fine-tuned her regular cab Tacoma to what you see today. Originally, it sported the Tepui Roof Top Tent from one of her Jeeps, but that eventually got swapped for the Leer canopy.
The hard shell keeps her gear covered and dry. Plus, it allows for the sleeping platform in the back. Underneath the platform, she stores a Dometic fridge and custom drawer system that holds cooking supplies and more. The platform allows the bed to always be ready for use and keeps the camp kitchen easy to utilize. The highlight of the hard shell is the fully opening side windows, so Lizzy can grab her gear without having to always crawl in from the tailgate.
The main travel intended for this adventure Yota and Lizzy is to meet up with her bestie, Jillian, for a girls' trip where they travel dirt trails to explore and find remote campsites with little to no cell service.
For other gear that isn't stored inside, she opted to mount a Prinsu roof rack. It holds the Roam Adventure Co. case with all her recovery gear, a shovel and Maxtrax recovery boards. On one side, a Hi-Vis Overland 6-ft. awning provides some shade when hanging outside. Of course, there's still room to strap down the Highground Adventure Gear Woodgaiter when it's full of collected firewood.
In the rear, the Rigd UltraSwing holds both the spare tire mount and her Roto Pax with 4 gallons of extra fuel. An MSA Rear Wheel Bag hangs from the spare tire to hold trash or other gear.
… And In
No vehicle is complete without the finishing personal touches. Lizzy's creativity blossoms in this department as she added a few creature comforts. She made roll-up blackout curtains for the shell to keep out daylight and help with heat. Also, she cut and covered custom cushions out of Serape blankets.
Lizzy made the addition of behind seat storage with webbing straps that run across the back and bolt in. Her goal was to maximize the little storage available in her Yota. Inside the cab, she added foam to the middle of the stock bench seat for the dogs. Then, she added a western-style seat cover to finish out the interior.
Regular Cab Tacoma Adventure Travels
The regular cab Tacoma is truly built for overlanding. Lizzy set it up with the goal of being self-sufficient while she takes solo trips. The main travel intended for this adventure Yota and Lizzy is to meet up with her bestie, Jillian. They take girls' trips where they travel dirt trails to explore and find remote campsites with little to no cell service. They've been doing that two to three times a year for the past four years or so.
This year, Jillian started Ladies Night Camp Outs. Once a month, she gathers a group of off-roading women together on a first-come, first serve basis. Each Campout is in a different area to give like-minded women the opportunity to bond in an inviting and low-pressure environment.
Lizzy tries to join in as much as she can. As an added plus, the Tacoma allows her to break away wherever she's at in her personal travels. "It's been fun to meet so many amazing women through these gatherings," she shared.
Off-Road Inspiration
At times, she also takes time for herself, no friends or husband. She has traveled solo with the two dogs, Mazy and Dublin, for two weeks. In March 2021, she took off for a month on her own. While she explored Arizona and Utah, she met up with friends for a bit, and then independently hunted hot springs.
Lizzy has inspired us from the moment we met her at Northwest Overland Rally in 2019. Her friendly upbeat demeanor was the perfect complement to her stories of exciting adventures. The adventurous spirit shines through in her personality. We look forward to seeing what lies ahead for Lizzy, Brett, Mazy and Dublin as they live a dream life as young retirees.
You can follow along on Lizzy Siegel's adventures on Instagram @lizzykates and Brett and Lizzy on YouTube and Instagram @ouroverlandlife.
UPGRADES
2013 Toyota Tacoma 
Engine:
2.7L i4
Suspension:
Elka DC 2.5 adjustable; Elka 600 lb front springs; Total Chaos Upper Control Arms; Duro Bump Active Bumpstops; swaybar removed (front) Elka DC 2.5 adjustable; OME Dakar real leaf pack; Duro Bump Active Bumpstops (rear)
Wheels & Tires:
Jegs D-Window Steelies 16×8 with 4" backspacing; Toyo Open Country MT 285x55R16
Interior Accessories:
Garmin Tread with backup camera and switch controller; Ram mount for iPhone and OnX Offroad app; Step 22 Stingray fold flat boxes, Pangolin tool roll, Porcupine toiletry roll and duffel bags; custom-built rear sleeping platform with opening sides and center drawer system; Lifesaver Water filter 5-gallon; Dometic CFX3 35; Ctek D250SA Off Grid Battery to Battery charging system with input for custom 6-fold 120W solar panel and 75AGM hr Interstate deep cycle AGM battery; Midland MXT115 VP3 GMRS radio; custom curtains
Exterior Accessories:
Rigid Industries 30" Radiance series bar on bumper; 360 series SAE ambers in bumper torpedo tubes, 4-inch 360 series ditch lights; 6-inch 360 series on roof rack (4), Rear Amber Chase, rocklight kit, D-Series pods in rear bumper; WARN 8500 synthetic line with Factor 55 Flatlink; Roam Adventure Co. Case; ARE Campershell; Prinsu Designs roof rack; Maxtrax; CBI Offroad Front Bumper with stock skid plate; RPM Fab sliders, rear bumper; Rigd UltraSwing Tire Carrier; Roto Pax 4-gallon; Hi-Vis Overland 6ft awning; Leer 100XR shell with opening side windows; MSA Tire Gear back on swing gate; Highground Adventure Gear Woodgaiter