Burn Time: Portable Camp Stoves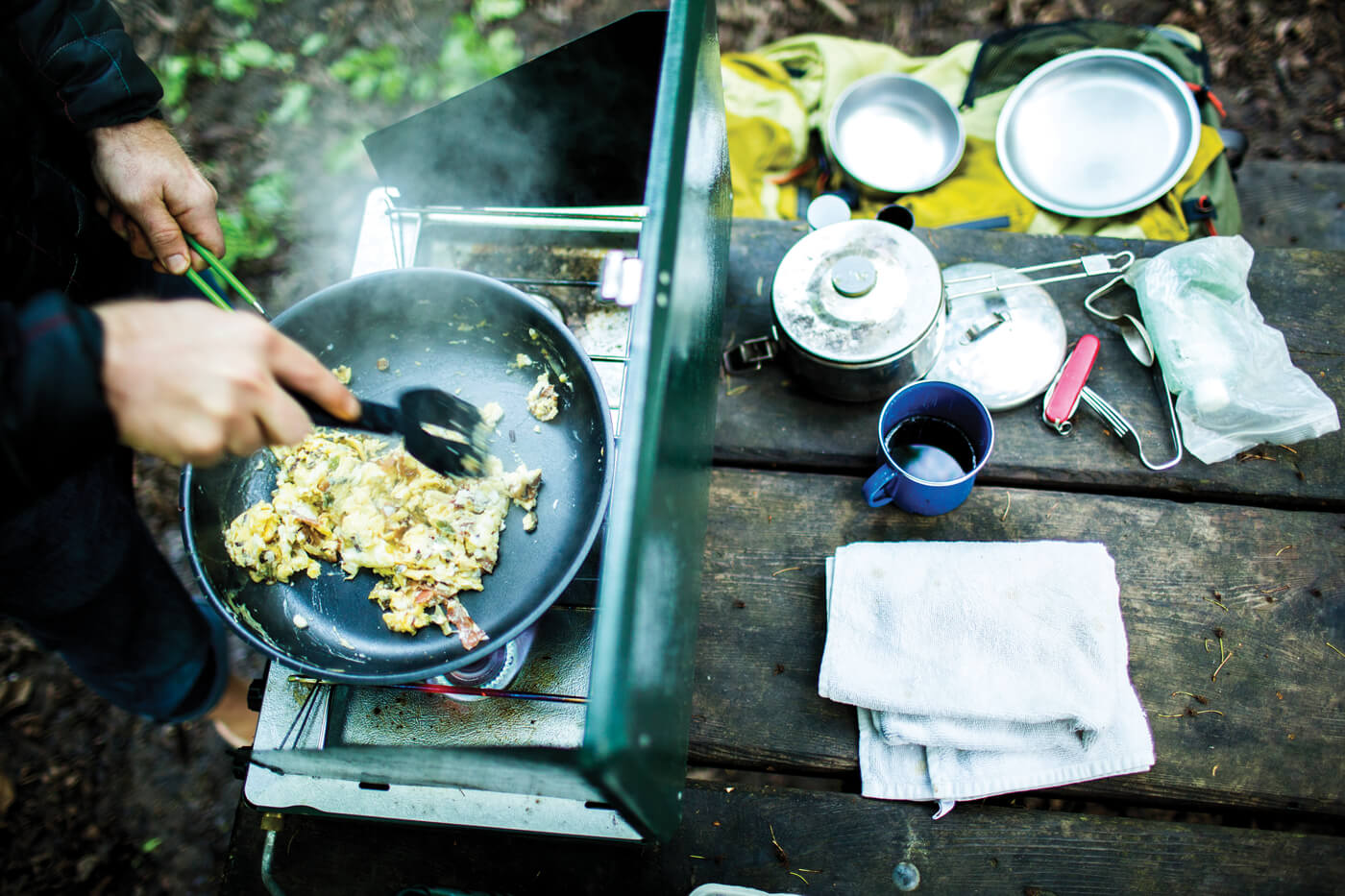 A run down the eastern descent of Corkscrew Gulch trail in the Ouray Mountains will take you over Hurricane Pass at 12,407 feet and down into California Gulch toward Animas Forks ghost town. Above the timberline of the San Juan Mountains are majestic views of Lake Como to the north and more scattered remains of the once lucrative mining industry.
After a day on the trail, there is no finer sight or smell than a slab of animal flesh searing on the grill or a pot of beef stew percolating on the stove. A camp stove or grill big enough to feed a large crew while compact enough to stow in your trail rig is an essential piece of gear when you're miles from nowhere and famished from a long day of four-wheeling.
Here's the industry's best camping stoves, each with its distinct set of features and options.

A step up from its two-burner Profile camp stove, the Profile Dual comes with a removable non-stick grill in place of the second burner. The stove itself is an all-metal construction, and both the burner and the grill fire up with a twist-click piezo auto ignition system. It can be used with large propane tanks (adapter sold separately).
Eureka Stoves is a sister to the popular JetBoil company (both under the umbrella of Johnson Outdoors), meaning that the Spire LX has the flame control technology of the JetBoil brand but at a more affordable price. This stove features rugged bumpers on the corners to keep it from getting damaged and a "JetLink" serial port so it can be daisy chained to another stove (like the JetBoil Luna) while sharing the fuel source (hoses sold separately).
The stainless steel body, oak handle and brass fittings provide a little class to any cookout, while the oak laths on the cover strengthen the lid in windy conditions. The stove includes a non-stick griddle plate and pouch to keep it from rattling while being transported. The piezo ignition means no more matches, and a Tupike Kit is available, which includes a carrying bag large enough for cooking accessories.
For larger gatherings, the three-burner stove offers more cooking space with the addition of a smaller 5,000-BTU burner. All three are Piezo-ignited and run on propane. The chromed legs lift the stove off of the table and fold out of the way when not in use. A fuel regulator can be hooked up to any size propane tank.
An unusual stove with unusual ability, the BaseCamp will not only grill your food on its 13.25-diameter cooktop, but it can convert the heat from the fire to charge any USB device via a thermal-electric generator. Made from stainless steel, cast iron, and plastic, the kit includes fire starters, a fuel rack to help feed longer pieces of wood, an ashtray to catch the ashes and a flexible USB light. An LED readout tells how hot the fire is and how much energy is being created.
Meant to be used in rough terrain, the Angle Iron stove is a welded cast iron unit that's rugged but simple. There's no covers, windshields, or plastic knobs to break. It is just two high-output burners wrapped around an iron frame. The legs are adjustable (within a half-inch) so it can be used on slightly uneven surfaces. The downside is that a regulator and hose must be purchased separately.
Specifications
| | | | | | | | |
| --- | --- | --- | --- | --- | --- | --- | --- |
| Stove | Fuel | Auto Ignition? | Heat Output | Average Boil Time | Dimensions | Weight | MSRP |
| Primus Profile Dual | Propane | Yes | 12,000 BTUs | 3 min | 23.2 x 12.6 x 4.7" | 11.9 lbs | $150 |
| Eureka Stoves Spire LX | Propane | Yes | 10,000 (x2) BTUs | n/a | 21.5 x 13.1 x 4.2" | 12.4 lbs | $150 |
| Primus Tupike | Propane | Yes | 7,000 (x2) BTUs | 5 min | 18.7 x 11.6 x 3.2" | 9.1 lbs | $230 |
| Mr. Heater Deluxe Three-Burner Stove | Propane | Yes | 25,000 (x2), 5,000 (x1) BTUs | n/a | 24 x 13.5 x 4" (4.75″ with legs) | 13.4 lbs | $92 |
| BioLite BaseCamp | Wood | No (Matches) | n/a (depends on fuel source) | 4.5 min (depends on fuel source) | 18.1 x 17.5 x 15" (23″ with legs) | 17.92 lbs | $300 |
| Mr. Heater Double Burner Angle Iron | Propane | No (Matches) | 15,000 (x2) BTUs | n/a | 20 x 14.5 x 5" | 12.45 lbs | $60 |
[divider]Undersized Cooktops[/divider]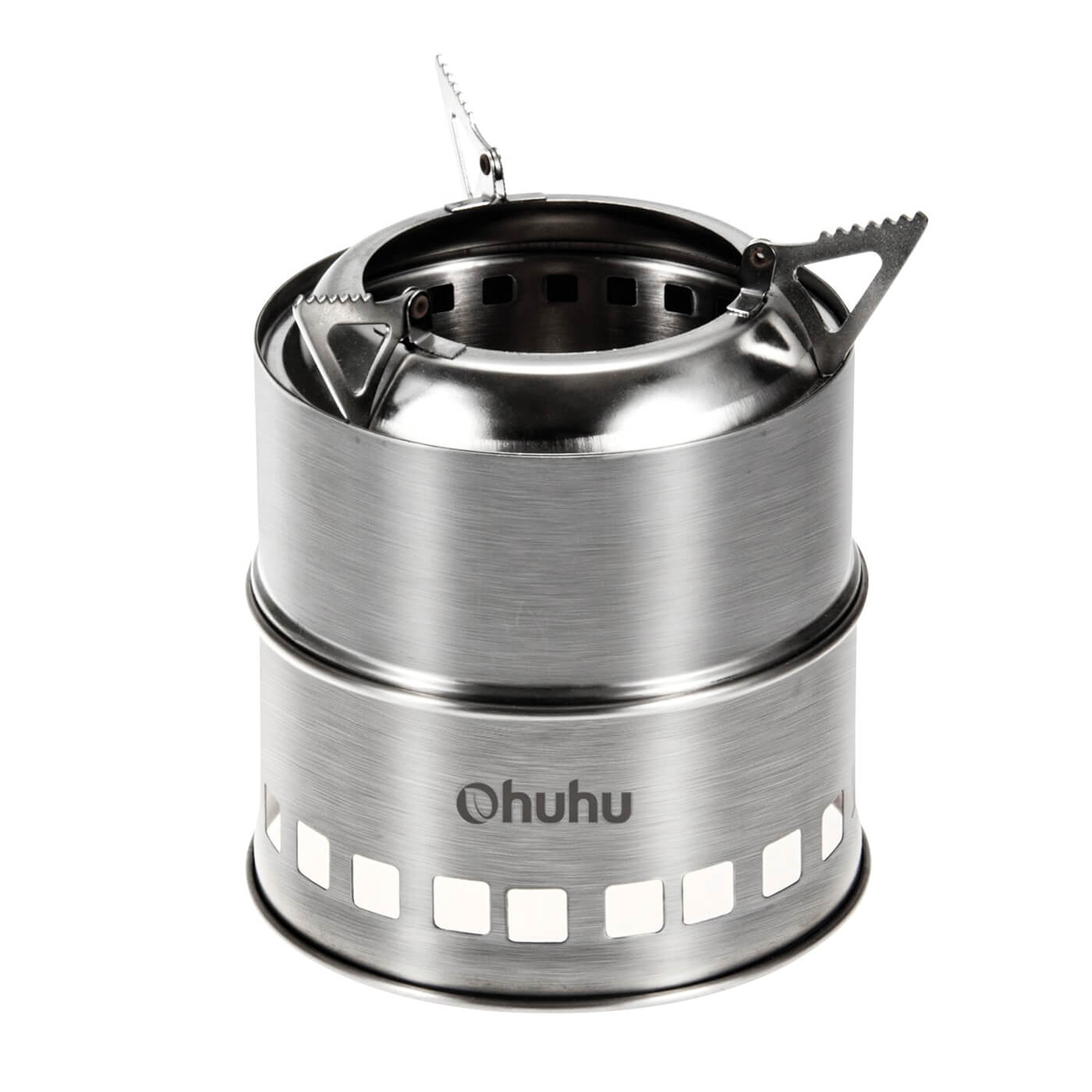 Crafted from high-quality stainless steel
Lightweight, compact and strong
Comes with a carrying case
Dimensions: 5.3 x 5.3 x 3 inches
Weight: 14.2 oz.
 MSRP: $28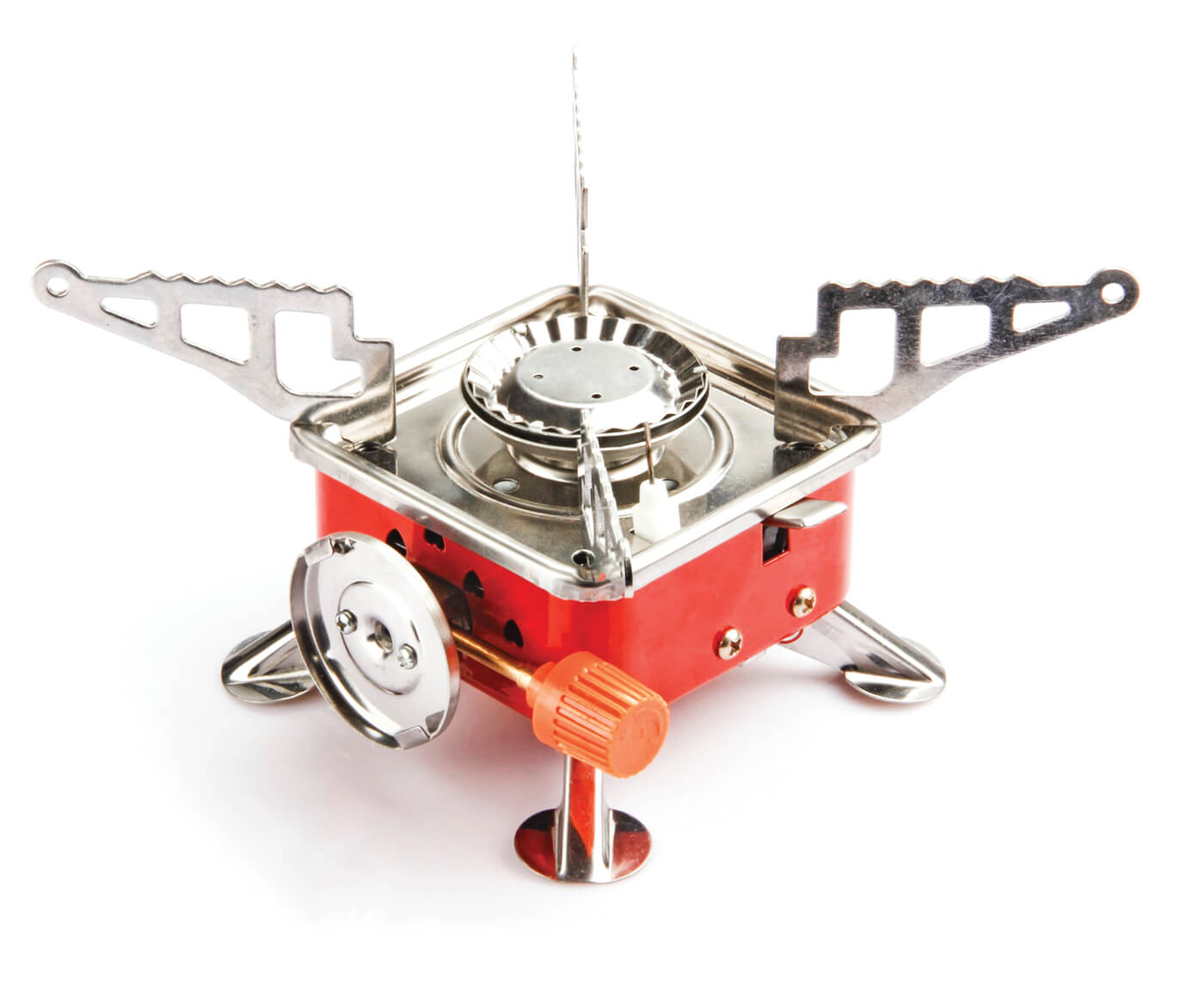 Accommodates up to 7-inch diameter pot
Output: 1.680 kilocalories / 1.94kW / 6.666 BTU
Built-in electric-spark ignition system
Stainless steel stove base material
Aluminum alloy support material
Dimensions:  3.15" x 2.36" x 1.81"
Weight: n/a
MSRP: $10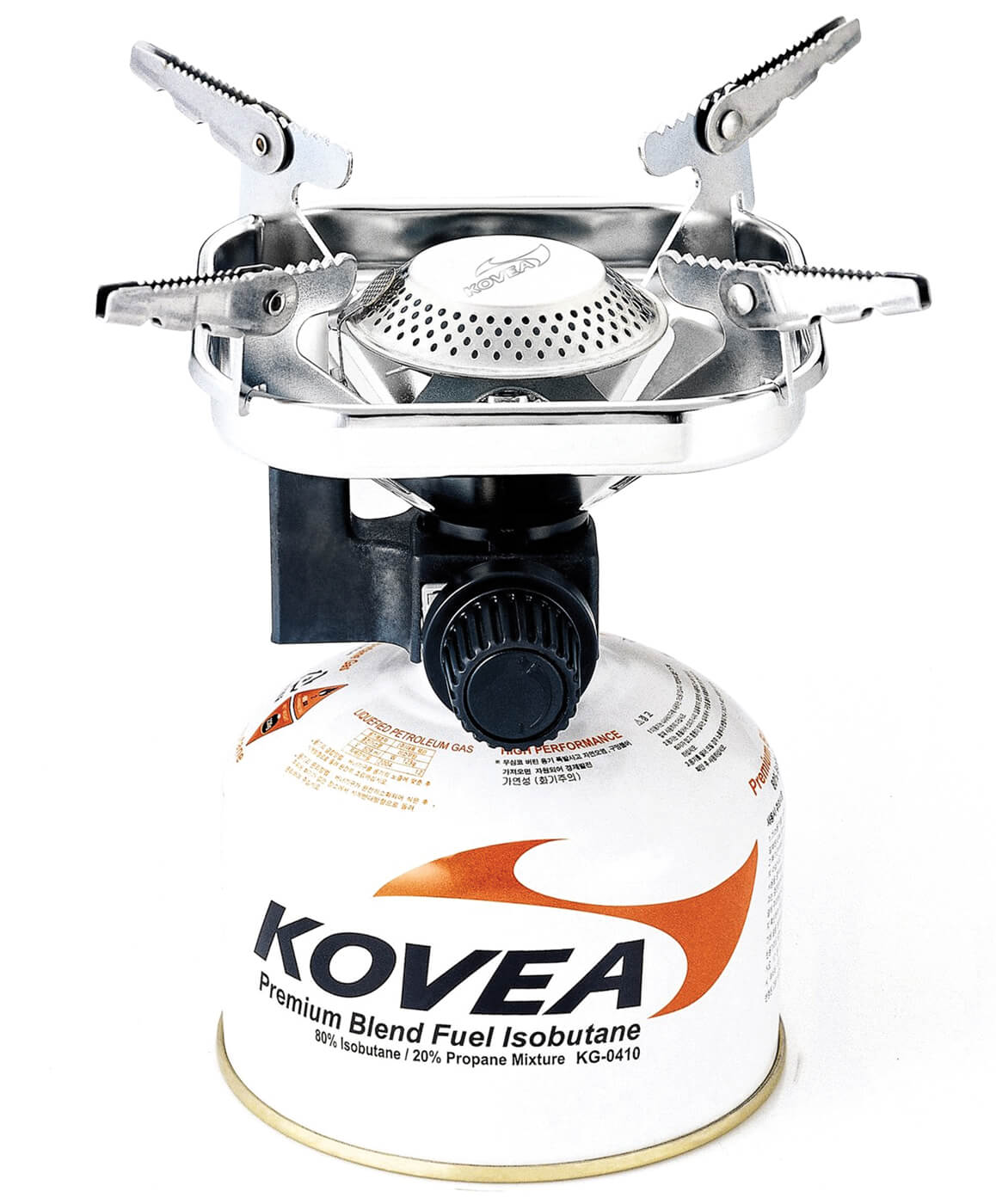 Fuel: Iso-butane, screw-type gas canister
Consumption: 110 g/h (1,320 kcal)
One-touch Piezo type ignition
Boil time for 1 liter: 4 minutes
Windshield plate installed for flame output efficiency
Hard carrying case included
Dimensions: 4.8 x 3.9 x 4.9"
Weight: 12 oz.
 MSRP: $25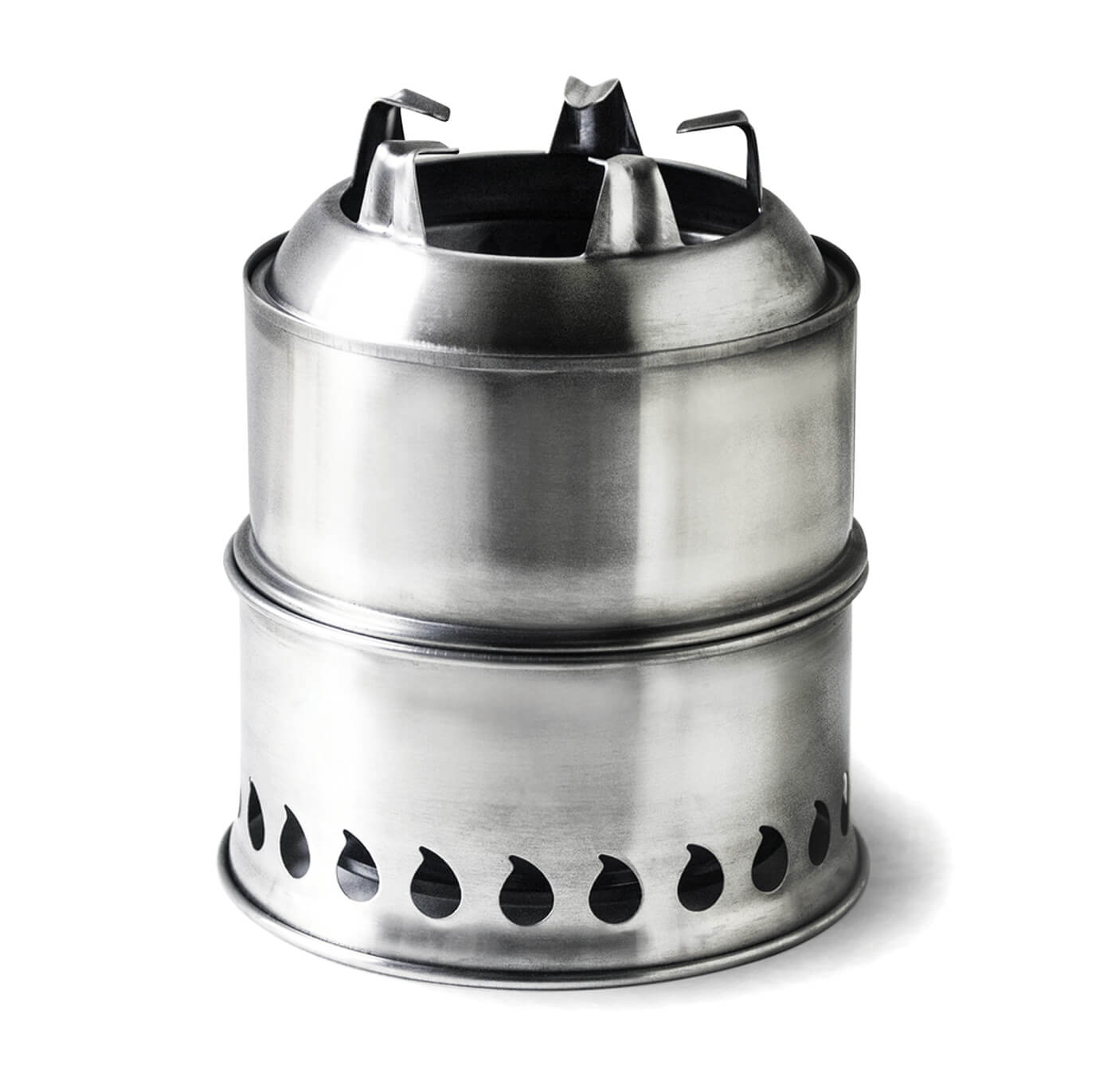 Fixed pot supports
Secondary ventilation ports
Double-wall combustion chamber design
Hot ash/ember pan (safety feature)
Dimensions 6.75 x 5" (2.5 collapsed)
Weight: 12 oz.
MSRP: $73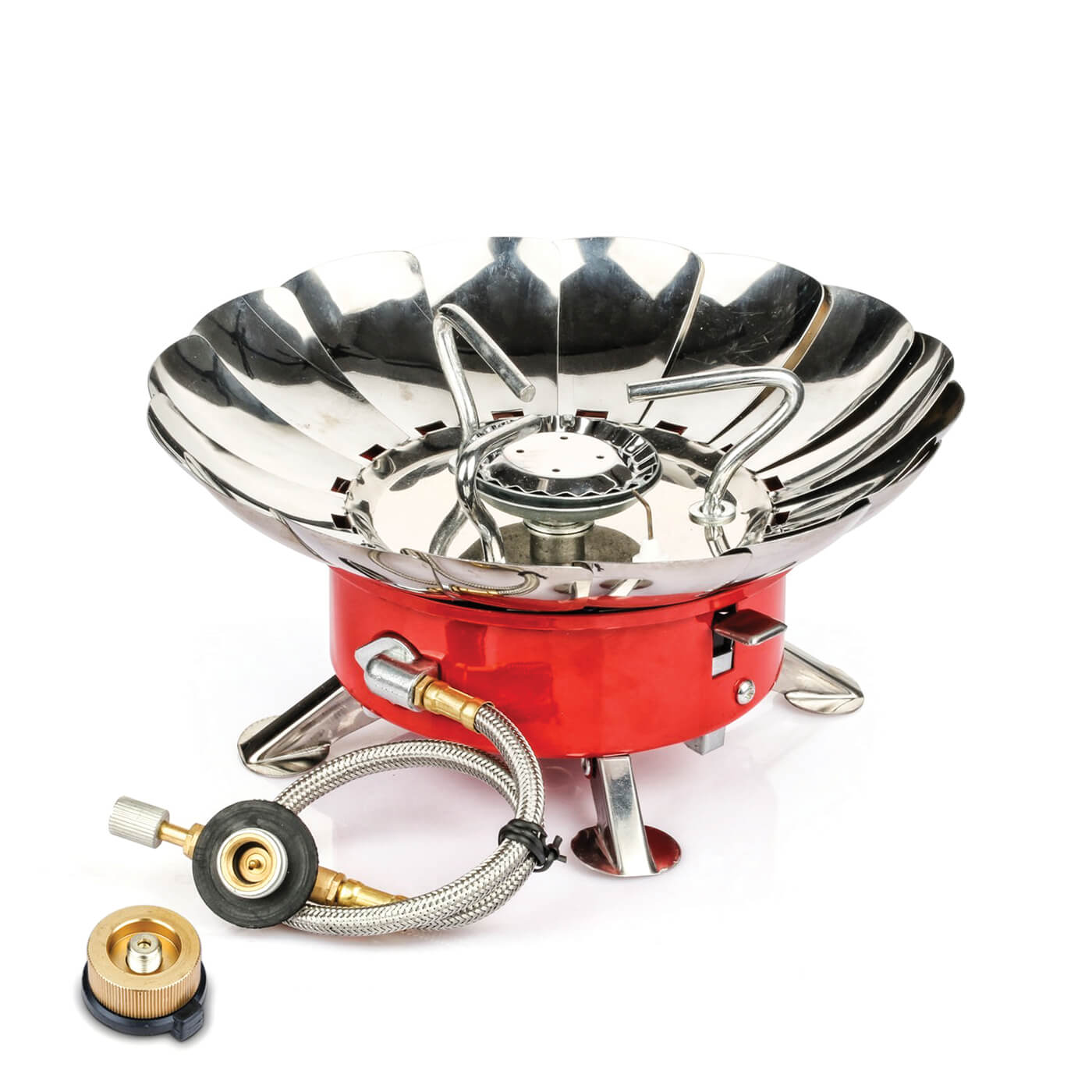 Adjustable folding blades and retractable metal feet make it a very portable stove
2800W nominal power
Electric spark ignition
81-inch fuel hose
Dimensions: 8.03 x 3.86 inches (5.12 x 4.49 inches collapsed)
Weight: 16 oz.
MSRP: $22
Editor's note: A version of this article first appeared in the Fall 2016 print issue of Tread Magazine.