Volkswagen ID.4 Tackles the Rebelle Rally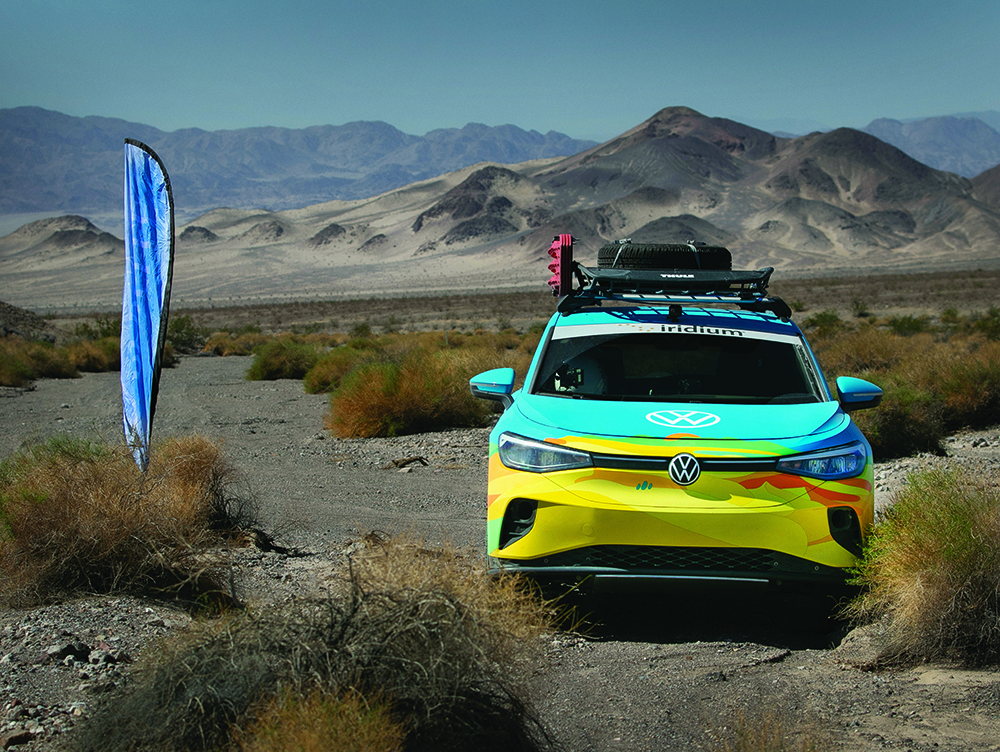 Running an Electrified Volkswagen ID.4 AWD Pro SUV in the 2021 Rebelle Rally
My experience piloting an all-electric 2021 Volkswagen ID.4 AWD Pro SUV was mind-bending and extraordinary. To date, I'm one of a select few who have driven a fully electrified vehicle in a major competition. My navigator, Emily Winslow, and I partnered with Volkswagen of America for a challenge like none other. We piloted a newly released AWD ID.4 EV over 1,400 miles of desert terrain to complete this year's Rebelle Rally.
We're on the cusp of change, as minds morph from internal combustion engines to electrified rigs. Although all-electric vehicles, or EVs, are gaining fame with the tarmac-traversing crowd, off-roading one is a largely unknown challenge.
What terrain could the electrified five-door SUV tackle? Would we have mechanical issues or battery mishaps along the way? What would happen if we ran out of charge and needed to be flat-towed back to safety?
How would the AWD Volkswagen ID.4 react to soft sand or rocky ruts? Would its attitude change as it chomped on kilometers?
Our initial concerns turned into curiosity and determination. Volkswagen of America and supporting partners, expert rally driver Tanner Foust and race shop Rhys Millen Racing, worked with us to make an unknown endeavor a successful reality.
Rebelle Rally Wrap-Up
Boasting 52 teams from 92 cities, 24 states and provinces, and 5 countries, the sixth annual Rebelle Rally offered thrilling terrain, long days and striking scenery. Known as the longest competitive off-road rally in the United States, the all-women's rally started at the Hoover Dam in Arizona and spanned the desolate deserts of Nevada and California before finishing in the iconic Glamis sand dunes near Mexico.
Sometimes mistaken for the word "rebel," the Rebelle Rally combines off-road driving with precise traditional navigation. Teams use old-school tools like a compass, topographic maps, and a roadbook to find their way to the finish line. GPS and other navigational technology are banned from the competition.
Each team adheres to posted speed limits and public roads or specific OHV areas to find hidden checkpoints. Daily time-speed-distance rallies are also included; they're a combination of on-time or on-route challenges. Teams compete in four-wheel-drive or X-Cross (crossover) segments, which typically showcase AWD vehicles like our Volkswagen ID.4.
Making Room for EVs at Rebelle
Additionally, designations delineate certain vehicle categories and teams. From Electrified, Bone Stock, and 4030 Class vehicle descriptors to the Rebelle Rookie Team and International Cup contenders, there is a lot to consider as teams from all around the world rally together. Teams with the most points at the end of the competition win.
Volkswagen of America entered an all-electric vehicle type this rally hasn't seen before. However, after successfully finishing the Mexico-based NORRA Rally earlier this year with expert rally racer Tanner Foust at the helm of the rear-wheel-drive derivative, VW charged ahead to enter the AWD ID.4 for this year's rally.
Range is Real
After attending the media launch for the all-wheel drive ID.4 only three weeks before the rally and piloting its RWD predecessor a short time before that, I knew range would be our focus as we'd rally the desert with nothing else around—especially public charging stations.
Winslow and I quickly realized, range is real. We'd have to play this game cautiously if we wanted to complete it successfully.
"To reset my brain I had to tell my ego to just leave," navigator Winslow stated. "I worked my way back from our goal to finish and tried to be as realistic as possible to be successful."
Winslow changed her focus. She forgot about chasing every checkpoint and used her two years as a previous Rebelle to her advantage. Constant odometer checks quantifying how much range we used per actual kilometers traveled paid dividends.
A slow-and-steady demeanor stacked watts in our favor. We were driving in a more efficient fashion: retaining range—particularly in technical terrain.
Testing the Volkswagen ID.4 Off-Road
In optimal conditions, the AWD Volkswagen ID.4 used one kilometer of range—or less—than one actual kilometer driven. In challenging off-road terrain, the SUV crunched up two to four-plus kilometers of range to one actual traveled. We discovered conservative decisions and smooth driving helped us understand the ID.4; it was our time to shine.
Although rocky and tight hill climbs ate up the most mileage, we adapted our speed and strategy. Sand dune driving chewed up two to three times the range compared to optimal conditions, but with quick thinking and careful driving, Winslow and I nabbed extra blue checkpoints—especially 14, 16, 17 and 21 on the last day—giving us critical points to claim our stake.
We made history as the first all-electric crossover to complete the demanding competition, finishing 8th out of 10 X-Cross teams.
Volkswagen ID.4 Ideals
"My initial concerns were the low ground clearance and if the battery would hold up enough for us to cover the miles we would need to cover," said Winslow. She wasn't sure if the AWD ID.4 had enough power to tackle rougher terrain, either.
Although the vehicle was stock height, sitting 6.7 inches above the ground sans 3/8-inch thick 6061 aluminum and UHMW ultra high molecular weight polyethylene skid plates, the AWD Volkswagen EV championed its way through a wide variety of challenges. The AWD ID.4 conquered rocky terrain and off-camber situations with precise control when using B mode, its regenerating braking mode. It gave me instant power when I needed it and never once faltered during the entire competition.
Expectations Versus Reality
"I was pleasantly surprised the terrain the car took on," Winslow explained. "It was extremely capable to crawl through ditches and terrain that was very rocky or had regularly washed out areas." To her, the all-electric VW adventuremobile felt strong.
In short, our colorful crossover surpassed our expectations—especially in challenging conditions. We were impressed by its tight steering, nimble nature, and sure-footedness on uneven ground. In addition, ID.4's turning radius was superb, too.
Whereas other competitors experienced mechanical mishaps or software setbacks, the all-electric 2021 Volkswagen ID.4 AWD Pro SUV suffered zero mechanical or battery issues, ushering us confidently to the finish line with plenty of watts to spare.
Stock Stats
The 2021 VW AWD ID.4 EV has a 107hp asynchronous front motor and a 201hp permanent magnet synchronous rear motor. This creates more horsepower than the single-motor rear-wheel-drive variant.
The ID.4 AWD Pro EVs feature up to 249 miles of range. On top of that, it's also got 295 hp and 339 lb.-ft. of torque. The AWD variant also has a spirited giddy-up of zero to 60 in 5.4 seconds. (Great for passing people or merging into traffic.)
The entry-level 2021 ID.4 AWD Pro is billed as the least expensive AWD EV currently available in the U.S., starting at $44,370. The higher trim level, the AWD Pro S, begins at $49,370. Both trim levels include a $1,195 destination fee.
Volkswagen's ID.4 SUV EV qualifies for a $7,500 federal tax credit, plus available state incentives. Furthermore, Volkswagen is footing the bill for the first three years of unlimited DC fast charging via Electrify America's charging network. That should give new VW ID.4 owners another reason to celebrate.
Sustainable Charge Power in An Off-Road World
 We entered into the unknown: the leading edge of all-electric off-roading. Competing in a petrol-powered crossover or 4×4 vehicle is difficult. I remember from my time as a 4×4 driver during the 2018 Rebelle Rally. However, adding an all-electric element to the competition changes the entire event for those brave enough to try it.
The Rebelle Rally's Electrified designation was created in 2020. It invites EVs and plug-in electric hybrids (PHEVs) together to rally comparatively amongst gas-powered rally rigs. Debuted in mid-September, the AWD Volkswagen ID.4 EV SUV was one of only two all-electric off-roaders in this year's rally. A Rivian R1T pickup truck also ran the event. Furthermore, three Jeep 4xe 4x4s and two Kia Sorento PHEVs gave it a go.
Remote Rebelle Rally Charging and Power
Utah-based Renewable Innovations, or RI, supplied EV charge capability during the 1,400-mile rally. One remote charging station, designed to fit into a semi-truck trailer, followed ralliers around for midday and overnight charges.
Another type of mobile charging station, the Mobile Energy Command-Solar unit, or MEC-S, kept the lights on and powered each basecamp. This particular charge station showcased high-density solar "flowers" that followed the sun. They provided up to 50 KW of peak power for the entire rally operation—enough to power several houses each day.
All-electric vehicles were allowed one midday charge session, up to 45 minutes, typically three-quarters of the way through each day, plus a full overnight charge. Depending how much charge our ID.4 had left, we gained anywhere from 80% to nearly a full charge after midday charge periods.
PHEVs could charge in the middle of the day or in the evenings if they wanted to. Unlike full electrics, PHEVs were also allowed extra fuel during longer-mileage days, similar to ICE-powered teams.
Future Off-Road Charge Opportunities
The mass market is starting to embrace all-electric vehicles. However, in order for this shift to be successful, the infrastructure that supports EVs needs to expand. Especially if it uses renewable green energy.
Companies like Renewable Innovations are working to devise scalable, sustainable answers for EV charging. No matter if it's utility-free, drop-n-go EV charging at gas stations or mobile units following rallies or concerts, unique high-tech charge stations are making their way toward the public.
"RI sits at the crossroads of two major shifts in energy, the move to EVs and the quest to find more sustainable energy sources," says a spokesperson for the company. "RI set out to deliver solutions for a greener, cleaner future utilizing hydrogen as the power source and solve both those problems."
Over the next three years, RI will start installing hydrogen-powered EV Rapid Chargers across the U.S. Since these units don't rely on the grid, they're perfect for locations like populated areas, national parks, and more. Soon, RI's Rapid EV Chargers will allow all-electric drivers fast-charge times that far exceed current times. Lately, they've been taking around 20 minutes versus 45 minutes or even hours.
Carbon-neutral energy is the answer that doesn't add to the overburdened grid systems we already have. To RI, it's an ideal solution to help protect our fragile planet.
2021 Volkswagen ID.4  AWD Pro SUV EV
Motor
107hp asynchronous front motor and 201hp permanent magnet synchronous rear motor producing 295 hp and 339 lb.-ft. of torque.
Suspension
Upgraded suspension components, tube control arms, other components stock condition
Wheels & Tires
O.Z. Racing wheels, Yokohama Geolander 235/60R18 all-terrain tires
Interior Accessories
Terratrip non-GPS-equipped rally computer, five-gallon water container, Pro Eagle floor jack equipped with skid plate base, and two fire extinguishers (everything hard-mounted to vehicle); one full-size Yokohama Geolander235/60R18 all-terrain spare tire mounted on O.Z. Racing wheel (securely ratcheted)
Exterior Accessories
Thule Canyon XT roof basket with rack extension, MAXTRAX MKII recovery boards mounted to Axia Alloy 1" tube mounts, one full-size Yokohama spare tire mounted on O.Z. Racing wheel (ratcheted on roof rack), hard-mount base for dune flag, small tube-steel front bumper tucked under stock bumper (to connect skid plate), 3/8" thick 6061 aluminum front and rear skid plates and a UHMW ultra high molecular weight polyethylene skid plate