Roof Top Tents: Top Choices on the Market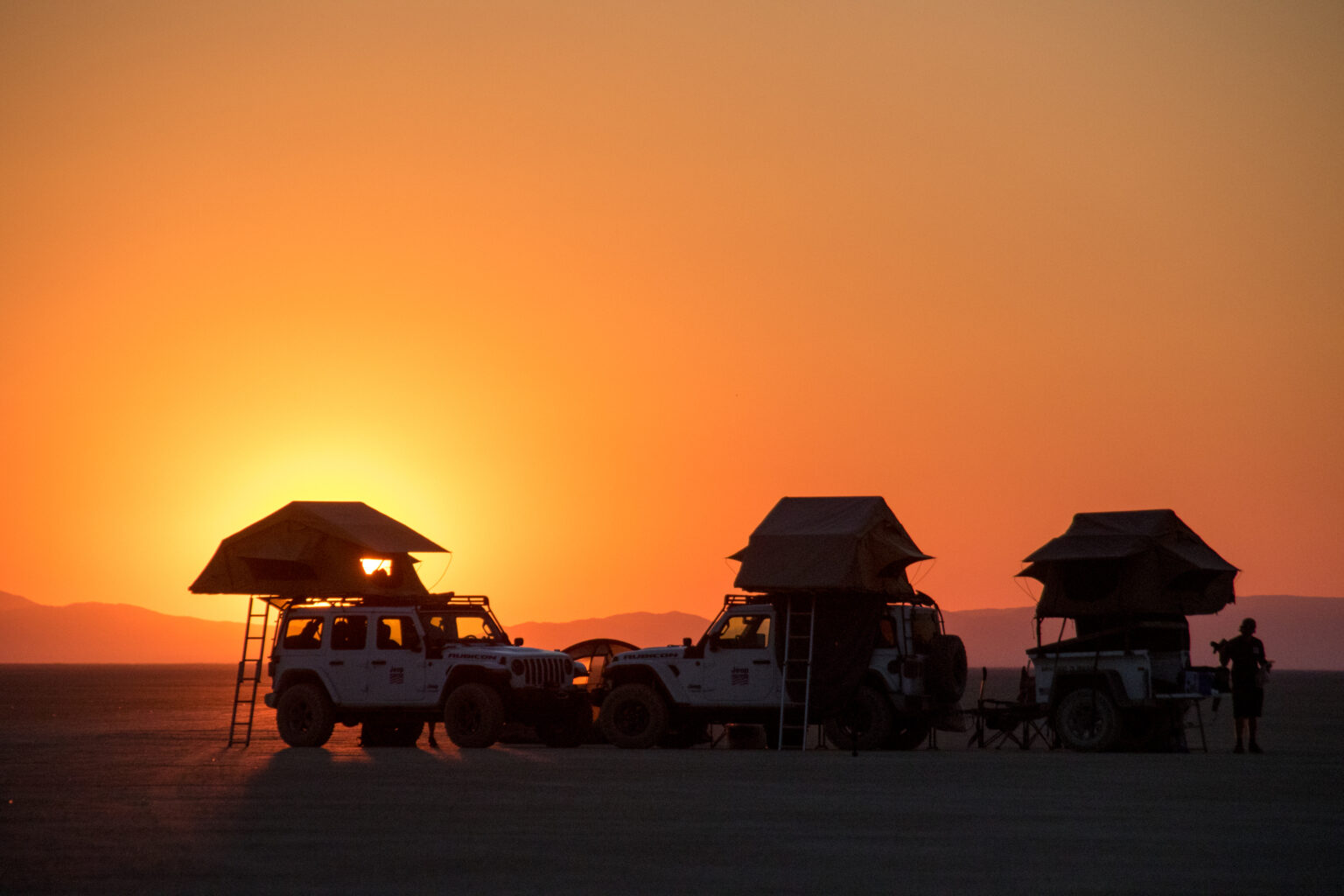 Roof Top Tents that Change the Game
With interest in overlanding on the rise, newer innovations in tent camping are becoming more popular. Most notably, the rise of roof top tents of all shapes and sizes have changed the way we think about tent camping.
If you've been tent camping, you've been there. Packing and unpacking the car, searching for a level spot, laying down tarps. Tent camping is a great experience, but it does come with a lot work, especially if you're on the move from one night to the next. Roof top tents have removed some of the classic struggles of tent camping, like twisted tentpoles, or sleeping on rough ground. They come in all shapes, sizes and price ranges, and we're going to give you a run down of different options and factors to consider.
Tuff Stuff
Stealth Aluminum Side Open Tent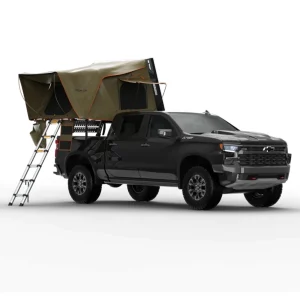 No matter what, overlanders and off-roaders are rugged adventure lovers. Most turn to roof top tents so they can spend more time on the road and less time setting up campsites. That's why our first roof top tent on this list is the Tuff Stuff Stealth Aluminum Side Open Tent. This tent is as tough as you are, with an aluminum hard-shell that can withstand any terrain you can throw at it. It's built to last during the rigors of overlanding, and as an all-weather tent, it's optimal for keeping you comfortable no matter the temperature. The Stealth sets up in less than two minutes, and has plenty of windows for ventilation and skylights. With all the hardware needed for installation included, and options to add on a useful annex, this tent really has it all!
Price: $3,999.00
Learn more about the Tuff Stuff Stealth.
Body Armor 4×4
Pike 2-Person Tent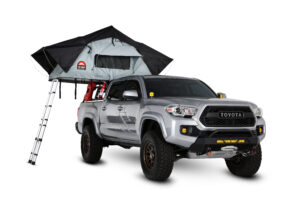 As a part of the Sky Ridge Series, the Body Armor 4×4 Pike 2-Person Tent is the perfect cozy setup for one or two people on the road. The Pike is easy for just one person to open and close with no need for extra tools. It comes with a separate waterproof rainfly manufactured from 420D polyester oxford fabric, treated with a polyurethane coating to make sure that you stay dry, even on rainy nights. No matter the weather, this roof top tent will stand up to deterioration. It's made of corrosion-resistant materials, and can keep up with your toughest adventures. On your way from one destination to the next? The Pike 2-Person Tent comes with a heavy duty travel cover that will protect your investment from the elements until you're ready to use it again.
Price: $1049.00
Learn more about the Body Armor 4×4 Pike 2-Person Tent
Roofnest
Falcon Pro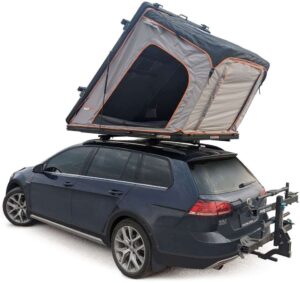 Recently, we featured the Roofnest Falcon 2 in one of our product spotlights. As a leader in roof top tents, Roofnest is at it again with the Roofnest Falcon Pro, with even more space than its predecessors. This durable rooftop tent is truly unique. It has both a clamshell opening design, and a "U-Bar" expansion. With the new "U-Bar" addition to the classic Roofnest, you get more room than any of the Pro's predecessors. Luckily, all this room doesn't sacrifice the convenient size, which is still only eight inches tall when closed. The Pro still has space for bedding while closed down, which makes for an even easier set up. As an added bonus, this roof top tent also comes with USB-powered LED strips, and plenty of pockets to store your essentials.
Price: $4,095.00
Learn more about the Roofnest Falcon Pro.
Cascadia Vehicle Tents
Pioneer Series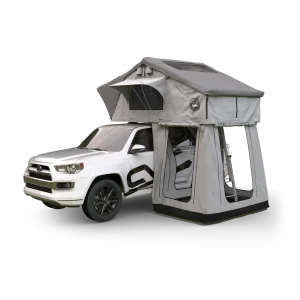 For a bigger option, the Cascadia Vehicle Tents Pioneer Series may just be your roof top tent of choice. Families interested in roof top tents will love the spaciousness of the pioneer series, which has enough room for 3-4 people, and options for an extended fly. Even more helpful, three of the tents in the pioneer series come with an annex that provides a canvassed area beneath the tent on the ground. The annex provides extra dry storage with independent mesh doors.
Price: $1795.00-2695.00
Learn more about the CVT Pioneer Series. 
James Baroud
Space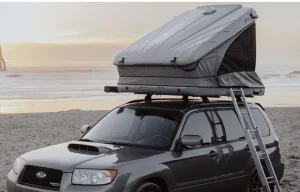 For a hardshell option, the James Baroud Space roof top tent is a great choice. It's sturdy and durable, with an assisted automatic opening that takes place through hydraulic cylinders. With water resistant seams and aluminized canvas layers for UV protection, the Space provides a protected an water resistant sleeping area. With windows for air ventilation and fine mesh netting for mosquito protection, you'll have airflow without irritating bugs. The Space comes in three colors, and attaches easily to the roof rack of your car.
Price: $4480.95
Learn more about James Baroud Space. 
iKamper
Skycamp 3.0 Mini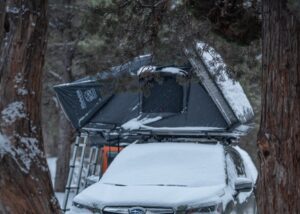 For those with smaller cars or short bed pick-up trucks, the Skycamp 3.0 Mini is the way to go. Also a hardshell tent with an easy set up, this rooftop tent has a compact footprint that can fit on vehicles that usually may not be able to accommodate this kind of setup. While it may be small, the Mini has more storage for bedding, so that you don't need to waste time re-making your bed at each new location. The Mini sleeps two people, providing extra room with its fold out extension.
Price: $3699.00 
Learn more about the iKamper Skycamp 3.0 Mini.
Smittybilt
Gen2 Overlander Tent XL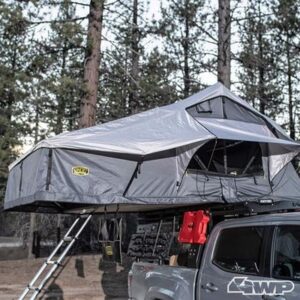 Price: $1599.99
Learn more about the Smittybilt Gen2 Overlander Tent XL.
Alu-Cab
Gen 3-R Expedition Tent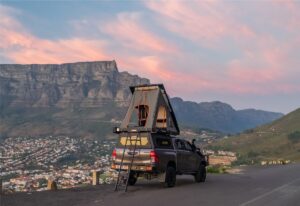 The Gen 3-R is yet another tent that comes with tons of upgrades. This upscale hardshell tent setup now comes with a heater port and a built in solar panel input. It also boasts a more rigid design than its predecessor, making it sturdier and less flimsy in windy weather. The Gen 3-R has a laundry list of features. It's lightweight aluminum construction and hardshell can carry additional gear like solar panels, kayaks and more. Inside, it's designed for peak comfort with excellent insulation for cold nights, and breathable mesh to help with condensation on humid nights. With plenty of pockets, USB power points, plug points and internal lighting, you don't have to worry about missing amenities while camping on the road. With a quick release ladder and a short set up and close up process, this tent is ready when you are.
Price: $4399.00
Learn more about the Alu-Cab Gen 3-R Expedition Tent
A Roof Top Tent to Fit Your Adventure
Arguably the best option for overlanders who hate setting up camp, rooftop tents are reliable. They're easy, and have a ton of advantages over traditional ground tents. They eliminate the need to find level ground (you simply level your vehicle with rocks or recovery boards), stake the tent down, or worry about flooding on a rainy night. Being up off the ground is also an advantage in areas where scavenging animals may be looking for any food left around. If you're in the market for a rooftop tent to take on your next road trip, there's definitely a tent to fit your needs.