World Traveling Troopy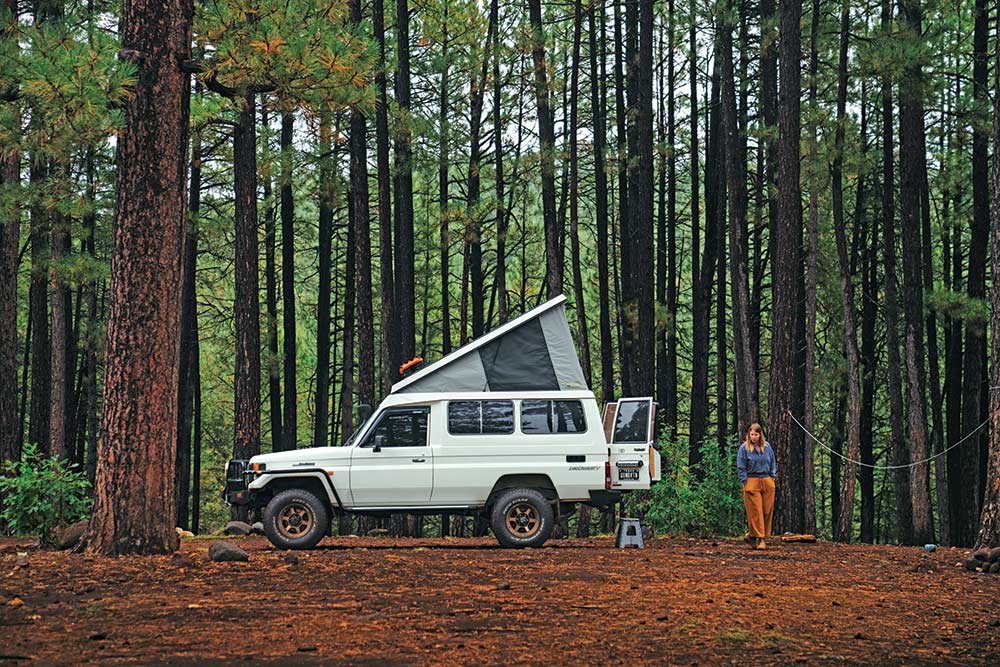 The perfect vehicle to take on the world for those willing to compromise.
In the summer of 2018, Karissa and I sat huddled together in the front seats of our Mitsubishi Montero deep in the woods of Montana. It was raining, it was close to freezing, and to top it all off, it was my birthday. We ate an uncomfortably chilly dinner, then I blew out my candles outside under the awning before we quickly retreated to the front seats of our truck. As we enjoyed the chocolate cake, we both looked at each other and said simultaneously: "It's time." From that moment, the search for a more appropriate world traveling rig, our 1994 Troopy, began.
There's no such thing as a perfect travel vehicle, though claiming that has quickly become a social media strategy to get those precious, precious clicks. Overlanding is a very personal type of lifestyle. No one truck or single setup can be considered perfect for a wide swath of people with very different outdoor lifestyles, cultures, interests, or ways of living. Not everyone wants to rock crawl for endless miles just to have to poop in a hole. Some prefer the calmer routes that let them experience the world around them. Everyone brings something different to the table, and everyone has different needs from their vehicles. Just because the market is currently pushing everyone to own full-sized trucks with slide ins or flatbed campers, does not mean that's the way forward.
Because the market is currently pushing everyone to own full-sized trucks with slide ins or flatbed campers, does not mean that's the way forward.
What's the next step?
We'd been traveling around the country in our Montero for a good five years. We loved the freedom this type of lifestyle gave us while we traveled, we loved being self-sufficient, we loved cooking our own meals, and we loved sleeping in our own covers. Most of all, we loved being around absolutely nobody.
But we were done with not having a place to be when the weather turned bad. We're both self-employed photographers. Not having a place to retreat to get work done is tough when you're on the road. Cafes and libraries became our temporary computer desks. But what if we could stay at camp and work from inside our rig? Interior space became our dream. Only one vehicle checked all our boxes: the legendary Toyota Land Cruiser Troop Carrier, aka Troopy, which would become our world traveling unicorn.
Finding the Troopy
After we came home from that trip, the search started. We put feelers out to friends, and friends of friends that were vehicle importers. We originally wanted a left-hand drive, but quickly found that the combination of LHD and a six-cylinder diesel was near impossible to find. While traveling for a year and a half, we had people all over the world helping to source us a Troopy. There were a few potentials, but none of them were "the one." Frustrated with not much to show after so long, Karissa turned to the internet. After a month of constant searching, she found it — on a Facebook group, of all places.
We wired money overseas, then our importer took over. A few months later, it landed at the Port of Long Beach. It was a 1994 Toyota Land Cruiser Troop Carrier RV from Darwin, New South Wales, Australia. It was right-hand drive, but we were more than okay with it because it came with the much lauded 4.2L straight-six 1HZ diesel. Dual fuel tanks from the factory, gave us a total range of around 650 miles. It was clean, had very little rust and had 334,000 km on the odometer. High, but not super high. The previous owner did a bit of touring around Australia, so it came with some modifications, many which we're still using: a TJM bull bar with side bars, Tough Dog adjustable shocks and Tough Dog heavy leaf springs.
Why a Troopy?
We chose the Troopy for our world traveling unicorn rig because of its legendary reliability, its smaller form factor, its interior space, and its ability to fit into a regular-sized shipping container with no modifications.
We plan on traveling in the Troopy overseas, so it's incredibly beneficial for us to have. I call it "the F150 of the world." Whenever you see pictures of folks spending years traveling the world, you see two vehicles that dominate the space: the Land Rover Defender and the Toyota Land Cruiser Troop Carrier, affectionately called Troopy. Parts are everywhere because these vehicles are everywhere. NGOs have expansive fleets of these trucks. Countless countries use Troopies as ambulances, fire trucks, and police vehicles. Because of all these factors, it gives us great confidence that we can travel the world.
[The Troopy] gives us great confidence that we can travel the world.
After taking delivery of our Troopy, we drove it to Victoria, Texas, to Karissa's family's car audio business, HiPro Audio. There, her brother Justin regularly makes custom audio boxes for their clients, so, as Jeremy Clarkson would most likely say, "How hard can a few cabinets in a truck be?"
Starting Customization
As it turns out, it was pretty hard. It took us three solid months to completely strip the truck. We laid down sound deadening and Havelock wool insulation, built the floor, and planned out the final layout.
We then flew in our good friend Ernesto Lopez of @overlandtheamericas to help us install the piece de resistance of the whole build: the Expedition Centre Mulgo Pop-Top. This piece, like the Troopy itself, was from Australia, and would transform our mostly stock ugly duckling of a Troopy into the full-fledged swan we have today: an overlanding, world traveling production vehicle. With the pop-top, we can fully stand up inside, do inside things and, when it's bedtime, we can bring down the bed and sleep "upstairs." Coming from rooftop tent living to having a fully livable interior space was a game changer.
Interior Upgrades
Inside our Troopy, we were going for a Scandinavian deisgn inspired by our time in Norway. We used birch ply for the floor, cabinets and benches, protecting the floor from the elements using vinyl. We found old restaurant tables at the local Habitat for Humanity store which we repurposed as our countertop. Then, we painted everything white to create a visually bigger space. A Dometic drop-in cooktop finishes out the inside, as well as a sink. After being quite happy with the size of the Dometic CFX3 55IM (IM stands for Ice Maker) that we had in our Montero, we got another for the Troopy.
We also carry a Kovea slim twin burner stove that fits onto our GP Factor universal drop-down table for days when the weather is bad. We have a strict no-meat policy for stove cooking as we don't want the interior of the truck to smell like meat for days, and we prefer to cook outside anyways.
Back home in Los Angeles, CA, we had Zack over at Coupler Creative create a custom bed slide-out for the bench using CNC. This slide-out system gives us a twin-sized bed "downstairs," for those rare camp days when the wind is so hellacious that we can't leave our pop-top up, or if we wanted to stealth camp somewhere in town. The slide-out also allows us to create a U-shaped seating area so Karissa and I can share the slide-out table for dinner or for work. It's a really nice quality of life addition. In a vehicle this small, it's wonderful to have things designed to be dual purpose.
Powering Up
Being photographers, having the ability to charge all our gear was paramount. We went with two Battleborn 100ah lithium-ion batteries, which are then charged DC-to-DC via the engine, or via the Rhino Adventure Gear Merlin 240W solar panel coupled with a Redarc BCDC1225D and Victron Energy MPPT 75V 15amp charge controller. All of our 12v electronics then go through the Renogy 2000W inverter. This is a relatively simple electrical setup, but we're able to stay out pretty much endlessly with it as long as we have food and water.
We then added in two creature comforts that we consider luxuries: a Planar diesel heater and an Elgena 12v electric water heater. Two things we never thought we'd have, and now we love and appreciate them every time we use them.
A very special thanks needs to be extended to Justin, Matt, Henry, Janet, Megan and Erwin from HiPro Audio for all their help with our build out. Without them, we wouldn't have what we have now.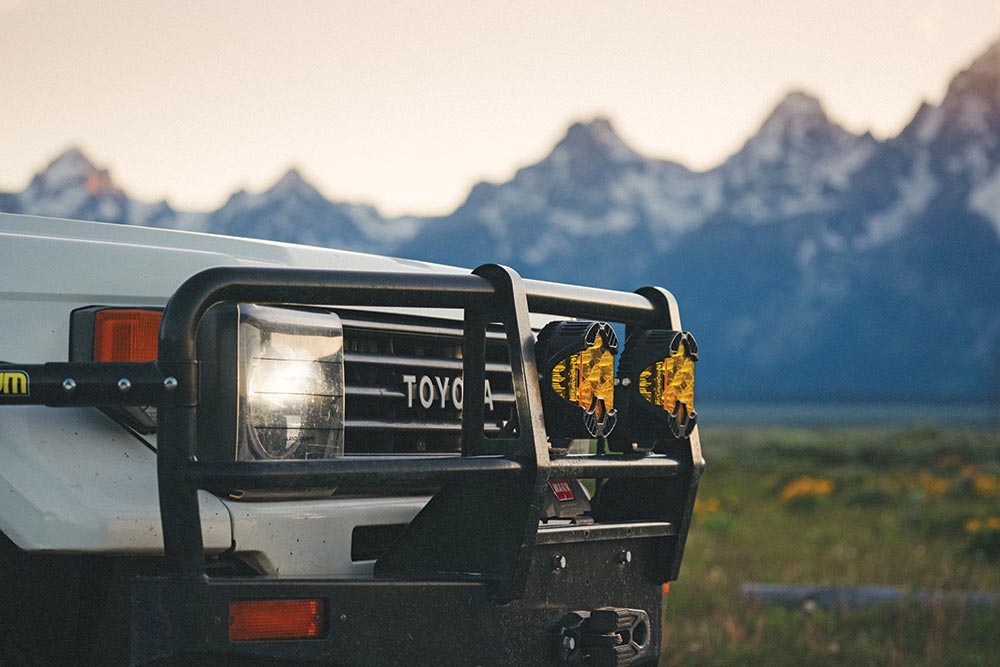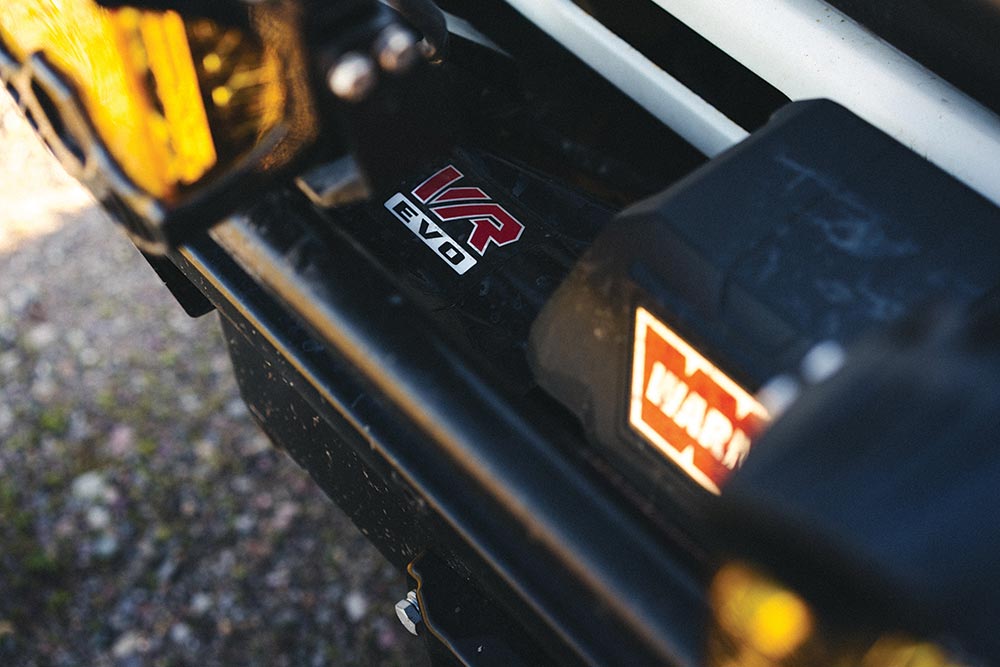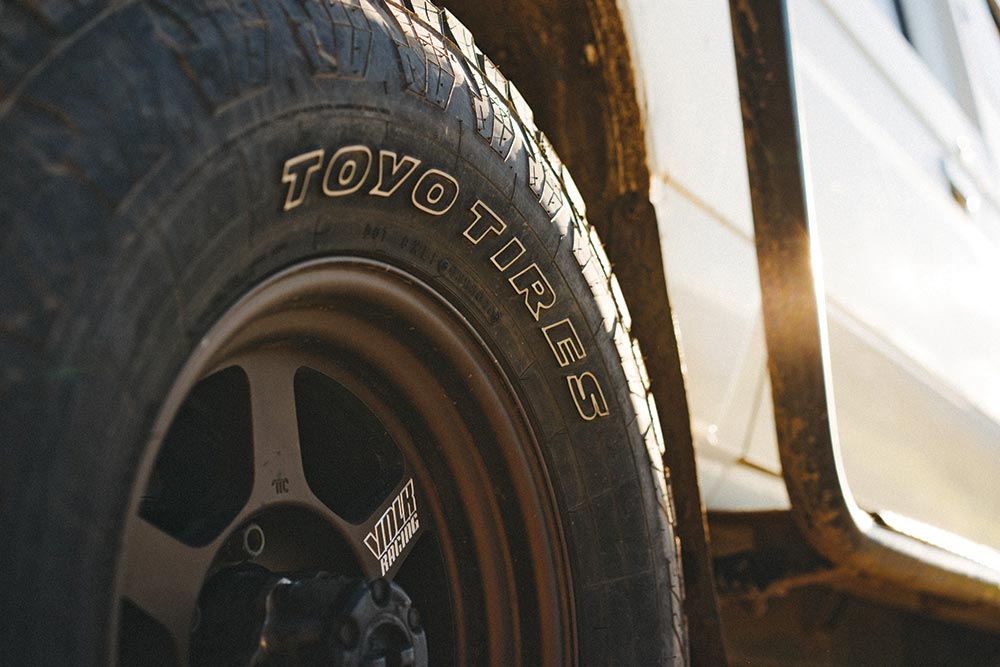 Good Bones
We kept the engine 100% stock. We didn't want to touch the legendary reliability of the 1HZ —an engine that produces a whopping 130HP and 210lb-ft of torque. The only things we did to the exterior was add a set of Volk Racing TE37x wheels size 16×8 with offset +0 wrapped with Toyo Tires Open Country ATIII size 285/75 R16, replaced the stock headlights with Truck-Lite 7-inch LED rounds, and replaced the HID spots that came with the truck with Baja Designs amber LP6 driving and spot combo LEDs. We also replaced the old and rusty winch that came with our truck for a Warn Industries VR EVO 12-S. We have since used it once to get someone unstuck at a beach. For extra storage, we installed a set of Frontrunner Outfitters cross bars to mount a Pelican 1745 Air, and a set of Maxtrax recovery boards.
We also had onboard air installed with the ARB Twin Air compressor. Previously, in our Montero, it would take about 15-20 minutes to inflate a 33-inch tire from 15 PSI to 55 PSI. Now? Five to seven minutes a tire.
Living the Overland Life
Overlanding is an incredibly personal lifestyle. Karissa and I took the time to go fully custom with our Troopy to accommodate our photography work and pursuit of an outdoor life. With everything we've done, we can stay out longer, work on the road more comfortably, not have our travels fully dictated by the seasons, and have a place to just be whenever the weather takes a turn. The Troopy is far from perfect, and it has its compromises, but, for such a small package, it's very close to having an overlanding unicorn for world traveling. And, well, that's as perfect as it's going to get for us.
---
1994 Toyota Land Cruiser Troop Carrier RV
Engine: 4.2L 1HZ Diesel, 4WD
Suspension: Tough Dog Adjustable Shocks, Tough Dog Heavy Leaf Springs
Wheels & Tires: Volk TE37x 16×8 +0 – Bronze F+R, Toyo Tires Open Country ATIII 285/75R16
Interior Accessories: HiPro Audio custom camper interior and audio, Coupler Creative custom bench-to-bed slide out, 2x Scheelmann Vario F Seats (Brown), Dometic CFX-50W, Dometic Drop-In Cooktop, 2x 100ah Battleborn Batteries BB10012, Redarc BCDC1225D, Victron Energy BlueSolar MPPT 75V 15 amp, Renogy 2000W Pure Sine Wave Inverter, Elgena 12v water heater, Planar 4B-12 Diesel Heater, ARB Twin Air Compressor, Connect4x4 Armrests, Doug's Tub glove box container
Exterior Accessories: Expedition Centre Mulgo Pop-top, Warn Industries VR EVO 12-S winch, Rhino Adventure Gear Merlin Solar 240W solar panel, Truck-Lite 7" LED Headlights, Baja Designs LP6 Amber driving + spot combo, Baja Designs amber rock lights, Frontrunner cross bars, Blueridge Overland Tire Storage Bag XL, GP Factor Universal Drop-Down Table, GP Factor Spare Tire Maxtrax Mount, 2x Maxtrax, Pelican 1745 Air
---
Editor's note: A version of this story previously appeared in the TREAD September/October 2022 issue.
---
More Photos of the World Traveling Troopy: