Custom GX470: Shoot For The Stars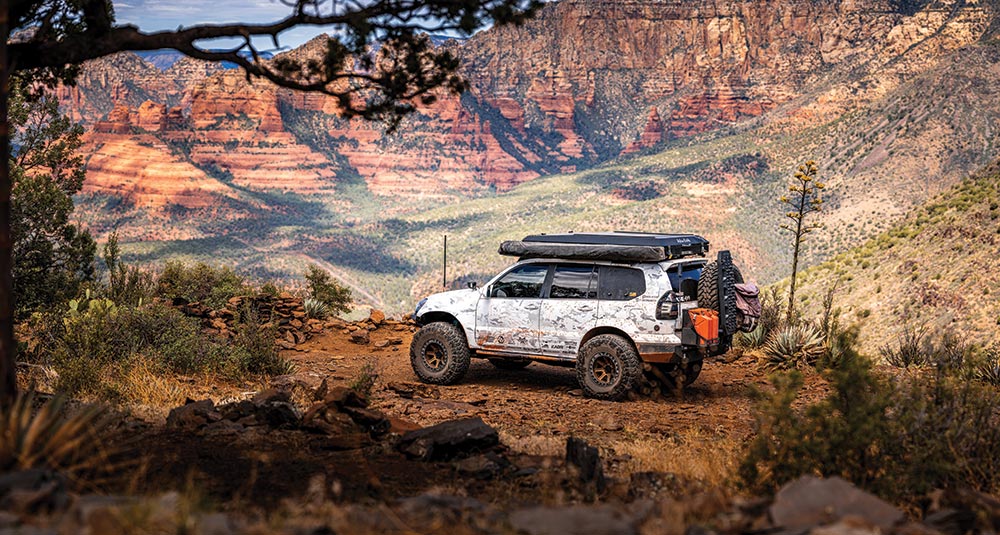 A One-Of-A-Kind Custom 2009 Lexus GX470 Hits New Heights With Modern Electric Upgrades.
Those who dabble in photography know that, at times, getting just the right shot can be a challenge. Similarly, when building a vehicle, getting just the right build can take some time and lots of tweaking. Such is the case with Chase Gardner and his 2009 Lexus GX470, complete with a host of custom upgrades.
Already a fan favorite on Instagram @chase.in.point due to his epic shots of the white SUV in spectacular landscapes, Gardner still wasn't completely satisfied with his build and needed to tweak it a bit more…or a lot more. The newest rendition of his GX build is a showstopper, both inside and out. Who knew this humble talent from Tucson, Arizona, packed so much creativity punch? Well, we did… and now, you do too.
Drifting Into a New Hobby with Astrophotography
Gardner came to the off-road scene already with a love of cars. His specialty: drifting. "Honestly off-roading used to be of absolutely zero interest to me. I was heavily into drifting, even becoming an event coordinator." For 13 years, he coordinated events across the states to bring drifting to those areas that didn't already have events. To help tow his V8 S13 around and dabble in off road, he bought a 2WD 4Runner and that sprouted a whole new hobby.
Soon after, he decided to pursue his interest in photography and purchased his first camera, an Olympus OM-1 DSLR. A hobby he wanted to explore since high school, he followed in the footsteps of his grandfather, who was also a photographer and shot with an Olympus.
Once he got his hands on the camera, his creative side blossomed. He wanted to get out farther to get those epic shots and realized he needed a different vehicle to take him to those remote locations. As Gardner said, "Buying that camera brought out the creative side in me like nothing had before. I dove deep into astrophotography and decided I needed a more capable vehicle to get to cool and crazy places as I wanted to start fine-art print sales."
Enter the Custom GX470
Gardner knew exactly what vehicle he wanted to step into to get to those far off places and continue his new love for photography. Knowing what he wanted, he was willing to spend the money for either a 2008 or 2009 GX (with a clean maintenance record)—he wanted the candy cane taillights.
A major stumbling block to these plans came when Covid struck, as it shut down the art shows. Gardner explains: "Building a fine art [business] kind of went out the window, and I decided to switch gears into more adventure-type photography and videography." He focused his expertise on highlighting people who want to build up their rig to experience amazing middle-of-nowhere places. "It's really special, and I found that the adventure community is absolutely amazing. I had been looking for a change and I finally found it."
As drifting became a sight in the rearview mirror, the GX build became more prominent and his focus. What he thought would be a simple camping build eventually changed to the full-blown off-road build you see today. Thinking he found a cheaper hobby, he quickly learned that was most definitely not the case.
Social Media Outlet
With his new-to-him 2009 GX470, Gardner developed a custom brand and YouTube channel, Two Track Nation. It's goal is to provide helpful DIY ideas for your build, install tips, and lifestyle adventure video content. It brings some unique products to market that directly relates to how people use their vehicles in adventures and everyday lives.
Gardner decided, since completely embracing the off-road lifestyle and his pivot to adventure photography, that he wanted his GX470 to be as capable as possible while having the custom creature comforts one would expect on a relaxing camping excursion. Gardner said, "I tend to do a bit more wild offroading than most overlanders would and, be it corny or not, really resonate with the term "rocklander." That's what this truck build is really about. Building a comfortable hybrid rock crawling and camping vehicle."
The Underpinnings
He started on this four-year buildup as a DIY project, Gardner was excited to work with a variety of off-road outfitters to make his dream a reality. For starters, the 4.7-liter V8 under the hood and the transmission are completely stock, as he sought out the most mechanically reliable GX470 available at the time to house his custom setup. However, the differentials received some massaging: the front is still the factory 8 inch but with 4.88 Revolution gears and ARB Air Lockers, while the rear is an FJ Cruiser 8.2 E-locker with 4.88 Revolution gears and a solid pinion spacer.
The front end can take the bangs and bouncing because of a long travel kit from Alpha Foxtrot Designs that include upper and lower arms and custom-fitted knuckles with horizontal uniball-style ball joints and Heim joint tie rods. The rear springs are Dobinson Extreme HD 3-inch Long Travel Progressive coils, and all of the rear links have been replaced by Dobinson's adjustable upper and lower links and a panhard bar. For added stability and durability, the lower link frame mounts were gusseted and reinforced.
Though the steering is currently a stock unit, Gardner has installed an aftermarket steering cooler to help make way for the 4×4 Labs front bumper. A 200-series steering rack, according to Gardner, is in the works sometime in the next 12 months. To keep the rig on the trail, a family of four Toyo Tires Open Country M/T tires sit on the four corners, each 37 x 13.5/7. They're wrapped around xCommander Wheels' ALPHAequipt beadlocked wheels, 17 x 10 with a -31 backspacing.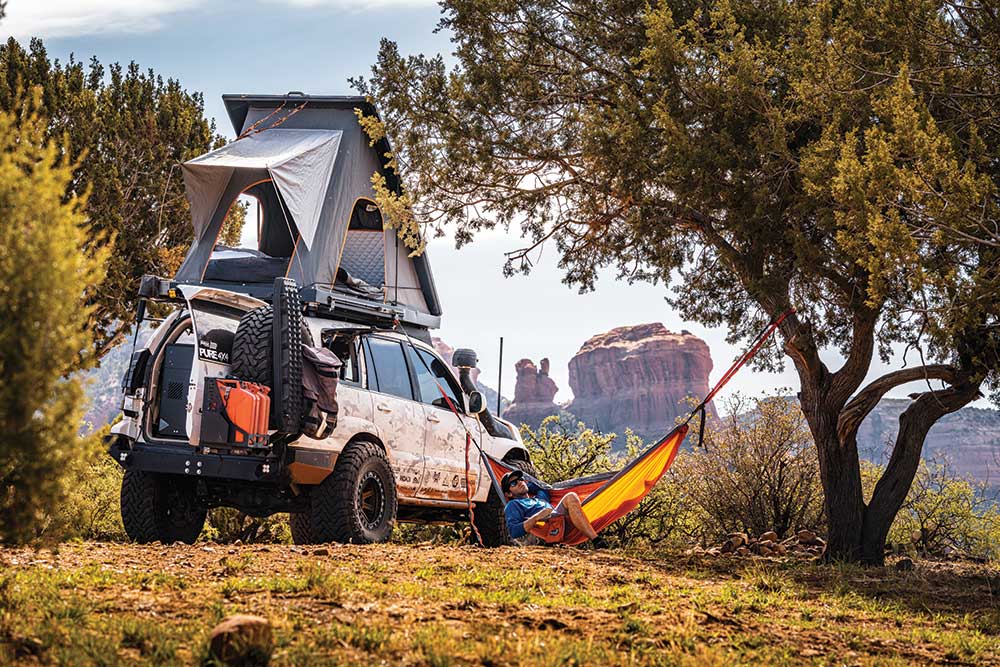 Protection, Armor, and Recovery
It is a sign of a well-traveled rig to have the skids nearly destroyed; it means they've been to a few places, seen a few rocks, and dragged their rigs over more than a few high spots. Gardner's Rocksteady Motorsports engine and transmission skid plates have been well tested on the roads and trails throughout their lives. "They're absolutely destroyed," laughs Gardner, but notes that they've done their duty to perfection. The C4 Fabrication fuel tank and rear differential skid have kept errant trail debris from sidelining his rig in the middle of nowhere, as has the RRW welded sliders in preventing body damage.
The bumpers of the GX470 have been swapped out for more beefier units, providing custom mounting points for lights and exterior gear, such as the Come Up Gen 2 9.5RS winch with a Treaty Offroad line and a Factor 55 Ultrahook. The front end also sports a 4×4 Labs bumper, while the rear is now a Costal Offroad unit with a custom swing-out/swing-down and Baja Design's Squadron reverse lights integrated into the metal. The front fenders are fiberglass wide-style fenders by McQueen Fiberglass. Gardner trimmed them and the rear fenders to clear the 37-inch tires as well as performed tubbing on both the front and rear inner fender wells.
Lights and Electrical
The problem when you trek to the middle of nowhere for that perfect sunset shot is that, when the sun goes down for the night, it is ink-black out there, and surviving on the rig's stock headlights is a recipe for disaster. Instead, Gardner swapped out the stock lights for a BXBuilt custom LED setup and Baja Designs S2 Pro spots in the turn signal housings.  The front bumper contains three Baja Designs LP9 Pro lightbars.
Electricity is provided by Battle Born batteries, 300Ah heated lithium units combined with a Victron Energy inverter. A full electrical panel with all solar/charging/inverter and battery management system devices mounted to it for ease of use and access. There is a 3000w inverter mounted here as well to provide power to the 1800w induction cooktop out back and power to a full 15A 120v service. There's also provisions for USB/DC charging.
Storage and Camping
Since the perfect photoshoot could stretch into days, and Gardner wanted a rig that could provide a comfortable suite of amenities for overnight stays, much attention was given to the details when it came to the camping gear. An Aiden James Customs On-Point rear drawer system and seat delete was installed and combined with a hidden fridge and drop down induction stove. The rear drawers are 40-inches deep due to extra space from the seat delete and there is additional storage in the second row system.
Additional overhead storage for lightweight items is available with a Kaon USA overhead basket above the storage system. The rear tailgate fold-down table, for meal prep and eating, and pocket storage by Kaon USA along with front interior organization/mounting configuration by Ohana Rig Supply means there is plenty of space for everything Gardner might need on his adventures. There's also custom tailgate lighting built into the tailgate along with a paper towel holder.
Home Wherever You Are
The GX470's AluCab Expedition tent has a custom 3-inch hole drilled into the bottom for quick access for winter camping diesel heater. Gardner built a custom externally mounted in-box diesel heater out of some aluminum Zarges boxes that mount to the rear quarter windows in the winter. The hole in the tent allows for a very short 2-foot connection to the tent and absolutely minimal setup. Gardner says it works amazing and offers a complete YouTube video on his channel on how it was built.
Gardner also custom built the tent rack and framing for the GX470. He wanted an extra low profile and lightweight no-frills rack to reduce weight on the roof and keep the tent mounted extra low so he built it out of some 1-inch square tubing that bolts directly to the factory roof-rack locations.
Life with a View
Gardner is pretty happy with the build so far (when can you ever call a truck build done?). He's been on countless adventures in his rig, searching for the perfect shot. Additionally, it is his daily driver, since his other car is the drift car, but there's no complains as it is a great adventure companion. His favorite place to go? "Literally anywhere with a view," says Gardner. "I prefer cliffs overlooking canyons or mountain ranges. These tend to be a bit windier spots, but you don't get views like that anywhere else and it is 100% worth it. So I gravitate towards the Southwest USA but have my eyes on a Baja, Mexico, trip hopefully soon."
No matter where Gardner ends up pointing the lens of his camera, either at a rusty orange sun dipping below the horizon or the Milky Way gracefully careening across a desert landscape, one thing will be certain: His custom Lexus GX470 will allow him to always shoot for the stars.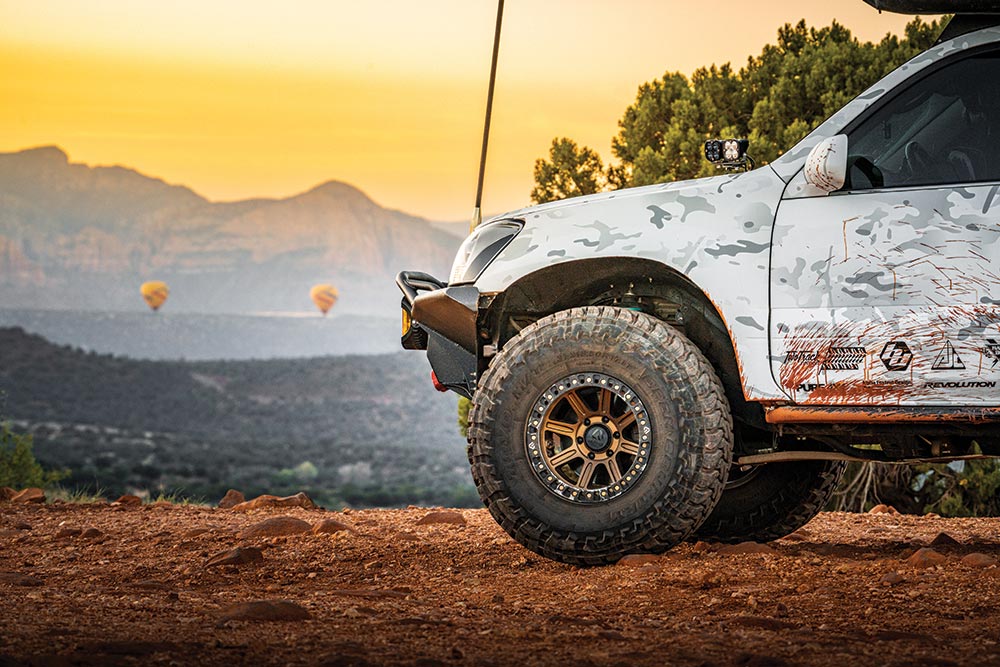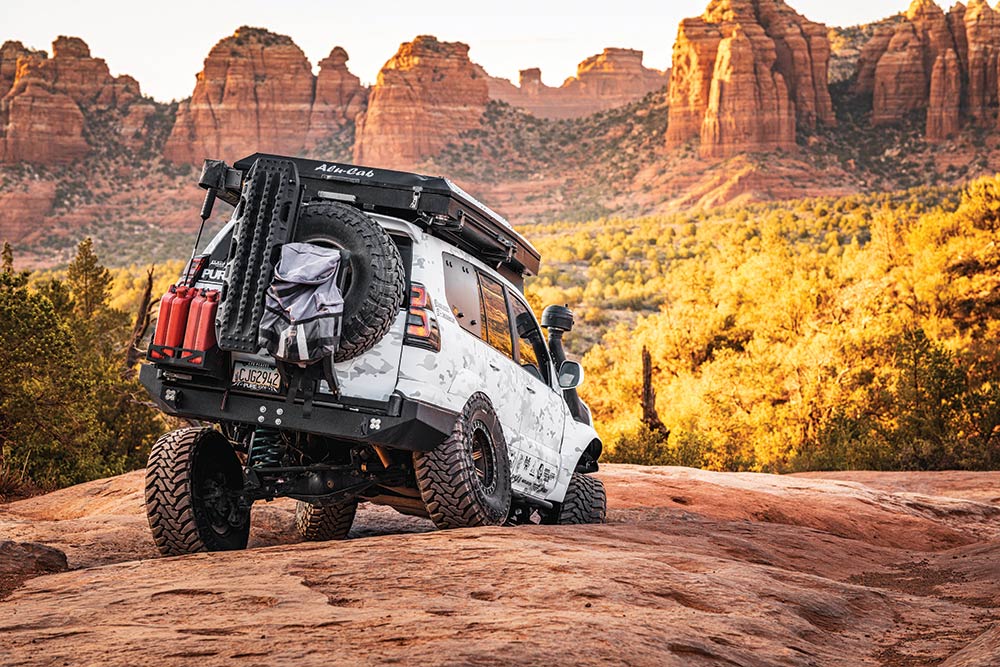 2009 Lexus  GX470
Engine:
4.7-liter V8
Wheels & Tires:
Alpha Equipt xCommander Beadlocks 17×10, -31 backspacing; Toyo Tires Open Country M/T 37×13.5/17
Suspension:
Dobinson Extended Travel Shocks, modified bushings to fit 4th gen lower control arms. Alpha Foxtrot Design Front Long Travel Kit – upper/lower arms and complete custom knuckle with horizontal uniball ball joints and heim joint tie rods (front); Dobinson Long Travel Shocks, Dobinson Extreme HD 3" Long Travel Progressive coils, gusseted/reinforced Rear Lower Link frame mounts, Dobinson adjustable upper and lower links and panhard bar (rear)
Other Modifications:
Factory 8" Front Differential w/ 4.88 Revolution gears, ARB Air Locker (front); Rear Differential is an FJ Cruiser 8.2 E-locker w/ 4.88 Revolution gears and a solid pinion spacer; transmission cooler
Interior Accessories:
Aiden James Customs On-Point System w/ rear seat delete storage and rear storage system for hidden fridge and induction stove; Microsoft Surface w/Android ported onto it to run Gaia w/GPS puck; Kaon USA overhead basket, dropdown table and pocket on tailgate; Ohana Rig Supply organization panels (front); custom tailgate lighting; custom paper towel holder; Ultragauge OBDII monitor, Midland USA 50w MXT575 GMRS Radio, Battle Born Batteries 300Ah Heated Lithium with Victron Energy Electronics; 3000w inverter; full electrical panel with all solar/charging/inverter and battery management system; custom 10-gal water storage system in 2nd row seat delete
Exterior Accessories:
BX Built Custom one-off retrofit w/ Baja Designs s2 Pro in the turn signal housing, Baja Designs LP9 Pro (x9), s2 Pro; Come Up gen2 9.5rs winch w/ Treaty Oak Offroad line, Factor 55 Ultrahook and recovery gear; Jerry cans (x2); Rocksteady Motorsports Transmission/Engine skids; C4 Fabrication fuel tank/rear differential skids; RRW welded sliders; 4×4 Labs Front Bumper; Coastal Offroad Rear Bumper w/ custom swing out/swing down and custom Baja Design squadron reverse lights; McQueen Fiberglass wide fenders; EmuWing gull wing quarter windows; AluCab Expedition Rooftop Tent; custom diesel heater; custom tent rack and fairing
---
Editor's note: A version of this story previously appeared in the Tread September/October 2022 issue.