The True Story Behind Smokey Bear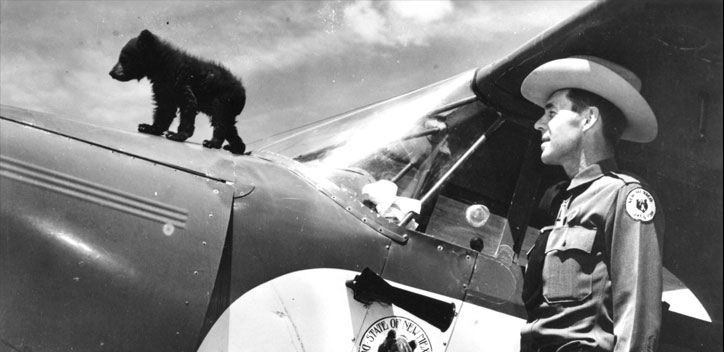 Smokey Bear has been an icon of the United States Forest Service for more than 70 years, and many people do not realize, that Smokey was a real bear.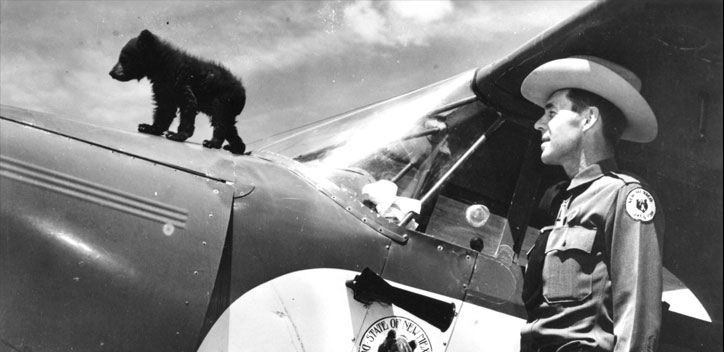 Smokey the bear's origins date back to WWII, where the urgency and importance of preventing forest fires were brought about in the face of Japanese firebombing aggressions on the U.S. mainland, in attempts to disrupt and destroy the flow of the U.S.'s natural resources in the war effort.
In August of 1942, Disney's Bambi was released and soon after Walt Disney allowed Bambi and other Disney characters to be used in fire prevention PSAs. However, Disney only licensed Bambi for a year, and work was underway for developing a new character to represent the USFS. In August of 1944, Smokey Bear's poster debuted, named after "Smokey" Joe Martin who was a fire fighter for the city of New York who suffered extensive burns during a 1922 rescue.
Smokey Bear came from the pen of Albert Staehle, and was originally depicted of wearing denim blue jeans and a campaign hat, and still wears this outfit to this day.
In 1950, a forest fire that raged in the Capitan Mountains of New Mexico burned countless acres. After the devastation of the fire, a five pound three-month-old black bear was recovered from a tree it had escaped to, with burned paws and hind legs. Smokey Bear received help from Ranger Ray Bell from the New Mexico Department of Game and Fish, and took him to Santa Fe where he and his family cared for the cub. Shortly thereafter, the story was picked up and syndicated by national news services and Smokey became a national celebrity. Eventually, the state game warden wrote to the chief of the USFS, offering Smokey to the agency as long as the USFS would dedicate him to a conservation and wildfire prevention program.
Smokey then hopped a ride in a Piper PA-12 Super Cruiser airplane with Homer C Pickens, the assistant director of the NM Department of Game and Fish, bound for Washington DC and the National Zoo, where Smokey would be moving to. For 26 years, Smokey lived at the National Zoo where he received over 13,000 letters a week and earned himself his own USPS zip code. Smokey loved peanut butter sandwiches and bluefish and trout.
On November 9, 1976, Smokey died. His remains were returned to Capitan New Mexico and buried at Smokey Bear Historical Park. Today, his saying "Only you can prevent wildfires" lives on and is one of the most recognized ad campaigns ever created.