Patriot Games Crew Head to Big Bear, CA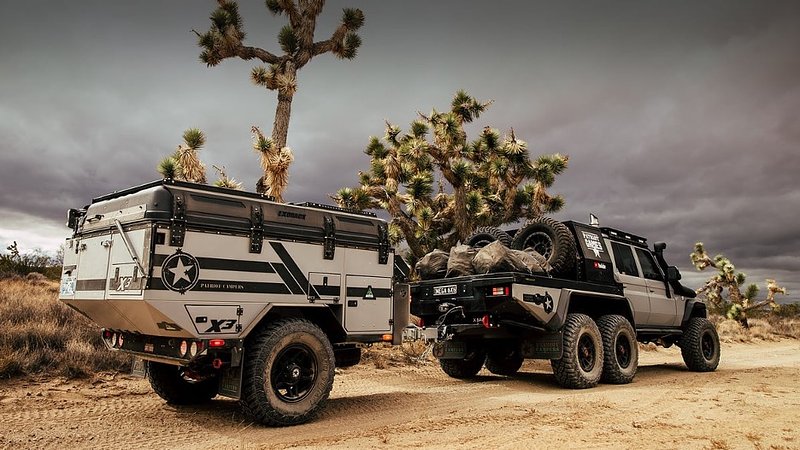 It's been a wild American adventure for this Aussie-based outfit.
You might have spotted Patriot Campers' Land Cruisers and other trucks at SEMA in Las Vegas this past November. The Queensland, Australia-based auto shop and camper trailer manufacturer made an impressive showing. A host of new vehicles made the trek all the way from the Land Down Under. Of course, no adventurer worth their salt would ship their trucks across the whole planet to sit in a convention center for one weekend. So what has the Patriot Campers crew been up to?  Since SEMA, they're been traveling all around the west, making content for their Patriot Games YouTube channel in Mojave and Big Bear.
Patriot Games Takes on Big Bear
In case you missed it, there's been some serious snowfall on the West Coast in the past couple of weekends. The crazy weather has had outdoor enthusiasts of all persuasions running to NorCal to play in the snow. It's been kind of a mess, actually, with dangerous road conditions sending all kinds of vehicles sliding down the mountain. The weather has definitely required flipping it into 4-wheel and strapping on those chains just to stay on-road.
But for those brave enough to test out the crazy conditions off-road, there's so much fun to be had. And the Patriot Games guys are just those kind of people, and Big Bear was just the right place. They've been full sending some awesome terrain in three unique Land Cruiser builds, piloted by Patriot Campers proprietors Justin and Sarah Montesalvo and their three kids, twins Ashton and Christian and Mia.
"We wanted to show people what our vehicles and trailers are capable of and inspire them to get out and explore," said Justin Montesalvo. "This was an incredibly challenging environment, but our Land Cruisers and trailers were more than up to the task. That snow was a serious test, especially since we don't really get much of a chance to experience that back home."
TREAD x Patriot Campers
Keep your eyes open for more TREAD x Patriot Campers content! Three of the Patriot Campers vehicles, including the FJ49, are slotted to be featured in various issues of TREAD and YOTA throughout the year. Get your subscription today to stay in the loop!