AWD Dream Rig: Custom 2020 KIA Telluride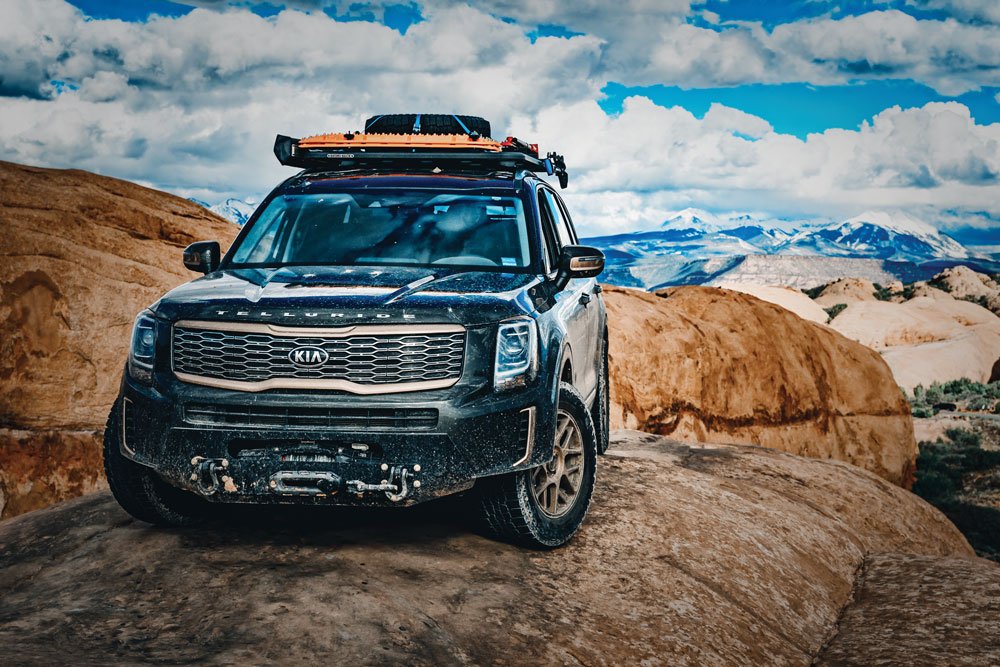 Trail Adventuring All Over the Western U.S. in This Custom 2020 KIA Telluride
The all-new 2020 KIA Telluride has taken the AWD SUV segment by storm. It's won a host of awards, such as Texas Motorpress Association's 2019 Off-Road SUV of the Year crown, and the Northwest Automotive Press Association's 2019 Mudfest Mid- and Full-Size Family category. It has piqued the interest of many. In addition to its accolades, the KIA Telluride was also featured at the '18 SEMA (Specialty Equipment Market Association) show.
KIA partnered with Brandon Maxwell, a high-level fashion designer, who's worked with celebrities like Lady Gaga, to blur the lines between couture fashion and AWD customization to include a one-of-a-kind Telluride in his fashion show during New York's fashion week. KIA also showcased four custom-built Tellurides at their off-road driving course, named the Torque Track, during the show. These individualized Tellurides, customized by California's LGE-CTS Motorsports, had unique off-tarmac capable upgrades—and toured show-goers around the dirt, rock, and log-filled track to give riders a unique experience.
We've had the chance to drive the 2020 KIA Telluride at a few events over the last year. From tarmac, gravel, and dirt, to even deep mud and loose sand, we've witnessed its bone-stock capability firsthand. We've been quite impressed. In stock condition, the Telluride exceeds our expectations to Billy goat up steeper inclines, trudge through muddy waters successfully, and even navigate through super tight tree-lined trails easily with its bird's eye camera views and obstacle detection system. Add to a stock Telluride smaller 18-inch KIA Sorento wheels and Yokohama Geolandar all-terrain tires (as evidenced by the Texas Off-Road Invitational event), and it grabs off-pavement terrain even more aggressively. This seven-passenger SUV went everywhere we pointed it.
Is the 2020 KIA Telluride more capable than its AWD competitors, like the Honda Pilot or Passport, Nissan Pathfinder, Ford Edge, or even the Volkswagen Atlas? We say yes. The Telluride's technology, power, agility, and driver's engagement makes it a winner in our book. During our times with the Telluride, it even successfully traversed milder off-road courses reserved for true four-wheel-drive vehicles.
If the Telluride does this well in stock condition, what's it capable of if modified? Would it handle the rigors that some lesser-equipped 4x4s typically go through? Would it be confident enough to pilot through challenging terrain when searching for the next remote trailhead or traversing over trails in Moab, Utah?
We spent some time with Jason Darrah, from Primal Outdoors out of Bend, Oregon, and asked him about his customized Telluride. Darrah loves getting out there and exploring public lands available in the western U.S., no matter if on foot or by vehicle. He captures the beauty of it all via video and photographs. He travels with his two old dogs, Daisy and Wheeler, and over the last few years they have become the stars of the show. His YouTube channel—along with his Instagram and Facebook accounts—captures the essence of overlanding. Darrah hopes that after watching his videos it'll excite and motivate people to get out there and create their own adventures, too.
Darrah has had Primal Outdoors for six years, and earlier this year was approached by the Ron Tonkin KIA dealership in Gladstone, Oregon. "This partnership started out when [Tonkin] reached out to me asking if I would be interested in using the new 2020 KIA Telluride on my channel," Darrah says. A KIA has never been on Darrah's radar but since the Telluride was a first-gen model and a unique vehicle, he saw it as a distinctive opportunity to build a rig no one has ever outfitted before.
Gregg Whiteaker, the General Manager at Tonkin KIA, decided to do a custom Telluride because it'd be different. "For 20 years I have seen the same things from the same dealerships. End-of-year sales, inventory close-out sales, old inventory blow-out sales etc., etc., etc." Whiteaker mentioned. "With the changing times, we [as dealerships] need to adapt and do things differently—especially with our advertising."
"A KIA has never been on Darrah's radar but since the Telluride was a first-gen model and a unique vehicle, he saw it as a distinctive opportunity to build a rig no one has ever outfitted before."
Whiteaker needed a way to reach customers over social media. KIA has an eye-catching product; he just needed to find a way to get it in front of people. When asked about how Whiteaker chose the right person to work with on this project, he said, "I wasn't necessarily looking for someone in the overland community. I had a list of 20 influencers or so. Some were local chefs, stylists, fashion designers, nail salon owners, amongst others."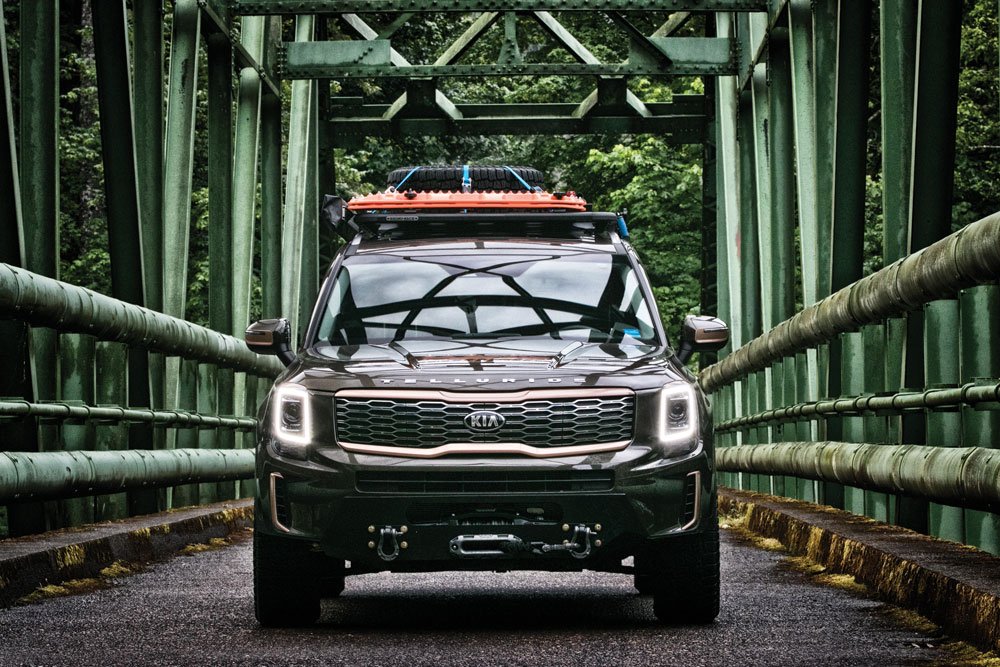 After much research and contemplation, Whiteaker spoke with his team and they worked the list down to eight viable candidates. "Let me just say that my first trip into the world of influencer advertising was a learning experience, to say the least—many different personalities, all wanting different things."
It wasn't until Whiteaker visited the page of someone he follows and that person posting about Darrah with Primal Outdoors that he knew Tonkin would go "overland". "I was impressed with his video skills, that he was local and loved the outdoors. That was the icing on the cake. About an hour into his [YouTube] videos, I made up my mind."
Once the agreement was set, Whiteaker and Darrah set out to find a vehicle outfitter and fab shop to customize their Telluride. "We founded Wanderlust Overland (WO)," Darrah states. "Being that Wanderlust Overland was a shop that specializes in custom overland builds, I knew they'd be the right shop to come up with unique solutions to build out a first-gen vehicle that had no aftermarket support." They worked with Michael Zeiders, WO's owner, to make it happen.
"Everything we did had to be custom; there weren't even any clamps available to fit [the roof platform to the] factory roof rails."
Both Whiteaker and Darrah wanted this build to be tailored to someone who was looking for a vehicle that'd handle well on-road while getting good gas mileage, yet still wanted a vehicle they can feel comfortable getting out and exploring National Forest roads and BLM land with. "I would not recommend the KIA Telluride to the hard-core off-road enthusiast looking to build out a vehicle for aggressive Jeep trails, rock crawling or mudding," Darrah exclaims. Given our off-tarmac experience with the Telluride, we completely agree with Darrah.
The 2020 Telluride is a brand-new vehicle for KIA. It's a three-row SUV. Seven passengers if you opt for the top-of-the-line SX that offers up two captain's chairs for the center row, or an eight-person people mover with a center bench seat if you purchase an EX or lower trim level (Primal Outdoor's Telluride is an EX). Like most other KIA models, the Telluride has an affordable price tag, but doesn't skimp on features. With 291 peppy horses and an 8-speed automatic standard, the Telluride gives you power when you need it, plus handling that's responsive and agile—even in stock condition.
"The vehicle was designed by [chief U.S. designer] Tom Kearns in Irvine, California, and is built here in the U.S. in West Point, Georgia. Being that Telluride has three-row seating, I knew it would have plenty of room for myself, my two dogs, and still have ample room for gear," Darrah exclaims.
As Darrah, Whiteaker, and Zeiders worked together to formulate plans for the build, a few key requirements came to light. Deal with clearance issues by increasing the wheel size and adding some lift. Supply a power system robust enough to run Darrah's SnoMaster fridge and handle the arduous task of charging all his camera equipment. This was handled by adding a 130Ah external battery from XS Power and portable solar panel from Zamp Solar.
Have the ability for self-recovery. This was handled by adding a WARN winch and custom winch bumper insert, along with a platform rack from Rhino Rack to house Darrah's recovery boards and Hi-Lift jack. Supply an air compressor to allow for easy tire inflation. This was solved by adding an on-board ARB air compressor.
Zeiders, a longtime outdoor enthusiast, built and modified motorcycles and ATVs when he was younger, and then 4x4s when he could drive. He used his rigs to camp, hunt, fish, and hike—this was before the term "overlanding" came about. WO officially opened their doors in Oregon City, Oregon, in early 2016 and has quickly become a prominent vehicle outfitter shop in the Pacific Northwest.
He, along with his team at WO, got busy building up the Telluride. After discussions with Whiteaker and Darrah, they completed a whole list of mods. Extra height was gained by way of a custom WO-designed spacer-style lift. The result is an increase of 2 inches in the front and rear with front pre-load shims and rear airbags to compensate for the added weight of towing.
A custom WO-designed and built winch bumper with recovery points that house Warn Epic D-ring shackles was installed, as well. A Warn Zeon 10-S winch with synthetic rope and Epic hook completes the front bumper package. On-board air comes courtesy of an ARB Twin Compressor mounted in the engine bay in a custom WO-designed and built mount.
"Off-road handling is very nice … and it's up to the task to get you down semi-aggressive trails."
To keep things powered, a dual-battery system was added to the Telluride. Customized with a Blue Sea Automatic Charge Controller, the dual battery setup also includes an XS Battery group 31 battery and WO custom mount, which are located in the trunk area. Also, in the rear is a Zamp 90-Watt slim portable solar unit with quick port in rear.
WO was also able to custom mount a Rhino Rack roof platform to give the Telluride auxiliary gear-carrying capacity. To top off the look, Canby Graphics was commissioned to install a sharp-looking and protective vehicle wrap.
Darrah, Whiteaker, and Zeiders learned a lot from this build. Zeiders knew there was no aftermarket support for the brand-new 2020 Telluride—nothing like this has ever been done before. "Everything we did had to be custom; there weren't even any clamps available to fit [the roof platform to the] factory roof rails," Zeiders says. "We had to custom mount the roof rack." Another challenge they faced was very little under-body protection. "The factory approach and departure angles are pretty abysmal."
"… tailored to someone who was looking for a vehicle that'd handle well on-road while getting good gas mileage, yet still wanted a vehicle they can feel comfortable getting out and exploring …"
Not everything was a test, however. After the project build was complete, they discovered there's plenty of room in the engine compartment, making it easy to mount on-board air and a second battery in it. The suspension was easy to work on as well. Zeiders pointed out nothing extra needs to be disassembled on either front or rear to modify them. The factory battery has a high-capacity, deep cycle AGM, which bodes well with adding additional batteries that has the same charging profiles. "It even somewhat negates the need for an extra battery for all but the heaviest users," he says.
If given the opportunity, adding more protection to the underbody and sizing up a long-range auxiliary fuel tank can help. Also, creating a solution to increase the Telluride's approach and departure angles and devising something to permanently carry a full-size spare would elevate the overlanding-ready Primal Outdoors KIA's Telluride even more.
This particular Telluride has been trail adventuring all over the western U.S. From off-road tracks paralleling the Grand Canyon to the red rock of Moab, or Oregon's hard-packed dirt to even slushy snow, Darrah states it is a very comfortable ride that has great power even when pulling his trailer. "Off-road handling is very nice … and it's up to the task to get you down semi-aggressive trails." The partnership between Ron Tonkin KIA, Wanderlust Overland, and Primal Outdoors has created a 2020 KIA Telluride that's dialed in for years of adventure.
UPGRADES
Platform: 2020 KIA Telluride
Engine: KIA 3.8L V-6
Suspension: Custom Wanderlust Overland 2-inch Spacer-Style Lift, Front and Rear with Front Pre-Load Shims, Rear Airbags
Wheels & Tires: KMC KM708 / Les Schwab Open Range A/T
Accessories: Custom Wanderlust Overland Winch Bumper, Warn Epic D-ring Shackles, WARN Zeon 10-S Winch with Synthetic Rope, Warn Epic Hook, ARB Twin Compressor, Blue Sea Automatic Charge Controller, XS Battery Group 31 Battery, Zamp 90-Watt Slim Portable Solar Unit, Rhino Rack Roof Platform, Canby Graphics Vehicle Wrap, CVT Awning
Editor's Note: A version of this article first appeared in the November/December 2019 print issue of Tread Magazine.