SuperATV: No Turning Back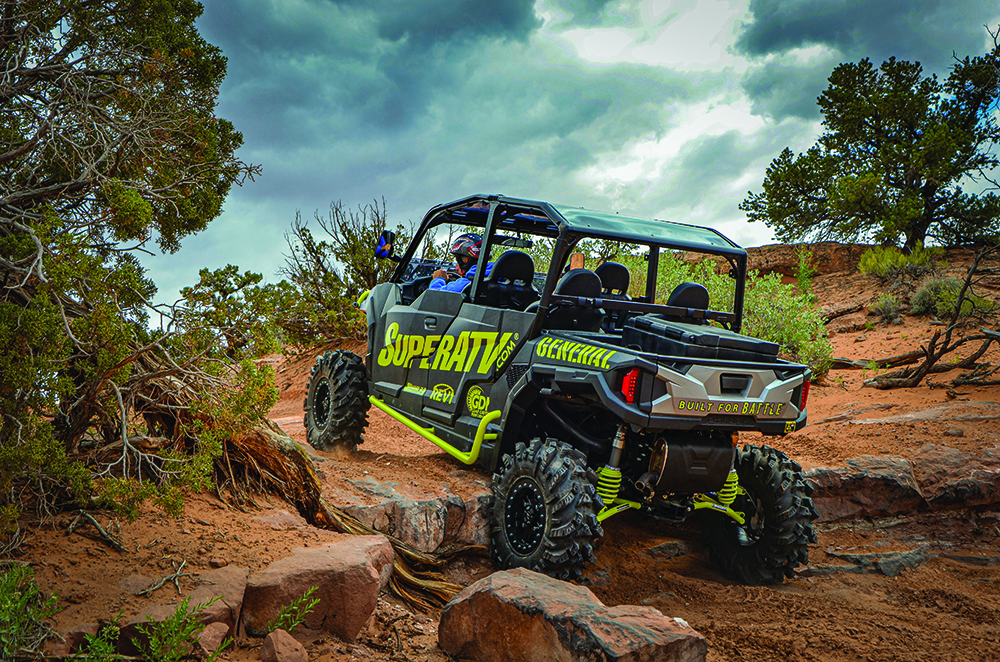 How Harold Hunt "burned his boats" and risked it all to build SuperATV
Sponsored Content
What propels you forward into the unknown? Is it the destination that motivates you to explore the trail less taken, or is it the experience of the journey that drives you? Do you do it to challenge yourself and test your equipment?
While each of these factors is definitely important, for most of us, it's who we share our adventures with that's the key motivator. Whether you enjoy the outdoors by truck or by other conveyance, such as a UTV, it's the people you enjoy the activity with that make it memorable and worth doing.
SuperATV's goal was to fill a small need for off-road enthusiasts.
For avid off-roader Harold Hunt, taking the path less traveled had multiple meanings. Hunt, CEO and chairman of SuperATV, began his journey riding creeks in his Polaris Sportsman ATV.
Little did he know that his passion for off roading would lead him down a path that was unexpected, full of challenges and uncertainty. But, because he knew he had the support of his family, his adventure would be memorable and worthwhile. The path for which he chose to risk it all wasn't a perilous trail in the middle of nowhere; rather, it was for his company, SuperATV. The challenge wasn't without its high-stake risks, however.
Humble Beginnings
Founded in 2003, SuperATV's first product was its 2" Polaris Sportsman EZ Install Lift Kit. The kit came to be as a result of Hunt's love for creek-riding and his need for larger tires to be fitted to his ATV.
Hunt looked around the market and didn't see any parts that could help him in his mission. As a result, instead of sitting around and waiting for someone else to make what he wanted, he drew from his wealth of manufacturing experience and designed and built offset A-arms for his Sportsman himself. He soon realized there was plenty of demand for his creation. He thought maybe he was onto something. "Can I take this further?" he wondered.
'Burning Boats'
After 29 years of riding ATVs as a hobby, Hunt decided it was time to "burn his boats."
He quit his job and invested his life savings into his startup. There'd be no going back now; it was all or nothing. Thus, his hobby became a business in the family's garage in Madison, Indiana, with his wife and daughter pitching in to get products shipped while they all brainstormed new ways to take care of the SuperATV's customers and grow the business.
SuperATV's goal was to fill a small need for off-road enthusiasts. Hunt was delighted and surprised when it turned out that the need was much greater than he realized—and it was growing every day. As the industry exploded and demand grew, so did SuperATV.
It wasn't just about 2" Sportsman lift kits anymore. It was about improving every part possible on every machine available and improving the customer experience. As a direct aftermarket seller, SuperATV was able to service customers better and answer their needs more efficiently. Products could now be delivered straight from the manufacturer to the user. Middleman-like distributors and dealers were cut out of the picture.
As UTVs came to market and their popularity quickly grew, SuperATV saw this as an opportunity and became a front-runner in the industry. Hunt saw the use of UTVs on the rise and knew the company needed to provide the same top-notch, direct-to-customer service and added UTV aftermarket parts to SuperATV's inventory. SuperATV now mostly carries parts for UTVs. Even so, it still offers options for ATVs.
Exponential Growth
Now, more than 17 years later, the company has grown multiple times over—but things haven't changed much for Hunt. Even as CEO, he still comes to work with ideas for "the next big thing." The SuperATV family is a bit bigger now, with more than 400 employees (and counting). What keeps everyone in the company on the cutting edge is its customer-focused, industry-centered mentality. Every product from SuperATV still has its founder's fingerprints on it. Hunt certainly didn't just set the course and take a back seat. He's still there every day, guiding design decisions and coming up with new products that will shape the future.
Leading From the Front
SuperATV is a leader in the industry. It's constantly coming up with new ways for riders to customize their off-road experience and get the most out of each adventure. The company's product line encompasses a full range of aftermarket parts. SuperATV is also revered as the industry leader in UTV portal gear lifts, axles and windshields. The increased offerings for UTVs also created expansion, with well-known sub-brands GDP, Rhino 2.0 Axles, EZSteer and XR Optic Hard Coat.
All this success means that the company has grown from its humble beginnings in Hunt's home garage in Madison to 922,000 square feet across multiple facilities. SuperATV now has operations in Shreveport, Louisiana, and Salt Lake City, Utah—with plans to continue to expand.
Growth and Outreach
With a focus on the community aspect of off roading, SuperATV is currently helping its hometown of Madison through its altruistic efforts. The Salvation Army, Habitat for Humanity of Jefferson County and the Children's Advocacy Center of Southeastern Indiana are just a few of the many organizations that have received donations from SuperATV in recent years. The company is also poised to go beyond the ATV/UTV market, expanding into the truck and SUV market with a 12,000-pound winch.
All this success means that the company has grown from its humble beginnings in Hunt's home garage in Madison to 922,000 square feet across multiple facilities.
Final Thoughts
Off-roaders might use different machines, but we all have the same goal of enjoying the journey and the company we keep in the outdoors. We all take to the dirt to find epic, off-road experiences.
As the UTV and overlanding communities merge even more in the future, SuperATV is there to serve everyone. It will continue to increase inventory on UTV aftermarket parts and will soon have items for SUVs.
Hunt and his family at SuperATV completely understand that the off-road community knows better than anyone about "burning your boats." Whether in a UTV, truck or SUV, all are self-reliant, taking risks and not turning back.
---