Off-Roading the INEOS Grenadier in France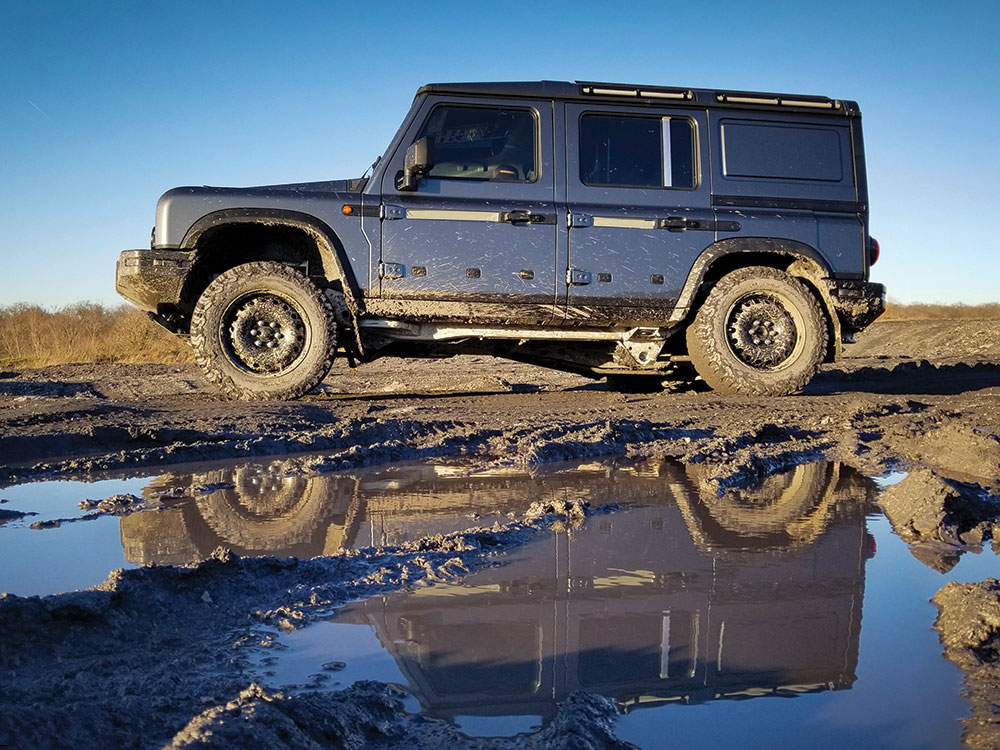 The INEOS Evolution: layers of adventurous opportunities.
Off-road enthusiasts globally are eagerly awaiting INEOS Grenadier updates, especially those from the United States and Canada. We recently got a chance to go off-roading in an INEOS Grenadier prototype in Hambach, France—the only outlet from North America to do so. Plus, INEOS invited Media from Poland, Belgium, Scotland, Netherlands, Germany, Switzerland, and the UK. In addition to mud-filled action, we toured INEOS' state-of-the-art manufacturing facility, giving us an in-depth, in-person look at the upcoming off-roader.
The INEOS Grenadier: It's Not a Land Rover
In 2016, Jaguar Land Rover, JLR, stopped production of its popular body-on-frame Defender 110 4×4 favoring one that featured unibody construction and independent suspension. Land Rover's move toward ditching its predecessor's body-on-frame signature for luxury, technology, and unibody architecture created a marketplace gap. This set the stage for newly formed INEOS Automotive—a subsidiary of multi-billion-dollar global entity INEOS Group—to fill the void.
INEOS Group's Chairman, adventurer, and automotive enthusiast, Jim Ratcliffe, leapt at the chance to manufacture a utilitarian workhorse 4×4 to take the Defender's place.
The INEOS Grenadier is longer, wider, and taller than the Jeep Wrangler Rubicon JLU and four-door Sasquatch-equipped Ford Bronco. Yet, it has a slightly smaller wheelbase.
INEOS Lowdown
Though the new INEOS Grenadier 4×4 seems strikingly similar to the Land Rover predecessor, INEOS stands firm stating they're two different vehicles. Built from the ground up, Greg Clark, INEOS Automotive's executive vice president of the Americas, said their position is this: "Ongoing [Land Rover] challenges have been repeatedly overturned or rebuffed [and they] distract from both organizations' ability to serve customer groups that we consider to be quite different from one another."
"Land Rover has been crystal clear about its modern-luxury strategy and direction," Clark added.
He believes the Grenadier lineup is complementary to an industry landscape left with a widening marketplace gap for off-roading enthusiasts who need a workhorse 4×4.
"As for any newcomer," Clark stated, "building brand equity, fostering consideration, and delivering on promises are key ingredients of a successful start. We aim to continue frank and unvarnished engagement with our reservation holders to benefit from their ongoing advice and counsel and to build trust over the next 12 months."
The Grenadier Statistics
Although full specifications will be released in April, the following statistics were confirmed. The Grenadier SUV is 193.9 inches in length (including the spare tire), 76 inches wide excluding the side mirrors, and 80 inches high; it's interior cockpit accommodating those up to 6 feet, 4 inches in height. Its wheelbase is 115 inches.
In comparison, a Jeep Wrangler Rubicon JLU is 188.4 inches in length, body width 73.8 inches, body height 73.6 inches, with an overall wheelbase of 118.4 inches. Conversely, a four-door Ford Bronco including the Sasquatch package is 190.5 inches long, 73.9 inches with mirrors folded, a maximum height of 78.7 inches, with a 116.1-inch wheelbase.
This INEOS newcomer has permanent four-wheel drive and a Tremec two-speed transfer case. The Grenadier showcases a twin-turbo BMW 3.0L straight-six engine for petrol and diesel models. The gasoline variant packs 281 hp and 332 lb.-ft. of torque, whereas the diesel adds gobs of torque but loses 36 horses. In overall gusto, the diesel comes in at 245 hp with 406 lb.-ft. of torque. Petrol and diesel Grenadiers will boast an off-roading ready ZF eight-speed automatic transmission coupled with manual shifting capabilities.
INEOS, Jeep, Ford: Measurements
The INEOS Grenadier is longer, wider, and taller than the Jeep Wrangler Rubicon JLU and four-door Sasquatch-equipped Ford Bronco. Yet, it has a slightly smaller wheelbase.
| | | | | |
| --- | --- | --- | --- | --- |
| Vehicle | Length | Width | Height | Wheelbase |
| INEOS Grenadier | 193.9 in. | 76 in. (excl. side mirrors) | 80 in. | 115 in. |
| Jeep Wrangler Rubicon JLU | 188.4 in. | 73.8 in. | 73.6 in. | 118.4 in. |
| Ford Bronco Sasquatch package | 190.5 in. | 73.9 in. (side mirrors folded in) | 78.7 in. | 116.1 in. |
Die-hard stick-shift enthusiasts remorse: a true manual transmission isn't available. North America won't see the diesel to start with, either. However, INEOS told us Mexico may still be a possibility. Hydrogen-powered and all-electric variants, as well as a pickup truck version, are in the works. Insiders told us a 127-inch long-wheelbase Grenadier SUV is also planned, though official details have not been revealed.
The Grenadier includes 17-inch and 18-inch steel and alloy wheel options, with two three-peak mountain-snowflake-rated tire choices. For light-duty off-roaders, bespoke 265/70R17 or 255/70R18 Bridgestone Dueler all-terrains are offered. For dedicated off-tarmac enthusiasts, LT265/70R17 or LT255/70R18 BFGoodrich KO2 all-terrains are orderable.
INEOS' Latest Specifications
The body-on-frame Grenadier includes a robust Gestamp-produced ladder chassis supporting a steel body with aluminum doors, hood, and spit swingout rear doors (to save weight). A standard center locking differential and optional front and rear e-lockers help round out Grenadier's off-roading capability.
As the industry shies away from body-on frame vehicles and solid axles, the INEOS Grenadier boasts custom-built solid beam axles from Carraro, an Italian manufacturer specializing in heavy-duty tractor axles. Carraro makes industrial components for companies like John Deere; products designed to take a beating. Though INEOS is tightlipped about gear ratios, we spied a display axle stamped with 4.1 gearing at the event.
Suspension Details
Full details of the Grenadier's suspension haven't been released, but a source told us progressive front and rear Eibach springs and heavy-duty single-tube Bilstein shocks were being used. INEOS later confirmed this with us. Wheel articulation showcases approximately 9 inches in the front and 12 inches in the rear—the same as a non-Rubicon Jeep or Defender 110.
Additionally, the Grenadier's approach angle sits at 35.5 inches, while the departure angle is 36.1 inches and breakover angle is 28.2 inches. Ground clearance is nearly 10.4 inches, while wading depth is 31.5 inches.
Targeted payload and curb weight capacities haven't been announced yet but anticipated towing capacity is over 7,700 pounds. INEOS anticipates more than doubling the Grenadier's tow capacity compared to the Jeep Wrangler Rubicon JLU or Sasquatch-equipped Ford Bronco, having respective 3,500-pound towing limits.
Grenadier's Off-Roading Options
Key off-road items include optional rock sliders (or optional side steps for soft roaders) and modular steel front and rear bumpers, assembled in sections for easy serviceability. Front and rear winch options are also planned. Exact specs haven't been shared, but we spied a Grenadier prototype showcasing a recessed RED winch. INEOS confirmed the adapted winch had an 11,000-pound capacity and synthetic rope. What translates into our market remains to be seen.
In addition to carefully placed tactile knobs and old-school switches, the INEOS Grenadier offers standard Recaro seats and pre-wiring for extra accessories. It will feature standard front, fuel tank, and rear skid plates. INEOS' targeted static rooftop load rates slightly are above 650 pounds, perfect for a roof top tent, with about half that weight as its dynamic capacity. Note: The latter is less certain until engineering testing is complete. They're still developing fuel tank sizes.
Old School Style
The INEOS Grenadier features off-roading analog items. These include a cable-actuated parking brake, non-powered side mirrors, and an old-school key versus the ever-popular push-button start. Non-electric dual safari sunroofs pop up with an oversized clasp or come off completely. Other traditional cable or mechanically driven features are also planned versus relying on ECU-based tech-assisted items for simplicity and ease of repair in the field. A simple switch will desensitize electronics like dynamic stability control, traction control, and ABS for off-road duties. Note: These systems won't shut completely off, but will run in the background. This will allow users to rock back and forth, spin wheels, and more to get unstuck.
"As a rule, the Grenadier is mechanical where it can be," Clark said, "and electronic where it absolutely needs to be." Conversely, modern safety features and techy bits are still included.
Summing It Up
INEOS Automotive is on track to start production manufacturing this July. Confirmed goals are to start producing 25,000 to 30,000 SUV units annually. Higher-than-anticipated global reservations yielded 15,000 orders—with a third destined for North America.
Though final pricing for North America won't be announced until late 2022, full specifications are expected this April. North America's opportunity to finalize orders is slated for later in the year. Through INEOS Automotive's full online configurator or retail network, country-side arrivals are coming in 2023.
To learn more about the INEOS Grenadier, follow them on Instagram and Facebook @ineos_grenadier.
---
Vehicle Impressions
The 2B prototype was the second Grenadier model INEOS manufactured. INEOS plans for multiple prototype renditions (known as production try-outs) after the 2B before production-ready models make it to market: PTO1 engineering testing units, PTO2 testing/production trails/marketing units, and PTO3 pre-production road testing units. Off-roading the Grenadier 2B prototype gave us a unique preview of what's to come.
Due to the prior-day's rain in Hambach, France, we drove through deep mud, loose dirt, slick surfaces, and more. INEOS' single petrol tester was a two-seat commercial 2B prototype. The vehicle dash-mounted emergency shut-off buttons, 3-D printed dash details, and software systems yet to be fully dialed.
Compared to other 4×4 manufacturers, INEOS gave select media an opportunity to drive early-stage prototypes. They've decided to share their prototype progression versus hiding behind it. This provided us a unique driving experience during our short time with it. INEOS equipped the gasoline-fueled tester with comfortable, supportive Recaro seats. With these seats, drivers—no matter their height—had exceptional visibility from nearly all areas, including over the hood. However, the Grenadier's rear spare tire and split door design was chunky and partially obstructed visibility, although solid.
Driving Impressions
After hopping into the Grenadier, albeit without a driver's side A-pillar grab handle, we shifted the manual transfer case into four-wheel low. (Note: There's no electronic engagement.) We could immediately sense the vehicle's perimeter with the manual adjustment side mirrors.
Steering was responsive with associated stalks short and unobtrusive. The center stack was easy to understand once we learned the switch placements. However, a small front driver's display showcased emergency lights—not speed and gears. The center screen showed those gauges plus a tachometer, inclinometer, odometer, and more, items we wished were directly in front instead. There are no plans for a heads-up display.
The Grenadier's throttle control was twitchy at first, but throttle tuning wasn't final yet. After a short time, it wasn't noticeable as the Grenadier easily crept up steep, off-camber inclines, descended loose hillsides, and chomped up deep, mud-filled sections with little exertion. Although we didn't engage front and rear lockers on the test course, the driving dynamics felt natural. The new SUV felt more nimble than its four-door size suggested. It offered a compliant, rattle-free ride.
How Does It Stack Up?
Compared to some of its competitors, the Grenadier's driving demeanor seemed intuitive. Its design allows overlanders and dedicated off-road enthusiasts alike a solid base for customization and usage. The Grenadier had simple solutions to current tech-filled complications. And, it completed challenging sections of the off-roading course with stability and intention—key traits for a workhorse 4×4 destined for off-roaders and workers alike.
INEOS Automotive maintains an open and honest attitude as the Grenadier continues to evolve. Though they have't yet announced final pricing for North America until late 2022, INEOS will release full specifications this April. North America's opportunity to finalize orders is slated for later 2022. Through a full online configurator or retail network, we can expect U.S. arrivals in 2023.
SPECS
CONFIRMED SPECS (FULL SPECS ANTICIPATED IN APRIL):
Dimensions: length: 193.9" (inc. spare wheel), width 76" (excl. mirrors), height 80", wheelbase 115"
Targeted weight: curb weight and payload TBD, towing capacity over 7,700 pounds
Off-road capability: body-on-frame ladder chassis, standard center locking differential, optional front and rear e-lockers, front/rear Eibach coil springs and heavy-duty single-tube Bilstein shocks, solid-beam axles, standard front/fuel tank/rear skid plates, front and rear winch options, pre-wiring for aux accessories, front/rear modular steel bumpers for serviceability, exterior-mounted cargo-hauling L-tracks, wheel articulation appr. 9" front and 12" rear, approach angle 35.5˚, departure angle 36.1˚, breakover angle is 28.2˚, ground clearance nearly 10.4", wading depth 31.5",
Powertrain/drivetrain: permanent four-wheel-drive and two-speed transfer case, ZF 8-speed automatic transmission with manual override, twin-turbo BMW straight-six, petrol and diesel engines, petrol 281 horsepower and 332 lb-ft of torque, diesel (not sold in North America) 245 HP and 406 lb-ft of torque
Wheels & tires: 17" and 18" steel and alloy wheel options, two three-peak mountain-snowflake-rated tire choices: bespoke 265/70R17 or 255/70R18 Bridgestone Dueler all-terrains, LT265/70R17 or LT255/70R18 BFGoodrich KO2 all-terrains
Grenadier's prototype progression: 1B initial units, 2B prototypes (which the author drove), PTO1 engineering testing units (currently at end of production), PTO2 testing/production trails and marketing units, PTO3 pre-production road testing units, full production mode for series vehicles
PROJECTED/ANTICIPATED SPECS:
Upgrades & details: Carraro custom-built solid beam axles with 4.1 gearing, adapted 11,000-pound RED winch with synthetic rope, four pre-wiring connector housings at rooftop side grab rails (two possible for production units), 650 pound plus static rooftop load, about half that for dynamic capacity
TBD future North American variants: 127" long-wheelbase Grenadier SUV, crew-cab pickup truck, diesel options; two-door Grenadier SUV not planned at this time
---
 Editor's note: a version of this article previously appeared in the TREAD May/June 2022 issue.