Camp Yoshi Changes Lives With Gourmet Cooking in Nature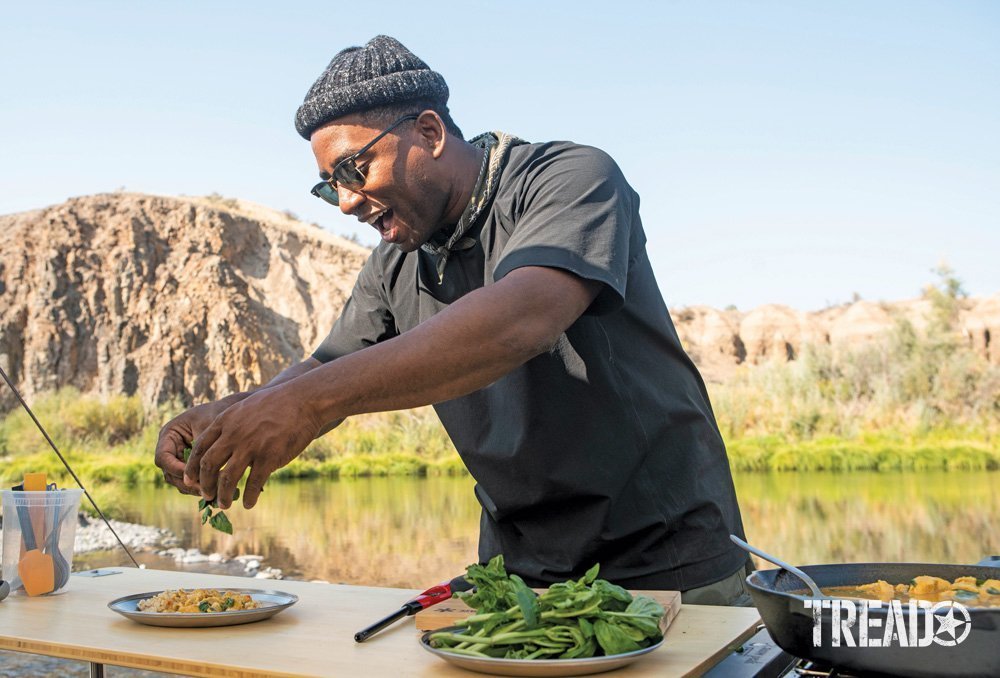 City Dwellers Explore For The First Time With Camp Yoshi
When faced with a challenge, one should rise to the occasion. And when successful, great rewards are received. In this case, those rewards are a hearty meal provided by a professional chef in God's country. While some of us grew up in the outdoors, many people have yet to discover the wonders of nature—especially the way we do. That's exactly why Rashad and Ron Frazier decided to bring the overlanding and camping experience to those who simply needed a little encouragement and know-how.
While many of us were locked up at home from COVID-19 restrictions, Rashad and Ron met up in Montana for a camping trip with their families. On this summer 2020 trip, they also discussed how to share their love of the outdoors with those completely unfamiliar with the lifestyle. That was when Camp Yoshi was born. We couldn't think of a more appropriate place to inspire a concept that would soon be a life-changing experience. One that proves after a hard day, a good meal resets your mind and brings comfort.
Sleeping Under the Stars
Spending time with nature was how the Frazier brothers grew up. They spent their summers at a lake house in North Carolina, 30 minutes from the city of Charlotte. Their summer days were filled with waterskiing, swimming, fishing, and exploring. Back then they didn't need rooftop tents, or any tent for that matter. They spent the night sleeping outside under the stars on the pier or in their boat. As time went on and the brothers became adults, they both wanted to get back in touch with their outdoorsy side. Both having children of their own now, they dove back into the camping lifestyle and overlanding. They knew it was the perfect way to get their families together, especially since Rashad now lives on the West Coast and Ron and his family are still in North Carolina.
Adult Camping Trips Spark Ideas
The brothers renewed their love for the outdoors five years ago when they met up for Overland Expo East. It was their first big adult camping trip. Friends from New York and Washington D.C. flew into town to meet up in Ashville, North Carolina. They were blown away by how much gear and equipment people use to go camping, but they were hooked. It was then that they decided to do a big trip each year, with the next trip to Overland Expo West.
Each day brought new obstacles and pushed inner boundaries, but also a new sense of self and accomplishment.
Several years later, they were taking overlanding trips to all the well-known destinations. Their 2020 trip was originally to Mojave Road, however those plans quickly changed as COVID-19 took over everyone's lives. Ron already took the time off and didn't want it to go to waste, so the guys got to talking. With Ron getting car crazy and more involved in the overlanding lifestyle and Rashad's chef work not doing so well, they decided it was the perfect time to throw the kids in the car and meet up in the middle for some camping. A week in Big Sky, Montana, is enough to change anyone's life, but for the brothers it fueled thoughts to something more.
Community is Important
Nights around the campfire in Montana brought on discussions that would eventually lead to the first Camp Yoshi trip. While Rashad and Ron naturally felt comfortable camping, they also recognized there were not many people of color out on the trails. They discussed how too often the opportunities or groups who get urbanites finally out amongst the trees are geared toward those who need help or assistance. Plenty of people they spoke to had the means to do it but were lacking the community or didn't know people who could give them the exposure. All they needed were people with experience to lean on a bit to help get them there.
It was then that Ron's plans changed. He decided to head to Portland, Oregon, where Rashad and his family live, and they could build this idea into something real. Luckily, Ron was working remote already and could work on the road. Rashad watched the kids during the day while his wife and Ron worked. At night, they put their heads together and organized the first trip.
Camp Yoshi Brings Challenge and Comfort
After vetting locations, choosing food, and acquiring the needed gear and supplies, Rashad and Ron were ready. "Once you get them out there, nature does the rest of the work," Rashad says. And he is absolutely right. The first trip gathered 12 guys total from across the country. Natives from Brooklyn, Jersey City, Chicago, and Portland all came together to experience the outdoors like they had never done before. Each day brought new obstacles and pushed inner boundaries, but also a new sense of self and accomplishment.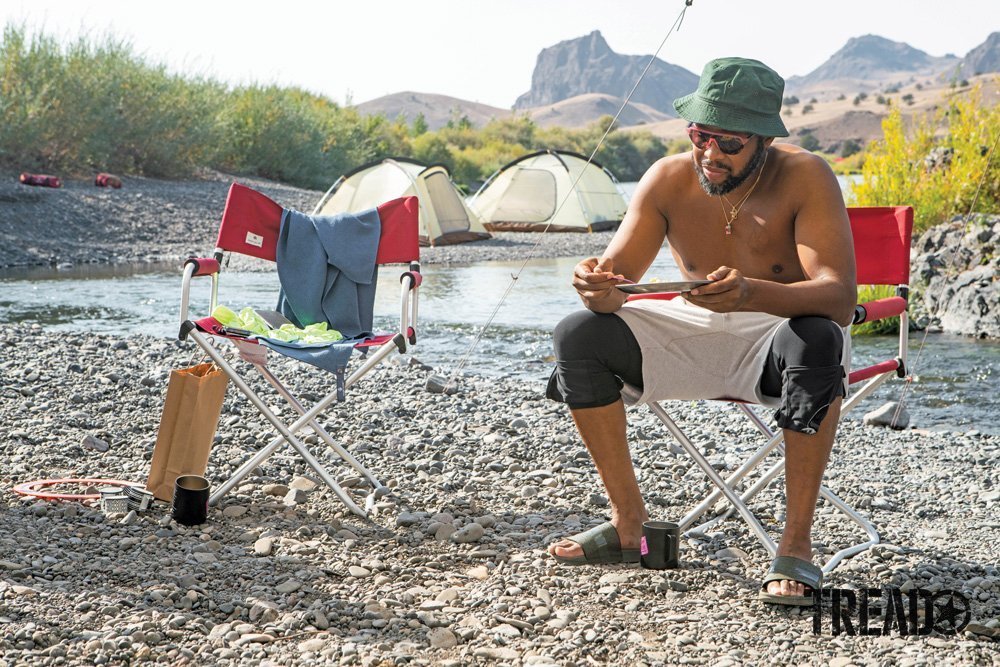 Since Rashad and Ron had been camping for some time, they felt it to be important to pass on the knowledge, as well as the culture. As the more experienced brothers explain, "There are codes in your neighborhood, that is the same in the outdoors." Putting protocol and safety at the forefront, they shared their knowledge with the group. The men learned camp setup, fire-making skills, how to use comms, and the importance of a good meal. They even learned about the value of a satellite phone when out in the middle of nowhere and areas where there was not cell service nor others around—a completely new experience for most. Some other big takeaways included the practices of Leave no Trace and wild animal safety. The group was perceptive to the information and eager to learn the right way and steps involved.
Camp Yoshi Keeps Spirits Up
After full days of driving rough roads, hours in the vehicles, and changing spare tires, the goal was to eat well. They also quickly learned that tires are the first modification to make, as each of the three trucks got a flat on the trip, giving plenty of training opportunities. With Rashad as the morale guy, the toughest of days still end well. His background as a professional chef and ability to not get flustered or stressed makes him a shoo-in. With ease, he puts smiles on faces and his outdoor cooking skills deliver beautiful plates of delectable dishes.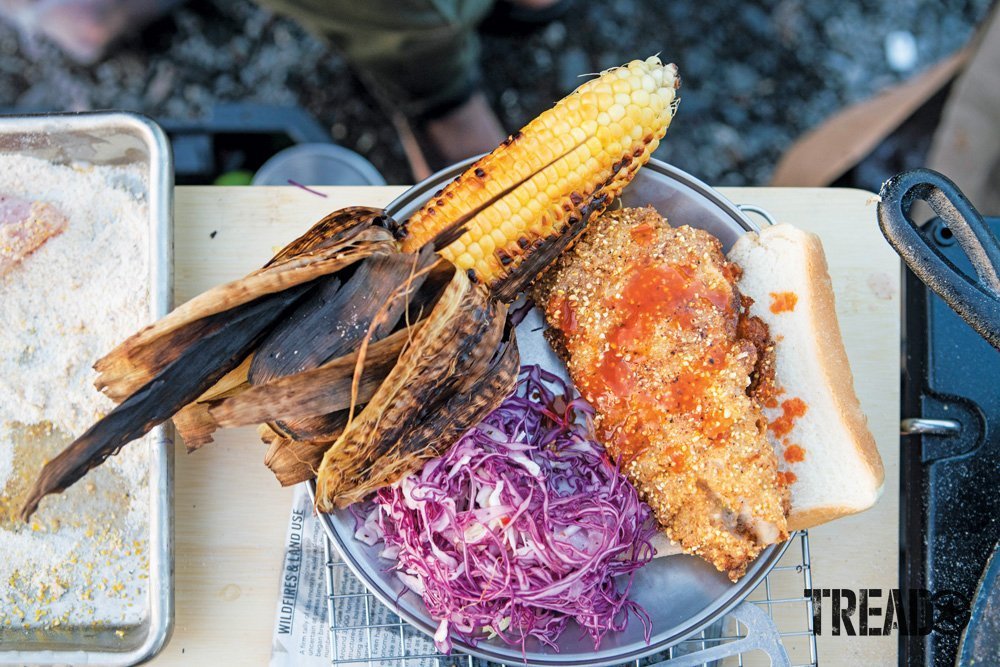 Snow Peak Setup
Snow Peak put the crew up in style with tons of camping and cooking gear to use on the trip. Leatherman started their everyday carry. Rashad set up an impressive camp kitchen to create a beautiful spread for the group each and every meal. It didn't hurt that one of the guys works for Westward Whiskey. They provided provisions to enjoy a perfectly paired cocktail with their gourmet meals. The camp setup was top-notch. It was complete with a Snow Peak tarp that looked straight from a music festival and provided much-needed shade when out in the middle of the desert. In fact, Rashad and Ron were quite impressed that it stayed up all night when winds picked up. Tents moved every which way, but the awning was perfectly fine— a testament to the quality of the Snow Peak goods, and the secret skills hidden amongst the novices.
Once you get them out there, nature does the rest of the work. —Rashad Frazier
As an old Spanish proverb states, "The belly rules the mind." Camp Yoshi is proof that a good meal resets the mind. Especially when pushed beyond the comfort zone. These men who were new to the outdoors lifestyle pushed their limits and truly embraced time on outdoor adventures.
Building a Responsible Community
Rashad and Ron continue to bring novel experiences and knowledge to others with Camp Yoshi. They hope to demystify what it means to get outside. The outdoors community is welcoming and helpful. Their hope is to show that side to those who may have thought differently. The plan for Camp Yoshi is to do their part in building a community of responsible outdoors enthusiasts. They will continue to challenge beginners, feed them well, and keep their attitudes and spirits high. As we all know, that's exactly what it's all about. To learn more about Camp Yoshi, visit them online at campyoshi.com or on social media.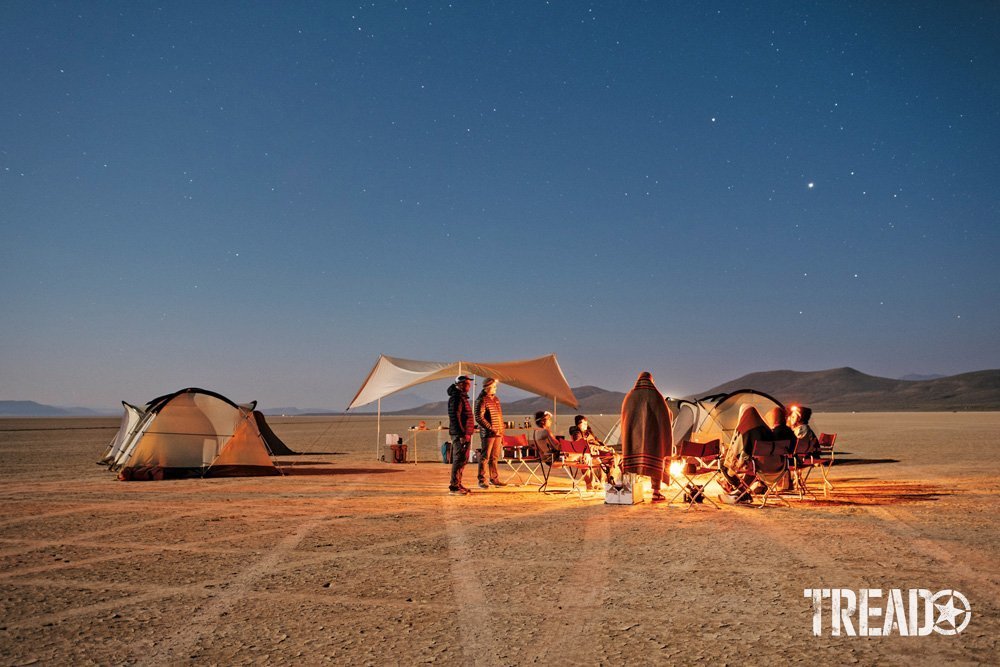 (Editor's Note: A version of this story appeared in Tread March/April 2021.)