Mini FJ Cruiser: Fun in All Scales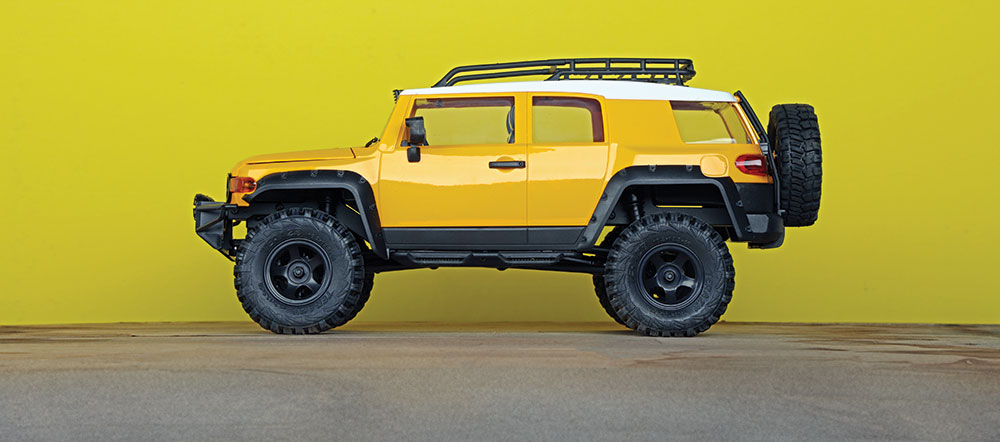 FMS 1:18-Scale Toyota FJ Cruiser
There's no question that we love our Toyota off-road rigs. They're incredibly capable, always reliable, and absolutely breathtaking to look at. Count us as addicted. That's probably why we were excited to see this scaled down version of one of our 'Yota faves, the FJ Cruiser, miniaturized as a highly detailed scale model. Not only does it look exactly like its full-scale cousin, this mini FJ Cruiser is drivable too.
FMS is known for creating highly detailed radio-controlled versions of some of our favorite off-road vehicles. Some of the models they make include an 1980s-era Toyota HiLux pickup and Toyota Land Cruiser 80. Each of the models are fully drivable and feature realistic suspension and grippy offroad-terrain tires.
What's even better is that these ready-to-run trucks come fully-assembled and include just about everything you need to get started, so all you need to do is drive. A rechargeable LiPo battery for the vehicle is included along with a battery charger and transmitter controller. The only things needed are the batteries for the controller.
Details To Scale
The FJ Cruiser is packed full of realistic scale details, including widened wheel-brows, a heavy-duty front wading bumper, a hard-shell body with the classic yellow and white paint scheme, a full-scale interior with center console and seats, a scale luggage rack, three front wipers, and more. It's truly a mini-me of the real thing. To make things even more real, this FJ Cruiser is equipped with functioning LED headlights, turn signals, and reverse lights. Even the side view mirror turn signals function.
Underneath the body is a feature-packed, trail-proven chassis. Aluminum rails provide a rigid platform, while a multilink geometry with a panhard bar chassis design allows for maximum axle articulation. Power is delivered through the high-torque gearbox to the ultra grippy beadlock tires via nylon driveshafts.
This mini FJ Cruiser has been tackling everything from tiny obstacles to camp trails, and it is a dominant force in our backyard. It's fun to drive and fun to look at… the complete package. Considering that we're already addicted to full size Toyota off roaders and want more than a few of them in our garage, it'll be impossible to keep these smaller, scaled mini Toyotas off the garage addition list too.
---
01. Driveline
Transmission
The FJ features a dependable high-torque transmission with 104:1 final drive.
Differential
If realism is your thing, you'll be glad to know that this model runs a realistic pinion and ring gear axle setup and uses durable nylon driveshafts for reliability.
---
02. Scale Details
LED Lighting
The mini FJ Cruiser's functional lighting hooks up throughout the body. The headlights, turn signals, and reverse lights all work. Even the side view mirror turn signals light up.
Detailed Body
Seeing is believing. The hard body features all the trademark FJ Cruiser details, such as its two-tone color scheme, roof-mounted rack, three front wipers, widened wheel-brows, and even a fully realized interior replete with center console, seats, and foot rests.
---
03. Suspension/Tires
Suspension
Scale coilover shocks provide shock absorption and dampening over rough trails and rocky roads.
Wheel & Tires
The FJ's soft-compound mud-terrain tires mount up on 1.0-inch internal beadlock wheels. This wheel and tire combination gives the FJ Cruiser more than enough grip to crawl and climb over obstacles with ease.
---
04. Tech
Electronics
The FJ's electronics and battery are accessible through its hood, which opens and closes with ease. A rechargeable 7.4V 2S LiPo battery that provides up to 30 minutes of runtime powers the mini FJ Cruiser through all its adventures.
Motor
This small-scale crawler's high-torque over-sized 55T brushed motor ensures it's ready to tackle any scale trail you take it on.
---
How much will it run ya?
$190*
*Requires four AAA batteries (not included) for the transmitter.
---
Length: 10.9 in.
Width: 4.6 in.
Wheelbase: 6.2 in.
Ground Clearance: 1.5 in.
Approach Angle: 60 degrees
Departure Angle: 50 degrees
Battery: 7.4V 2S Lipo
Runtime: 30 minutes
URL: fmsmodel.com
---
Editor's Note: A version of this story previously appeared in YOTA Winter 2022.