"Stumpy," Jennie Symons' Custom Off-Road Pickup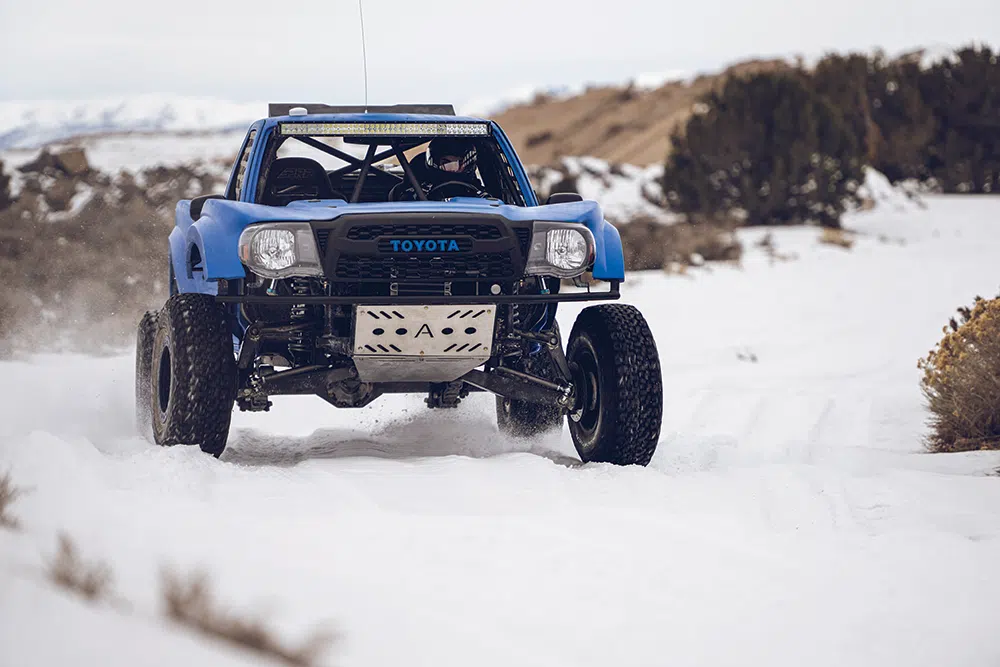 Jennie Symons is building trucks and a business from the ground up.
The best word to describe Jennie Symons? Epic. The Utah native, only 21 years old, has already built an impressive resume, flexing all kinds of uniquely dangerous and incredibly fun extreme sports. She's not just an off roader; she's a skier (and former pro ski racer) whose new passion is off-road racing and rock crawling. Following the adrenaline and doing what she loves, Jennie Symons started a business, built a social following, and designed some really, really awesome vehicles, including this totally custom Pickup.
Jennie Symons' 1993 Toyota Pickup is the perfect storm of off-road power and race mechanics. It stands proud on 33-inch tires at a whopping 88 inches wide with bright VooDoo blue paint – you seriously can't miss it when she and her crew roll up. "The truck is completely built for races," says Symons, who, after buying the Pickup off Facebook Marketplace, built it herself from the ground up.
DIY From the Start
While Symons certainly has a great team around her in the pit, off-road, and on the track, she's the definition of a self-starter. Everything that's been done to the Pickup has been by Jennie Symons herself, with the occasional assist from friends. We can't all just cut out custom skid plates with the plasma table we've got lying around, after all.
"I couldn't afford to pay someone else to work on my vehicles, so I learned myself," says Symons, like it's just that easy. For her, the work is worth it; executing a vision of building the ultimate off-roader doesn't come with days off. Working in automotive shops on Toyota and Lexus builds gave her the knowledge to start her own shop, and the drive to do it all… well, that just comes naturally.
…the drive to do it all… well, that just comes naturally.
Symons' hard work extends to her business pursuits just as it does her trucks: her Draper, Utah-based automotive shop is on a rapid rise. Since its establishment in 2020, Alice Offroad has turned out an impressive gallery of off-road builds that show off Symons' talents and passion.
Adrenaline Chaser
How does one go from being a professional ski racer to an off-road racer? It seems that for Symons, the transition was only natural. Once an extreme sportswoman, always an extreme sportswoman – isn't that how the saying goes? After sustaining some injuries during her ski race comp career, Symons now focuses her adrenaline craving on the off-road world. She still skis recreationally and spends time canyoneering as well.
Once an extreme sportswoman, always an extreme sportswoman – isn't that how the saying goes?
As for the Pickup, it was always Jennie Symons' plan to race it. "When I started working on it, I knew I wanted to enter the truck in races and build something out of it," she explains, after noting that the Pickup's original intended purpose was to be a fun pre runner for race competitions and more.
Crossing that very first starting line was magic for Symons. "Feeling the truck really put in 110% through the whoops and other gnarly terrain" is what cemented it in for her, and the rest is history. Throughout the Salt Lake City area and growing farther, Symons is taking names on the course.
Her number 1 race location? Knolls, just outside of Salt Lake City. The 36,000-acre OHV area features sand dunes, hills, mud flats, and more. It's perfect for all kinds of off-road adventures and has been a frequent run for Symons, though she says she bets she'll have new favorites as her business grows and she gets to travel more.
Stumpy the Pickup
It might seem like a confusing nickname for a truck, but once you get a look at Stumpy, it all starts to make sense. He's one big boy, with a solid cage and long travel kit. He got a complete rebuild under Symons' care, with upgrades to just about everything.
The 1993 Pickup is powered by a 1990 Toyota inline four with all the bells and whistles, including a pro torquer cam. Jennie Symons has touched every inch of the Pickup – including the transmission, which got a short shifter kit added, and the differentials, which are geared at 4.88 and set with an ARB locker.
Up front on the rig is a JD Fabrication ADS suspension with 6-inch 2wd long travel kit, 12-inch 2.5 dual rate coilover, 12-inch limit straps, and King 2.5 4-inch bump stops. Tons of flex – and tons of power. The rear suspension got a similar treatment, with ADS 3.5 14-inch 5 tube bypass shocks and 14-inch limit straps. Custom width full float Diamond rear axle housing frames it out. Symons also added RCV axle shafts, Deaver under leaf springs, and 2.0 2-inch bump stops.
The Pickup's 15×9 Trail Ready HD15 wheels are wrapped in beefy BF Goodrich T/A KO2 wheels, size 33×10.5R15. The exterior of this rig is a true Frankenstein, totally awesome, and totally customized to exactly what Symons wants from her race rig. Most of the parts up front are pulled from the 2014 Tacoma, including the grille, fiberglass hood, and headlights and taillights.
Lit on the Track
A bold Rigid 40-inch dual row light bar mounts to the front of the roof lights the way for Symons on the track and off road. It pairs with a custom chase bar that's located on the rear portion of the Pickup's roll cage.
Custom is the name of the game for Stumpy. Custom front bumper armor as well as aluminum front, belly, and rear skid plates keep him safe. On the other hand, a custom paint job and a second-gen Tacoma swap on the front and rear glass as well as custom headlights and grill mounts keep him looking his best. All the bodywork is done by Symons herself. Surprised? We're not.
All the bodywork is done by Symons herself. Surprised? We're not.
"A Lady and Her Toys"
That's what her bio reads, at least. Growing the business using her social media following has been a helpful tool to Alice Offroad's growth in the off-road community. Symons keeps that local shop feel, staying personal, and being brutally honest about her adventures.
Her Instagram feed is the ultimate casual flex. Ski shots dominate during the winter, but shots of the Pickup and other camp adventures round it out. The Alice Offroad Instagram, on the other hand, is all trucks, all the time. We spot the Pickup, of course, with its sweet blue paint job. An overlanding Tundra and a 2016 Tacoma she calls "Burtha," (Yes, for the reason you'd think) also take the spotlight.
Symons is out there saying what we're all thinking with captions like: "Never have I ever said I'm the best at what I do, the opposite in fact. I thought my truck looked like s*** and I was embarrassed to be seen with it even after I tried my best and worked my a** off. But after testing it and having a metric a** ton of fun I didn't give a f*** about what it looked like or if it didn't perform the way I had envisioned. It works, and I have fun that's all that matters, right?" Right.
What's next?
People might think that not many 21-year-old girls have the mechanical know-how to run their own auto shop. Much less, build custom off-road race rigs. But we assure you – Symons isn't most girls. Putting the time and effort in to become the very best seems characteristic of Symons' philosophy. It's taken her from big mountain skiing to off-road racing, after all.
After cutting her rig-building teeth and learning the business at off-road shops in Utah, Symons created Alice Offroad. There, her next step is to branch out into full custom long travel builds, so keep her on your radar. We're sure whatever she comes up with next is bound to be just as impressive as her past.
Be sure to follow Jennie Symons' adventures with Stumpy the Pickup and her other trucks on Instagram @jenniesymons, as well as her off-road business @aliceoffroad.
---
UPGRADES
1993 Toyota Pickup
Engine:
1990 2wd Toyota 22re 2.4 inline four; Upgraded pulleys, 185amp alternator, pro torquer cam, full LCE stage 3, SNP Haltech harness as well as a complete rebuild.
Suspension:
(front) JD Fabrication, ADS suspension +6-inch 2WD long travel kit, 12-inch 2.5 dual rate coil over, 12-inch limit straps, king 2.5 4-inch bump stops custom mounting locations
(rear) ADS 3.5 14-inch 5 tube bypass shocks, 14-inch limit straps, custom width full float Diamond rear axle housing, RCV axle shafts, Deaver spring under leaf springs, 2.0 2-inch bump stops custom hangers and shackles
Wheels & Tires:
Trail Ready HD15 size 15×9 wheels; BF Goodrich T/A KO2 tires size 33×10.5R15
Other modifications:
Complete engine cage, cab cage and full tube rear end
Interior Accessories:
PRP Comp Elite Suspension seats; Lowrance 9-inch navigation system with antenna; Full Haltech instrument display with custom ECU; Rugged Radio comms system
Exterior Accessories:
2014 stock Tacoma grille; 2014 Tacoma fiberglass hood, one piece from McNeil Fiberglass; 2014 Tacoma headlights; Smoked 2014 Tacoma taillights; Rigid 40-inch dual row light bar mounted to front roof; Custom chase bar mounted on rear roll cage; 16-gallon fuel cell gas tank with Holley 10 and 100-micron fibers and a 175-psi pump; Custom front tube bumper; Custom aluminum front, belly, and rear skid plates; Custom VooDoo Blue bed liner paint; Full 2nd-gen Tacoma swap for front and rear glass, custom headlights, and grille mounts
Additional Modifications:
5-point harnesses; sPOD system; ARB single compressor and ½-gallon tank; Dual stand-up full size spare tires; Hard mounted Pro Eagle jack; Electric brake booster; Big Boy horn; Custom gas filler neck/splash guard; Window nets; Quick disconnect steering wheel; Complete engine cage, cab cage and full tube rear end
---
Editor's Note: A version of this article first appeared in the print issue of Tread March/April 2023.