Finishing the GX 460 Overland Custom Build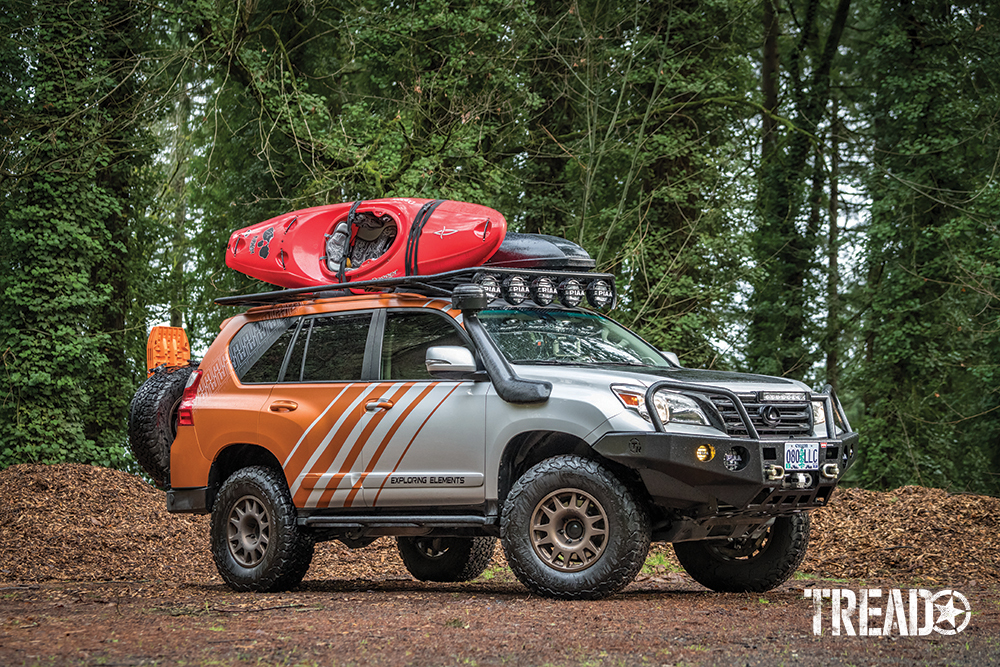 Adding the final touches to the Lexus GX 460 Overland Build
You might be familiar with this silver-and-orange-striped 2013 Lexus GX 460 overland build, because it graced the cover of the March/April 2020 issue of Tread. While outwardly this overland build doesn't look all that different today than it did then, it's actually seen some major upgrades since.
Refinement and details matter, because they make a quality build foundation into a truly capable, reliable and comfortable overland adventure machine.
Let's dive into the details of how I "finished" this Lexus GX 460 overland build. Hopefully, some of these finishing touches and build philosophies will help inspire other builds to a better state of completion, thus providing years of adventure enjoyment to come.
Basics First
With any vehicle build, start with the basics. A quality foundation on which to build is critical. Make sure the vehicle has good bones and a strong "heart." You don't want to put a lot of money and time into building on something that's prone to failure in the first place.
When adding weight and complexity, you'll find that parts wear faster, and flaws in the base truck quickly reveal themselves. Staying on top of maintenance items is critical, especially with a loaded-down vehicle.
I was lucky and smart with this GX: While it has some mileage—87,000 miles upon purchase and 100,000 miles today—it was free of rust and had records to show a long history of regular dealer maintenance.
Build Big, Then Refine
As you might have read in the last article about this Lexus build, it was built with remote, off-road adventures in mind while also needing to transport a plethora of adventure sports gear and remain capable as a daily driver. That's a tall order to fill, but it's one this luxury SUV has delivered on as a result of careful selection of quality parts and the omission of other parts.
A custom-built Trailready front bumper provides impact resistance, quality recovery points, an improved entry angle, protected PIAA off-road lighting and a solid perch for a Warn winch with Factor55 accessories. A Safari snorkel with Sy-Klone pre-cleaner allows the engine to breath cool, clean air at all times. Up top, a custom Roambuilt roof rack is fully optioned with more PIAA lighting and Yakima accessories to carry kayaks, skis and other bulky adventure gear. A Dobinsons double swing-out rear bumper carries two jerry cans and a full-sized spare.
"Refinement and details matter, because they make a quality build foundation into a truly capable, reliable and comfortable overland adventure machine."
A front body mount chop and custom-tailored Icon Stage 7 tubular suspension system allow fitment of Evocorse Dakar Zero wheels wrapped in 34-inch BFG AT2 tires. Icon knee guards protect the rear shock mounts from impacts. Custom sliders contour to the body, are welded to the frame and provide an entry/exit step for this lifted Lexus.
Inside this GX 460, you'll find Scheel-Mann front seats and a custom Goose Gear drawer and sleep platform system. Atop the drawers in back is an MSA Offroad drop slide and cage that house a National Luna fridge.
You might be saying to yourself, "Wow! That's a lot of equipment!"—and you'd be right! But those are just the big foundational parts that help transform this luxury, three-row SUV into my personal overland adventuremobile. The details built on this foundation for daily use and remote off-road excursions are what bring this rig to life and make it capable, reliable and enjoyable daily, as well as on longer, remote off-road excursions.
Professional Electrical
With all the sitting around at shops getting custom parts created, not much travel due to COVID and at-home day job obligations, I found myself using my Cobra JumpPack Mini more often than I'd like to admit: The new Optima battery installed at SEMA Show 2019 would no longer hold a charge after under a year of use.
This meant two things. One, the electrical systems needed to be cleaned up and dialed in to not cause drains on the battery while sitting. And two, I needed a new, reliable battery that, if drained, could be brought back to life easily and would "play nice" with the smart alternator in the GX 460 overland build. The battery part was easy, and I grabbed a quality Interstate wet battery from a local store. The electrical accessories mess was a bit harder to clean up—the reason I called a professional.
Hans at Mule Expedition Outfitters in Issaquah, Washington, came highly recommended from some trusted industry friends, and his work looked impeccable on the @mule_electric Instagram page. I wasn't disappointed when he got his skilled hands on my GX.
Hans did a truly professional-caliber electrical job under the hood. He installed an ARB dual compressor on a quality Slee Offroad under-hood compressor mount while also fitting the Switch-Pros system on the mount. Everything was wired in such a way as to be fully serviceable and protected from any damage from heat, water or abrasion.
Everything was done in a super-tidy manner: Every wire is now labeled and fitted with properly crimped and heat-fitted connectors. There are some SDHQ billet battery terminals to round out the under-hood program; they allow for considerably more accessory wires to be fitted with ease. An extra ground fitting on the truck and an easily serviceable bus bar keep everything even more tidy and easily serviceable.
At Mule, Hans also wired in a Goal Zero Yeti 1500x lithium battery generator with Link controller—essentially, a double battery system with inverter and solar controller, which is also portable. This system provides 500Wh of juice to power the fridge, charge my electronics and run any lights and/or accessories around camp. The Link system allows the Yeti to be charged from the alternator while I'm driving, so there's always plenty of power around camp. A Nomad 100 portable solar panel system ensures that if I decide to stay stationary for a few days, the Yeti stays charged, and my food stays cold in the fridge.
The final touch at Mule was the install of a WeBoost Drive 4G-X OTR cell phone booster system. While this particular model is designed for use in semi-trucks, it provides maximum signal boost and broadcasts it the farthest throughout the vehicle. It's not inexpensive, but it's a lifesaver for when work needs to get done while I'm on remote adventures. If there's a signal, this system ensures maximum effect.
With this re-gear, it went from an 11-tooth pinion gear to a 9, with 41 teeth remaining constant on the ring gear. This reduction in pinion teeth can, in theory, make for a weaker gear set. However, the reality is that the net gain of the reduced stresses on the driveline easily offsets that possible failure point.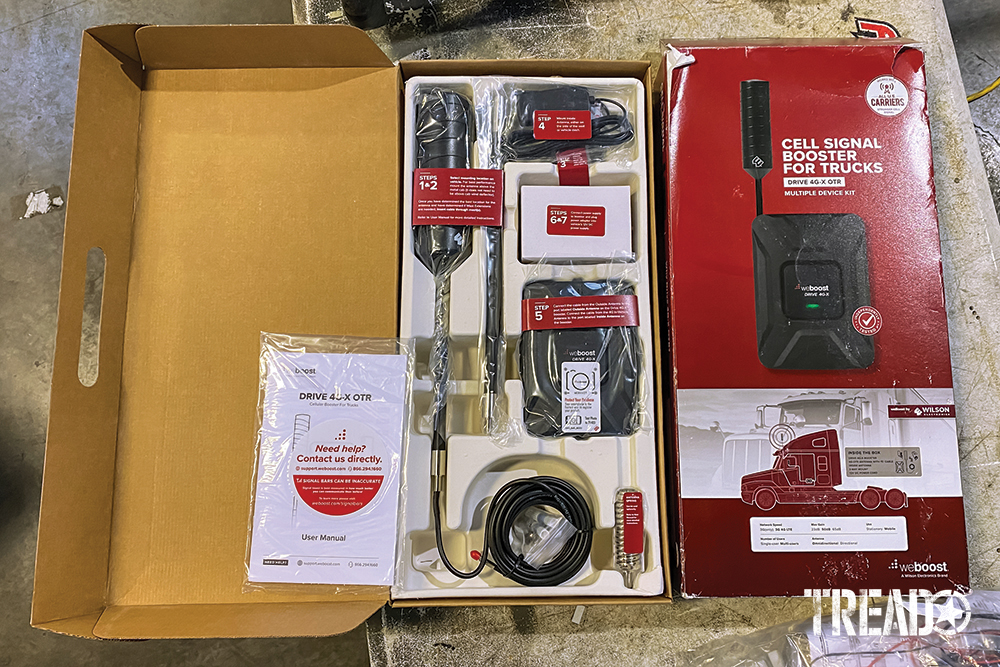 You might wonder what a re-gear actually does for your vehicle. It's a complicated thing, but it boils down to larger tires revolving less per mile, which reduces engine rpm below optimal operating ranges. Other factors that warrant a re-gear include added accessories, wider, heavier tires, mountain driving and towing situations. By re-gearing to a lower gear set (a higher numerical number), you're bringing the rpms back up for optimal power, efficiency and overall drivability performance.
Many modern vehicles, such as the GX 460, are geared in such a way to do well in EPA testing versus real-world driving. After the re-gear, the GX now uses 6th gear more often; this should increase fuel efficiency when cruising on the highway. It's also better at moving from a standstill, due to higher rpms sooner—super-handy when tackling gnarly, off-road terrain. Do note that regardless of the gearing, mileage and performance will always be negatively affected by increased weight, wind resistance and rolling resistance from off-road/overland modifications.
Re-Gear Necessary for the GX 460 Overland Build
After adding all the heavy modifications and much taller tires, the GX was feeling quite sluggish. A re-gear was the answer. It went from the stock 3.73 gears to 4.56 Nitro gears. While I haven't yet put in enough mileage to tell you fuel economy numbers, there was an instantly noticeable drivability difference.
It apparently takes exactly seven paper towels to swap out two third-members in a GX 460. Now, that's knowing your job! The polished team at Just Differentials has done this job thousands of times, so they really have it down to a science. I was impressed with their speed and efficiency. Again, it's nearly always worth the time and effort to have professionals do major modifications that affect the drivability and safety of your vehicle.
While it's a bit controversial, I like to ensure success and lean on the side of caution when it comes to the longevity of expensive parts added to the build. Nitro recommends a break-in process for its gear sets—specifically, five heat cycles. This entails traveling 15 to 20 miles, followed by a 30-minute cool down while stopped. After the heat cycle break-in process, Nitro recommends a full diff drain at 500 miles. This allows you to check the fluids for any signs of an issue and put in new fluid that should last for tens of thousands of miles, depending on use.
Selectable Lockers for the GX 460 Overland Build
Not only is the dual compressor under the hood for airing up tires after long days of rugged terrain aired-down fun, it also runs the freshly installed ARB AirLockers. While Just Differentials was building up the third members with new gears the team also installed both front and rear AirLockers.
This might be considered overkill for many overland-style builds, but I wanted the ability to tackle really rough and challenging terrain. I also regularly find myself exploring alone as a single vehicle, which means self-reliance is super-important. Selectable lockers are powerful tools to have in your recovery quiver.
One of my favorite things to do is find through-routes in spectacular, remote locations; many times, this means tackling the random serious obstacle in order to continue on the more moderate route. It also often means dealing with muddy, sandy and wet/snowy and/or icy conditions. Selectable lockers are a great tool for dealing with these more extreme terrain and low-traction situations.
Lessons Learned for the GX 460 Overland Build
Items such as wiring—which could possibly burn down your vehicle if done improperly but can also can affect if it starts and runs—is a great place in your build to pay a professional to do it right. It's money well spent, and you'll thank yourself later when hunting down an electrical "gremlin" in your friend's vehicle and trying to get it moving when you're in the middle of nowhere.
Another key takeaway from my build process is: Tackle upgrades in groups. Yes, this could mean bigger chunks of cash outlay, but it also means less money and time outlay in the end. A great example of this is having the AirLockers installed by Just Differentials while its team was already in there to do the re-gear. This greatly reduced the labor costs of that job, as well as the time my vehicle spent, inoperable, at a shop.
The biggest consideration all vehicle builders should heed is to pay attention to your GVWR and the actual loaded weight of your build. This is often overlooked when throwing all the latest and greatest parts at our vehicles.
On my first major trip after completing the major mods, I drove across a truck scale fully loaded with gear, fuel, water, food (and me) in it, because that's the true cargo normally on board. I learned that my rig is about 150 pounds over the GVWR when fully loaded. That insight has greatly influenced the build; and I continue to find ways to reduce my gear weight and not install new, heavy parts. I'd love more skid plate protection and an extended-range fuel tank, but I'm unwilling to add another 200 to 300 pounds plus fuel weight to my already-heavy build.
Vehicle Builds Are Never Done
Of course, as with all vehicle builds, my GX will continue to evolve over time, both to meet new needs and objectives and as parts wear out or accidents happen and cause damage. I still have a running list of odds and ends to finish up, but I'm extremely happy with how the vehicle has turned out.
"Another key takeaway from my build process is: Tackle upgrades in groups. Yes, this could mean bigger chunks of cash outlay, but it also means less money and time outlay in the end." 
It's time to point this vehicle to destinations unknown and put all these awesome upgrades to good use! The biggest lesson here is to only spend money and time on upgrades you'll actually use and that will improve your adventure experience. Otherwise, that money and time are better spent actually adventuring.