A Remote Backcountry Adventure in British Columbia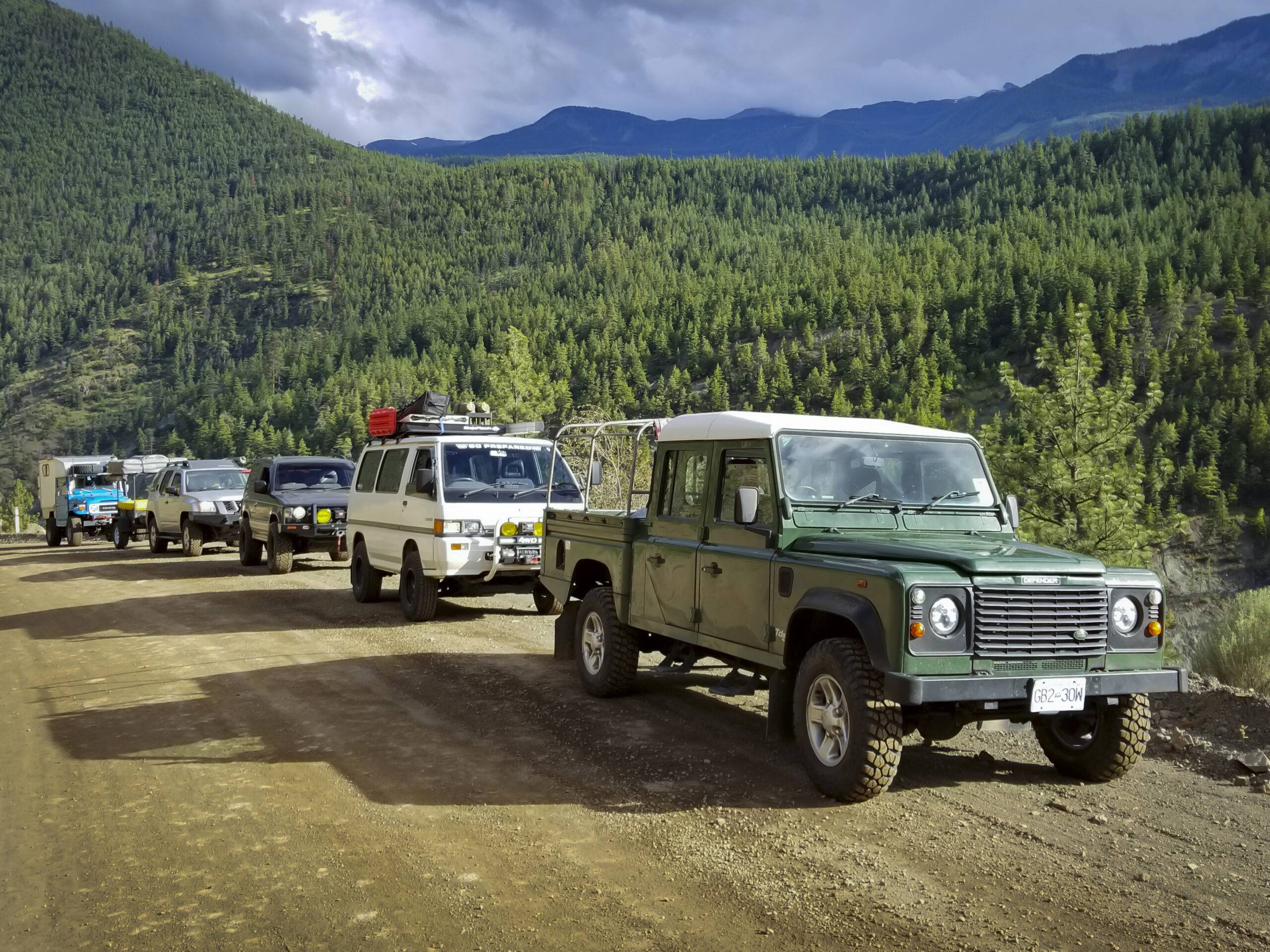 Respecting Mother Nature while Exploring Lands Less Traveled
Exploring British Columbia (BC), Canada's backcountry, can present itself with unique beauty like none other. White-capped mountains stand proud in the distance while gentle breezes brush across your cheek. Trail-side thistles protrude from the ground in an outstanding fashion while every shade of green appears as you travel through thick forests. The smell of fresh, unadulterated air seeps deep into your soul as you recharge your system from a world gone astray.
As modern-day explorers, it's our duty to respect Mother Nature. To do our part to maintain the world as we know it, especially in remote areas, simple things like leaving camp areas cleaner than when you found them and packing out refuse and waste can allow for future generations to enjoy beautiful backcountry areas.
Exploring Beautiful British Columbia
Five 4x4s and a small group of friends set out for a multi-night off-tarmac trek in BC's backcountry. Three right-hand drives and two lefties showed up for off-road exploring. A Nissan Xterra arrived outfitted with a homebuilt rooftop tent trailer and tent. A UK-imported Land Rover Defender 130 and Toyota FJ40 with customized living quarters on the rear also joined the group.
Finally, my husband, Andy, and I each drove a Japanese-domestic-market Mitsubishi 4×4: a Delica van and Pajero. Along with the Defender 130, both Mitsubishis were right-hand-drive turbo diesel stick shifts. Different upgrades donned every vehicle, each uniquely capable.
After a quick overnight visit to gather supplies and meet up with all but one vehicle, we started our journey in congested metro Vancouver traffic. Loaded up with jerricans of fuel and water, Maxtrax, and spare tires, we packed plenty of food, tools, and emergency supplies. There'd be little opportunity to re-stock once we ventured north.
We headed on the Trans-Canada Highway through Hope until our arrival at Lytton, a small town that sits at the confluence of the Fraser and Thompson Rivers, one side green while the other midnight blue. Here we rendezvoused with AJ and his two boys, along with their sky-blue Toyota FJ40. After saying our hellos, we collectively switched gears and all traveled together to the first of many smaller roadways.
Off-Pavement Adventures in British Columbia Backcountry
After logging many miles of tarmac, we journeyed through Lillooet. We met up with our first off-pavement road: a hard-packed dirt thoroughfare through the remote Bridge River Canyon. This scenic area boasted bulging mountainsides dotted with loads of pine trees. A profound canyon kept us company until we reached our first overnight destination: a primitive camp spot at the foot of Terzaghi Dam. Terzaghi Dam holds back the lake and diverts a whole river system in order to generate 450MW of electricity. We set up camp and after a cozy campfire and quick dinner; we retired under star-filled skies.
Heavy clouds drooped from the sky as we packed up the next morning. A ways away from civilization, we drove along the winding Carpenter Lake in order to reach our next destination: Minto City. Next up? The historic gold mining towns of Gold Bridge and Bralorne.
Marvelous Minto in British Columbia
The tiny town of Minto City, British Columbia, or Minto, was a gold mining center in the '30s but became extinct due to the overflowing waters of the Carpenter Lake reservoir following the conclusion of the Bridge River Power Project. This planned project drastically changed the local surroundings, and they can change from year to year as water levels fluctuate due to the power utility BC Hydro using the lake for power generation.
Little remains of Minto but random rusted parts of machinery, broken bits of glass from a bygone era, and partial sections of old buildings. We parked and walked through sections of craggy vegetation and fine silt beds along Carpenter Lake's waters. One could spend hours there sifting around small rocks and through silty soil looking for old treasures. But once treasures are found, visitors should acknowledge their finds, take photographs of them if they so wish, but then carefully set them back where they were in order to preserve the area. If it's not yours, don't take it.
Kingdom Lake Trail Running
After exploring Minto, British Columbia, we made our way to the tiny town of Gold Bridge, which hosts approximately 36 residents. After a quick stop, we pushed onto the mountains above Bralorne and made camp at Kingdom Lake. Clouds thickened and teased us with drizzle and intermittent bouts of heavy rain as we cooked dinner under tall trees and our awnings.
The next day offered up wet, rainy, and dreary skies. However, armed with taped-seamed jackets and knobby tires, we investigated Kingdom Lake Forest Service Road (FSR) and its surrounding trails. Spencer, the owner of the Defender 130, found an unmarked trail off of Kingdom Lake prior to the trip. He wanted to check it out. After the Xterra dropped its trailer, we carefully traversed down the "rabbit hole" in hopes of seeing spectacular mountain views at its end. The rain stopped long enough for thick brush to start encroaching our vehicles. Tons of overturned deciduous trees angled over this super-narrow track, a green canopy curled atop our rigs by mere millimeters.
This un-named trail clawed at our doors as our 4x4s lurched in anticipation of more downed trees. As we crossed over stumps and fallen timber, large limbs started pounding roofs and bouncing off hoods—we realized it was time to backtrack. Even though we had a chainsaw and axes along with us, it was best to not "hack and slash" our way through. After backing up a few hundred meters, a tight spot to turn around opened up and we safely made our way out. Mother Nature had reclaimed her land; we respected her right to do so.
Bears and Torrential Rain in British Columbia
The last day of our adventure was spent exploring remote roads like the Hurley River Wilderness Road and additional deserted mining towns like Bralorne. The Hurley, which joins Bridge River Valley with Pemberton Valley in British Columbia, is open to vehicular traffic only from June through October. This remote 74km-long non-paved road is rough and maintained only to a wilderness standard that keeps most 2WD vehicles out.
The Hurley twists and curves its way around mountainsides, crosses rivers like the Lillooet and climbs over Railroad Pass (4,500 feet) on its way to Gold Bridge or Bralorne. Having a 4WD vehicle with extra fuel, spare tire, or patch kit, along with emergency supplies and comms is a necessity when traveling the Hurley. Very few people pass through there. There is no cell service and no amenities along the way. Visitors on the Hurley can be caught in snow even on the hottest of days; extreme weather can say hello at any given moment.
The rain pelted us along the way. However, it halted long enough for us to explore old mining ruins like those of Bralorne, British Columbia. This mine operated from the 1920s. The town once had over a thousand residents, a hospital, multiple banks, and even car dealerships. However, today it's home to less than 100 people.
Completing the Trip in British Columbia Backcountry
Twisted metal and rotted wood adorned the ground as we carefully walked about. Structures were left in shambles as the earth underneath our feet changed elevation. Trees weaved their way through cracks in each building, rusted sections of machinery laid strewn across the landscape. Thunder suddenly seared through us; we needed to press on.
Every vehicle kept pushing and made our way into the city of Pemberton, British Columbia. Once there, we grabbed a quick lunch. We also aired our tires back up and headed to our last camp destination: Callaghan Lake. This camp area is situated close to Whistler Olympic Park. It's a safe haven of pine trees, rugged landscapes, and bears.
After completing the British Columbia Sea-to-Sky Highway and reporting a lightning strike fire, we arrived at Callaghan Road. We turned onto our last stretch of dirt to get to the lake. Not far in, a few black bears meandered across the road. We shut off our engines and watched in anticipation to see what they'd do.
As we arrived to the camp, the skies opened up and the rain hit hard. A long-lasting torrential downpour prevented us from mingling around a campfire telling tales of our trip. It deluged as we prepared a quick meal and hunkered down for the evening.
After a long night of us being 'wetness-tested,' we eventually fell asleep and dreamt of drier times ahead.
Tread Lightly while on Backcountry Adventures
No matter where you travel in British Columbia or, being prepared can make a backcountry adventure a successful one. Having the proper gear, the know-how to use it, coupled with best practices to tread lightly and respect Mother Nature, will ensure future generations have the opportunity to enjoy similar travels to what you've just accomplished. The sights, sounds, smells, and experiences like these can live within us forever. We just need to conserve our resources and practice stewardship toward our environment. Additionally, we need to teach others what we know so everyone can continue exploring the backcountry and beyond.