Towing Tough: Trick Trailer With Utility in the Rough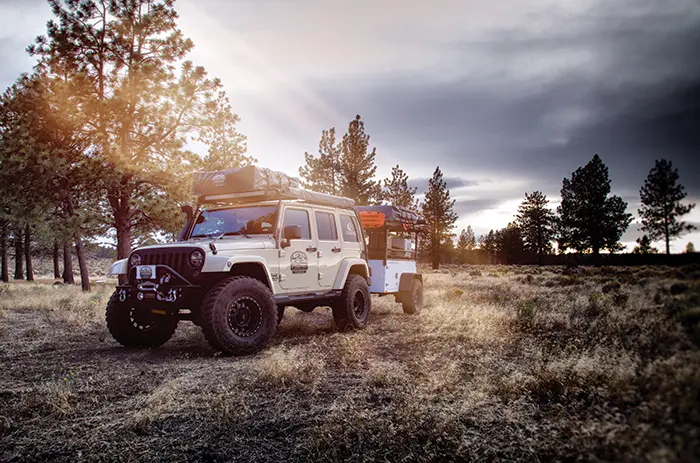 When you think of the Jeep Wrangler, what comes to mind? Adventure? Off-roading? Overlanding? Rock crawling? Easy to work on and modify? History? All of the above, and then some? We can see why you might. Many consider the Jeep to be the Swiss Army knife of utility vehicles; the quintessential jack-of-all-trades. Some say, "You wouldn't understand, it's a Jeep thing." Okay, we'll stop with the clichés now.
The Jeep Wrangler is consistently one of the best-selling vehicles made, and it has one of the highest resale values in its segment to boot. Yet, despite its overwhelming popularity, Jeep owners still manage to give a little wave to each other as they pass by. They know they're keeping a good thing going—and for good reason: If you want that Jeep look and feel, but you don't want a Jeep, you are kind of out of luck. Jeep is the only company to do what it's been doing for as long as it's been doing it. And it does so while sticking so closely to the original recipe—that's damn hard to complain about. So, why is the Jeep so popular among enthusiasts, off-roaders and everyday adventurers? Why would someone like Brannon Birrer, owner of Freespirit Recreation, devote his early life to fixing up and reselling Jeeps to put food on the table? To look forward, we need to look back.
The Beginnings
It all started in 1940, when the U.S. Military put out a bid for a quarter-ton, lightweight reconnaissance vehicle that was requested specifically by the Army to be agile, quick and tough enough to handle moderate terrain.
More than 100 automakers were solicited, but the only ones to respond to the bid were Ford, Willys and Bantam. Combined, they developed the first Willys QUAD 4×4 prototype. This design would be the benchmark for the Willys MB production U.S. Military Jeep (picture the classic Army green Jeep that you see in all of the war movies). You may think all of the cool Jeep mods started in the last 20 years or so, but the true pioneers of Jeep modding were the Army men themselves. They modified those standard Willys to be fire trucks, saw mills, ambulances, tractors, snow plows and even—given the right wheels— vehicles that could drive on train tracks. Kits for deep-water forging were also developed—and you thought your snorkel was cool.
"Despite its overwhelming popularity, Jeep owners still manage to give a little wave to each other as they pass by. They know they're keeping a good thing going…"
The Jeep platform was practically designed to be modified from the get-go. Born to be different, it is never comfortable in its stock skin. Even though it's grown a lot bigger since 1940, thanks largely to safety requirements, the overall shape and body style have hardly budged.
Paving The Way
Brannon, the owner of the heavily modified 2011 Mojave Edition Jeep Wrangler seen here, has been building, modifying and restoring Jeeps for over 20 years, using his homegrown mechanical skills to pave the way, and supporting himself and his then young family while attending college. Brannon learned how to work on Jeeps like so many of us do: through trial and error. As a kid, Brannon lived in a small town, where all there was to do was hunt, fish and go off-roading. His best friend, at the time, had a Jeep CJ, and if it wasn't running, no one was having fun. Blame an innate never-ending passion for adventure, but Brannon stepped up and made sure that Jeep was running the best he could to keep those expeditions alive.
Sooner or later, he got turned on to buying, fixing and reselling Jeeps. Given the great resale value of Jeeps, his new endeavor proved to be a win-win. During his 20-year stint of Jeep flipping, Brannon has bought, restored and sold over 200 CJ 5/7 Jeeps, 1972 to 1986. If you're looking for anyone who knows Jeeps and Jeep culture inside and out, this just might be your man.
A Free Spirit
Finding his way into the rooftop tent market, Brannon eventually founded Freespirit Recreation, with the goal to go beyond what's already been offered and create completely distinct overlanding innovations. We'd say that goal is safely on track. One of Freespirit's most popular items is its unique axle-less unibody trailer.
The Freespirit Journey LabRak trailer attaches to this JK by way of a very slick articulating hitch technology, and is a specialty for which the company has become known. This type of hitch allows the trailer to precisely follow its tow vehicle with the upmost of stability, even over the most uncivilized of roads. While most trailers on the market are based off of the M1 standard military build, the Journey LabRak was designed and built from the ground up with a unibody construction and aircraft-grade aluminum. The emphasis here is clearly to be lightweight and strong.
Its total weight checks in at a paltry 690-pounds, and Brannon reports that the trailer tracks silently and smoothly behind you car, truck or Jeep, on road and off. Credit its off-road chops to a Timbren 2,000-pound axle-less suspension system, which guards against rock hangups.
What turns our heads, however, is that the modularity of this trailer is off the charts. There are literally thousands of customization combinations available for this trailer. Whether you're looking for a trailer outfitted for family camping, a relaxed fishing trip with buddies, or even for an intense kayaking adventure, the Journey LabRak can be configured to do it all—and to do it with comfort and control. Freespirit claims its proprietary extrusion design from LabRak is the strongest rack system in the world. The Journey LabRak trailer features fully customizable side racks, and is designed to hold a pop-up tent on top. This allows you to get off the ground when it comes time to hit the sack, and keep occupants safely away from crawling creatures in the middle of the night—and, depending on location, maybe even small bears.
The Build
"Now tell me about the Jeep!" you say. Ask and you shall receive: The beast that pulls this versatile trailer around is a 2011 Jeep Wrangler Mojave, which was first converted into a Sahara edition before becoming what you see now. Top-of-the-line parts were used in the build, and not much was left untouched—amounting to around $70K of a total upgrade investment.
Paired with the custom trailer, the combination really is a showstopper. Starting from the ground up, we have Goodyear 37×12.50R17LT Wrangler MT/R, with Kevlar tires mounted to Method's really slick Double Standard 37-inch wheels (plus a spare, too). Keeping the Jeep on all fours is an AEV 3.5inch DualSport RS Suspension System with Bilstein shocks. To protect those axles, the Jeep had been fully DANA-sleeved and gusseted. The six-speed manual, and 4.88 Yukon rear end, make it a breeze to crawl in and out of anything the guys might come across on the trail. On the power side of the equation, an AEV Snorkel setup and K&N drop-in filter, DiabloSport inTune Engine-Management Chip and MBRP stainless-steel exhaust help to squeeze a few extra ponies out of the standard-issue 202-horsepower, 3.8-liter V6—making challenging trails a lot more manageable.
"The beast that pulls this versatile trailer around is a 2011 Jeep Wrangler Mojave, which was first converted into a Sahara Edition before becoming what you see now."
Should the situation get really sticky, the Warn 10,000S winch attached to the Ace front bumper should offer a good chance of not having to call in a buddy for backup support. Rotopax and a Highlift Jack finish off the rack.
To make it brighter than 1,000 suns at the flip of a switch, the build has a Lifetime 40-inch LED light bar, which cranks out 18,000 Lumens. You could probably toast a bagel on it, if needed. The stock fog lights have also been converted to LED. To complement the trailer, the Jeep has a GOBI rack with an ARB awning. This rack can also support a pop-up tent, such as one from Freespirit's Extreme Series or its Adventure Series Automatic, which opens and closes with just the push of a button. This "Cadillac of tents" should keep the guys safe from bears, as well—just the small ones, though.
Interior Details
As nice as its external, creature comforts are, the Freespirit guys will probably spend most of their time in the driver's seat, as this is a Jeep meant to be run. The upgrades continue with the seats, which are leather-wrapped. A single, rear jump seat has been added that is also fully wrapped in matching leather.
The Kenwood GPS DNX570 head unit features navigation to keep the guys on the right path, and lets them watch a few movies if they've completely lost the path. The head unit also has fully-integrated, hands-free calling, and is integrated into the steering-wheel controls. A backup Garmin GPS unit has been installed into the dash, just in case the Kenwood is not up to the challenge.
Future Plans
This Jeep rolled into Brannon's hands pretty decked out, but being the guy that he is, Brannon just couldn't resist making it his own. Future plans for the Jeep are said to be in the works; the only one he alluded to in the immediate future was going fender-less with frame sliders, which would make the Wrangler stand out more than it already does.
"Whether you're looking for a trailer outfitted for family camping, a relaxed fishing trip with buddies, or even for an intense kayaking adventure, the Journey Labrak can be configured to do it all."
Brannon says he already has a tough enough time getting out of a parking lot without people pulling out their phones to snap a pic and ask questions. Whether you're preparing to tackle a tough overland challenge, escape a zombie apocalypse or simply want to take your kids camping, this trail-capable Wrangler and Journey LabRak trailer combo seeks to get you there, fully outfitted, without breaking a sweat.
[divider]UPGRADES[/divider]
Platform:  2011 Jeep Wrangler Mojave
Engine:  
3.8L V6
AEV Snorkel setup
K&N Drop-In Filter
Diablosport Intune
Suspension:  AEV 3.5-Inch Dualsport RS Suspension System with Bilstein Shocks
Drivetrain:
6-Speed Manual
4.88 Yukon Rear End, Dana Sleeved and Gusseted
Wheels & Tires:
17-Inch Method Race Wheels Double Standard
Goodyear  37X12.50R17LT Wrangler MT/R with Kevlar
Armor:  ACE JK Stubby Bumper
Accessories:
Freespirit Journey LabRak Trailer
Freespirit Extreme Series Original Small Rooftop Tent
WARN 10,000s Winch
Rotopax and a Highlift Jack
Lifetime 40-inch LED Light Bar
GOBI Rack
ARB awning
Kenwood GPS DNX570 Head Unit
[divider] [/divider]
Editor's note: A version of this article first appeared in the Winter 2016 print issue of Tread Magazine.