Kalaber Creations' J1 Is A One-of-a-Kind Jeep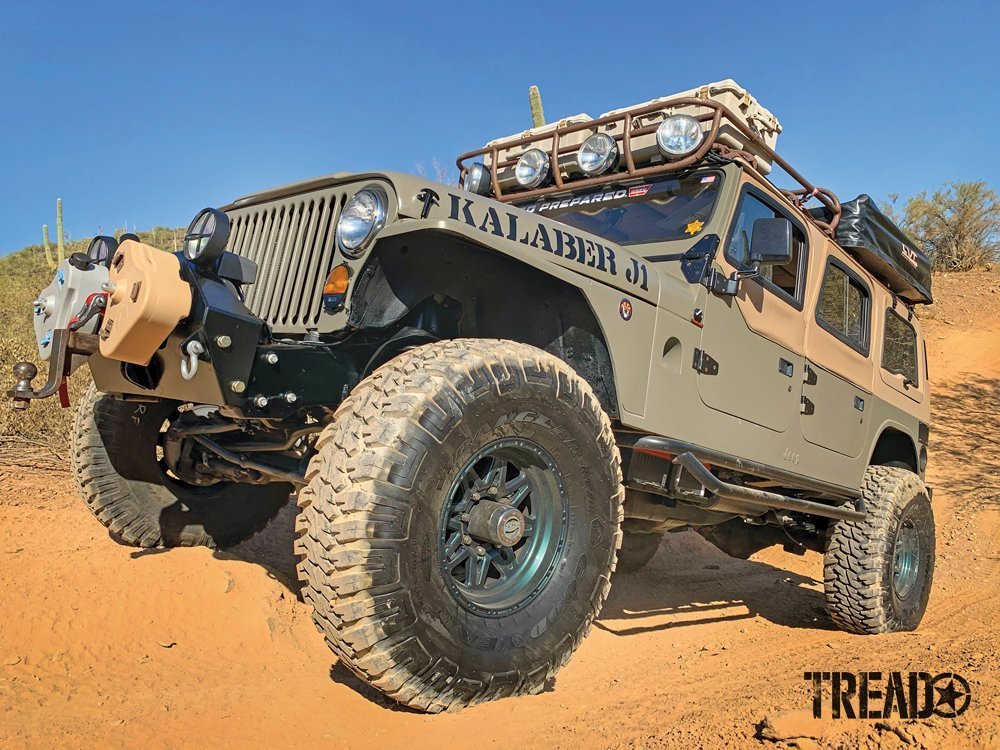 A Jeep Worth Celebrating By Kalaber Creations
With lots of imagination, common sense, and guts, Mark Tetreau of Arizona-based Kalaber Creations started building a 1971 Kalaber "J1" Jeep in 1995. The lack of tools, engineering education, resources, and money didn't stop him from starting this distinctive project. Throughout the last 24 years, this "masterpiece on four wheels" gained many hidden secrets and cool features that'll make you want to build your own.
Not only does Tetreau build his own off-road rides, his main bread and butter is selling Ural motorcycles and sidecars under the Kalaber Creations name. Along with Kalaber (the name comes from his daughters Kali and Amber), he and his wife, Jill, own and run a used car dealership called Scooter and Auto Source.
Tetreau has always been an automotive enthusiast. He was raised on a small farm in Michigan; he learned the magic behind trucks and off-road vehicles at an early age. Over time, he became a "MacGyver man" fixing everything with a Leatherman and his wits.
One Man, One Vision
A self-taught fabricator, Tetreau jokingly says he received a degree in automotive modifications from the "University of Life." If something needed to be fixed, he'd do it himself or have a friend help. This unique Jeep was aptly named J1 after his wife: "J" for Jill and "1" as she's one-of-a-kind.
Tetreau started building the Kalaber Creations J1 Jeep after he moved from Michigan to Arizona. He joined the Yavapai County Sheriff Department's Jeep Posse group as a volunteer search and rescue team member (from 1984 to 2002); however, he needed a reliable 4×4 vehicle large enough to fit their needs. At the time, no four-door Jeeps were available in the U.S. Nevertheless, as a used car dealer, Tetreau owned about 13 Jeeps and had many spare parts lying around. The idea for J1 was born and he enlisted the help of key friends to help make it happen.
"When I was with search and rescue, we needed a vehicle with four doors and long enough to fit a Stokes basket stretcher," Tetreau states. "The old Scrambler we used was too short." He couldn't afford an H1 but instead made J1 come to life. He built a capable four-door Jeep large enough to handle recoveries, including those with wounded people on stretchers.
With nothing but desire, he started slicing, stretching, and welding everything together.
Being a car dealer for more than 41 years—along with piloting motorcycles and off-road vehicles since 1965—Tetreau chopped up junk Jeeps and pulled every old, used, or scrap part imaginable to make J1. He found the perfect chassis, which ended up being a used '79 Dodge 3/4-ton truck that measured 7 feet by 2 inches wide with a 131-inch-long wheelbase. He also found beat-up old Jeeps with which he would build the J1's body.
With nothing but desire, he started slicing, stretching, and welding everything together. He felt this combination of vehicles would be large and robust enough for him.
A Collection of Jeeps Like None Other
After the chassis was ready, Tetreau sourced a Dodge 440 engine and combined it with a Mopar 727 transmission with front and rear ARB lockers in Dana 60 differentials. Over the next two years, Tetreau continued the build of the massive Jeep out of several other Jeeps, like CJ7s, CJ8s, and even a '56 Willys Jeep station wagon.
The lack of tools, engineering education, resources, and money didn't stop [Tetreau] from starting this distinctive project.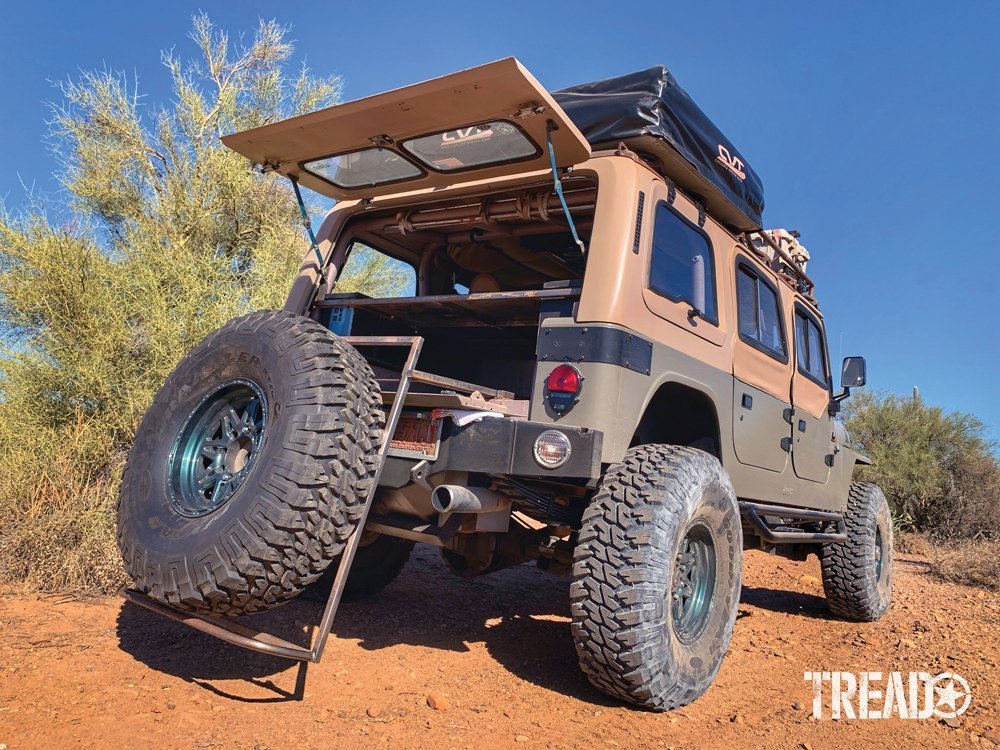 Two separate Jeep grilles were used to masterfully construct the unique 12-bar/13-slot grille. Two CJ7 hoods were pieced together to form the oversized hood to cover the engine compartment. Two CJ8 fenders were used for the rear of the 4×4. They are well inserted in the CJ7 half-tub to only show the CJ8 lips. Four Wrangler doors with slider windows were sourced, with rear doors modified, to create the first-ever four-door Jeep of its kind. The rear-most side windows were reconstructed from a rear liftgate of a CJ7.
Additionally, a custom double-wide tailgate folds flat onto the rear military-style bumper built by Prescott Arizona's Proto Fab so it doesn't impede the Kalaber Creations J1 Jeep's pull-out 40-inch spare tire system. Tetreau worked with Tim Beal and his son Chris on the body. He partnered with John Winn on the spare tire mount and custom racks. Meanwhile, mechanical help was given by Steve McKenney and his son Shane.
Additional items were self-fabricated to make J1 a king of the trails. Rock sliders and a 1/2-inch steel skid plate were added to cover the underside of the engine, transmission, and transfer case. The Kalaber J1 Jeep even requires three windshield wipers because of its width—double that of a stock Jeep.
The J1 Jeep rolls on 17-inch Raceline/Allied wheels shod with 40×13.5R17 Goodyear Wrangler MT/R tires. A one-off long-arm through-frame front suspension gives the massive Jeep a solid range of articulation. An exhaust brake was installed for stopping when towing heavy loads and dual front and rear Warn winches ensure successful recoveries when the going gets rough.
The interior dons a self-fabricated custom rollcage from two CJ7 Jeeps, Mastercraft high-back seats, ARB fridge, and Tuffy Security lockable storage compartments. Odyssey batteries and a dual-battery inverter give juice to the fridge and other items Tetreau has on board. Steve McKenney and Chris Beal assisted with interior build-out efforts.
Ample Upgrades
From 1995 to 2004, J1 lived with a '79 3/4-ton Dodge base. The original 440 engine commanded the J1 through many adventures and recoveries until major changes upgraded it in 2004. Tetreau lifted J1's body off the existing chassis. The body was then put on a shortened '04 Dodge chassis that boasted a 5.9 Cummins diesel powerplant, shortened 2 inches to accommodate the existing body. In addition, the engine, transmission, and transfer case were moved back 21 inches to fit under the length of a standard CJ hood. A one-off fabricated intercooler, radiator, and transmission cooler were also installed.
Additionally, a custom aluminum fuel tank was made for the conversion. Warn hubs, AAM differentials with 4.88 gears, ARB front and Posi-Track rear lockers, as well as an Atlas 4:1 twin-stick transfer case, round out the revised build and make the J1 a fierce competitor in a variety of tricky terrain.
"Since this is a daily driver vehicle, I modify it as my needs change," Tetreau exclaims with a smile. "Most likely I will find a new need that requires a modification to be made; therefore I do not waste time giving it a shiny finish." He uses and abuses his truck. "It is not a display/show-off vehicle."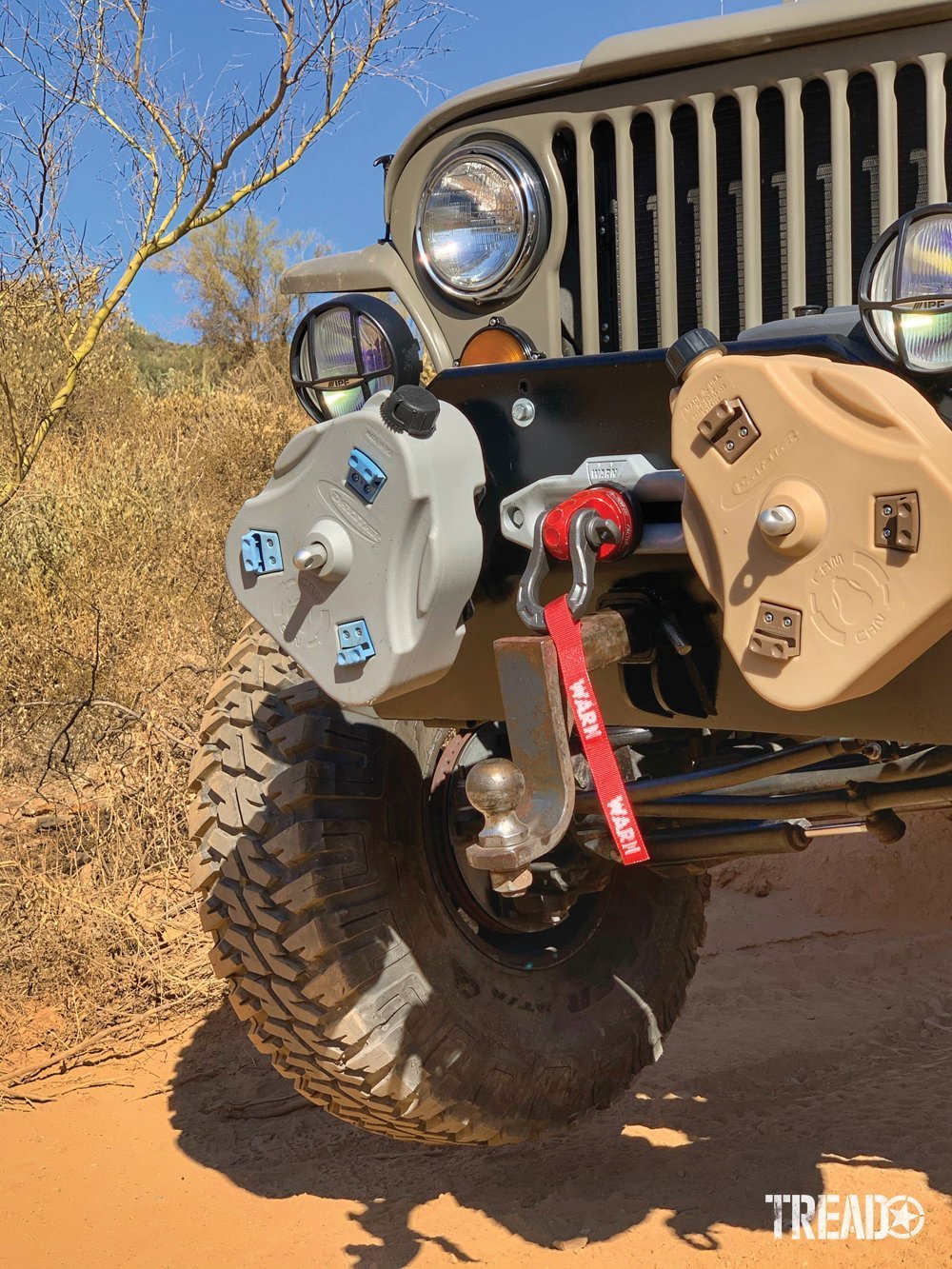 Tetreau pulls his 8-foot or 31-foot camping trailer with it, and takes it on overlanding adventures or to shows, like Overland Expo West. His favorite places to take J1 are Moab, towing the houseboat to Lake Powell, or anywhere else he can take their trailers.
Tetreau's most favorite parts of J1 are his wife's electric step to help her get in it, the integrated step in the fender to help him climb to the roof, and the pull-out spare tire system. The last two items were specially added for J1's 20th anniversary in 2017. He doesn't know what he'll change within the next 20 years, but Tetreau says, "if my daily needs require a change, I'll do it."
Other 20-year celebratory upgrades to J1 included changing the paint color, swapping out the top, and added reinforcements. He upgraded the paint to a desert-inspired khaki color—Spies Hecker AC 130 to be exact. The soft top switched to a modified hardtop he stored for 20 years. And he added a reinforced diamond-plate surface to the hood cowling to safely step on it when accessing the roof rack or servicing his IPF spotlights. However, the doubled-in-size tailgate remained. It features custom hand-painted artwork from a late friend of Tetreau. He kept the original body color and paintjob of it as a tribute to his friend.
By the time J1 was finished, it was featured at the 1997 SEMA Show. The Kalaber Creations J1 Jeep was the first four-door Jeep the show had ever seen. The Jeep engineers, at the time, were mesmerized. According to Tetreau, they were "scratching their heads saying things like how [come] we never thought about a four-door Jeep?" Since then, Kalaber Creations J1 Jeep has made approximately a dozen appearances at SEMA. That's a true testament to Tetreau's craft, vision, and skill to create a one-of-a-kind Jeep that's also a family friendly overlanding piece of art.
[Tetreau] couldn't afford an H1, but instead made J1 come to life … a capable four-door Jeep large enough to handle recoveries, including those with wounded people on stretchers.
Tetreau would like to extend a special thanks to his build partners Tim and Chris Beal (body), John Winn (racks and spare tire system), Steve and Shane McKenney (mechanical), and Steve McKenney and Chris Beal (interior mods). He'd also like to thank J1's sponsors: Advance Adapter/Atlas Transfer Case, Raceline & Allied Wheel, ABR/IPF, Action Graphics, AutoMeter, Blizzard's Top Shop, Beal's Auto Body, CVT Tents, Contact Marketing, Mr. Scott Becker "The Go-To Man," Daystar, Factor 55, Goodyear, Grub Hub, Hellwig Products, Hi-Lift /Slide-N-Lock, K&N, Klein Automotive Accessories, Kodiak Steps, Mastercraft, MTX Audio, MSD Ignition, Odyssey Battery, Pelican Products, Power Tank, Premier Power Welders, Protofab 4×4, Pull-Pal, Ruffstuff, Rubicon Express, Spin Tech, Tom Woods Custom Drive Shafts, Tuffy Security, West Coast Differentials, Warn Industries, and S&S Custom Off Road.
UPGRADES
1971 Jeep "J1"
ENGINE/chassis: '04 3/4-Ton Dodge chassis with modified 131-inch WheelBase and 5.9 Cummins diesel, 48RE AUTOMATIC Transmission
DIFFERENTIALS: WARN Hubs, AAM Differentials with 4.88 gears, ARB front and posi-track rear lockers in Dana 60S; (special mods) Atlas 4:1 Twin-Stick Transfer Case B (front) Dodge Factory Coils; (special mods) Long-Arm Through frame; (REAR) Dodge 3/4-ton with Air overloads
WHEELS & TIRES: 17-inch Raceline/Allied RENEGADE 8 Wheels; 40×13.5R17 Goodyear Wrangler MT/R with Kevlar mud-terrains
EXTERIOR Accessories: two Jeep Grilles (FROM '77 and '78 Cj7 jEEPs, 12-bar/13 slots total); two Jeep CJ7 Hoods; CJ8 rear fenderwells and lips, mounted in CJ7 half-tub; four Jeep Wrangler doors (rears modified); '56 Willy's Wagon tailgate window, width and height enlarged to fit/FILL ROOF; two JEEP TAILGATES ('77 and '78 cj7s) WELDED TOGETHER; custom Military-Style Taillights; IPF mounted on Front Bumper and Roof Rack; Front WARN 16.5Ti-S, Rear WARN 16.5ti; Rear custom aluminum tank, holds 60 gallons; self-fabricated 1/2-inch Steel skid plate; self-fabricated Roof Rack and Rock Sliders
INTERIOR ACCESSORIES: Mastercraft high back SEATS; AutoMeter and Dodge Instrumentation; Interstate dual battery inverter; Tuffy consoles, ARB Fridge