Kalaber Creations' U1 and Sidecar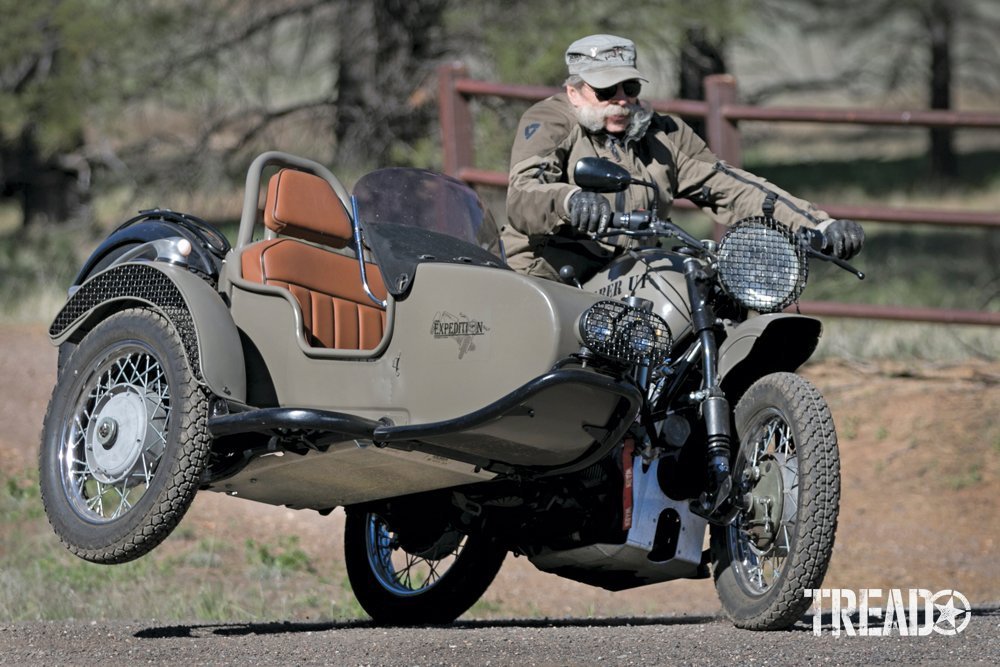 A Master-Crafted Work of Art: U1
Mark Tetreau built a custom Ural and sidecar from used, forgotten, and scrap parts he had lying around. Its name is U1. "U" is born from his love of Ural motorcycles and "1" means the first-ever Ural of its kind. Kalaber Creations not only sells Urals but also a line of custom-made off-road accessories for them—perfect for showcasing on this one-of-a-kind build.
The Kalaber Creations' U1 Ural took approximately three years of weekends to build. Now complete, it makes appearances at events like Overland Expo West, but it's happiest carrying Mark and his wife Jill around Prescott and neighboring areas.
Married for 44 years, Mark built U1 to pay tribute to Jill. It's a way they can spend time together. U1 is made from a variety of Jeep, motorcycle, and various adventure rig parts. It's a conglomeration of mastery, skill, and dedication to his craft. Since Mark's specialty is customizing everything with an engine—like the Kalaber Creations J1—he started accumulating many shelves of parts, pieces, and oddities. Mark is a saver; he might need said pieces, so he kept them all in anticipation of giving them a second life as part of a future build.
U1 first came to be as a '99 two-wheel-drive Ural Patrol. It was a neglected trade-in, missing parts after being someone's hobby project; it wasn't even operational. Mark saw this as the perfect chance to give it a second lease on adventure. He fitted the Ural with a rebuilt motor and transmission, and the rest came from his magic shelves of spare parts. From oddball wheels to a leftover driveshaft, Mark masterfully constructed Kalaber Creations' U1.
The couple sourced five 18-inch steel rims: three for the motorcycle and sidecar plus two as acting spares. Mark narrowed the sidecar about 9 inches and artfully mounted them to fit. He then used Jeep CJ5 fender flares to shield said spares and hold down the sidecar's fender. Mark modified a Ural headlight bucket to fit a non-standard miscellaneous headlight. He then used a gravel screen as coverings for the main headlight, sidecar lights, and as a fender accent on the sidecar.
Mark's careful customization didn't end there; he loves to repurpose automotive parts. A few of his most fun accessories are the handle on the U1's sidecar, originally from a Cobra handle from a 1956 or so Steib S500 sidecar, and its taillight, re-purposed from an old '30s Cocker taillight he had for years. Leather straps from a mid-'70s BMW sidecar Jill had is used to secure U1's luggage. Random handlebars off Mark's shelf were used, and the Kalaber Creations' U1 gas tank was from a Gear Up Ural that was cut in half—it now boasts 7 1/2-gallons of go-go juice.
Additionally, numerous Kalaber Creations' fabricated parts are on U1, including motorcycle and sidecar skid plates, step plate, and a Kalaber winch mount housing an automotive battery to power a Warn ProVantage 4500-S winch. Mark loved the paint color he used on his customized J1 Jeep so much, he used it on U1 as well.
Even though this custom Ural and sidecar showcases tons of special Easter eggs in this unique creation, Mark's most favorite part of U1 is that it fits Jill so well. It's a true testament for his love for her, celebrating nearly half a century together.
(Editor's Note: A version of this story first appeared in the print version of Tread March/April 2021.)