Overlander's Guide to Auxiliary and Replacement Fuel Tanks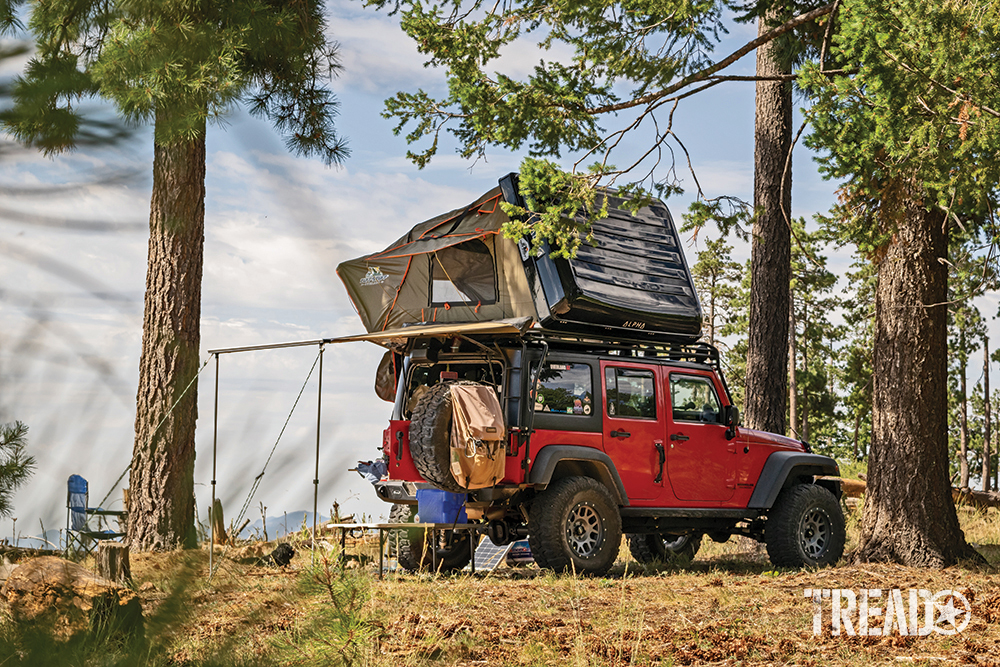 Auxiliary and Replacement Tanks to Fuel Future Adventures
No matter if you're adventuring in the remote wilderness or dashing across the country with your family, having a fuel tank boasting long-range fuel capability is important. It minimizes fuel stops, and it'll get you to your end destination more quickly.
However, if you're tired of constant fill-ups and want to expand your vehicle's capacity, adding an extended-range fuel tank could be the perfect answer. Some vehicles, such as Toyota Tundras, have stock tanks ranging from 26.4 to 38 gallons, but many other automakers offer much less than that.
Case in point: the 1991 right-hand-drive Mitsubishi Pajero my husband and I own. Our minuscule OE bladder offered 250 miles per tank—at best. Our 1994 Mitsubishi Delica Space Gear's tank wasn't much better … not good when you're spending remote nights in the middle of nowhere or running a 5,120-mile-long Arctic road rally in the dead of winter.
We hated dealing with jerry cans. While they do work, they can often be messy, smelly, and lead to frustration. Plastic containers can discolor or leak; metal ones can dent or rust … not to mention the constant venting to release pressure built up within them. We wanted a better solution for our travel-fueled, long-range woes.
What are the alternatives? Installing an auxiliary or replacement fuel tank could double your adventuremobile's capacity, as opposed to that of its OE holder—giving you endless opportunities to explore Mother Nature. Not only do they offer an increased range, but they're also safer and more secure—no more jerry can "eye candy" for thieves to steal.
Large-capacity fuel tanks also come in handy when foul weather hits, giving you peace of mind should a wildfire break out or floods encroach on your surroundings. Lastly, auxiliary or replacement tanks can cut fuel costs by allowing you to fill up when you want (such as when cheaper fuel is nearby) and not necessarily when you have to.
Extended-Range Options
We spoke with representatives from two companies that specialize in making long-range fuel tanks.
Idaho-based Long Range America (LRAM) is the exclusive U.S. distributor that imports replacement and auxiliary long-range tanks from Long Range Automotive (LRA), based in Australia. Founded in 2015, LRAM has imported these tanks for a variety of vehicles, including models such as Lexus GXs, Toyota Tacomas, Mercedes Sprinter vans, and even Mitsubishi Delicas.
Installing an auxiliary or replacement fuel tank could double your adventuremobile's capacity, as opposed to that of its OE holder—giving you endless opportunities to explore Mother Nature.
American-made TITAN Fuel Tanks manufactures aftermarket high-capacity gasoline and diesel tanks from military-grade polymer. From midship direct replacement tanks to spare tire carrier aux systems and after-axle or in-bed transfer tanks, TITAN has featured diesel and gasoline variants for popular off-road vehicles and UTVs since 2003.
Auxiliary or Add-In Awesomeness
An auxiliary tank, otherwise known as a "transfer" or "add-in" tank, is an extra fuel tank that works in tandem with a stock OE fuel tank. Most of the time, an aux tank will be mounted beneath a vehicle—as with our Pajero—but it can also sit on top of one if it's a truck bed transfer tank, such as models offered by TITAN. Both LRA and TITAN auxiliary tanks offer a unique opportunity to "fill on the go." With a simple press of a button, the add-in tank will start transferring fuel into the main tank, no matter if your vehicle is touring through town, tackling trails, or sitting silently in a parking lot.
An add-in or transfer tank taps into a vehicle's main OE tank is connected to its fuel system and has a transfer pump that initiates fuel transfers after a user presses the system's button. Both LRA and TITAN aux tanks boast an in-cabin fuel gauge with a start/stop button that can be mounted in various locations; however, other manufacturers could vary. We had the Pajero's gauge that monitored the LRA aux tank mounted in an empty knock-out switch plate on the vehicle's dashboard.
Aux Tank Details
Not only do auxiliary tanks significantly increase capacity, but they also have a separate fill neck (aside from the OE opening). Behind the Pajero's fuel door are two holes: one for the stock tank and another for its aux add-in counterpart. Once the puny Pajero bladder was upgraded with the extra tank, it boasted a robust, 500-plus miles of range.
Aux, add-in or transfer tanks come in many shapes and sizes. They increase the range to nearly double the OE capacity. Check range statistics on the tank you want before purchasing it. If you know your way around your vehicle, are skilled with wrenches and have appropriate tools, you might be able to install an auxiliary tank yourself. About a quarter of TITAN customers install their own tanks. Alternatively, it could be installed by a trained professional. LRAM requires this for most of its models.
Replacement Tank Readiness
Another option to up your range is a replacement fuel tank—out with the old, and in with the new. Similar to aux tanks, replacement tanks can provide up to twice the range capacity when compared to stock tanks. Again, check the range statistics of the tank you're interested in before purchasing it.
Wanderlust Overland, an approved LRA install shop, recently upgraded the Delica van with an LRA replacement tank. Installation was a snap and took just a few hours. Unlike the Pajero aux tank, the Delica tank doesn't showcase an extra fill opening or interior fuel gauge and switch. Instead, it uses the stock fuel gauge, light and OE fill neck. (Note: The van's gauge drops slowly now because we doubled our capacity to an impressive 33 gallons. This gives us approximately 600 miles with one fill.)
California Emission Standards
LRAM sells high-quality, 2mm aluminized steel tanks throughout the United States, Canada, and Mexico. It doesn't currently sell or ship tanks for installation for California-registered vehicles.
"The state requires an executive exemption from the California Air Resources Board (CARB) for aftermarket replacements or add-in accessories that might affect fuel storage or emission systems," explains Ward Harris, co-owner of the company. "We're working toward an exemption for each of our more popular kits to satisfy the state's reasonable interest in compliance with new vehicle evaporative emission standards."
Aux, add-in or transfer tanks come in many shapes and sizes. Even so, once installed, they could up the range to nearly double the OE capacity.
Types of Tanks
LRAM fits a wide variety of gasoline and diesel adventure rigs for recreational, commercial, and specialty uses. They boast a 36-month warranty on tank parts and materials—with no mileage cap.
Conversely, TITAN Fuel Tanks sells replacement polymer-based tanks for diesel and gasoline vehicles in the state. In addition, the company backs its polymer tanks with an unlimited lifetime warranty.
"All of our tanks are 50-states-legal; they meet and exceed all EPA and CARB regulations," points out Mike DeFord, marketing manager of the company.
(CARB is updating its procedures about how the application and review process might change. Time will tell if Californians will get additional long-range tank options in the future.)
Long-Range Longevity
We've never looked back since we installed an LRA Pajero aux tank for the Alcan 5000 Rally. A simple push of a button fueled us up. Others filled OE tanks with jerry cans in temps of -20 (F) and below.
The aux tank worked so well that we opted for a long-range LRA replacement tank for the Delica van. This doubled our mileage for future #vanlife adventures.
"Our tank works so well, you don't even know it's there!" exclaims Andy Lilienthal. "Having a long-range tank also 'spoils' you for vehicles with regular tanks. Now, we stop more for bathroom breaks than fill-ups. I wish LRAM could increase my bladder size!"