Power Management Solutions Buyer's Guide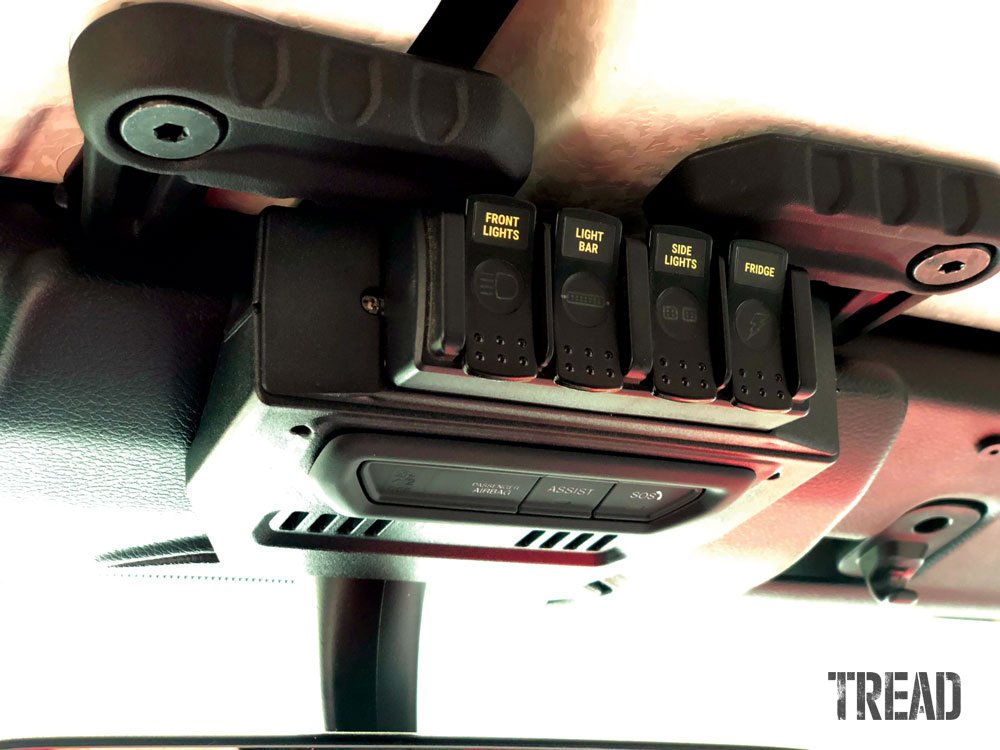 Power Management Solutions to Control All Your Accessories
Have you started to accumulate more and more accessories and are now looking for a better way to manage them all? Perhaps you have used up all your spots for rocker switches and still need to hook up a fridge or an air compressor. There are several power management solutions on the market these days to help you get organized and manage all your 12V accessories. A simple power management and control system may be the answer to your problems.
We all know that there's always more that can be done to your vehicle. What started out as a weekend off-road truck has turned into a weeklong off-grid adventuremobile. And as you build your vehicle to do more and stay out longer, you'll most likely be adding on more lights, an air compressor, an onboard refrigerator, possibly added e-lockers, and more. Depending on your needs, you can opt for a more simple option to give you switches to control up to four accessories now with the option to add on more later. Or possibly you have big plans to build out the most epic expedition vehicle and are at a place to put in a more robust management system.
Whatever your needs may be, there are solutions just for you.
Switch-Pros/SP9100 8-Switch Panel Power System

Simplify your switches and dash with one panel that controls it all. The 8-Switch Panel from Switch-Pros gives the user four 35A circuits and four 18A circuits with over-current and short-circuit protection that connects to a completely sealed, waterproof, solid-state 125A power module, built for the elements. It connects to your smartphone via Bluetooth and is user-programmable.
There are many options and variations of how to set up the switches. Switches can be programmed for on/off or momentary, ignition or battery input, flash or strobe, memory function, and master mode with the ability to turn multiple outputs on and off with one touch. Plus, there is a low-voltage shutdown to protect your battery. And if all that wasn't enough, you can choose the color of your backlit panel to match your truck or add a touch of personal style.
MSRP: $549.00
URL: switchpros.com
Switch-Pros/RCR-Force 12 Power Management Solution

Perfect for your side by side, or if you're looking for a bit more capability from your switch panel, the Switch-Pros RCR-Force 12 gives you more options. The waterproof and solid-state power module has a 150A capacity with 17 outputs, 4 rated at 35A, 1 rated at 30A, 11 rated at 15A, and 1 low side rated at 2A. The RCR-Touch cover snaps on for ease of use to find switches when wearing gloves or going over rough terrain. There are 12 programmable switches. Additionally, a ton of options suit individual needs, with every Master Switch able to control up to four other switch outputs.
The preset dimming function with memory gives users a different brightness during the day versus night. There is also on-on-off logic, touch panel lockout, on/off or momentary, and ignition or battery input. Also featured are flash or strobe, automatic power-up upon vehicle startup, safety lockout for specific switches, and time delay off. With the ability to daisy chain up to three switch panels, you can have control of accessories and lighting from inside your vehicle or the bed of your truck. The Bluetooth app for smartphones give the ability to control lights and accessories when away from the switch panel and allows you to monitor battery voltage.
MSRP: $980.00
URL: switchpros.com
Trigger Controller/4 Plus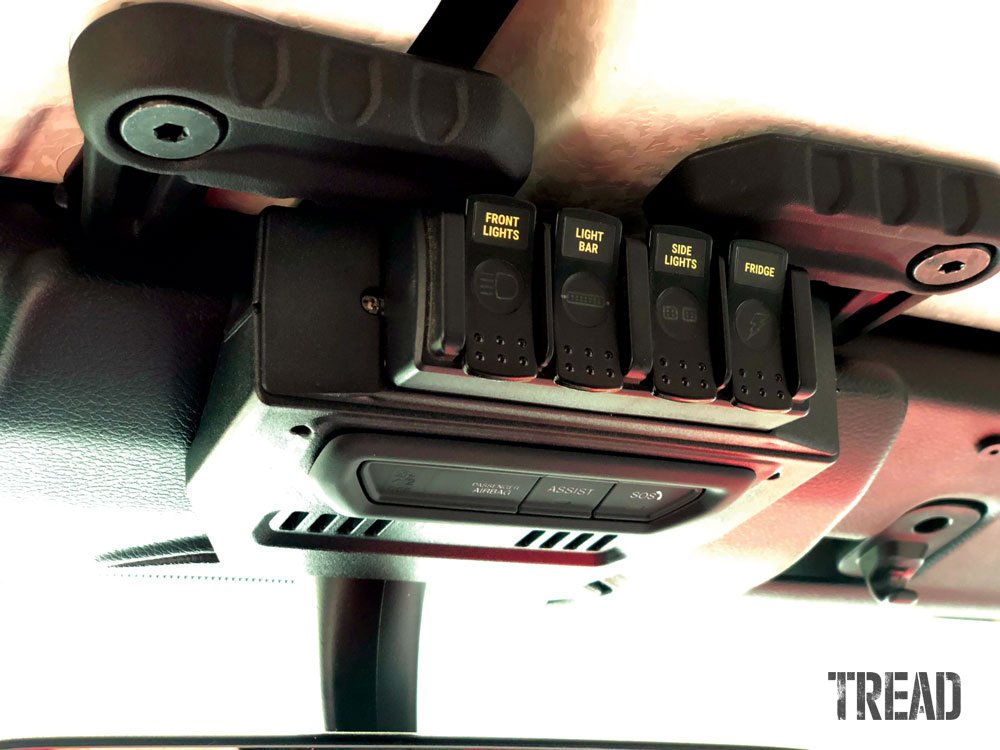 The Trigger 4 Plus Wireless Accessory Controller eliminates the need to run wires under your dash or through the firewall of your vehicle. It accepts 12-24V input with two 10A fused circuits and two 20A fused circuits. The included RF remote control wirelessly activates accessories from inside or outside the vehicle. Also, fused circuits with LED indicators notify you of active circuits or blown fuses.
The universal remote mounting system allows attachment to round or flat surfaces. You can use several Trigger control boxes and remotes together to use up to 24 accessories. Use with the Bluetooth remote for smartphones to control on/off and dimming functions. It also has a strobe feature.
MSRP: $263.97
URL: triggercontroller.com
Trigger Controller/6 Shooter Power Management System

Need a few more switches? The 6 Shooter provides an easy-to-install solution to control your 12V accessories in your 4WD, canopy, or trailer without requiring wires through your firewall. This waterproof, solid-state 12V power distribution system for your vehicle allows wireless control of your accessories. One connection to your battery gives you six fuse-protected outputs: two 30A circuits, two 10A circuits, and two 5A circuits. The whole system is protected by a 100A fuse installed on the positive-input wire.
Control accessories inside or outside of your vehicle using the battery-powered RF remote control panel, which uses rocker-style switches. Magnets enable it to attach to surfaces outside or use available vehicle-specific mounting kits for inside your vehicle. Hardwire the remote base and give yourself individualized backlighting options.
In addition, use the smartphone app to control accessories and access the ability to do more. Users can customize lighting with dimming or strobe options and monitor battery voltage from the app. They can also change switch behavior from standard to momentary. There is also a built-in DIN connector for use of conventional toggle switches when used with the harness. That is sold separately. Same as the 4 Plus, several Trigger control boxes and remotes can be used together to control up to 24 accessories. It comes with a three-year warranty.
MSRP: $380.97
URL: triggercontroller.com
sPOD/BantamX with HD Control Panel

The BantamX by sPOD is a power management system that allows for a clean setup underhood. It is a small, eight-circuit control system that provides a clean and safe way to power and control 12/24V accessories. It uses one Ethernet cable into the cab to keep wiring to a minimum. Its small size allows for various mounting options. Some of these kits are vehicle-specific.
Eight circuits are all rated at 30A at 12.5 VDC per circuit. There are two controller ports for Ethernet cables and it uses an integrated low-voltage cutoff battery protection with optional override. It also has built-in Bluetooth capabilities to use for remote control. It protects against overheating, over-current, shorts, reverse polarity, and field collapse. Additionally, there is an optional ignition control and safety lock-out for two switches. Switches can be programmed for dimming, strobe, flash, momentary, and switch linking. There is also an on- and off-road mode of operation via the mobile app.
MSRP: $915.00
URL: 4x4spod.com
sPOD/SourceLT with 6-Switch Panel

The SourceLT is a small, solid-state, six-circuit control system. It provides a clean and safe way to power and control 12V accessories. One Ethernet cable runs into the vehicle's dash to the controller, keeping wires to a minimum. The SourceLT has a small footprint. It allows for many mounting options. The six circuits are rated at 30A at 12.5 VDC per circuit. It uses a 12-position terminal block to easily attach accessories. The 10-foot controller cable allows for easy plug-and-play connectivity to the switch controller. There is integrated low-voltage cutoff battery protection with optional override with the SourceLT unit. Available in universal or some vehicle-specific options, you'll find the option that works best for your vehicle.
MSRP: $590.00
URL: 4x4spod.com
Redarc/Redvision Power Management Solution

For those looking for a more robust solution, Redvision by REDARC could be what you are looking for. The Redvision Total Vehicle Management System allows control and monitoring of multiple on-board devices in an overland or 4WD vehicle, trailer, and RV. Redvision is housed in one centralized place. Control your lights, refrigerator, inverter, water pump, and more while monitoring levels and temperatures.
When using the Manager30 battery management system, energy consumption and storage can be monitored easily. The in–vehicle–mounted display allows quick monitoring of levels. It also has the ability to turn accessories on and off. Or you can use the mobile-friendly app. The modern, user-friendly interface of the display and app use an easy-to-understand layout. The display is robust to handle even the toughest of conditions.
This unit combines power protection, distribution, and control in one unit. Additionally, it is customizable so you can adjust it as necessary to your specific needs. With multiple power inputs for solar, 12V, and 110V, the ability to change your setup is easier and won't require additional adapters.
MSRP: $1,395.00
URL: redarcelectronics.com