Aggressive Off-Road Tires: Toyo Open Country R/T Trail Review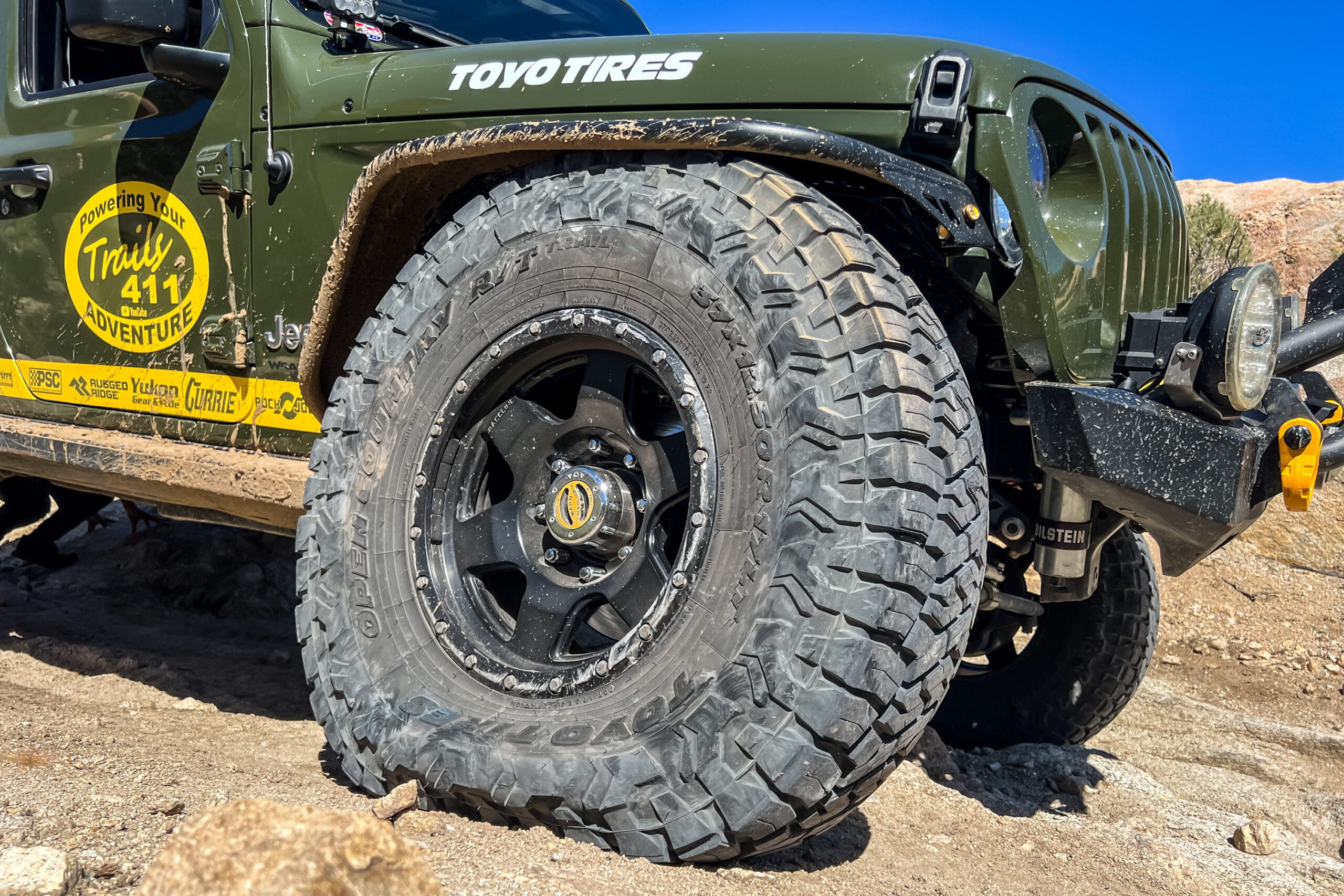 The aggressive looking off-road tire with mild on-road manners is finally here.
Let us introduce you to the Toyo Open Country R/T Trail. This new rugged-terrain tire slots directly between the Toyo R/T and Toyo A/T III. The R/T Trail is directly aimed at off-road tire buyers that want the looks of a mud-terrain with the on-road manners of an all-terrain, and don't need a three peak mountain snowflake (3PMS) rating. Toyo's top selling tires are the Open Country light-truck and SUV lineup. Currently that is the A/T III, R/T, and M/T. We have no doubt that the new Toyo R/T Trail tires will be a hot seller in a wide range of markets, as they provide an impressive middle ground of aggressive on- and off-road performance along with impressive good looks.
Tire Testing

Toyo did a ton of lab validation, test center controlled experiments, and "Genba" research prior to letting journalists like myself roll down the road on these tires. "Genba" is Japanese for "the real place," and for Toyo means getting feedback from enthusiasts and ambassadors across the country, mostly at off-road and overland events.
We got to test this new off-road tire on about 22 miles of mountain trails near Big Bear Lake, California. We experienced everything from mild gravel roads to black diamond rated jeep trails and obstacles. On top of that, we got to experience the tires on curvy mountain pavement and fast two lane highways, both at street pressures and aired down.
We got behind the wheel of two vehicles in our testing, both highly modified. The first was a 2014 Nissan Frontier and the second a Chevy Colorado ZR2 Bison, both courtesy of Bear Valley Overland. Both ran street pressures of about 30 psi and both aired down to about 15 psi when off-road.
The media drive ended at the Toyo Trailpass community engagement event. The annual free event combines, camping, seminars, vendors, good food, and a massive (free) raffle of impressive products.
Driving Impressions

The magic of the Toyo R/T Trail is that it has impressive off-road capability while still offering impressive on-road performance, low road noise, and a smooth confidence inspiring ride. The tire is almost as quiet as an A/T, feels about the same in dry warm conditions on road as an A/T, and has more versatile capabilities off-road than an A/T.
Deep grooves and chunky lugs ensure the R/T Trail has more M/T like mud, sand, and deep snow capabilities. Its aggressively lugged sidewall found traction easily in the dry dirt, wet dirt, and on both smooth and sharp rocks that we experience the tire on.
We did find the sidewalls to be a bit stiff and not deform as much as you might expect/want out of an aggressive off-road tire. We found this to be true even aired down to 12 psi on a heavy vehicle running 37 inch tires. The flip side to that coin is that the tire should offer impressive sidewall tear and puncture resistance.
R/T Trail Details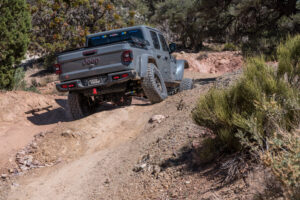 The Toyo R/T Trail will come in 47 sizes. LT, P, Euro-Metric, and Floatation sizes will be on offer, up to 38 inches and fitting 16 to 24 inch wheels. C, D, E, and F load ranges will be available.
While the Toyo R/T currently on the market shares style and construction to the Toyo M/T, the new R/T Trail shares more with the A/T III in terms of technology and construction. It does, however, have the aggressive good looks of the M/T.
This is what Toyo has to say about the R/T Trail: "It will feature staggered scalloped shoulder blocks and extra-thick sidewall lugs that dig into soft terrain and uneven surfaces. Additional features contributing to its durability and off-road capabilities include wide circumferential grooves, lateral zig zag grooves and stone ejectors, 4-way tapered notches, and a rim protector. A heavy gauge side wall will also help protect from cuts, impacts, and punctures."
While some tires are asymmetric from side to side, the R/T Trail is symmetric. This ensures that it looks good, and the same, from any angle and any way they get mounted to your vehicle.
With a 45,000 Mile Treadwear Warranty and Toyo's No Regrets 45-Day/500-Mile Trial Offer it will be hard to go wrong with these tires.
Toyo R/T Trail Review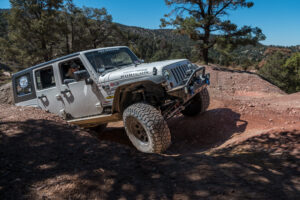 Our experience and Toyo's information on the R/T Trail lead us to believe that it should be a tire that sheds water well, has great lateral grip in soft condition, is impressively quite on-road, won't ding fuel economy too much over an A/T, will have a long tread life, and should be very good at resisting chipping/chunking and sidewall punctures.
Combine aggressive good looks, real off-road capability, and quality everyday on-road manners and the Toyo R/T Trail should appeal to a wide range of buyers. If super muddy conditions and mostly off-road driving are your jam then you'll still be best served with an M/T tire. If you want less aggressive looks with most of the off-road capability, even more impressive on-road manners, and great icy/snowy road performance then A/T tires are what will serve you best.
Not only was the R/T Trail developed in White, Georgia specifically with the U.S. market in mind, a majority of the sizes of the tire will be built there as well. Toyo's new Serbia manufacturing facility will build the other sizes.
Toyo is already producing and warehousing the most popular sizes of the R/T Trail. U.S. retailers will get inventory in November, when you can order a set for yourself. They have yet to announce pricing, but we have it on good authority that it will fall between the A/T III and R/T tires already on the market.
Learn More
For more information about these new, aggressive off-road tires, head to Toyo's website: https://www.toyotires.com/product/open-country-rt-trail/