Lexus Troopy Takes Luxury Off-Road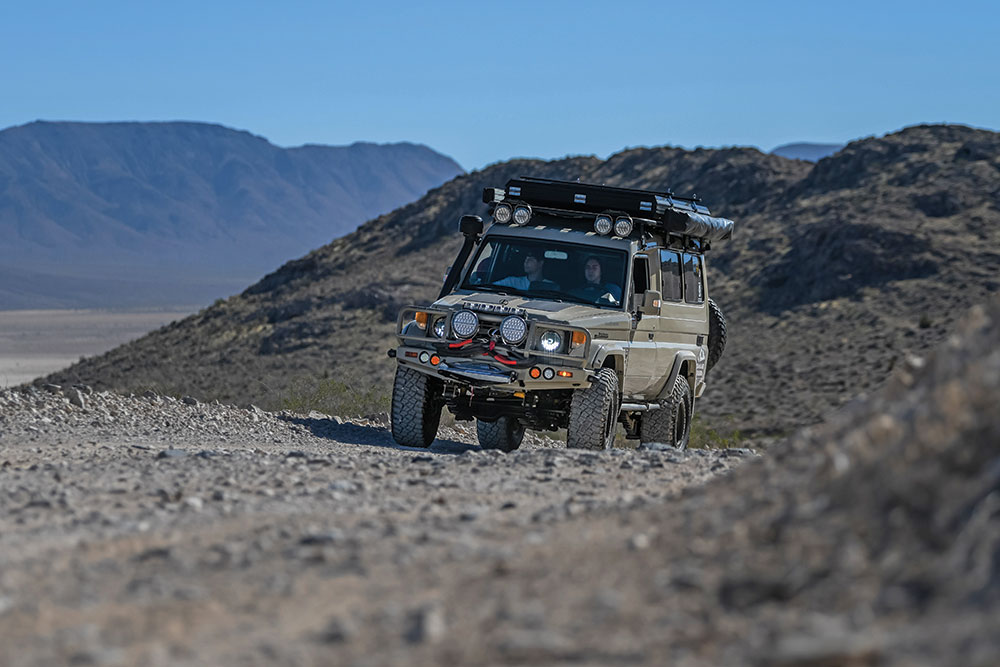 Martín Reginato's Toyota 70 Series Land Cruiser Troop Carrier
Martín Reginato's builds have graced these pages before, and you've likely seen this fully loaded unique Troop Carrier online, through the @DakarTundra Instagram account. The Lexus Troopy made its public debut at Overland Expo West and in its fully completed form in Vegas for SEMA Show 2021. This overland machine is Reginato's interpretation of what a classic Toyota 70 Series Land Cruiser Troop Carrier would look like if it had rolled out of the factory wearing Lexus badging. And, of course, fully up-fitted with all the overland and off-road goodies one could buy.
Oman School Bus
Reginato is always on the lookout for interesting Toyotas to build, and in late 2019, he found this 1989 Troopy on eBay. An importer was selling the truck by way of Nizwa, an ancient city straddling a busy trade route in the northern region of Oman known for its palm plantations. There, the 70 Series had lived most of its life as a school bus, shuttling kids in from the surrounding mountains, and later, it was pressed into service to transport goods and supplies from Nizwa to remote villas in the Ad Dakhiliyah region.
After much deliberation, Reginato decided that He wanted to do something different with this build and create something special to show off at SEMA 2020.
Family Bonding
They struck a deal, and the truck began its journey to Long Beach, California, landing in December 2019. Reginato invited his 19-year-old son Nate to join him for the drive back to their home in Salt Lake City, Utah. Although the Troopy was in really rough shape, it managed to make the trip in the middle of winter, even with 200,000 original miles on the odometer. The original 3F I6 4.0L gasoline engine pulled strong, but there were holes in the floor and the A/C was stuck on high.
By the time the pair had made it across the Arizona border into Utah, it was colder in the Troopy than it was outside. Blankets purchased at a truck stop helped the father/son duo survive the trip without frostbite. Nate was used to riding in new vehicles, though. So, his experience trekking across the American Southwest in the dilapidated Troopy was an experience he won't soon forget. Reginato says it was a great bonding time with his son that he'll also never forget.
A Lexus Troopy is Born
After much deliberation, Reginato decided that he wanted to do something a bit different with this build and create something special to show off at SEMA 2020. After a few beers with some friends, Reginato decided upon the Lexus-themed build.
A Lexus 1UZ-FE V8, from a donor Lexus LS400, was the first step in the transformation. A shop in Australia was due to supply all the parts for the engine swap. But then the pandemic hit, and as the world began to shut down, parts were stuck in limbo across the globe. Before the engine could go in the Troopy, it needed new floors and some much needed body work anyway. After stripping down the body and buiding it back up, they mixed up and applied a custom paint to the Lexus Troopy.
More Time, More Building
At this point, eight months had passed and the world's commerce and regional car shows had ground to a halt. The SEMA Show was also canceled, so Reginato relaxed and took a new approach. Instead of purchasing off the shelf, he focused on custom made parts, which complicated the build a lot more.
First up was a full rebuild on the Lexus V8 along with the fabrication of custom engine mounts. They installed new brakes, brake lines, a full A/C system, oil coolers, a performance radiator, and electrical systems. To handle longer journeys, the team also incorporated an additional 50-gallon Long Range America fuel tank into the rear chassis, bringing the Lexus Troopy's fuel capacity to a massive 73 gallons.
Reginato rebuilt the Lexus Troopy's axles with 4.88 Nitro Gears and e-lockers. Plus, he fitted an all-new OME suspension to provide that smooth Lexus ride, and added rear air bags to help handle the build's weight. Big 35-inch BFG KM3 tires on 17-inch RRW wheels mounted an aggressive look and added capability.
Lexus Interior
With the Troopy finally running smooth and looking good from the outside, it was time to tackle the luxury interior. At this stage of the build, Reginato had to get creative. 70 Series Land Cruisers and luxury don't exactly go together. To help, he had all the metal interior bits covered in leather and suede. Then, they were custom hand stitched for an added pop. Four Scheel-mann Vario XXL seats fit in for the ultimate in long-range touring comfort. A PVS Steering Wheel install brings a more modern and upscale look. Even the new floormats are stitched together from quilted leather.
The rear door has a custom insert that offers up a beer dispenser and coffee maker. No one goes thirsty in the Lexus trooper.
A full complement of modern electronics finishes off the interior. The custom-built driver's cluster features single electronic Intellitronix gauges, and a 10-inch Kenwood touchscreen head unit keeps the tunes pumping through 10 speakers. Above the windshield, a Garmin Overlander, Garmin inReach, ARB Linx, and the Warn wireless winch controller mount up to a Ram Mount accessory bar. The space also offers additional customizable options for other electronics.
Overland Interior
Reginato and the team also fully outfitted the interior of this Troopy for remote adventures. Three Cascadia 4×4 solar panels power four Odyssey batteries. The seutp works on shore power, and runs a 3,500-Watt inverter, Dometic CFX3 35 fridge/freezer, full LED interior lighting, and a water pump. Two five-gallon freshwater water tanks feed the Hive pull-out kitchen sink, which even has hot water from a HOTTAP propane water heater.
The back of the Troopy houses the pull-out kitchen along with OVS storage drawers and a fridge slide. The rear door has a custom insert that offers up a beer dispenser and coffee maker. No one goes thirsty in the Lexus Troopy.
Exterior Upgrades
A custom side ladder provides access to the Rhino-Rack Pioneer Roof Rack. The rack is fully loaded, with OVS cargo boxes, a Mamba roof top tent, 270 Awning, a privacy room, and Kokopelli inflatable packrafts. A portable wireless A/C unit from Zero Breeze and a propane heater ensure that the tent is comfortable in all seasons.
Up front the Lexus Troopy features a classic ARB Deluxe bullbar. Warn Zeon 10s Platinum winch, a Factor55 Ultrahook, a front hitch receiver, a McLean Metalworks hitch hammock, and lots of lights outfit the rig. You could probable see the Lexus Troopy from space when lit up at night. It features a lot of Hard Korr LED lighting: 18 rock lights, six step lights for the ladder, eight side lights, 15 front-facing lights (including the headlights), and six rear lights. It also features a LED-Colight seven-inch laser headlight. A Toyota OEM snorkel with a Sy-Klone pre-filter keeps the engine breathing during river crossings.
Out back a Cruiser Outfitters rear bumper holds dual swing-out tire carriers. On the tires are recovery boards, an OVS trash bag, PowerTank, and a Deadman Offroad recovery system.
This is a Lexus-style build it really has to have everything. The Lexus Troopy has five surround-view cameras, remote engine start, and even train horns. What more could you want?
Many Thanks
Reginato would like to send out a special thank you to all the amazing companies that helped make this project come together. He also thanks the people that put their time, effort, and sweat into building it. Edmond from Giragossian Importers, Sebastian Gennari for the new floors, Geoffrey Beers for the engine install, Angel Villalon at Los Andes Body Shop, Juan Carlos at JP Upholstery, Jeremy Nielsen at Salt City Mobile Solutions, Alex Fishburn for the custom engine mounts and ladder, and the team at State Automotive for dialing in the HVAC.
This overland machine is Reginato's interpretation of what a classic Toyota 70 Series Land Cruiser Troop Carrier would look like if it had rolled out of the factory wearing Lexus badging.
Editor's note: A version of this story originally appeared in the TREAD September/October 2022 issue.
---
UPGRADES
1989 'Lexus' Troopy
Engine: Lexus 1UZ-FE V8 with Custom Motor Mounts
Wheels and tires: 17-inch RR6-H RRW Wheels w/35-inch BFG KM3 Tires,
Suspension: OEM suspension, coil Rite airbag kit
Exterior: ARB Deluxe Front Bumper w/Warn Zeon 10s Platinum Winch w/Factor55 Ultrahook, Dual Fog Lights, two 3-inch Hard Korr LED Lights, OVS Lightbar, Hitch Receiver with McLean Metalworks Hitch Hammock, Cruiser Outfitters Rear Bumper with Custom Second Spare Tire Mount, Powertank, OEM Snorkel with Sy-Klone Pre-Filter, Rhino Rack Pioneer Roof Rack, OVS Cargo Boxes, Mamba RTT, 270 Awning with Privacy Room, Recovery Boards, Recovery Straps, Kokapelli Packrafts, Custom Side-Ladder, Cascadia 4×4 Solar Panels, Dual Viair 480c Compressors, Deadman Offroad recovery system, LED-Colight 7-inch Laser Light
Interior: Four scheel-mann Vario XXL Seats, PVS Steering Wheel, Intellitronix Digital Gauges, Kenwood eXelon 10-inch Infotainment Touchscreen, ARB Link System, Garmin Overlander, Garmin inReach Explorer, One Stone Armrests, OVS Storage Drawers & Fridge Slide, Hive Pull-Out Galley, Dometic CFX3 35, Zero Breeze Portable AC Unit, Propane Heater, HOTTAP Propane Water Heater, and two five-gallon Water Tanks
Additional modifications: Two M4 Battery Trays w/ two Odyssey Extreme AGM Battery, OVS Tire Inflation System, 4.88 Nitro Gears, E-Lockers, 50-gal. Long Range America Tank, Hornblasters Train Horns
---