Vinoski's 4Runner: An Angler's Perfect Catch
Alissa Vinoski's 4Runner takes her fishing, overlanding, and adventuring.
Don't judge a book by its colorful cover, otherwise you may mistake Alissa Vinoski as a pretty face who's nothing like you'd think. She's led an interesting life. She's experienced more than most put together. In Vinoski's words, her resume will give you whiplash. Her customized 2017 4Runner SR5 has been years, and multiple iterations, in the making. Vinoski's vehicle is the catalyst for her lifestyle—both on the road and off it, too.
Pivotal Moments
Coming from a military family, Vinoski was always on the move. She was used to nomadic means, however, one constant was her grandparents' house in South Carolina's "low country." Nana and Papa lived on a small island surrounded by a marsh, where Vinoski spent the majority of her childhood playing in the marsh or nearby woods. It was here that Vinoski's love of fishing began.
It's been years and multiple iterations in the making. Vinoski's vehicle is the catalyst for her lifestyle.
Vinoski's father grew up fishing; he and Papa taught her everything they knew at an early age. They'd visit tidal ponds, trapping mud minnows for bait. "At age four, that was honestly my favorite part of fishing," Vinoski said. "The small bait was fun to play with and wriggled around in my hands—I was fascinated."
Loving Life on the Water
As Vinoski grew older, the bait fish became a tool as she focused on the big fish that ate them. When her father was stationed at the Pentagon, she fished for catfish in creeks or bass and panfish in lakes.
"When I moved to Florida in 2006, everything changed." She started fishing for largemouth bass but then lost interest when she traded a pond-hopping bass trip for an in-shore saltwater fishing trip.
"I fished on my friend's boat often when we were both free," Vinoski stated. On days he had a fishing charter, she'd meet him as his clients were leaving. She'd jump on and they'd use up leftover bait.
"By 2010, I had my first boat, gifted from my Papa—a 14-foot plastic boat on a trailer with a trolling motor and two seats." Vinoski's now on her fourth boat: an 18-foot technical poling skiff. It's designed for stalking fish in Florida's backcountry flats.
Sight Fishing for a Seasoned Angler
Over time, Vinoski gravitated to one style of fishing. "Sight fishing with light tackle or a fly rod became one of my favorite pursuits."
Without a doubt, sight fishing with light tackle or a fly rod became one of my favorite pursuits.
A seasoned angler, now armed with six world angling titles, Vinoski spent time befriending those anglers. "After putting in years studying the fishery, learning the movement and behavior of fish and honing my skills in finding and catching fish," she said, "I decided to pursue guiding." While catching fish was fun, this outdoorswoman realized some of the greatest moments she experienced were other anglers placing perfectly casted flys in front of a hungry fish and seeing it all come together. Also, earning a captain's license opened up several doors—now, she could be hired for other opportunities in addition to facilitating fishing charters.
Every Vehicle has a Purpose
All of Vinoski's occupations have been outdoors. From a zookeeper and animal trainer for kangaroos, sea lions, and exotics to a federal contractor for a Navy special defense team, training dolphins and sea lions for military port protection, Vinoski has done it all. She's also been a licensed captain, running fishing charters, and a regional sales manager for SPOT satellite rescue devices. And through it all, Vinoski has owned Toyota vehicles. "I'm currently on my third Toyota," Vinoski explained. "Aside from a few minor upgrades and changes, my current vehicle serves me exactly as I'd like."
Vinoski spent 12 years discovering what she needs in a vehicle. "I built my vehicle to serve a single purpose: get me where I want to go," said Vinoski. "Growing up playing in the woods left me with the constant desire to get away to the woods or the water."
To her, the 2017 4Runner checks her boxes. "I've made changes to clear obstacles between me and my desired location, but it is certainly not a rock crawler." While not best suited for it, Vinoski's 4Runner is her daily driver. "Between the trips I've taken along with around-town miles, I've tacked more than 120k on it since I bought it at the end of 2017."
Vinoski's Ideal Build
Equipped with a stock 4.0-liter V6 engine, Vinsoski's 2017 SR5 Toyota 4Runner is regeared with 4.88 gears and additional Dobinsons 3-inch heavy load springs and long-travel shocks, along with extended rear brake lines and bump stops. Towing is essential when you own a boat and Air Lift 1000 Series airbags were added to aid in comfort. Meanwhile the 17×8.5 Fifteen52 Turbomac HD Block Bronze wheels shod in 285/75 R17 Cooper Discoverer S/T MAXX tires keep her comfortably propelling along the highway.
Currently, Vinoski's on her fourth boat: a beautiful 18' technical poling skiff. It's designed for stalking fish in the back country flats of Florida.
A Front Runner Outfitters (FRO) Slim Line II roof rack houses an under-mounted FRO stainless camp table, FRO Easy-Out awning and CVT Mt. Hood Double Channel rooftop tent. Baja Designs and other auxiliary lights give Vinoski ample illumination, especially when in remote surroundings. Rough Country's MLC-6 universal lighting controller manages her setup. C4 Fabrication Overland Series front and rear bumpers with dual swing-out tire and jerry can carrier give Vinoski trail hazard protection. A 10,000-pound Smittybilt X20-10 Comp Gen2 winch and Maxtrax Xtreme vehicle recovery boards are at the ready when the going gets stuck.
Eco-Friendly Solar Power
In addition, Vinoski's power sources are driven by solar. Her products of choice to keep her running are an EcoFlow Delta 1300 portable power station, Dometic PLB40 40Ah portable lithium iron battery and a Flexopower Mojave 150-watt foldable solar panel.
Along with the above, Midland MXT275 MicroMobile GMRS and X-Talker T71VP3 two-way GMRS handheld units keep Vinoski connected. An iPad tablet with Gaia and Avenza maps demonstrates indefinite routes or fishing holes to visit. Four FRO Wolf Pack boxes keep her rear cargo situated while a Buddy Heater base camp hot water heater and shower combo allows her comfort after a long day on the water or trails.
Her Toyota Evolution
Although there were growing pains, the 2017 4Runner is Vinoski's ideal build. "My first two off-road capable vehicles were what I consider drafts," Vinoski explained. "I took what I learned from theoe two (Toyota Tacoma, Toyota 4Runner) and made better decisions in my current 4Runner," Vinoski said. "I've tried multiple different tents, suspension kits, power sources, tires, etc. to determine what I like and what fits my budget," she added. "I'm not sure the build will ever be 'finished as new gear, technology, and products are released. But for now, it's right where I want it."
Vinoski dreams of putting a V8 engine into her 4Runner, but knows it's a lot of work. Because of her setup and towing needs, she feels the pain of the smaller stock powerplant. However, there is good news. If she stays late at work, she can simply sleep in her 4Runner until the next day.
A "Hauler" 4Runner
"My vehicle was absolutely built for overlanding," Vinoski stated. Her 4Runner is "a hauler," allowing her to tow her skiff more places, and to stay awhile. Although she's traveled extensively throughout the eastern United States, she dreams of taking her 4Runner out west.
In Vinoski's words, her resume 'will give you whiplash.'
And as if her resume isn't long enough, Vinoski is also the owner and founder of the new Southeast Overland & Outdoor Expo. As one of few off-road and overland events in Florida, she's helping grow the community and bring together like-minded people. With two shows under her belt, she's uniting adventurers from all over by expanding its presence as a laid-back "family reunion" affair.
You can follow Alissa Vinoski's adventures on Instagram @tampaflygirl.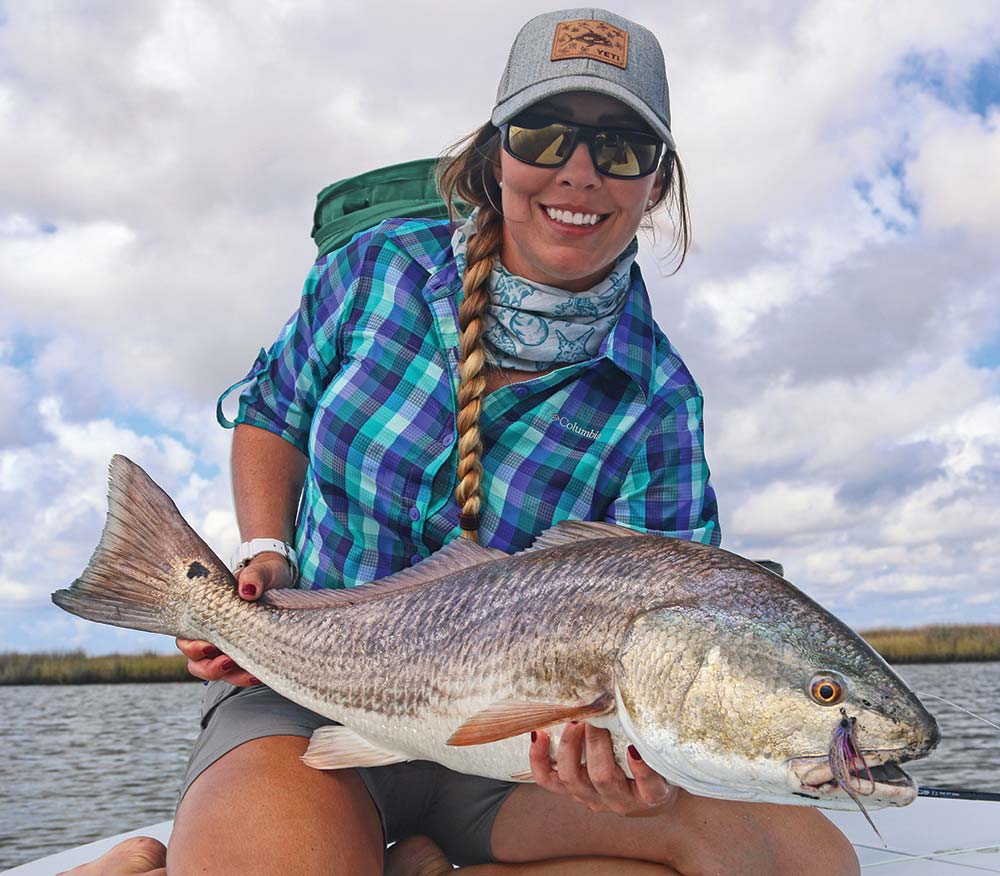 2017 Toyota 4Runner SR5
Engine: 4.0-Liter V6
Suspension: Dobinsons 3" Lift w/ Heavy Load Springs, Long Travel Shocks, SPC Adjustable Upper Control Arms (front); Dobinsons 3" Lift Long Travel, Variable Rate Springs/Long Travel Shocks, Extended Rear Brake Lines, Extended Rear Bump Stops, Air Lift 1000 Series Airbags for towing (rear)
Wheels & Tires: Fifteen52 Turbomac HD Block Bronze 17×8.5, 4.75'' backspacing; Cooper Tire Discoverer S/T Maxx 285/75/17
Interior Accessories: iPad Mount With Gaia Maps/Avenza Maps; (4) Frontrunner Outfitters Wolf Packs X4; Midland Radio MXT275 Micromobile GMRS, X-Talker T71VP3 Two-Way GMRS Handheld (if needed); Ecoflow Delta 1300 Portable Power Station; Dometic PLB40 Portable Lithium Battery 40 Ah; Flexopower Mojave 150w Foldable Solar Panel
Exterior
Exterior Accessories: Xenondepot H11: XTR HID Kit; Baja Designs Amber Squadron-R Sport Fog; (4) Baja Designs Universal LED Rock Lights; (2) Amber S2 Sport Driving/Combo, engine bay lights, Amber S8 30", Smittybilt X20-10 Comp Gen2 Waterproof Winch, Dual 5g Jerry Cans for water; C4 Fabrication Overland Series Front Bumper, Dual Rear Swing Out Overland Series Rear Bumper; 3m Matte Metallic Brown vehicle wrap; ARB Safari Snorkel; Front Runner Outfitters Slim Line II Roof Rack With Wind Faring; Cascadia Vehicle Tents  Double Channel Mt. Hood Small w/ rack;
Maxtrax Xtreme Recovery Boards; Dometic CFX3 45 For Short Trips; Snomaster Classic Series Cl60 For Extended Trips; Front Runner Outfitters Easy-Out awning; ARB Twin Compressor; Fasterflate Inflation/Deflation System; Gobi Rear Ladder; Festoon Xtreme LED Interior Lighting; Rough Country MLC-6 Universal Multiple Light Controller; Front Runner Outfitters Stainless Steel Camp Table; CVT Pop Up Portable Shower; Buddy Heater Base Camp Hot Water Heater/Shower; Spidertrax 1.25" Aluminum Wheel Spacers
EDITOR'S NOTE: A version of this article was included in Tread September/October 2022.