5 Hot Drinks to Make by the Campfire This Fall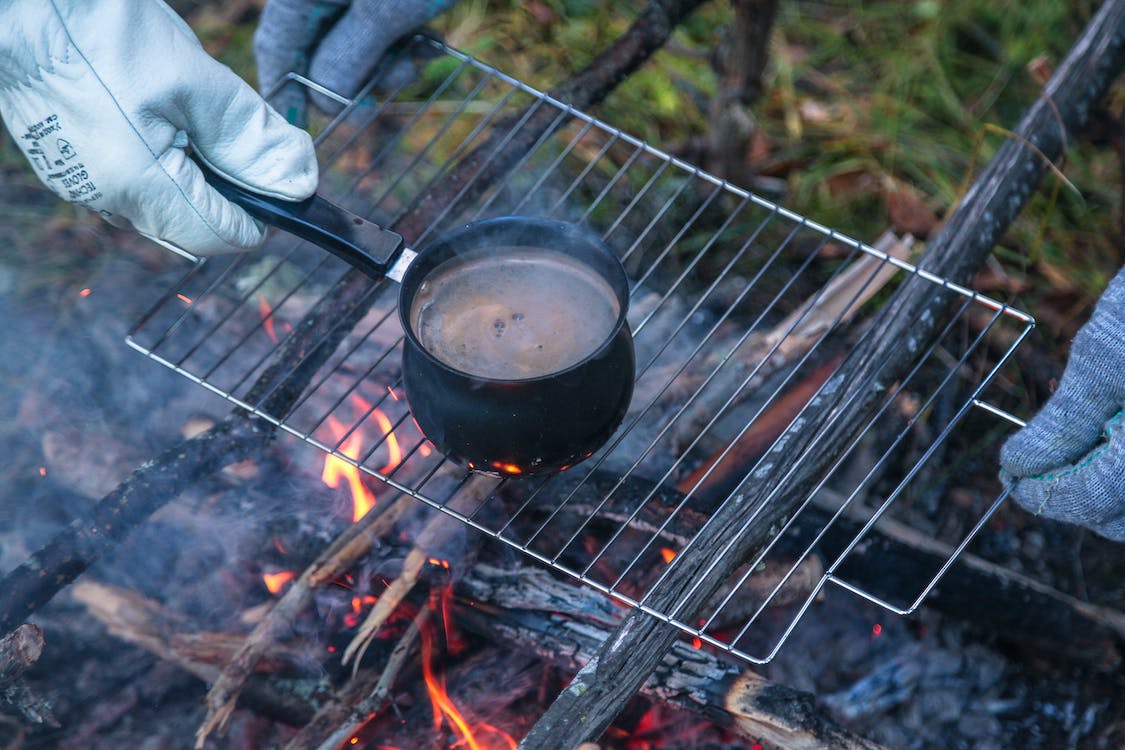 Warm Up by the Campfire After a Crisp Fall Day
After you've decided to take that fall camping trip, it's important to make sure you're cozy and warm by the campfire by the end of the day. Fall campfires are ideal for hot drinks that can warm you and your family up after a long day of brisk hiking in cool crisp weather. Here, we've pulled together some recipes for hot beverages that you'll love, adapted to make in your camp kitchen or over the fire. With some prep at home before you camp, you can make some delicious treats for evenings at your campsite.
Hot Drinks for Fall Camping
1/5) Nutella Hot Chocolate
2/5) Warm Apple Cider
3/5) Hot Tea with Warming Spices
4/5) Instant Coffee Mocha
5/5) Hot Buttered Rum
1/5) Rich Nutella Hot Chocolate
Hot chocolate is a staple for anyone trying to warm up after a perfect fall day. Here, add a twist of sweet hazelnut flavor with Nutella hot chocolate. With a few simple ingredients heated over a camp stove or fire, the whole family can enjoy this rich treat. For this recipe, heat milk in a saucepan until it begins to steam. Add in sugar, cocoa powder and Nutella, whisking all ingredients together. Bring the hot chocolate to a light simmer and remove it from the heat.
You can use plenty of toppings to spruce up this drink, from classic marshmallows to chocolate chips, to crushed hazelnuts or graham crackers. To cut back on storage containers needed while camping, why not combine all the toppings together? There's plenty of possibilities. To see the whole recipe with measurements, click here.
2/5) Hot Apple Cider: A Fall Staple
While there are ways to make apple cider from scratch, we're going to keep it simple by sprucing up store bought apple cider. Heating up the cider over your camp stove or fire, you can bring it to the next level with warming spices and other elements. For this recipe, grab some warming spices from your camp kitchen. We'll be using allspice and nutmeg. Heat the warming spices and apple cider along with brown sugar, bringing the mixture to a boil. Cloves paired with oranges are added to enhance the flavor, and allowed to cook for 20 additional minutes. Serve the cider in mugs and top it all off with a cinnamon stick garnish, and you've got the embodiment of the fall season in a cup. For the full recipe, click here.
3/5) Hot Tea and Warming Spices
If you're looking for a more mellow way to start the morning, hot tea is a classic option. For this recipe, you can prepare a spice bundle in cheesecloth before your trip that can be easily packed away and ready to use when you decide to brew this delicious tea. Allspice, cinnamon and cloves form the basis for the "spiced" aspect of this tea, but you can experiment with other spices as well, like star anise and nutmeg. You can start by boiling your spice mix in water. Add your tea bags after removing the pot from heat, and allow them to steep for five minutes. Now you're ready to add in some sweet brown sugar, and tangy orange, cranberry, and lemon juices to add the perfect kick. This is one of our favorite hot drinks for starting your day off right out in the wilderness. For the full recipe, click here.
4/5) Instant Coffee Mocha
As one of our simplest recipe recommendations, this Mocha doesn't lack in rich flavor and comforting chocolate. Best of all, you can mix all of the dry ingredients together for storage until you're ready to make this recipe. All you need is instant coffee to your taste, hot chocolate mix, and skim milk powder. Heat your water over your campfire or stove, stir the dry ingredients in until they dissolve, and you've got an instant coffee mocha with no hassle at all! For the full recipe, click here.
5/5) Hot Buttered Rum
Last but certainly not least, we've got a spiked drink for the adult members of the family on your next fall camping trip. As always, this recipe is easier with a little bit of home prep before the trip. The base of this hot drink is the spiced butter. To make it, all you have to do is roll out your salted butter, and combine it with brown sugar, cinnamon, nutmeg and allspice. Make sure that all of the ingredients are incorporated, and refrigerate the spiced butter until you're ready to make drinks!  Just combine rum, spiced butter, and boiling water to bring this classic drink to life. For a finishing touch, add some whipped cream for a creamier drink! For the full recipe, click here.
Ditch the Same Old Drinks While Camping
It can be easy to feel like options are limited when you're out camping. We want you to think outside the box when it comes to evenings by the campfire. Try out these great recipes, and don't be afraid to add your own twist and flavor. Your family will love everything from mochas to hot tea, and there's a ton of options out there. Even outside of our list, most recipes can be adapted to camping. With some preparation before hand, you can have recipes prepped and ready to go!