2020 Suzuki V-Strom 1050XT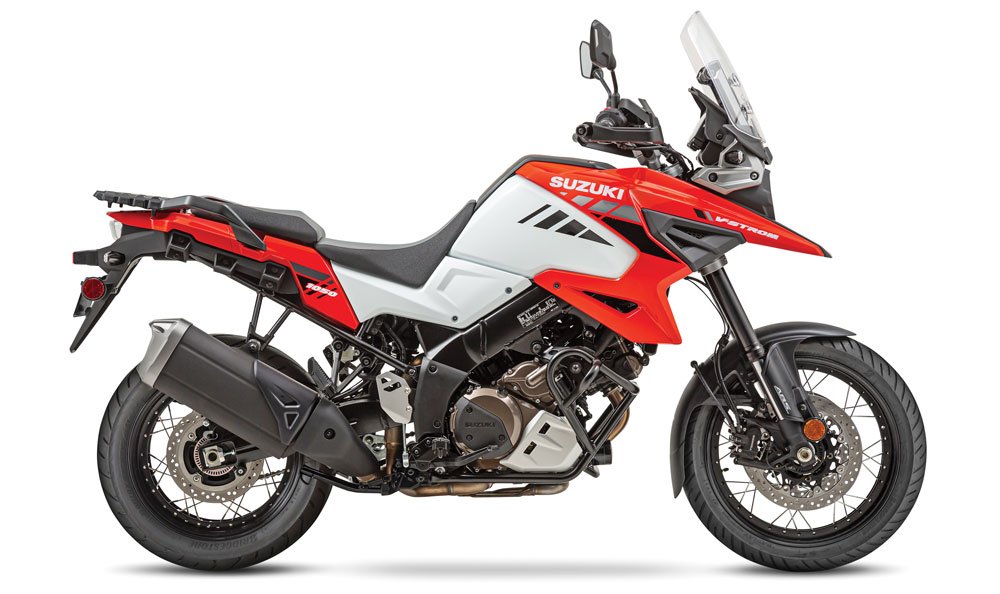 An Intelligent Ride
Adventurers can't help but heed to the call of the wild, whether on four wheels, two wheels, or even on their own two feet. As long as there's someplace to wander, the consummate explorer will push forward. For those looking for the ultimate expression of freedom, the adventure motorcycle 2020 Suzuki V-Strom 1050XT beckons.
The Suzuki V-Strom 1050XT is the latest generation adventure moto that incorporates elements of both Suzuki's legendary DR-Z Dakar racer and their larger DualSport DR-Big. The V-Strom is designed to take riders from civilized roads to wild back trails for uninterrupted performance no matter where they end up.
One look at it and you'll see that Suzuki's characteristic beak design is carried over while being updated to feature a more aggressive and bolder design for this new-generation V-Strom. It is powered by a 1037cc, V-twin engine that has increased power over its predecessors, but still retains its strong pull in the lower-rpm range while providing good fuel economy.
The bike is equipped with the Suzuki Intelligent Ride System (S.I.R.S.), which includes an updated Motion Track Anti-Lock and Combination Brake System with a new six-direction IMU and rider-selectable ABS sensitivity. The intelligent programming includes three new systems that assist braking operation in a variety of conditions. Each element of S.I.R.S. provides riders stress-free riding and enhanced safety over long-distance adventures or daily commuting.
When you next hear the call of the wild, consider answering it with intelligence, safety, and capability. The latest Suzuki V-Strom 1050XT is waiting for you.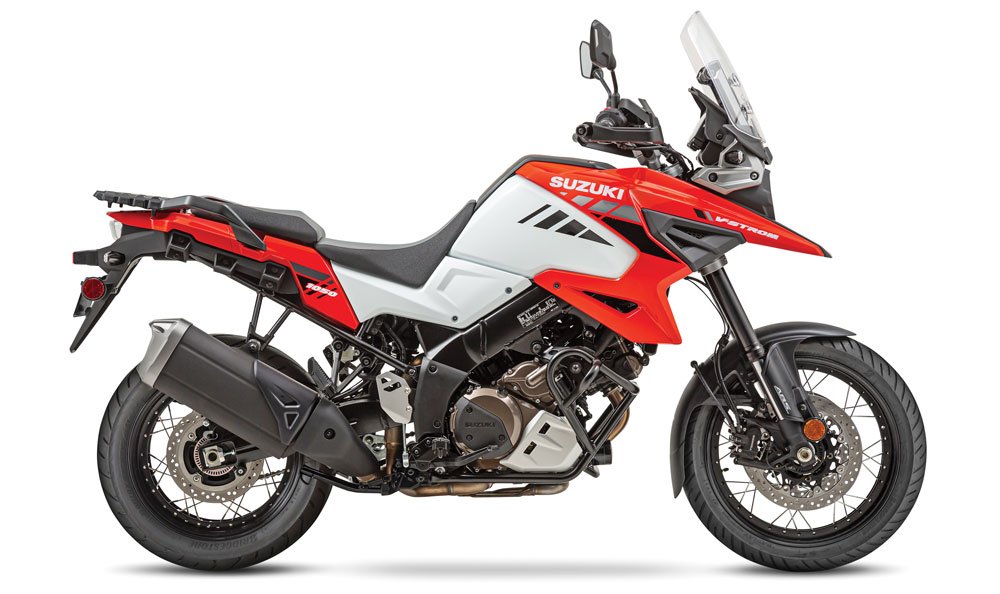 Performance
ENGINE
The Suzuki V-Strom 1050XT is powered by a 1037cc, four-stroke, liquid-cooled, DOHC, 90-degree V-twin.
TRANSMISSION
The Suzuki V-Strom 1050XT is fitted with a six-speed constant mesh transmission with the Suzuki Clutch Assist System (SCAS). This system works like a slipper clutch by allowing a small amount of clutch slip to enable smooth downshifts.
FUEL INJECTION
Ride-by-wire dual electronic throttle assemblies provide the rider a light, smooth, and linear throttle feel.
Technology
S.I.R.S.
Integrated into the 2020 V-Strom 1050XT is the Suzuki Intelligent Ride System (S.I.R.S.) that includes the updated Motion Track Anti-Lock and Combination Brake System, Hill Hold Control System, Slope Dependent Control System, and Load Dependent Control System that assists braking performance in a variety of conditions.
S-DMS
Ready for adventure, S.I.R.S. also includes a new cruise-control system, Suzuki Drive Mode Selector (S-DMS), and an updated Traction Control System.
IMU
The Suzuki V-Strom 1050XT's new Inertial Measurement Unit (IMU) measures six directions of movement along three axis. The IMU detects pitch, roll, and yaw movement based on the motorcycle's position, movement, and acceleration.
Suspension & Frame
SUSPENSION
Its cast-aluminum swing arm is controlled by a single rear shock with remote, hydraulic spring preload adjustment so adjusting for cargo or a passenger takes only seconds. The single-shock, link-style rear suspension also features rebound-damping force adjustment.
FRAME
The Suzuki V-Strom is built upon a durable twin-spar aluminum frame that is designed to balance weight and rigidity for optimal handling on all types of roads.
Brakes, Wheels & Tires
FRONT AND REAR BRAKES
Tokico monoblock, four-piston, front brake calipers are mated with 310mm floating-mount dual discs. These efficient calipers are connected to the Motion Track Anti-Lock and Combination Brake System for strong stopping performance.
WHEELS & TIRES
Bridgestone Battlax Adventure A41 tires are fitted to D.I.D.-supplied spoke-style wheels with aluminum, tubeless-style wheel rims.
2020 V-Strom 1050XT
Overall Length: 89.2 in.
Overall Width: 37.0 in.
Ground Clearance: 6.3 in.
Fuel Capacity: 5.3 gal.
Curb Weight: 544.6 lbs.
How much will it run ya? $14,799*
*Starting price, taxes, and other fees not included.
Editor's Note: A version of this article first appeared in the September/October 2020 print issue of Tread Magazine.