Overlanding Without a 4×4: Tips and Advice for Success on the Trail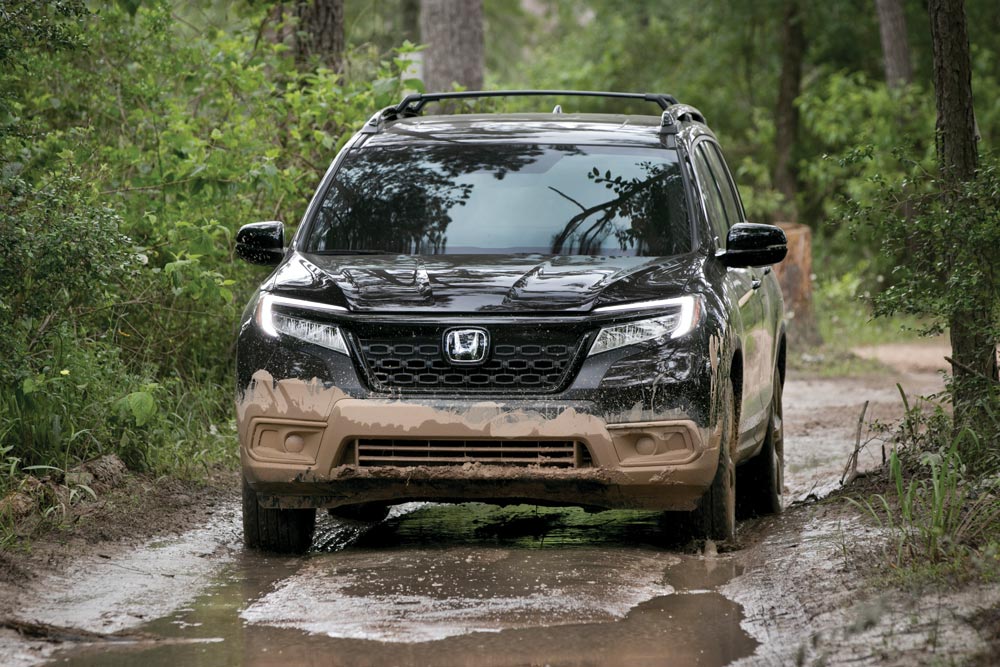 Where there's a will, there's a way. But let's talk about things you can do to make a successful overlanding trip – without a 4×4.
We spend a lot of time talking about 4×4 vehicles. Caring for them, upgrading them, building them, exploring in them, fixing them, restoring them… the list goes on and on. Of course we think the world of our 4×4 vehicles – we couldn't go overlanding without them. Or can we?
Let's talk about what you can do if you want to go overlanding but don't already own a tricked-out 4Runner. Depending on your vehicle and the trip you're taking, what you'll be able to do is going to vary. If you're looking to go "crossoverlanding" in a smaller SUV or midsize hatchback with AWD, you'll likely be able to do more than someone in a Prius. If a Prius is what you're working with, though, we admire your effort! Where there's a will, there's a way, and we're happy you're getting out there.
Keel reading for our best strategies for overlanding without a 4×4. They include planning advice, driving tips, gear recommendations, and more.
Focus on overlanding; avoid off-roading.
This is a distinction that has a tendency to trip people up sometimes. If you're confused, or don't know where to start, we're here to help! If you're rocking FWD or AWD, we recommend focusing your trips on overlanding, not off-roading. The key differences between the sports are the distance traveled and time spent on the road as well as the goals of the adventure. Sometimes, the actual roads and terrains are different, too. That's where we'd like to steer you.
So, instead of heading to a tricky off-road trail with huge obstacles and massive clearance requirements, stick to more level ground. Re-frame your goals: instead of pushing your vehicle's boundaries, push your own. While technical trails might be beyond your reach, there's still plenty of adventure out there. There are some fantastic views and awesome experiences that you can have on some of the so-called "easy" trails.
Keep the journey in mind and put performance on the backburner. If you do your research beforehand, you'll be able to avoid trails that your vehicle won't be able to handle. We'd plan on traveling longer distances and seeing more cool sights.
Do your research and stay away from the most technical trails.
Before you head out, it's super important that you read up on any potential destinations. Make sure that trail reports are looking good: that it's been cleared recently, that the weather's been dry, and that there are resources nearby if you need them.
If you can, check a forum like AllTrails to hear from other overlanders about trail conditions. One thing to be aware of, though, is that these forums don't always have the most accurate infromation. It's always worth taking a minute to check, though.
Knowing your limits is the most important part of overlanding without a 4×4. You almost always have options if you reach the trail you'd planned on taking and it seems too difficult for you. There's no shame in turning around!
Invest in some good recovery equipment.
If you do get yourself in a tough spot by trying to take on too much, the best thing that you can do is have high-quality recovery equipment on hand. It's worth the storage space in your car to bring along a set of recovery boards and a tow rope. Be sure that you've got a working jack and all the equipment you'd need to change a tire as well. Plus, small items like gloves and a flashlight really round out any recovery kit.
One great thing about the overlanding community is that we're almost always willing to help each other out on the trail. If you're in need of help, don't hesitate to ask the overlanders around you for help or even a tow.
Capitalize on storage space.
When you're working with a smaller vehicle, you're also working with a smaller amount of storage space. Without the option of a truck bed, a huge topper, or even a roof top tent, you're mostly limited to the interior of your vehicle.
If you do have the option of using rootop space, there are plenty of great options for rooftop storage. There are tons of awesome bags, boxes, racks, and more out there. Plus, you can customize these additions to your needs. If you're bringing bikes along, for example, a rooftop bike rack is a great option.
When it comes to paring down the gear you're bringing along with you, focus on preparedness. There's a fine line between overpacking and being prepared for your trip to go wrong. Do your best to walk it. Put together everything you might need, but then take a critical look at the space in your trunk and size down.
Drive smart, and learn your vehicle before you hit the trail.
Knowing what your vehicle can do before you take it out off-road is critical to your success. Before you go, it's important to research and test your vehicle. Baby steps are key. Be sure you know how to do basic repairs on your car, including changing your tires and accessing tie points. Start by driving on level gravel and dirt, then try slowly upgrading the terrain.
As long as you've got a good head on your shoulders, you'll be able to tackle a lot of trails without a 4×4. Of course there are always going to be some deep water crossings and technical off-roading trails that are beyond your limits, but driving smart can get you out of a lot of tough situations.
Look into vehicle upgrades.
We know this isn't possibe for everyone, but some little investments can really help to boost your vehicle's off-road capability. New tires are a great place to start, as you can easily upgrade your handling without making serious changes to your vehicle. Additionally, rooftop storage can be a great help as well.
If you want to start outfitting your vehicle for overlanding but aren't ready to make the investment to buy a 4×4 vehicle for overlanding, here's where we'd start. Focus on usability and balance, especially if you still need the vehicle as a daily driver. Wheels and tires are an easy upgrade: just be sure the brands you're looking at have sizing options to fit your vehicle. (Nitto Tire's Nomad Grappler and Black Rhino Wheels are both great options for CUV drivers.) After that, adding lighting is a great next step.
Take shorter trips.
One of the central tenets of overlanding is vehicle-based travel. When you're working with a smaller vehicle, it makes a lot of sense that you don't have the same resources for long trips. You've got less room for storage in a smaller vehicle, including for both food and gear. Plus, because you're not working with a 4×4, you're going to need to plan more carefully, since you don't want to accidentally bump into a trail that your vehicle can't handle.
Taking shorter trips also a great way to start overlanding without a 4×4. Dip your toe into the water! Test it out! Heading out for the weekend is an awesome strategy, because it wins on multiple levels. First of all, you might not have room in your car to travel any longer than that. Second, shorter trips let you account for your learning curve as you enter the overlanding community! You can build up your trips over time as you adapt new storage solutions and learn your vehicle.
Get Advice from the Pros.
The overlanding community itself is the best resource you've got for learning more about overlanding. If you're brand-new to overlanding and don't have any friends in the community yet – not to worry. We're a friendly bunch, and we'll talk all things overland and off-road all the time. However, if you need a place to start, check out podcasts. We recently rounded up some of our favorite overlanding pods to listen to.
We've got a great social media presence as a group, too. We are all over Instagram and Facebook as well as YouTube. There's a ton of great content out there from overlanding pros, off-road outfits, family travelers, old-school campers, vanlifers, and more. Whatever you're seeking, we promise it's out there. Just go take a look!