2021 Yamaha Wolverine RMAX4 1000 Limited Edition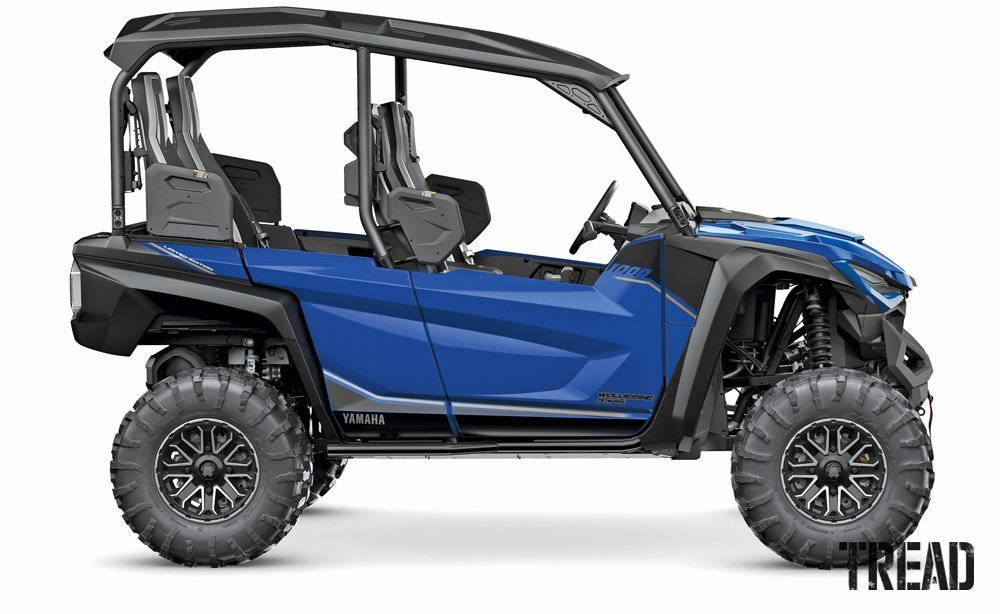 2021 Yamaha Wolverine RMAX4 1000 Limited Edition
Yamaha introduced their latest machine, the 2021 Yamaha Wolverine RMAX4 1000 Limited Edition. This all-new side-by-side is packed full of features that allow you to explore tight trails, even ones that would be ordinarily difficult to traverse. The RMAX4 boasts a best-in-class 999cc engine, Yamaha's proprietary Drive-Mode Technology, and a litany of industry-first comfort and capability features. All it needs is a driver and perhaps a passenger, or three, to enjoy the ride with.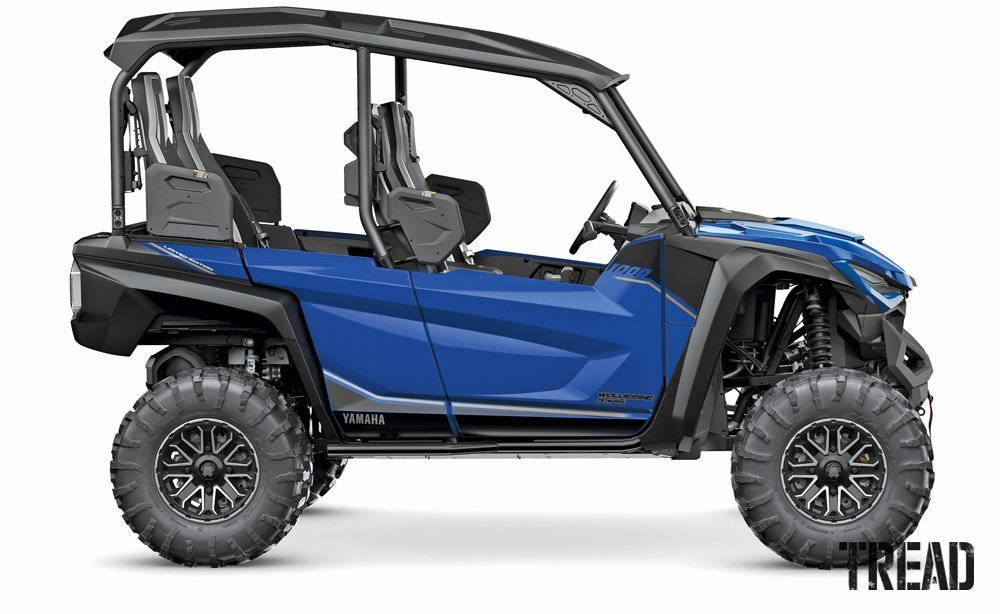 The RMAX4's advanced suspension and impressive 29-inch-diameter tires help deliver a superior contact-to-ground feel with impressive suspension travel and geometry for supreme articulation. New FOX 2.0 QS3 shocks are mounted to wide-arc A-arms allowing deep damping and a maximum of 13.4 inches of ground clearance. RMAX4's suspension travel comes in at 14.2 inches up front and a massive 13.3 inches in the rear. Not at all bad for a side-by-side.
Interior Design
Cockpit
RMAX4's cabin offers a luxurious, automotive-type design for upscale comfort and style, including a rubber over-molded steering wheel with 17 degrees of tilt adjustment, an all-new soft-touch, quick-adjust passenger handhold, padded knee areas, and soft center-console lid. That's not all; the side-by-side also includes a blue LED dash meter, sealed console and gloveboxes, driver and passenger storage mats, an open-gate shifter, soft-touch parking brake lever, powered USB port on Adventure Pro–equipped models, and six cup holders.
Suffice it to say, if you're looking for a comfortable side-by-side that feels more like a well-appointed truck, you'd better be looking at an RMAX4 or RMAX2. (Yes, there's a two-seater configuration of the RMAX 1000, as well, that is even more capable.) Regardless of which you choose, you're sure to enjoy the ride, even if it's a rough and rocky one.
Performance
Engine
The Wolverine RMAX4 1000 Limited Edition delivers class-leading power and smooth performance, thanks to its new, powerful 999cc, DOHC, eight-valve, parallel twin engine.
Driveline
The Yamaha Wolverine RMAX4 is reliably motivated by way of an Ultramatic V-belt with all-wheel engine braking. The CVT system utilizes a new, centrifugal wet clutch purpose-built to withstand the power from the engine, and a constant tension belt system for tackling obstacles in high-rev range without fear of damaging the belt. The final drive includes On-Command three-way locking differential; 2WD, 4WD, and full diff-lock 4WD.
Tech
Adventure Pro
Explore further with the Yamaha Adventure Pro integrated directly in the dash with removable and lockable housing. Adventure Pro comes with GPS mapping and navigation, online adventure planning, and 115,000-plus pre-loaded trails and waypoints. It also offers a Yamaha-exclusive Timing Mode, social sharing functionality, vehicle integration and customization, and more.
Speed Management System
Yamaha's Speed Management System is capable of limiting the vehicle to a top speed of 25 mph without sacrificing the full power of the 999cc engine, making it ideal for speed-limited areas or other special operating conditions.
Suspension
iQS Suspension
The all-new advanced and heavy-duty suspension provides maximum articulation in low-speed situations. Consequently, this offers a balanced ride feeling when trail riding. It also offers the highest level of bottoming resistance with a higher-speed damping feel.
Travel & Settings
Its wide-arc A-arms pair with the FOX 2.0 iQS shocks. They deliver 14.2 inches of travel up front and 13.3 inches of travel in the rear. You can change preferred damping levels from a switch in the cockpit.
Features
Bumper & Winch
A new multipiece front bumper gives the Yamaha Wolverine RMAX4 1000 Limited Edition a stylish look. It features two welded steel trailering tie-down points, a factory-installed Warn VRX 4,500-pound winch, and an accessory brush guard. Additionally, it also boasts accessory pod light-mounting brackets. You'll confidently be able to take on the toughest terrain.
Cargo
The RMAX4 features an ingenious storage system for cargo flexibility. It can comfortably seat up to four adults, including cargo. By folding and sliding the rear seats forward, the rear area expands and securely transports up to 600 pounds of cargo. Multiple steel tie-down points secure items. It also features a built-in 2-inch receiver to tow a full 2,000 pounds when needed.