Action Photography Tips and Tricks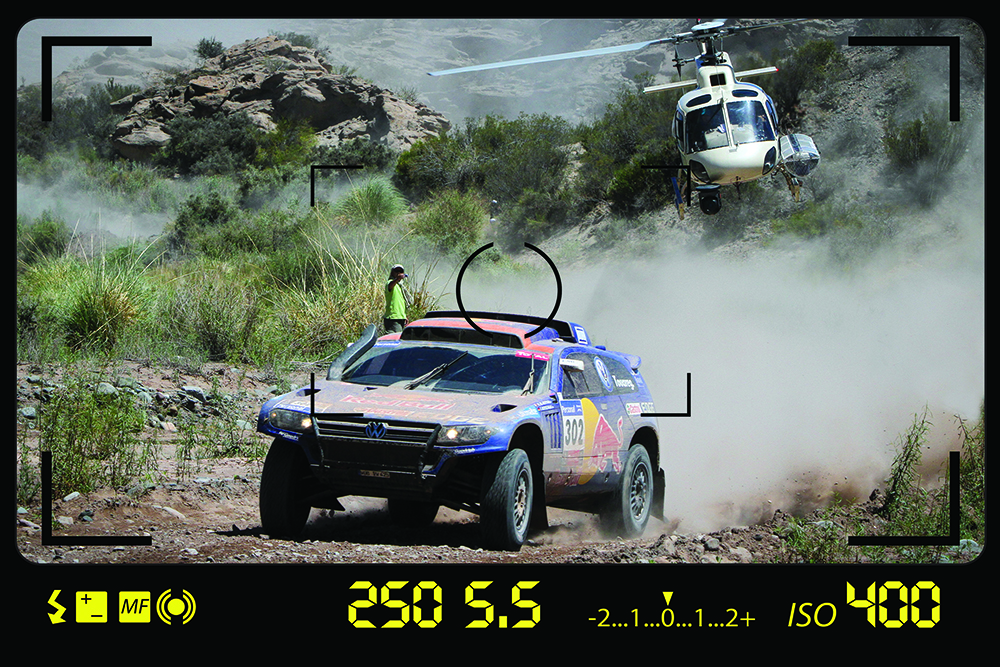 Animating your photography brings life to stills.
A number of years ago, I spent time in Livingstone, Zambia, as part of a two-month trek through Southern Africa. My job for the week was to document adrenaline sports in the area. This included rafting the Zambezi River, flying an ultralight over a swamp full of hippos, and stepping off a bridge with a 300-foot rubber band around my ankles. Going into the assignment, I pondered how to visually share the experience with the publication's readers. How would I capture action photography that would get their adrenal glands pumping and put goosebumps on their arms?
When one thinks of action photography in the automotive genre, they might envision Robby Gordon flying through the air or a helicopter chasing Dakar champion Nasser Al-Attiyah through a canyon. While I've made a career out of shooting this stuff, in my opinion, backcountry travel offers a much broader spectrum of interesting topics. In this Viewfinder, we'll explore ways to capture the action on subjects mild to wild and review a few technical elements.
Sidelines or In the Game
While you can certainly capture the action from the sidelines, getting in close will bring the viewer into the scene with you as an active participant. We want them to not only see what we see, but let their mind's eye feel and smell the environment. I'm not suggesting you try to emulate Jimmy Chin hanging off El Capitan on a thread, but rather, dangle at a level that is comfortable for you and expand on it as you go. These two images were taken during a winter whitewater rescue class in the northern Sierra Nevada. The first, of teammates shooting a rapid, was from the riverbank. I like it, but getting in close and wide with the second image brings us face-to-face with the grit and determination required to navigate big water.
TIP: A first-person view brings your audience into the scene with you.
Technique and Gear
You also need to put yourself in the right place and hopefully at the right time, and by all means…step away from the car. I've known people who have visited some truly amazing places yet sadly never venture more than 50 feet from their vehicle. Look for recurring events such as a ski race or rodeo. Ask locals if there is anything interesting happening nearby. In more spontaneous scenarios, anticipate what your subject might do next and get in position to document it.
Equipment is another matter and varies with each situation. Your camera will need to allow for full manual settings to manage the shutter speed, frame rate, and aperture. A good tripod and ballhead are required for time exposures, and if you plan to shoot in or near water you will need to protect your gear.
TIP: A good action photographer puts him/herself in the right place at the right time.
I've used Ikelite underwater housings for my DSLRs, and while they allow for access to all functions, they are pricey, heavy, bulky, and camera specific—upgrade your camera, buy a new housing. I currently use an inexpensive Ewa-Marine bag housing. The only control is the shutter button, so I pre-set the camera, zip it in the bag, and I'm good to go. Lastly, dirt, dust, and water are not kind to electronics. I carry two plastic covers: one for my camera bag (backpack-style) and another for my camera. A jacket or sweatshirt also works great for quick shelter from the elements.
TIP: It is important to protect your equipment from the elements.
Freeze and Blur
When it comes to photographing a fast-moving subject, camera settings will render a variety of effects. Do you want sharp focus on a tire spinning at 60 mph, or give the viewer the sense that the vehicle is moving really fast? This is where manual controls are the tools of the trade. You will also need to have a rock-steady hand to track your subject sans camera shake while keeping it in the frame. A lens and/or camera with quality image stabilization will help greatly as well.
The freezeframe captures the action in tack-sharp detail throughout the image, and is what you might get on a bright day when the camera is set on auto (A). But to guarantee the effect I suggest switching to shutter priority (TV) and a shutter speed above 1/1000 second. Back in the film days ISO was a challenge (film speed of 100 to 400 ISO), as the aperture could only get so big and let in so much light. But today's digital cameras have ISO capabilities in the stratosphere level and will automatically crank it up for ambient light conditions and maximum aperture. Now, fire a few frames and review while fully zoomed in. If you can read the print on the tires, you're golden.
TIP: Capturing tack-sharp detail mandates a fast shutter speed and higher ISO.
The motion blur provides a sense of, you guessed it, motion, and creating this effect is trickier. Pick a background that has texture in at least part of the frame, as motion of a clear blue sky just looks blue. Then sweep across the scene at the anticipated speed of your subject while firing frames at various shutter speeds. Start at 1/200 second, review, and keep reducing it until the background is slightly blurry. Now introduce your subject and repeat. I find that 1/100 to 1/125 second—depending on speed of subject and my distance from it— is the minimum I can go and still maintain tack-sharp focus. To practice, look for recurring events, such as cars on a highway, and keep shooting until you get it right.
TIP: A slow shutter speed and rock-steady hand are required to add motion blur.
Still Scene Animation
This is where your inner creative can shine, producing a sense of motion when subjects are stationary or moving slowly. This star trail image was taken about 75 miles from Reno, Nevada, using manual shutter release and exposure time of four or five hours. As the stars slowly spun around Polaris, they generated enough light to leave a signature on the film. To let the vehicle stand out from its background, I carefully painting it with a headlamp. The ocher tone in the sky, refractory light from Reno bouncing through a dusty atmosphere, was an unexpected bonus.
While taking in the view of northern Greenland's coast from the bridge of a Russian icebreaker, I contemplated how to animate the hundreds of bergy bits (small ice bergs) drifting past our hull. Without a tripod handy, I pressed a wide-angle lens firmly against the window. Using a slow shutter speed allowed the ice flow to stream by while maintaining sharp details of the foredeck.
TIP: Using a slow shutter speed can add animation to a still scene.
When You are the Subject
There are times that you will look around and realize that you are the subject. During that week in Livingstone, I had the opportunity to jump in a ultralight for a flight around Victoria Falls. While I knew aerial images of landscape and wildlife would be interesting, my goal was to share the experience of hanging hundreds of feet over the falls on a fabric-wrapped aluminum mosquito. The solution was to mount my camera on the wing and trigger it with a remote shutter release.
When on a backcountry trek, keep your eyes open for scenarios that might generate action such as an interesting section of the trail. Hike ahead and shoot as the vehicles pass. If you are traveling solo ask your navigator to take the wheel. If alone, you can mount your camera on a tripod, set it to time lapse at .5-second intervals, and drive the section. It will take a continuous stream of images; keep the best and toss the rest.
Closing Frame
When the dust settles, action photography is about creating a "wow" moment in someone's day.
It doesn't happen if you hold up the camera take a generic "Six-O" photo like everyone else (standing away at 6 feet, 0 inches, point, and shoot). Get out of your camp chair or away from your vehicle and look around. Approach the scene with purpose and a specific result in mind. Shoot from the sidelines or get in close. Push your comfort level. Study your camera features, practice, practice, practice, and have fun. Happy shooting!
EDITOR'S NOTE: A version of this article was included in Tread's March/April 2022 Edition.