How To Road Trip With Dogs Safely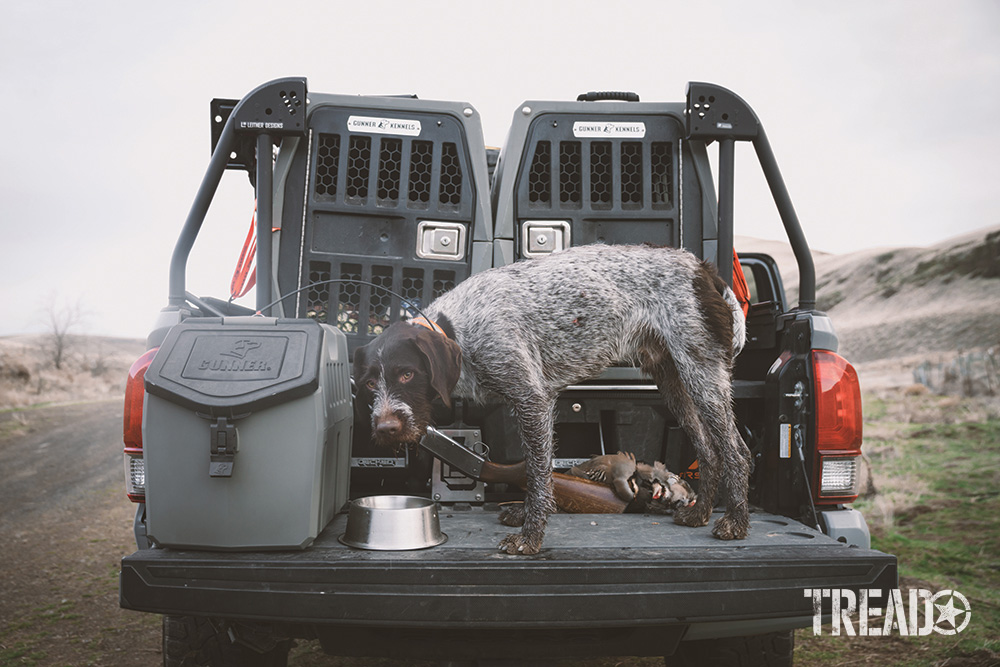 Tips to ensure safe and smooth adventures, on and off road, with a dog.
If you're a dog lover, there's no chance you're leaving your four-legged friend behind when you hit the road in search of the next adventure. There's no doubt dogs make the world a better place, and they bring smiles to everyone at the campground. There's also no place they'd rather be than following along on hikes or curled up at your feet by the campfire.
Road trips with dogs can be a lot of fun, but it does require a little more planning in order for the trip to go smoothly. By following a few simple steps, the journey will be safer and more comfortable for everyone involved.
Prepare Before You Road Trip With Dogs
Preparation starts well before you leave home. I'll assume most readers are responsible dog owners, and their dogs are up to date on all their shots. If you're not sure, call your vet for vaccination records.
Once you know where you're going, it's a good idea to research the veterinarians in the areas you're traveling to. Write down a list of their addresses and phone numbers so you're prepared if anything happens to your dog in the backcountry. You'll save precious time by already knowing where to go for treatment, if it's needed.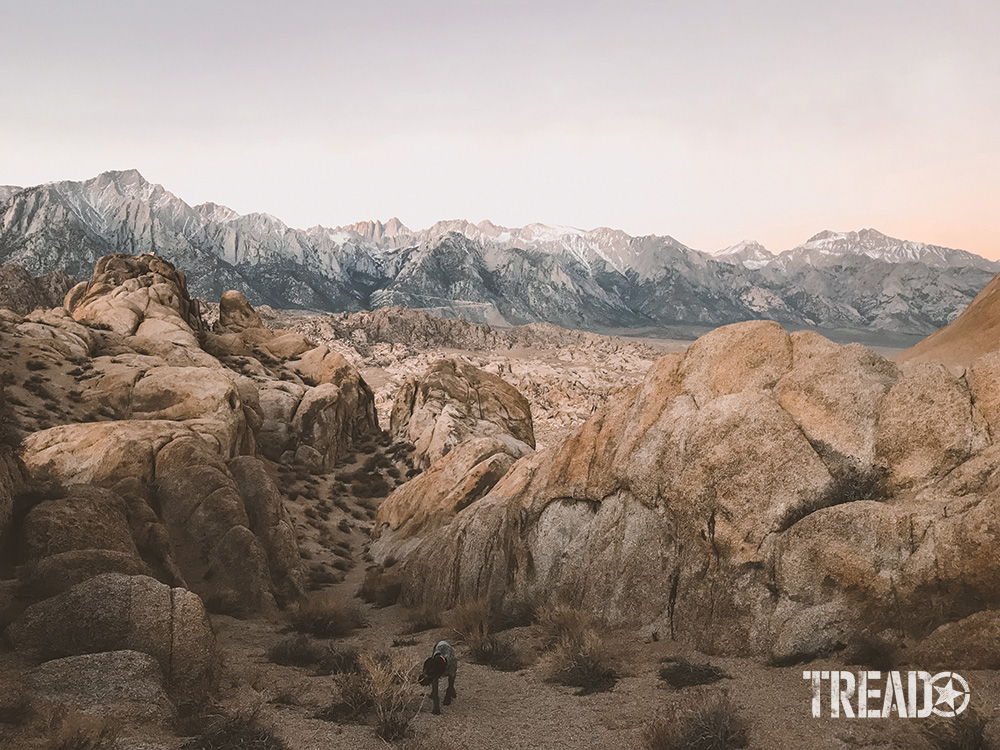 Dog-Specific First Aid Kit
Getting all your gear ready at home is just as important. It's good practice to not only carry a first aid kit for the humans on the trip; you should also carry one for your dog.
I have two crazy bird dogs that get themselves into trouble regularly. From snake bites and lacerations to ingesting mushrooms, they've done it all. As a result, I've used my dog first aid kit 10 times more than the human one.
I'm lucky to have a veterinarian who understands working breeds and helped me source some harder-to-find items, such as staplers, sutures and anti-inflammatory medication. If you're unsure about dosages or how to use certain kit items, be sure to write things down or do some "dry runs" at home so you'll be able to administer treatment while under pressure.
Travel Safety for Road Trips With Dogs
If your dog is used to road trips, you've probably done all of this already. However, if you're new to off-road adventures or you have a new dog, it's best to ease into it. Some dogs can get very carsick, so if your dog isn't used to long car rides, let them acclimate by bringing them along on errands around town.
Many people like to let their dogs ride on the seats inside the vehicle. While this might be fine for quick trips, a kennel is safer for longer journeys.
By preparing before a trip, keeping your pup safe while traveling and ensuring consideration of your dog while at camp, the adventure out in the wild will be memorable for you—and your best friend.
The truth is that if you get into an accident with your dog unrestrained on a seat, it's going to feel the full force of the collision. Many dogs die this way each year, even in minor fender-benders. A secured kennel provides security while driving and keeps movement minimal should an accident occur.
I use a Gunner Kennel, because it's currently the only kennel on the market that's crash-tested. The company has numerous customer testimonials of dogs surviving serious collisions or rollovers in their kennels—along with the photos to prove it. These kennels aren't cheap, but my investment in time, money and love for my two dogs is more than enough to justify the cost for their safety. (Plus, it also keeps the cab of a truck or seats in an SUV much cleaner.)
Pit Stops When on Road Trips with Dogs
On longer trips, it's important to plan stops for your dogs to relieve themselves and expend some excess energy. You can easily do this while you fill up on gas, but it's advantageous to plan ahead and find an area where they can run safely … away from a road. There are several apps available to help seek a safe spot, such as OnX or Gaia. OnX makes it easy for me to look for public land along my journey. I'll find a dirt road that leads away from the main highway and drive down a bit before letting the dogs out to run. This makes potty breaks on road trips with dogs much easier.
Mealtime on the Road
Feeding when on a road trip with dogs is important. Another aspect to consider is how to transport the food and store it.
While on the road, I feed my dogs small portions to avoid carsickness; and I usually spread one feeding out across a full day's road trip. For food storage for long trips or multiple dogs, the Gunner Food Crate is a great option. It holds a 50-pound bag of food and is airtight to keep the food fresh—and the rodents out—while at camp.
Keeping dogs hydrated is really important, especially out west in the summertime. While a simple bowl and bottle of water can be used, it usually ends up with spills or wasted water.
The Dakota 283 Dash 3.5-gallon watering system is a great alternative, because the water and bowl are self-contained. The water goes back into the reservoir when your dog is done drinking, so there's no waste. It then seals up with a plug and stays watertight to throw in the back of the vehicle and continue on your road trip with dogs.
Arrival at Camp
A new place might disorient a dog that doesn't travel much; or, like me, you might have a working breed that likes to roam. Keeping track of your dog is key. This might sound incredibly simple, but make sure your dog has name tags and is microchipped—preferably both.
While it's great to let your dogs explore, you also need to be aware of the potential dangers that are around you.
If you're like 90 percent of the population, your phone battery is almost always dying. It's good practice to put two phone numbers on the name tag, just in case one phone has died or doesn't have signal.
GPS Collars For Backcountry
If you're camping in the backcountry, and it's safe for the dogs to explore on their own, a GPS tracking collar is a great way to know where they are without always calling or whistling for them.
I use the Garmin Alpha 200i (it's probably a bit of overkill for most readers), but there are cheaper and less-sophisticated options out there such as the Garmin Astro Garmin 500 or Halo. I put the dogs' collars on, set up a geo fence to 1,000 yards or so and sit back with a cold one while the dogs "do their thing." They're trained to recall if I press the tone button. When I need them back at camp, I press the button. It beeps their collar, and they come running back. This does require some training, but it's well worth the time investment—especially if your dog doesn't do well on a leash.
Once the sun sets, a clip-on LED light or lighted collar is a great solution for keeping an eye on your dogs. It is also visible to anyone driving in and out of the campsite.
Potential Dangers When On Road Trips With Dogs
It's great to let your dogs explore. You also need to be aware of the potential dangers that are around you. Setting up camp on a cliff edge is great for the 'Gram, but it might not be the best idea if there are dogs (or children) running around.
If your dog is a constant barker, consider camping farther away from others so you don't disturb people on their own weekend getaway.
Dangers to dogs can be as simple as broken glass, cactus, ticks or more-dangerous critters such porcupines, rattlesnakes, coyotes or big cats. If you have inquisitive dogs and you're around snakes regularly, it's a good idea to have both the rattlesnake vaccine in your dog's first aid kit, as well as training it in snake-avoidance. I had a dog bitten on the face by a buzztail, and I'll tell you: It wasn't fun … or cheap!
Mind Your Manners
Dogs can range from inquisitive to annoying—or even aggressive—so it's important to fully know your dog's temperament before cutting them loose.
When you're at an established campground, be aware of other campers. Remember: While your dog might be the cutest thing in the world to you, everyone else might not feel the same way. If your dog is a constant barker, consider camping farther away from others so you don't disturb people on their own weekend getaway.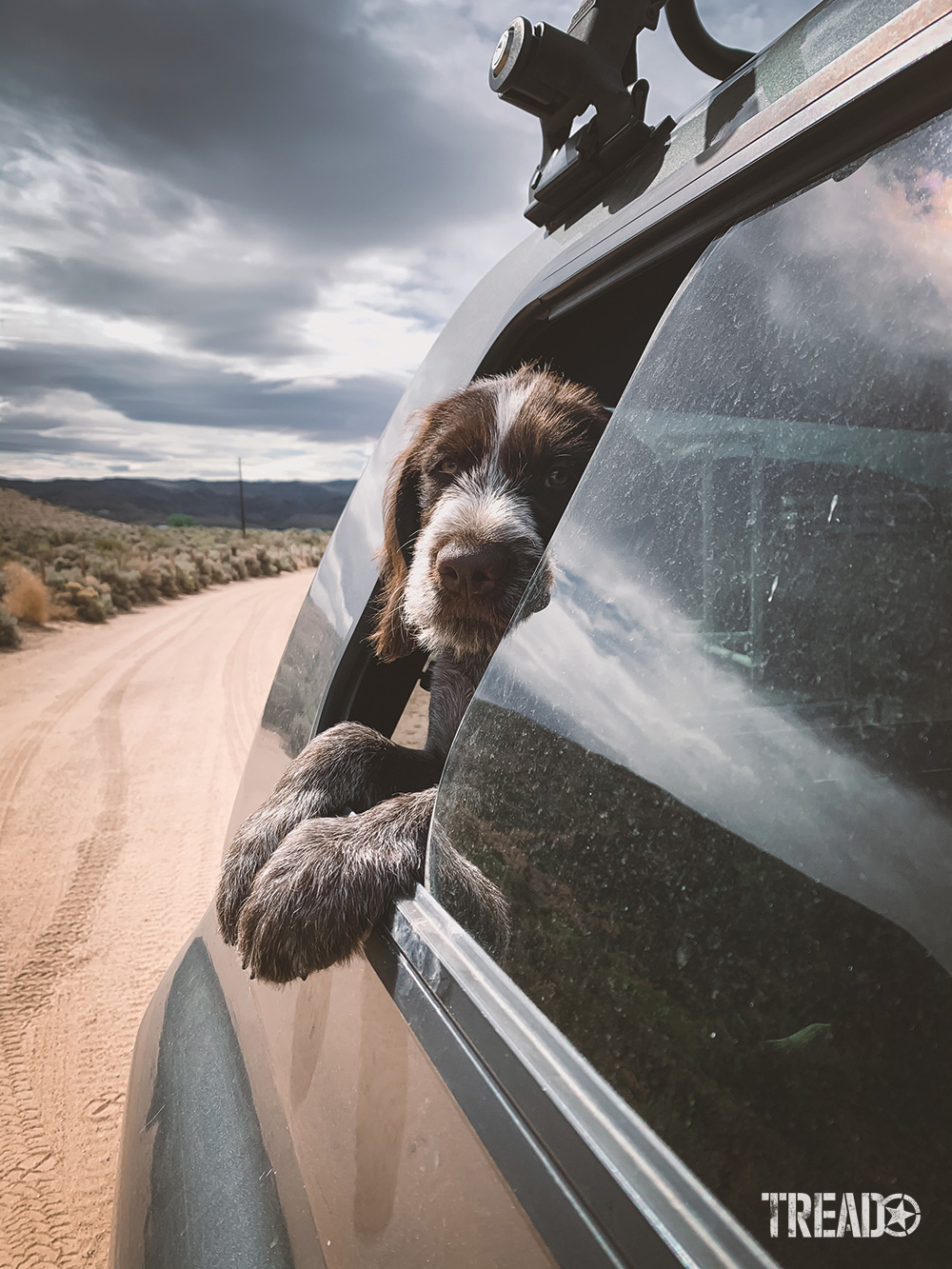 Pick Up After Your Dog
Be sure to pick up after your dog, especially if you're in a campground. Nobody wants to step on a "steamer" while getting up to pee in the middle of the night. If you have a dog that likes to chase wildlife, especially if it's a herding breed, make sure you contain it if animals come through camp. Keep in mind that we're in their world. It's important to respect the local wildlife, as well as the other people around you.
In Conclusion
Prepare before a trip. Keep your pup safe while traveling and ensure consideration of your dog while at camp. Your adventure out in the wild will be memorable for you—and your best friend. Road trips with dogs is a great way to explore new areas and have new adventures.
(Editor's Note: A version of this story appeared in Tread July/August 2021.)