Camping Gear for the Active Camping Family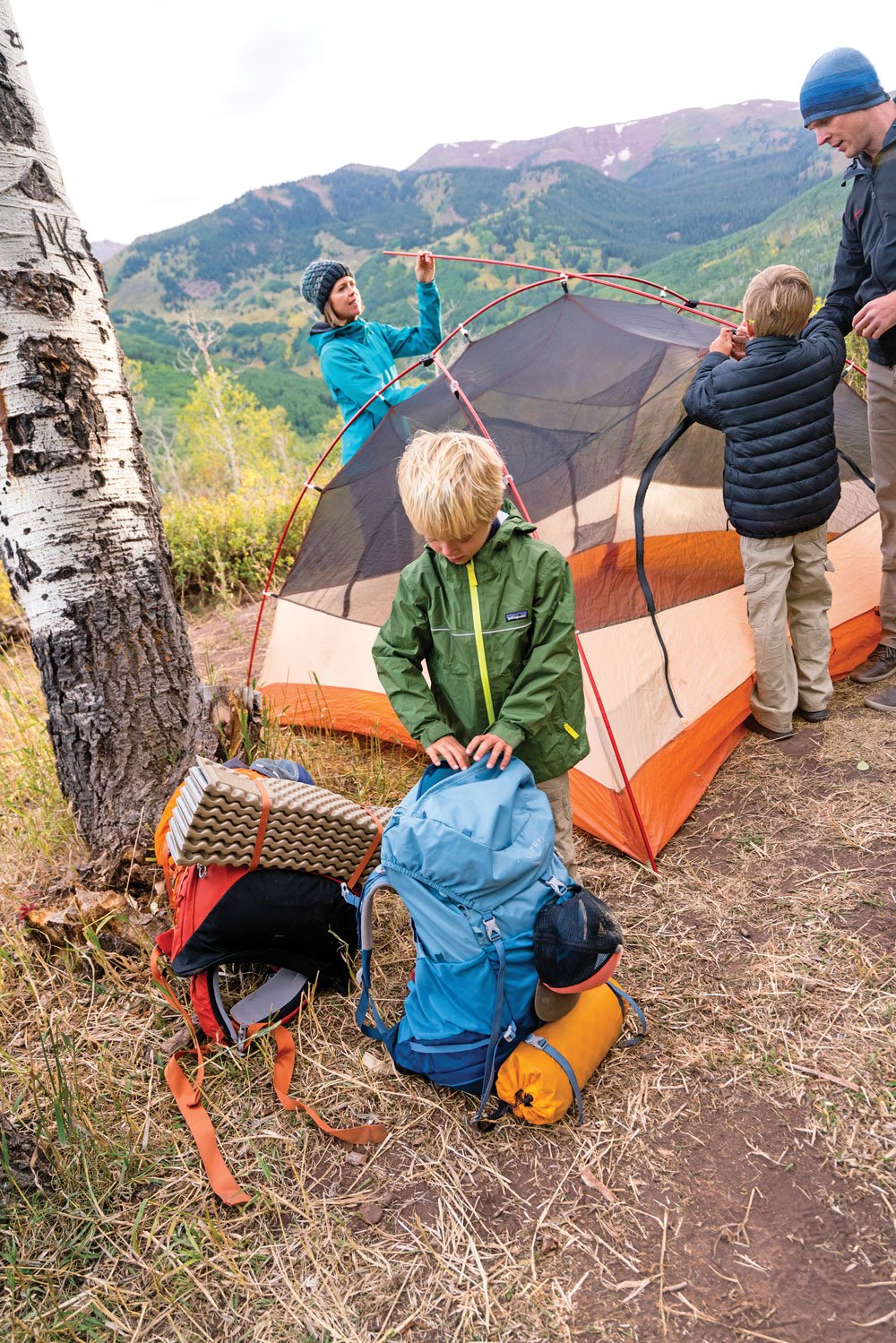 Family Fun Outdoors
There are countless reasons why people love camping. It's a way to relax and disconnect from the everyday stress of the modern world, connect with nature, and the perfect time to bond with friends and family. Whether it's sharing stories around the warmth of a campfire, hiking in nature, or learning new skills, such as outdoor cooking, there is something for everyone that the great outdoors provides. It's no wonder why camping is increasing in popularity.
For those with families, camping becomes a way to connect and create lifelong memories. Nature is the ultimate distraction from technology for those with kids who are glued to their smartphones or video games on a daily basis. Camping is also convenient, can be done close to home, and is relatively more affordable than family vacations that require flights, rental cars, hotels, and dining expenses.
With the decision made to take the family on a camping trip, the planning process begins. Whether this is the first or one of many family trips, you'll want to be prepared and well-equipped. Many companies have kept families in mind with a slew of products aimed at providing convenience, safety, and fun for the entire gang.
Family Activities
When it comes to camping with the family, there are a host of items that should be considered to ensure everyone has a great time. Hiking is probably the activity thought of most often when you think of camping. While you may think it is difficult with children, there are backpacks to help carry them or their stuff. For those with younger children, a backpack carrier can come in clutch for day hikes. These carriers add convenience and mobility for the trail, as well as a solution to carry additional items, from water bottles and protein bars to diapers. The Osprey Poco child carrier is a great option to saddle the child in place comfortably, and with a built-in sunshade you can be sure your child is protected from the sun. Additionally, the Poco is able to stand upright, allowing you to set the pack with a child on the ground when taking a break. For older kids who are able to hike on their own, getting the right backpack for them to carry their own stuff could be genius—or just more stuff for you to carry. The Fjällräven Kånken Mini is a downsized version of their most popular pack. The pack is complete with durable construction, ample storage, and a classic style that works in the outdoors—and can be repurposed for school.
Active families can enjoy a bike ride together with many options to include the little ones. Nowadays, they even make balance bikes for younger kids looking to eventually ride a bicycle but don't want to deal with training wheels. Strider Bikes is a great choice for a balance bike. With multiple bike options, offering a range of adjustability and tires that work on dirt, grass, and pavement alike, it's a great option for kids to still participate before they are ready to start pedaling on their own. Another option for parents whose kids are too young to ride on their own is for them to ride behind in a cart or trailer. One we were impressed with was the Thule Chariot Cross. It can be used in a variety of ways for various activities, from biking to jogging or even skiing. The Chariot Cross comfortably seats your child, offers protection, and has the ability to convert the multisport trailer to attach it to a bike, transform it for a run or walk, and even add a ski kit to it for the snow. Once you're done, it folds up compactly for portability and storage. It's a great pick for a family who is active in summer and winter.
The campsite itself can host a plethora of activities but it usually centers around a campfire. Whether you utilize the campsite's firepit or bring your own portable firepit, such as the Solo Stove Bonfire or the Snow Peak Takibi, you'll want to make sure you have plenty of wood. For those looking to save time or in areas that may not allow for wood collection, a Duraflame Outdoor firelog is a fantastic option. Not only is the log 100 percent bio-derived, but it also produces less smoke, carbon monoxide, and is safe for roasting your favorite campfire foods, while only taking seconds to light.
Once the sun goes down, and it's still not quite bedtime, fun can still be had. For those in search of campsite entertainment and can't live without technology, a portable projector could be the item you don't leave the house without. There's something fun and exciting about watching a movie outdoors, whether in the wilderness or in the backyard. There are several options on the market from AAZA, LG, and Anker. One that captured our attention is the Nebula Capsule II portable projector. This projector is about the size of a pint glass, but is packed with features, including 720p HD quality picture, an 8-watt speaker, 2.5 hours of video playtime, and with Android TV can be equipped from a selection of over 3600 apps. Also, it conveniently autofocuses in about a second, so you're able to view on a variation of portable screens, the side of a tent, or you can get creative and make your own screen.
Sleeping Arrangements
For families of four or more, options on where to sleep if everyone is together become slimmer. Most often bigger groups are broken up into two or more tents. Luckily, whether you prefer to be up high or down low, you're still covered. For larger rooftop tents, there are several to choose from. Nowadays, there are plenty of tents that sleep four comfortably. The Cascadia Vehicle Tents Mt. Denali has the option of divided bedrooms and can fit an XL mattress. Or we also like the Roam Adventure Co. Vagabond XL, which is a foldout tent with plenty of room and, even better, comes standard with an annex. If you're concerned about too much weight up top, or simply don't like dealing with everyone climbing up and down a ladder all the time, a family sized ground tent could be the right choice for you. The Kelty Tallboy can easily fit a family of four with enough height to be able to stand up inside without having to crawl around. That comes in clutch when you're looking to get dressed and put on pants. Don't like to mess with poles? The tent for you is from Kampa Dometic. With plenty of options for size and climate, these multi-roomed inflatable camping tents are perfect for larger groups. Yes, inflatable. It uses a multi-point inflation airframe technology to easily set up camp right off your onboard air.
Reversely, there are countless choices when it comes to sleeping bags, but you may want to consider a specifically sized sleeping bag for the kids. Not only will it be easier to transport, but a smaller sized sleeping bag will keep the little ones warmer throughout the night. The better the sleeping bag fits, the warmer he or she will be. The Kelty Kids Callisto sleeping bag is temperature rated to 30 degrees and fits up to a 5-foot child, while providing all-around comfort in the tent, around the campfire, or even during sleepovers. And if you wanted to match, Kelty makes the Callisto in adult sizes for slumber parties for the entire family.
Protection and Safety
Being outdoors is a good time to teach the young ones about safety and first aid. Teaching them early on how to spot poisonous plants, about the animals in nature, and even to avoid drinking unfiltered water provides knowledge for a lifetime. Additionally, teaching kids about proper gear and equipment while in the elements may ensure their safety and prepare them for their own adventures down the line.
Protecting yourself and your family from the elements while exploring new areas is important. Hydration is a key factor, especially during the warmer seasons. Double-insulated water bottles, such as the Insulated Kids Wide Mouth by Hydro Flask, can keep them refreshed while camping. Designed for kids specifically, the water bottle is easier for them to carry and pack, and is great to bring to school. Sun protection is also key, but many sunscreens include harmful chemicals for both people and the environment. Finding just the right one for your family can make a world of difference. Thinksport Kids Safe Sunscreen provides protection from both harmful UVA and UVB light and does not contain harmful chemicals for your body. Plus, it is water-resistant for up to 80 minutes. In areas where mosquitoes and ticks live, you'll want to use a bug repellent. Natrapel is a natural plant-based option for long-lasting, bite-free protection for the entire family. Our pack always has a few packets in it ready for use. And lastly, in the outdoors, you can't forget about proper eye protection with a good pair of sunglasses, even for the little ones. The Uluwatu from Maho Shades is an affordable child-sized pair that features a lifetime warranty (only $10 to replace a broken pair), polarized lenses, and 100 percent UVB/UBA protection. They also have adult-sized sunglasses.
Accidents do happen and it's better to be prepared so a splinter, twisted ankle, or worse doesn't ruin a trip. Really, every rig needs a good first-aid kit. Adventure Medical Kits Sportsman 300 ensures you are well equipped if an accident occurs. It's stocked with enough first-aid supplies for a group of six on a weeklong adventure and for treating injuries and illnesses. That's plenty for a larger family or a small group to ensure everyone has the supplies they may need.
We can't forget our furry family members. Pet owners aren't limited in camping gear options with brands such as Ruffwear that have created gear for the four-legged extended members of the family. One of our favorite items is the Highlands dog sleeping bag. This cozy, compressible, synthetic, down sleeping bag will keep your best friend warm and comfortable at the campsite or in the car. For even more insulation from the cold ground, a separate Ruffwear pad can be added seamlessly. It's also important to keep your dog hydrated. The Yeti Boomer 8 Dog Bowl holds eight cups of water or treats and is built with double-wall, non-insulated stainless steel, ensuring its durability, and as a bonus is dishwasher safe.
Camping with the family is an amazing experience that creates lasting memories with knowledge and stories that will be passed on from generation to generation. Be sure to create a list and check it twice—and don't forget the S'mores—before you leave on your next family camping trip.
Editor's Note: A version of this article first appeared in the July/August 2020 print issue of Tread Magazine.