Photography Gear Storage Buyer's Guide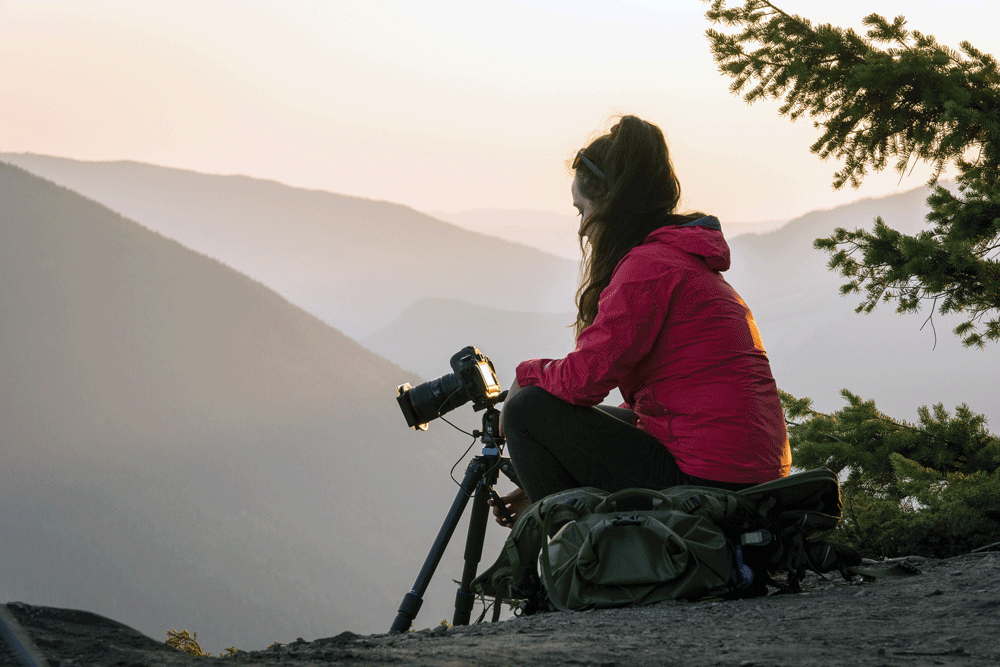 Before you head out on your next adventure with precious camera gear you may want to consider how you store and carry it. A broken camera can ruin just about any trip, whether it's an expensive DSLR or mirrorless option, or even a less-expensive GoPro. There are a few key things to consider when choosing the right photography gear storage and carry solution for your next trip.
Protection
If you've invested thousands of dollars into delicate camera equipment this is a priority for peace of mind. You'll want to take into consideration the type of travel that you'll be doing and the elements that you may be facing. A camera backpack offers protection from elements such as dirt, light rain, and from less-aggressive bumps or drops, while a hard case offers maximum protection from dust, drops, and even water submersion, although it's advisable to avoid when possible. Camera bags and hard cases typically share a similar system with padded storage spaces either integrated or using a modular system of dividers, which can provide additional shock absorption.
Organization
The key to any camera bag or case is its organization. Time is precious when you're looking to capture the perfect moment or while chasing the best light in the outdoors. Photography can involve a lot of gear and accessories, from lenses to filters and hard drives. Small items may need separate compartments or additional small cases to keep them not only safe but easy to find, including batteries, memory cards, and lens caps. Dedicated pockets can be helpful in setting up and organizing your gear to be functional for your needs. Some packs offer exterior attachment points for larger items, including tripods. Knowing where your gear is located at all times can be the difference in getting the perfect photo.
It is also helpful to know what other gear, accessories, or items you may need to ensure there is a place for it, including laptop sleeves, water bottle pockets, or a dry storage area for clothing, such as a jacket.
Access
Things have come a long way in camera backpack design. Packs now offer various options to access your gear on the fly, whether you're on the trail by foot or from your vehicle. Quick and convenient access will make you more likely to want to stop and snap a photo.
Packs offer different access points and many offer multiple access points. This is more of a matter of personal preference whether you like top access, side access, or access via the back panel of the pack. Quick access pockets make it easy to grab items that you may not want in your pockets, including sunscreen, cell phone, or snacks.
Materials
For the outdoors, weatherproof construction with durable materials is a must-have. At any given moment, Mother Nature may decide to throw a curveball and it may become windy, with sand and dust in the air, or it may begin raining. Dirt, dust, and water are never a good thing when it comes to electronics, so you'll want to ensure you select the best option to help protect your photography gear. Things to look for include waterproof zippers, weatherproof materials, or the additional rain cover that many packs come with.
Without going into the various materials and construction process of bags and cases, another thing to consider would be the durability of the material that will be in contact with the ground. For example, in the chance that it rains suddenly and your pack is left on the ground you will want to make sure the bag can keep the items inside dry. Or if you're hiking through tight crevices, rocky terrain, or through forestry areas with branches that protrude, you may want to make sure the bag is made from abrasion-resistant material.
Additionally, you may want to use bags or cases that are easy to clean. A hard case is by far the easiest to clean as you can simply wipe it down with a damp cloth or even spray with a hose and after a day on the trails in an open Jeep. The last thing you'll want to do is take time cleaning your gear.
Comfort
At the end of the day, you want to be comfortable, as photography should be enjoyable. Camera gear can become very heavy and the more accessories and personal items you have with you adds to the overall weight, which can lead to discomfort and fatigue.
Thankfully, backpack and case design have come a long way and there are several options for ideal ergonomics. You'll want to first make sure you find the right size pack for your body type. Bags can come in several sizes and capacity typically measured in liters. Here's a guide to help decide on the best size for your trip.
Other things to look for when it comes to comfort are in the design. For heavy loads, you may want padded shoulder straps with wider straps being better to distribute the weight, sternum strap, waist strap, or even wheels. Padding is always a good idea, along with proper ventilation to help avoid sweat, which can lead to uncomfortable chafing.
Versatility
One last thing to consider is the versatility of your camera carry. There are packs that are built for long excursions but may not be the most ideal for everyday use and vice versa. Depending on the type of travel you may be doing you'll want to ensure that your pack or case fits in your vehicle, adheres to TSA-size requirements, and ultimately works for you.
Style may be a factor, especially when traveling to unknown locations, as photography gear can make you a target for theft. Being discreet and taking precautions is always a good idea so you may opt for a backpack that looks like any other bag, rather than a camera bag.
We selected a few new options for your next photography adventure.
Pelican
1535 AIR WITH TREKPAK
HIGHLIGHTS:
The Pelican 1535 Air case is the maximum airline carry-on size for most airlines and fits in overhead bins, which can guarantee that your photography gear is always within arm's reach when traveling. The case features an ultra-strong and lightweight polymer construction, quiet rolling, stainless steel bearing wheels, a retractable extension handle, secure latches, top and side grab handles, and an automatic purge valve that keeps dust and water out while balancing air pressure. The case is sealed to keep dust, dirt, and water out while providing durable drop protection for cameras and gear. Trekpak is an easy-to-customize system that allows the user to cut dividers specific for their needs while providing protection. Additional options for interior organization and protection are available, such as foam, padded foam dividers, and a new Trekpak and foam hybrid system. Available in multiple colors.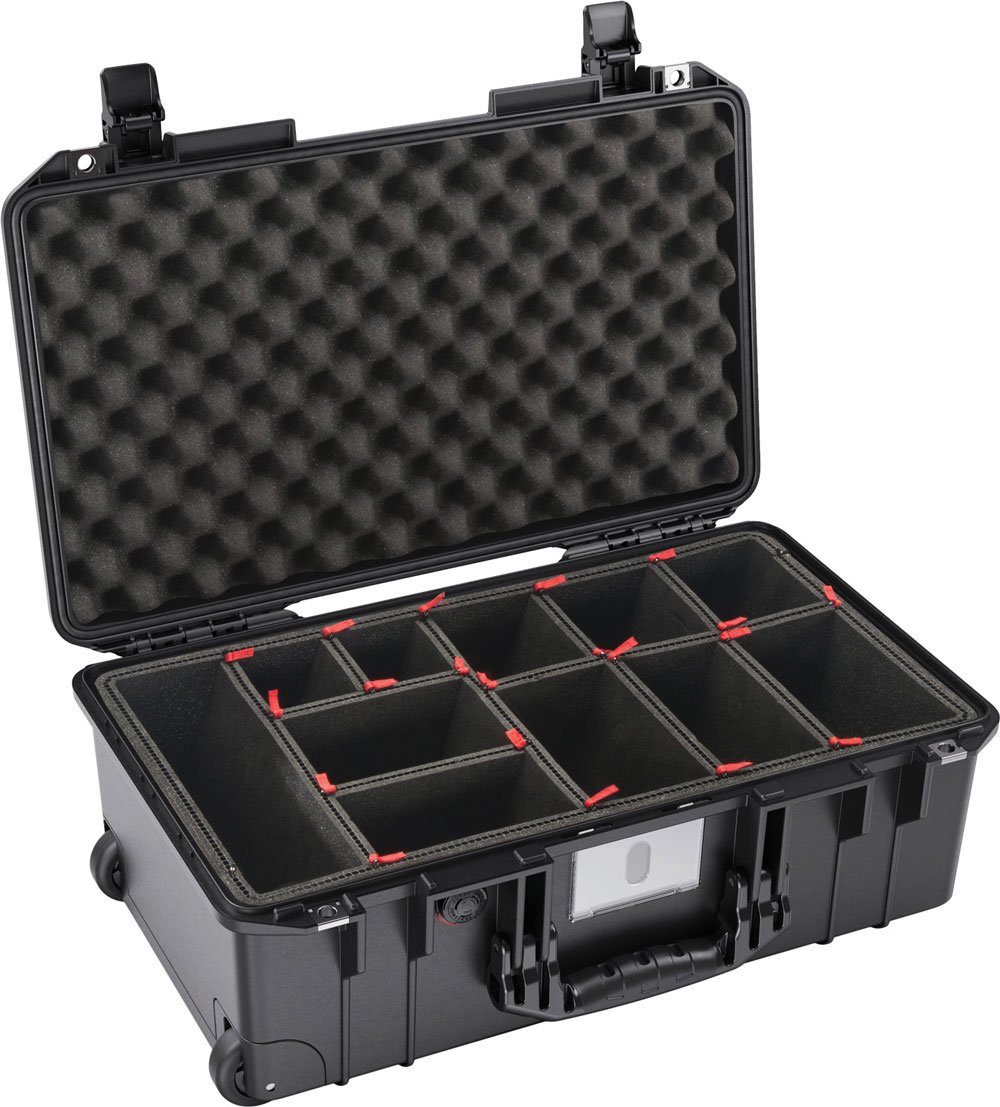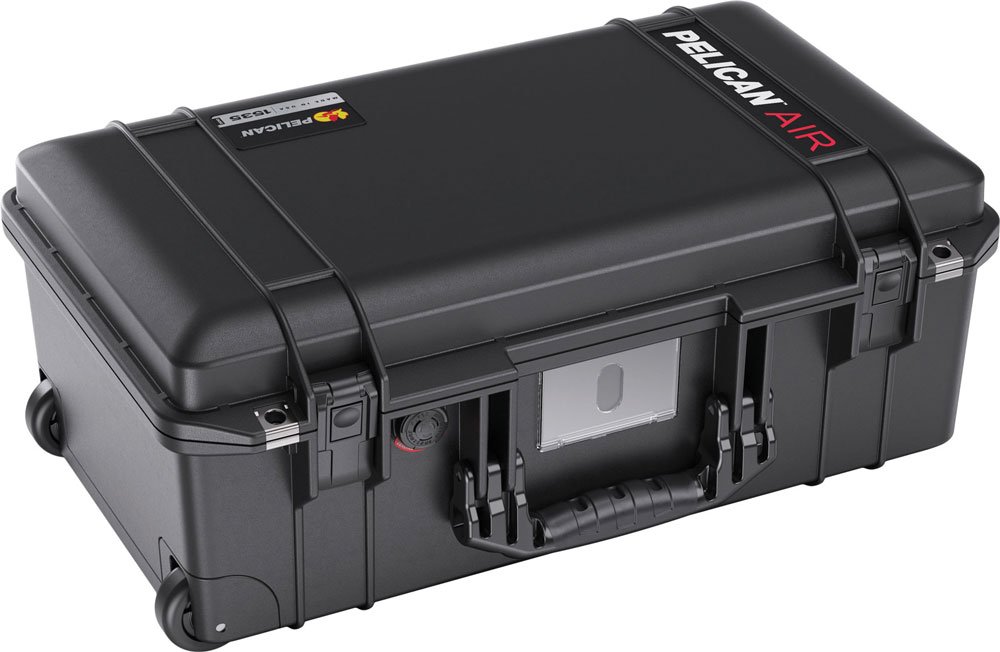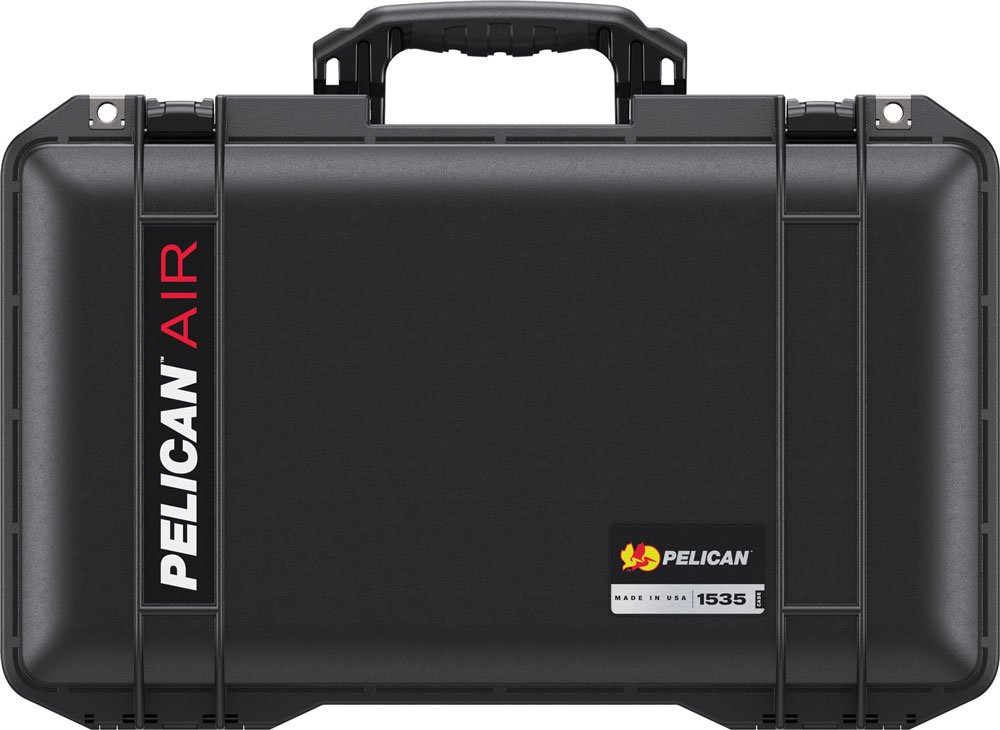 DIMENSIONS: 21.96×13.97×8.98 in.
WEIGHT: 8.69 lbs. (empty case without Trekpak)
MSRP: $338.95
URL: www.pelican.com
TREAD'S TAKE:
There's a reason that Pelican cases have been trusted by professional photographers and videographers for years—they just plain work. We have several Pelican cases for various storage, but the Pelican Air collection is our favorite for photography gear storage due to the lighter weight and extreme protection. The multiple interiors are great, as well, but the Trekpak is our choice for its organization and ease of use. The 1535 Air is versatile and can be used to carry other items, such as recovery gear. The case is easy enough to clean after a trip by simply wiping down or hosing off. In the event of the unthinkable, a Pelican case will give your gear the best chance for survival, as it floats and can protect your gear if the case falls into the water. It can even protect from extreme heat and fire. For those looking to travel with more camera gear, another solution is the Pelican Air 1615. It is the largest size that can be checked in for air travel and it fits other valuable camera gear, from strobes to light stands.
Pelican
RUCK CASE R20
HIGHLIGHTS:
The Pelican R20 is an ultra-rugged personal utility case with protective bumpers to protect from drops and IP68-rated protection from water, dirt, snow, and dust. The case is waterproof to a depth of 2 meters for up to 30 minutes. The interior features a MOLLE-style loop system with Velcro straps and a removable divider tray that can hold a smartphone. Additionally, a dual pivot hinge latch keeps things secure. Available in four colorways and two larger sizes.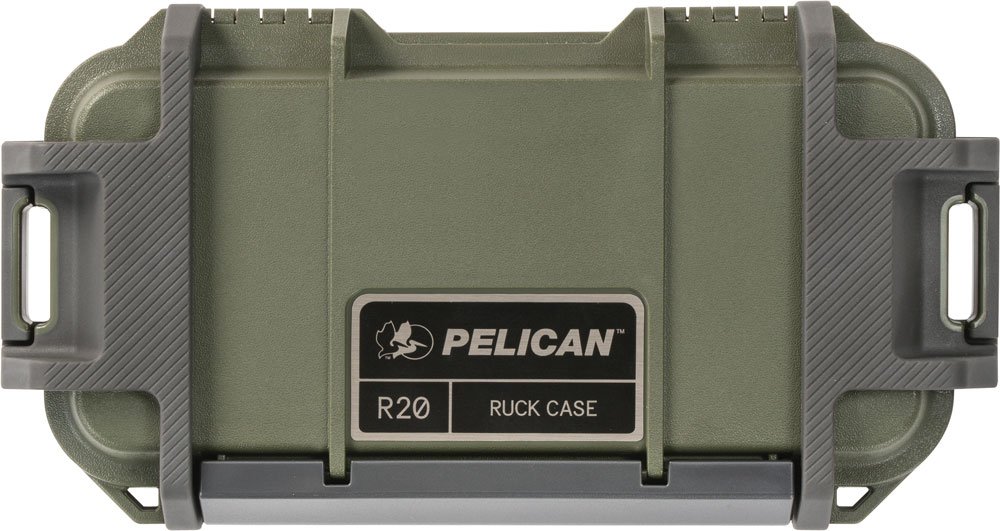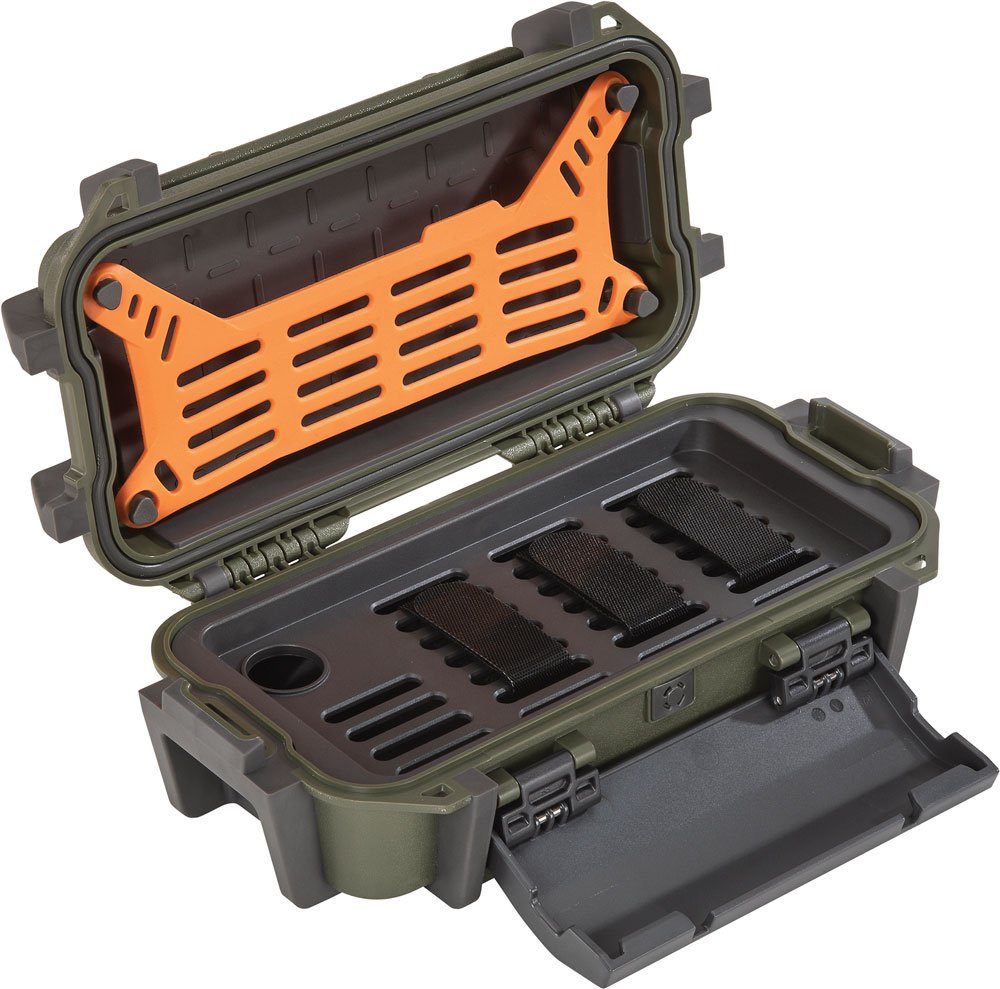 DIMENSIONS: 8.96×4.83×2.88 in.
WEIGHT: 1.26 lbs.
MSRP: $44.95
URL: www.pelican.com
TREAD'S TAKE:
This is a great option for photographers who want to store smaller items such as memory cards, cables, lens filters, cleaning supplies, and even portable hard drives. You never know what elements or conditions you may run into and this case is a little more peace of mind while out in the wild. The R20 fits inside another Pelican case or in a backpack or can be conveniently stored in a glovebox. The only downside is the extra weight due to the sturdy construction and materials. One reason we like the Ruck Case over other smaller hard cases is the ability to strap and tie it down while having the ability to open the lid for access, making it great for ATVs, kayaks, motorcycles, and more.
Shimoda
ACTION X COLLECTION
HIGHLIGHTS:
Built for action sports photographers, the Shimoda Action X collection of packs is a durable, feature-rich backpack. Constructed with strong weather-resistant materials, the pack was designed for use during outdoor activities, including skiing/snowboarding, biking, and mountaineering so your photography gear could travel safely with you. The pack features an expandable rolltop to fit more items as well as both side and rear access to easily grab the camera on the go. A removable and customizable modular camera insert helps organize your gear with numerous custom configurations. The pack is strategically padded to help protect and provide comfort. The Action X collection consists of three sizes and two colorways.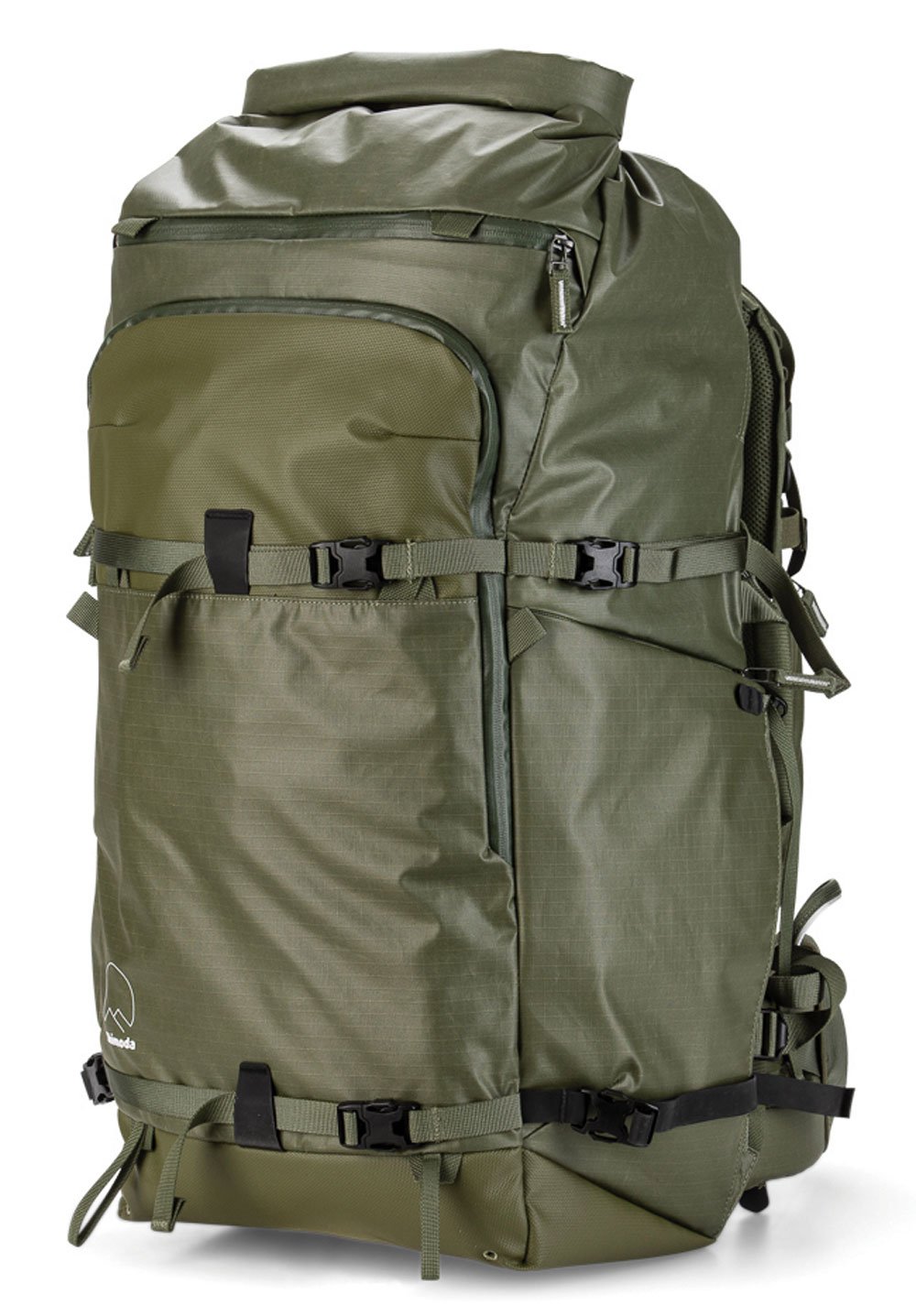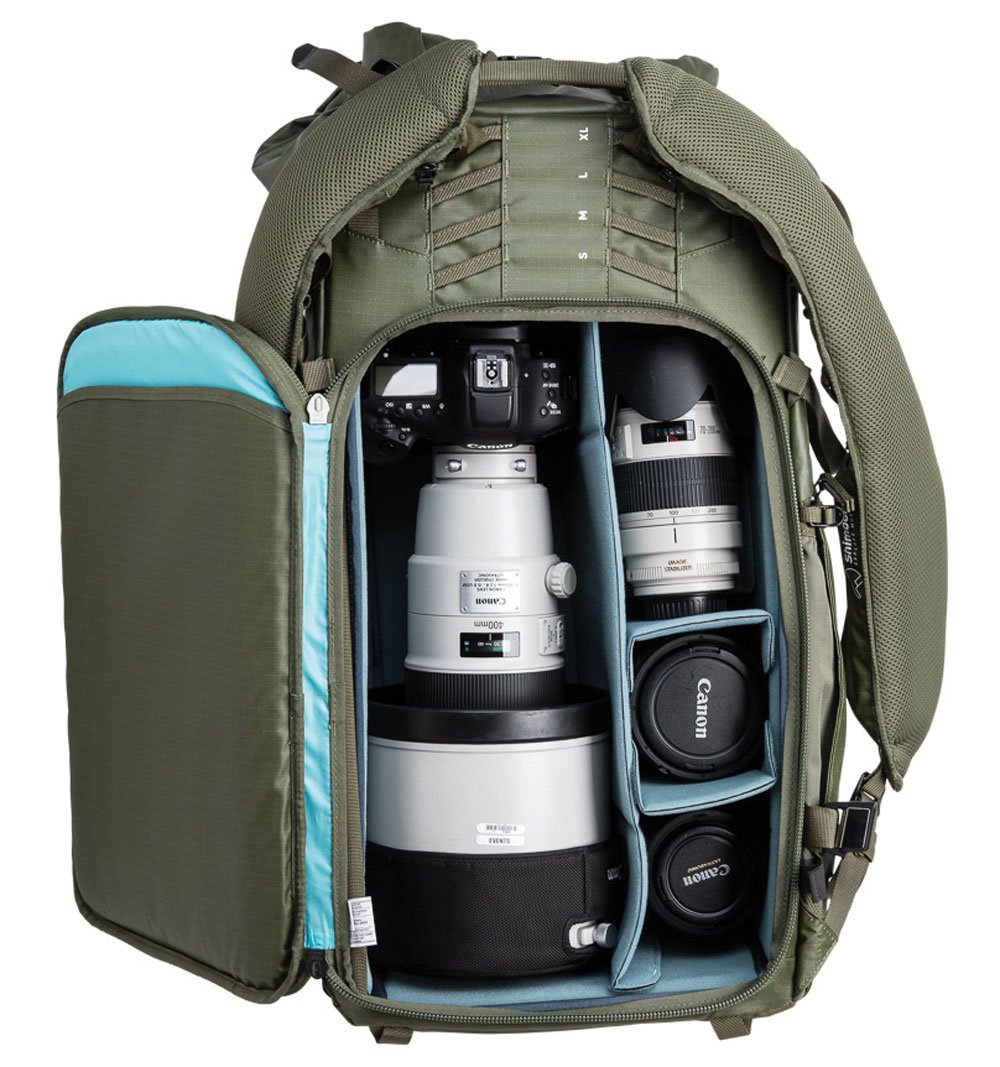 DIMENSIONS: 11.8×19.7×6.3 in. (X30), 11.8x22x8.3 in (X50), and 12.2×23.2×9.1 in (X70)
VOLUME: 30L, 50L, and 70L
WEIGHT: 3.7, 4.2, and 5.1 lbs.
MSRP: $274.95 to $499.95 with Core Unit
URL: www.shimodadesigns.com
TREAD'S TAKE:
This is a great option for active photographers who are looking for a stylish and protective photography gear storage solution. Sleek enough for the streets, yet functional for the most intense activities. The height-adjustable harness helps to provide additional support for all body types. The ability to change the internal Core Units to fit your gear makes this pack easy to personalize, although the Core Units aren't cheap and are sold as a package and separately, which will add to the overall cost. There is ample storage space and organizational pockets, including a zippered pocket and sleeve on the shoulder straps. We appreciate all of the details, including the expandable tripod/water bottle side pockets, compression straps to help hold additional items in in place, including skis, and the technical exterior shell that not only protects the contents inside but is easy to clean.
WANDRD
PRVKE
HIGHLIGHTS:
This everyday bag works well for the commute to work as it does traveling the globe. The WANDRD PRVKE features innovative design and high-quality materials. The expandable rolltop provides ample photography gear storage and room for personal items. Built with weatherproof materials that are rugged and strong, it also comes with a rainfly with a dedicated pocket to provide extra protection. The pack has storage complete with padded dividers for cameras and accessories along with a laptop/tablet sleeve that fits up to a 16-inch MacBook Pro. The camera cubes are removable to be able to use the pack every day. The pack is designed with multiple attachment points for accessory straps to carry items from tripods to jackets. The PRVKE comes in three colorways and two sizes, 21L and 31L.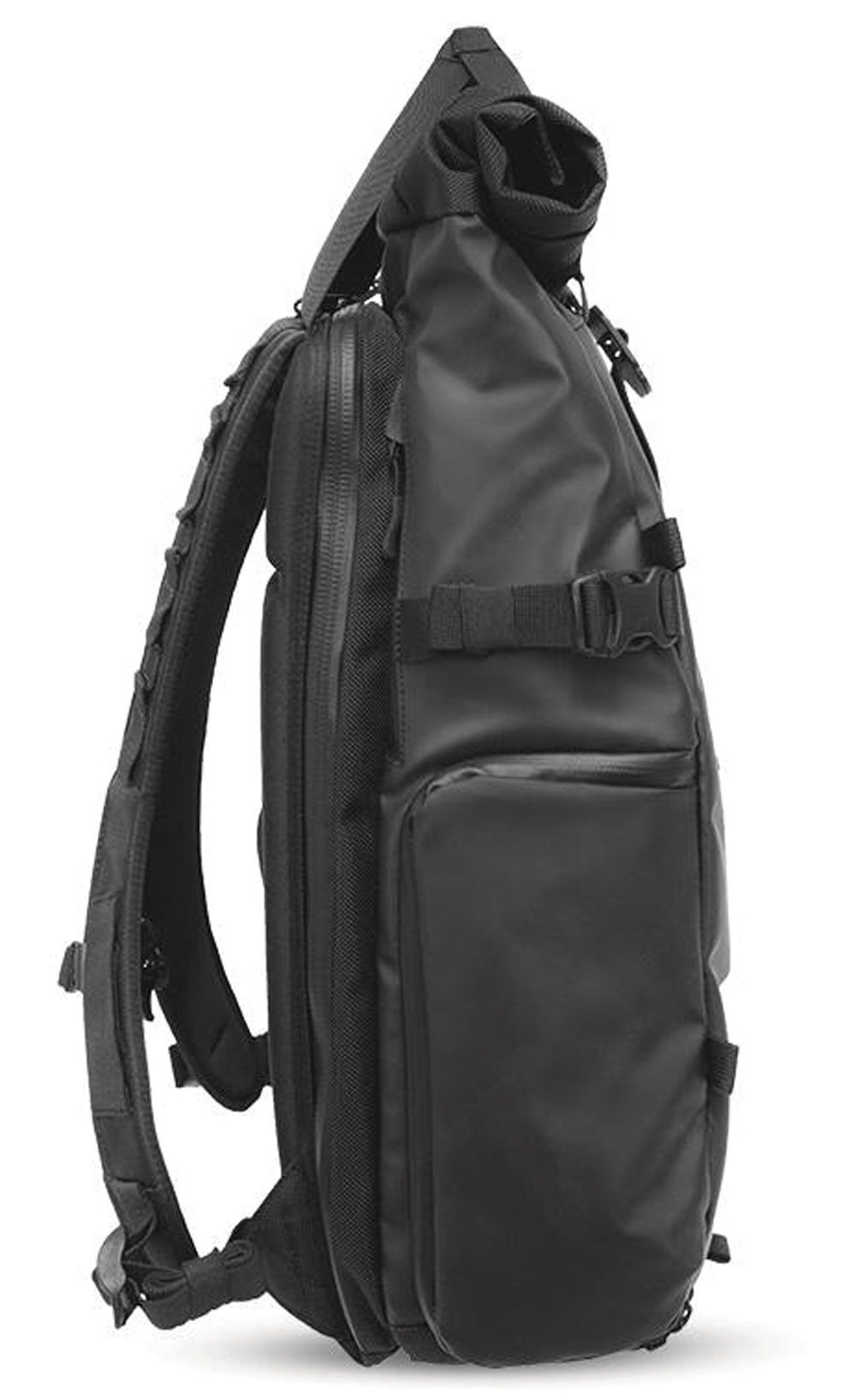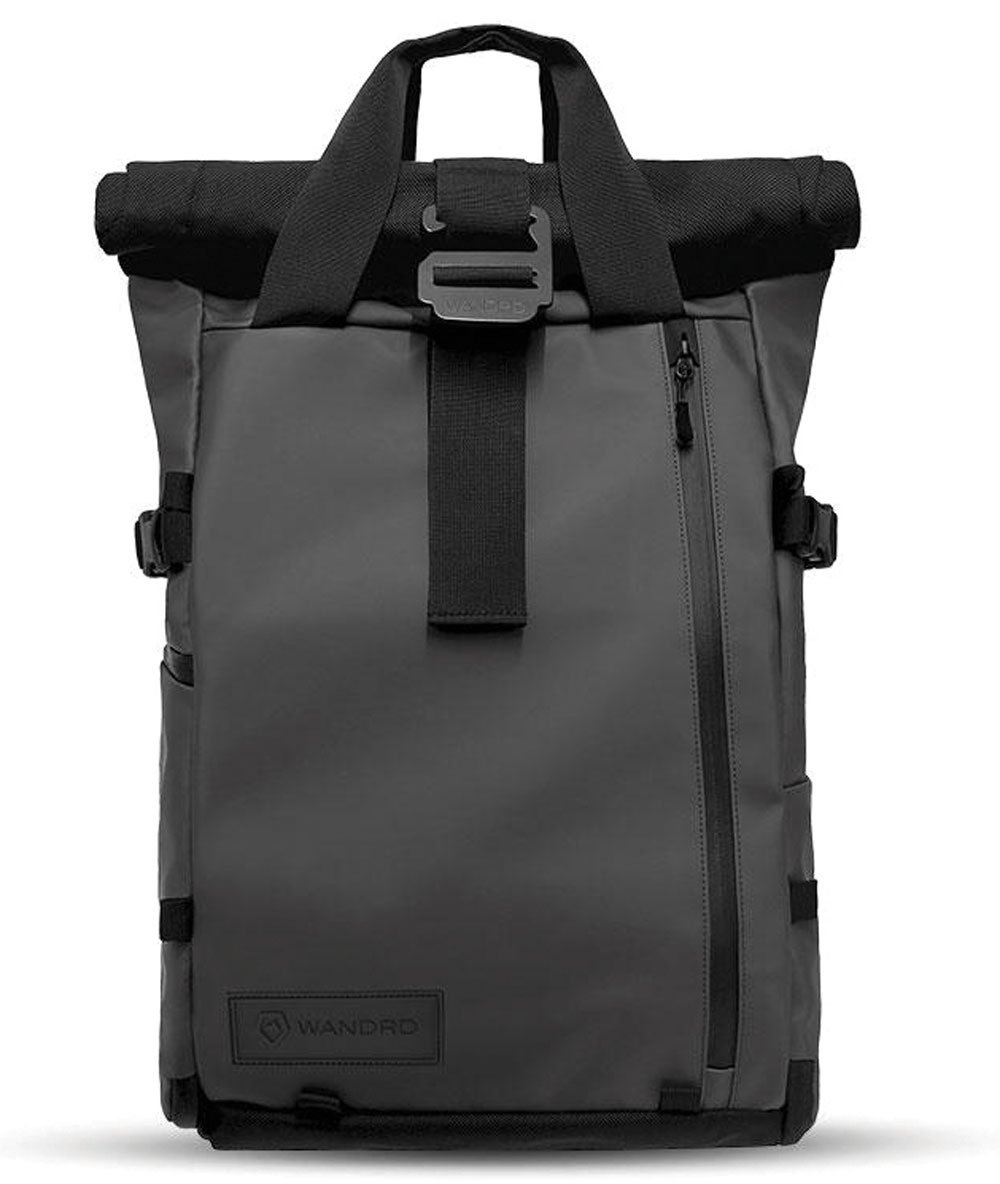 DIMENSIONS: 17x11x6.5 in. (21L) and 19×12.5×7.5 in.
VOLUME: 21L to 26L and 31L to 36L
WEIGHT: starting at 3.4 lbs.
MSRP: $184.00-$204.00
URL: www.wandrd.com
TREAD'S TAKE:
WANDRD PRVKE is an excellent option for daily use and travel. The versatile design with adjustable and removable camera cubes makes it easy to take to work, travel, or on dedicated photoshoots. No detail is left untouched with this pack. We appreciate the comfortable shoulder, waist, and sternum straps to help distribute the weight. The hidden passport/cash pocket is a nice touch while traveling to keep your valuables close by and away from the quick hands of would-be thieves. The integrated memory card organizer pocket is also a great touch to keep those small, but valuable items in place.
MindShift Gear
PHOTOCROSS BACKPACK
HIGHLIGHTS:
MindShift Gear is the sister brand to the popular photography bag brand Think Tank. It's no wonder that the PhotoCross Backpack is well thought out for adventure photographers. It is built from rugged materials to help withstand the elements on long days on the field. The pack features weatherproof zippers, a heavy-duty Tarpaulin base, and comes with a rain cover. There are a host of photography gear storage solutions with internal zippered pockets for batteries, memory cards, and other small accessories to go along with the main compartment that is fully customizable with padded interior dividers. Depending on the size you select you can fit up to a 15-inch laptop in the dedicated sleeve along with a DSLR and multiple lenses. Available in two sizes and two colorways.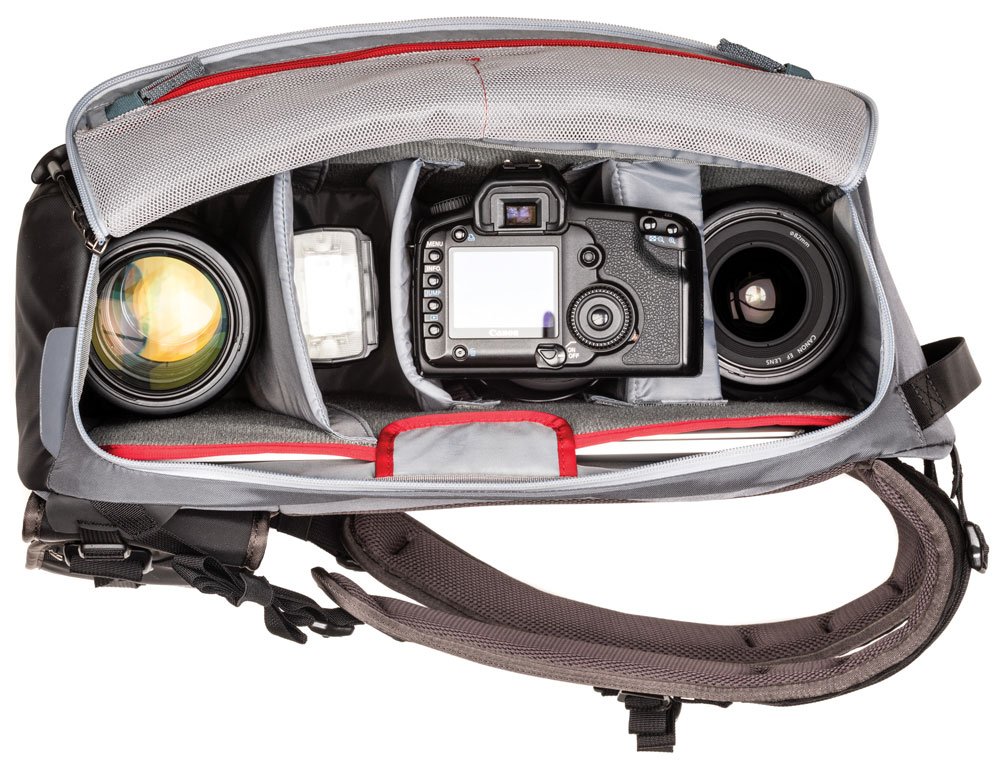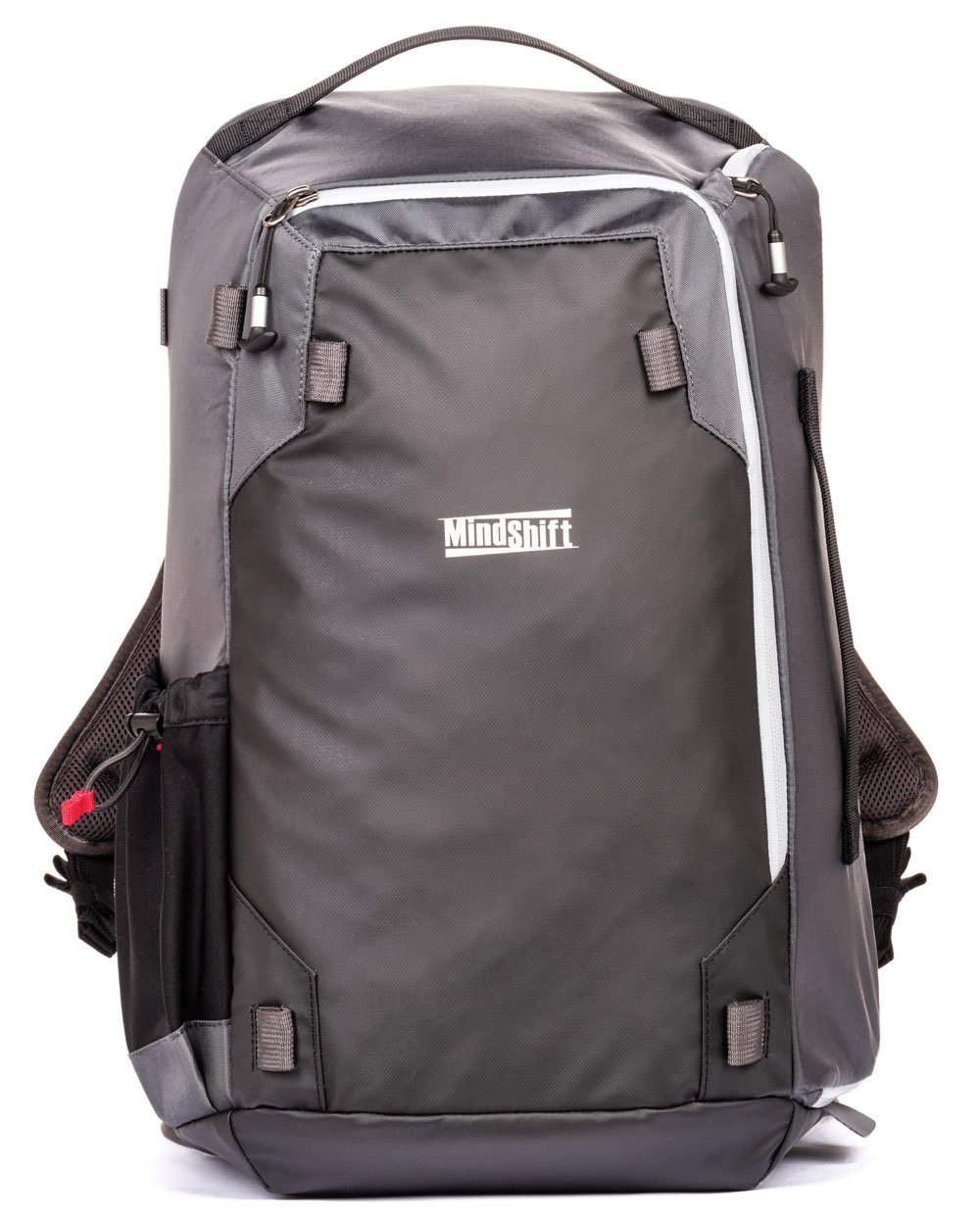 DIMENSIONS: 13×19.7×7.5 in. (PhotoCross 15) and 11.4×18.1×6.3 in. (PhotoCross 13)
WEIGHT: 2.6 to 3.0 lbs.
MSRP: $149.99 to $169.99
URL: www.thinktankphoto.com
TREAD'S TAKE:
This pack is great for those looking for protection for their valuable gear without needing to bring too much. The smaller size options lets you focus on the work and are more comfortable for long stretches of time. It can be used daily, as well, but where it shines is in the field. The large side access panel is convenient to swing the pack around and switch lenses or retrieve your camera without the need of setting the pack down. For additional comfort and support, the removable waist belt is nice to have on hand. At less than $170, this pack is a great value for the quality it provides.
Peak Design
EVERYDAY BACKPACK
HIGHLIGHTS:
The Peak Design Everyday Backpack is an award-winning backpack that was recently revamped for an even better experience. The pack features unique MagLatch hardware for quick access to the top compartment, dual side access, and a dedicated sleeve that can fit up to a 15-inch laptop. FlexFold organizers keep the photography gear organized and protected and are customizable to fit various setups. The exterior shell is made from 100 percent recycled weatherproof material. Additional storage is supplied via the expandable side pockets that fit a tripod or water bottle. The Everyday Backpack is available in two sizes and four colorways.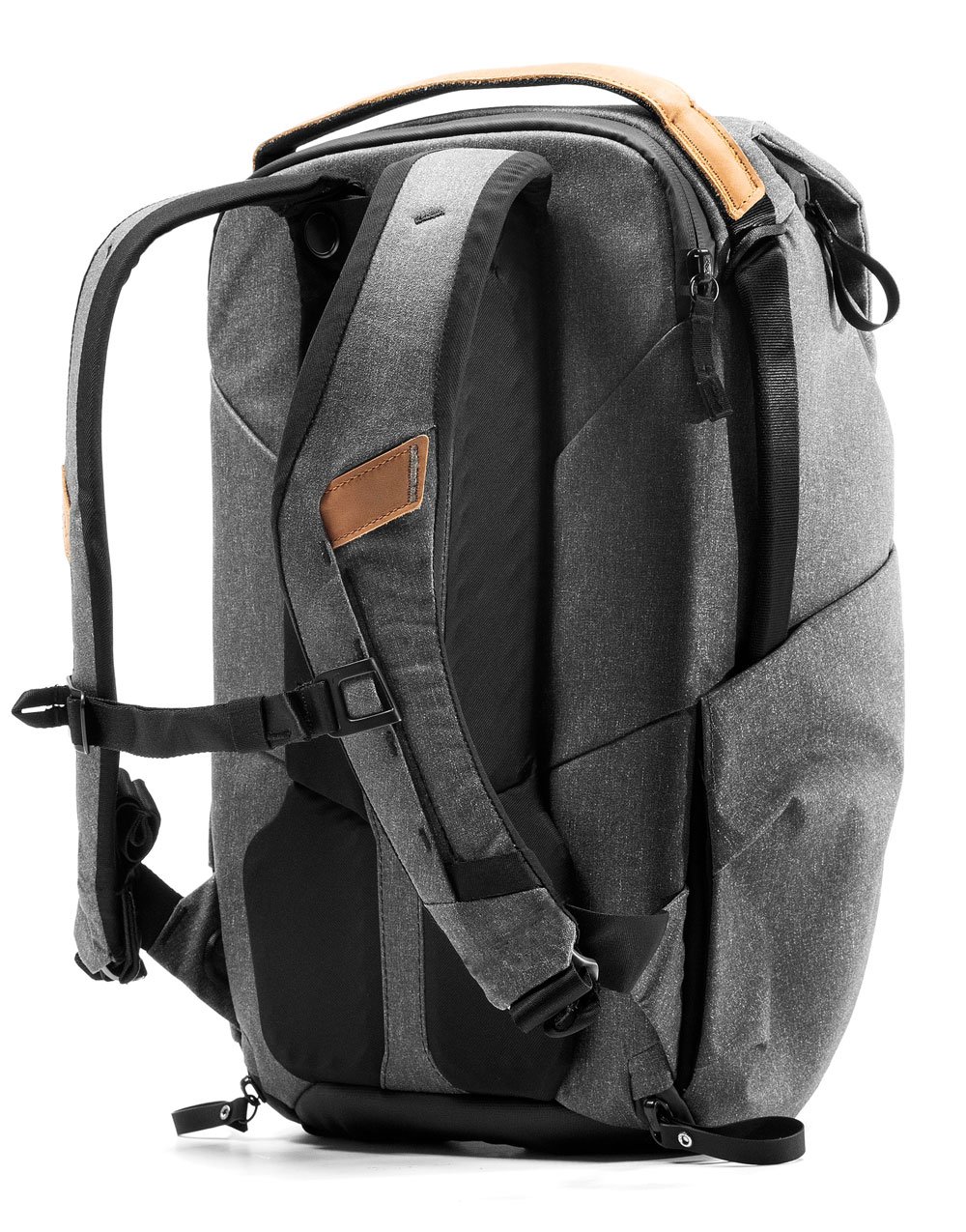 DIMENSIONS: 46x33x17 cm (20L) and 48x33x15 cm (30L)
VOLUME: 20L and 30L
WEIGHT: 3.66 to 4.65 lbs. (with dividers)
MSRP: $259.95 to $289.95
URL: www.peakdesign.com
TREAD'S TAKE:
This is a quality camera backpack that is versatile in its style and utility for daily use, while also being durable enough to withstand the elements when traveling. The design is well thought out with easy organization and accessibility, ample photography gear storage capacity, and a size that fits comfortably for people. It holds just enough gear for a quick shoot or to have on hand daily essentials, such as a camera body, a lens or two, 15-inch MacBook Pro, and accessories.
Moment
RUGGED CAMERA SLING
HIGHLIGHTS:
The Moment Rugged Sling is a convenient and durable camera sling for the days when you want to keep it light with minimal gear. The sling can be used daily to hold a camera, accessories, and items such as smartphones, keys, and a wallet. The Sling features internal organization with padded dividers, a single strap that can be worn crossbody or over a shoulder, and multiple zippered pockets. An internal sleeve can fit a small tablet as well. The exterior is built tough with waterproof NPX material and water-resistant YKK zippers. Included with the bag is a stabilizer strap to keep things in place while worn across the body. Available in two sizes.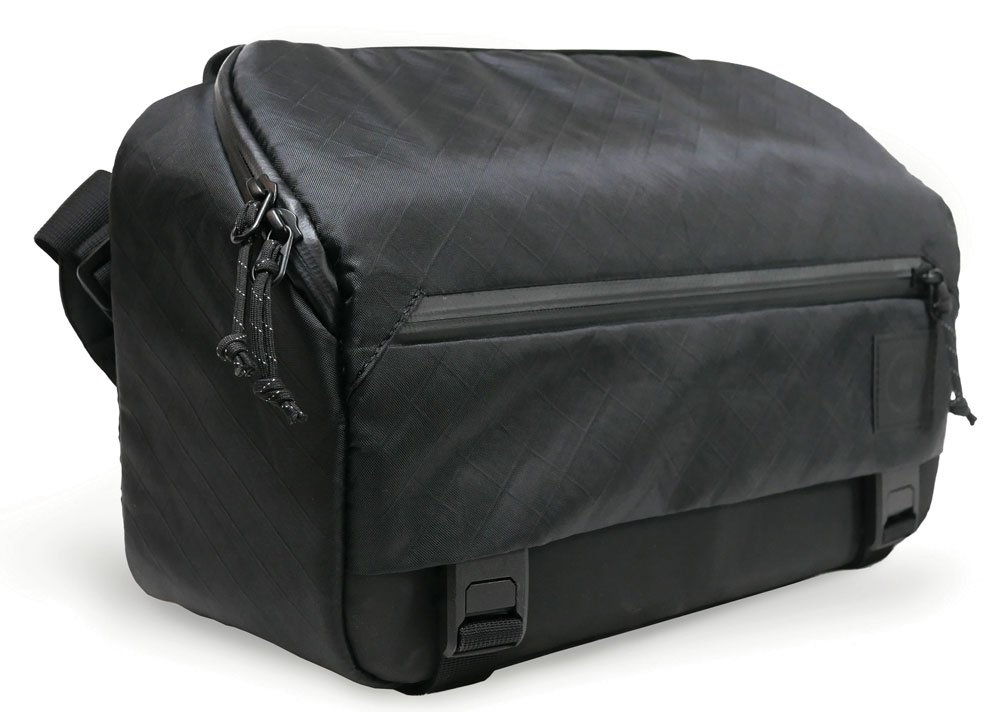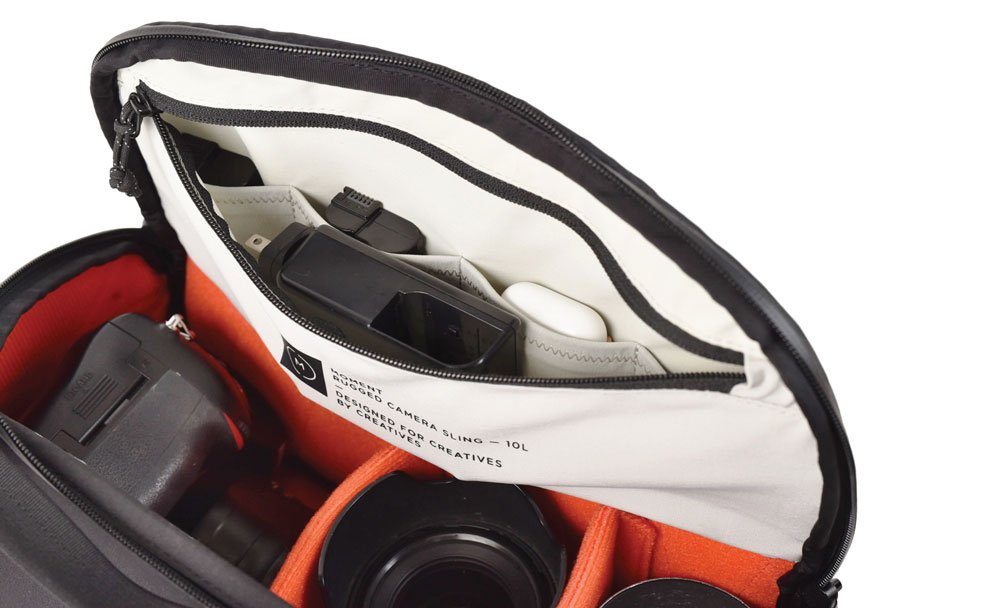 DIMENSIONS: 12.6×7.9×4.7 and 14.5×8.25×5.5 in.
VOLUME: 6L and 10L
WEIGHT: 1 lb. (6L), 1 lb. 12 oz. (10L)
MSRP: $99.99 (6L) and $149.99 (10L)
URL: www.shopmoment.com
TREAD'S TAKE:
We love this new bag design from Moment. Large backpacks and hard cases are cumbersome and aren't always the best option. With just enough room for a camera body and a couple of accessories, such as lenses, batteries, filters, and more, this is made for just the essentials. The internal pocket is thoughtfully designed to hold those essentials without the fear of losing them. The Sling is easy enough to keep loaded and grab and go. For those with smaller, mirrorless cameras, the 6L is a nice size, while those with a larger DSLR will enjoy the 10L size. It also has a lifetime warranty.
Nomatic
MCKINNON CAMERA PACK
HIGHLIGHTS:
Designed with notable photographer Peter McKinnon, the Nomatic McKinnon Camera Pack was built with outdoor adventure in mind. The pack features expandable construction (35 to 42 liters) to allow for more storage when needed, removable folding dividers, and external carry straps to provide options for carrying to help lighten the load. Separated compartments can keep camera gear and clothing divided. Additional organization includes a laptop pocket, tripod strap and pocket, and a magnetic bottle pocket along with a luggage pass-through.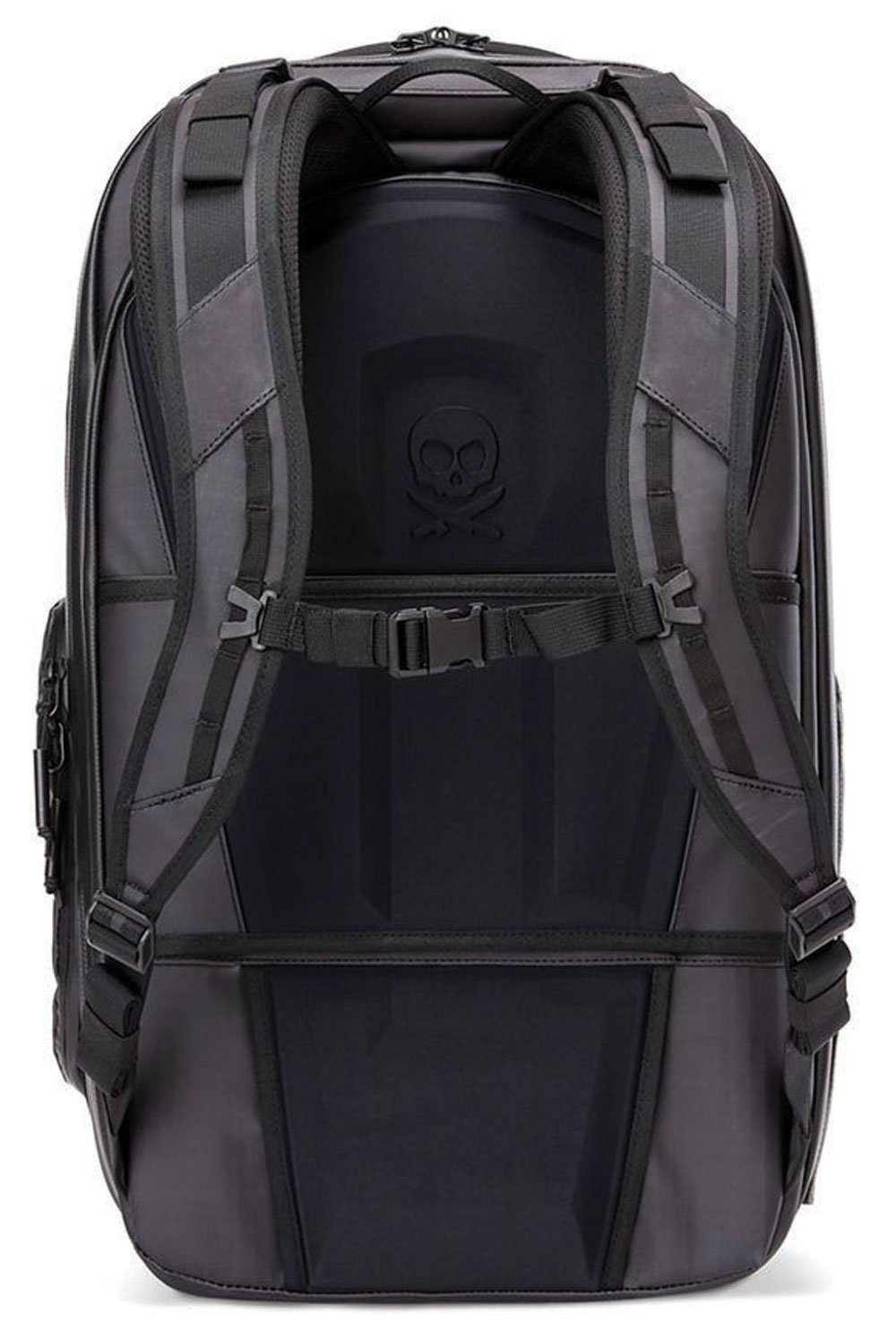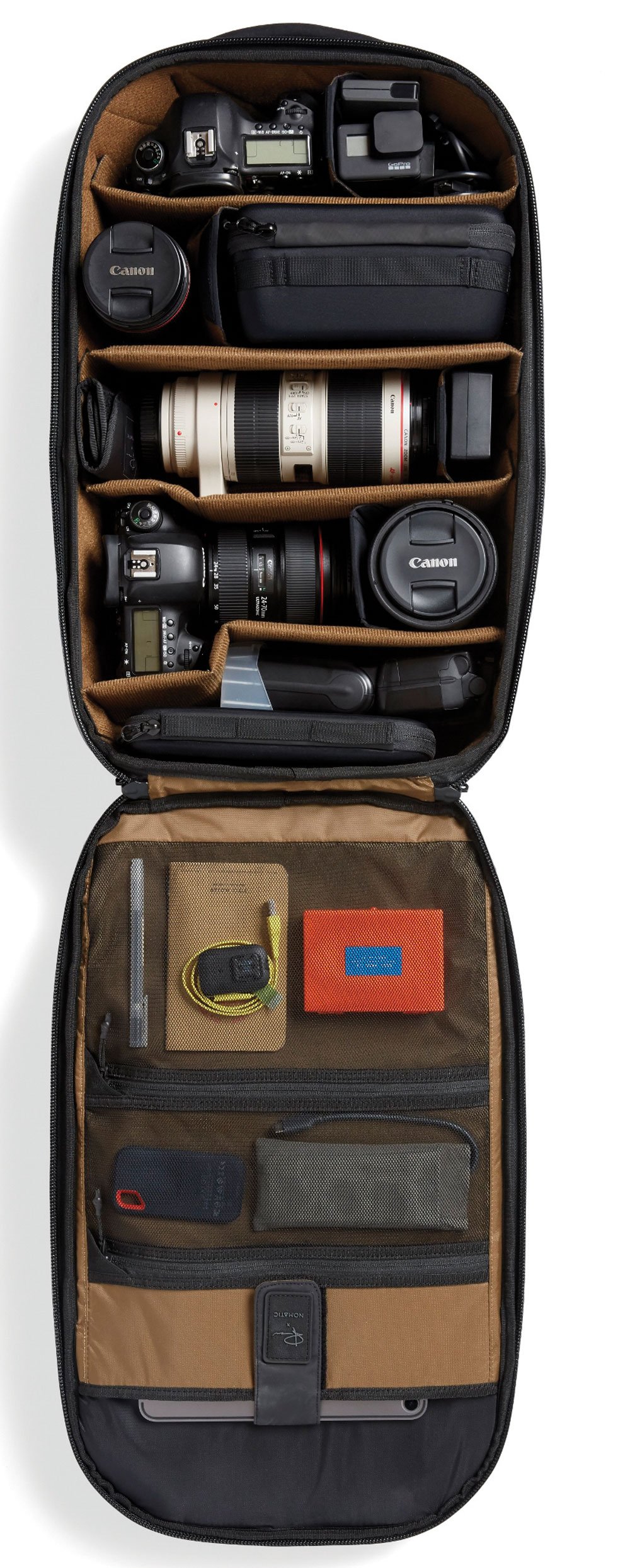 DIMENSIONS: 22×13.5×9 in.
VOLUME: 35L to 42L Expansion
WEIGHT: 5.75 lbs.
MSRP: $399.99
URL: www.nomatic.com
TREAD'S TAKE:
This is a solid option for travel. The pack is well designed with durable construction to protect from the elements. The pack offers solutions for both camera and personal items for one-bag travel. We appreciate the various storage compartments that keep things neat and organized. The pack is a bit large and heavy when packed full, but is comfortable enough to do a day hike with. The sleek black exterior also helps to not advertise that this is a camera bag and could look as good in the city as it does amongst the trees. The ability to expand is nice and the pack can still fit in an overhead bin for flights. At $400 this is a high investment, but it provides the high quality you would expect for the cost. The additional accessories complement the pack well, including the Nomatic cube pack, battery pack, lens filter case, accessory case, and memory card case. Overall, this is a great solution for those looking for one photography gear storage bag that can do it all.
Editor's Note: A version of this article first appeared in the September/October 2020 print issue of Tread Magazine.