Overlanding North America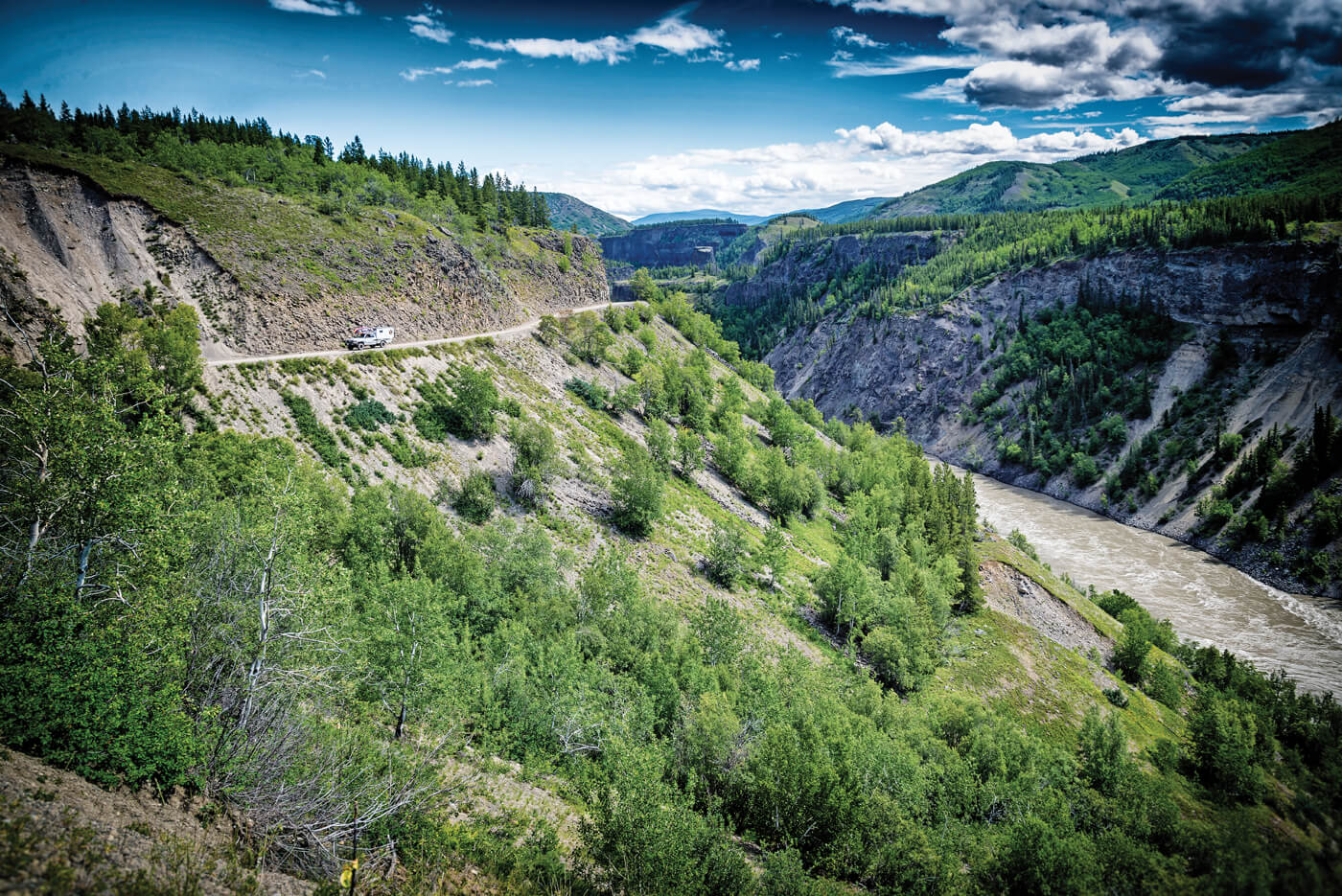 Amazing Adventures in our Own Backyard
The definition of overland travel is slowly changing to accommodate those adventurous spirits who have a passion for self-reliant vehicle-based travel, but who might not have months or years, huge bank accounts and sometimes the desire, to cross remote deserts, mountain passes or jungle routes on remote continents. Long-weekend, week-long or month-long adventures closer to home can be no less rewarding, especially if you have the truly world-class overlanding routes and destinations that are offered in for overlanding North America. From the desolate landscapes of Death Valley and Northwest Nevada, to the lush mountain forests of Northeast America, and the dense rainforest of southern Mexico, there is an area of North America to explore for everyone.
Travel to the USA
Many European overlanders have it figured out, as many come to North America each year to experience the huge diversity of spectacular landscapes, routes and attractions across the continent. A large majority of the highlights aren't all that far from the luxuries the first world has to offer, which makes travel that much easier, comfortable and, often, easier to sell to your significant other.
Don't overlook your backyard, or take it for granted. You don't have to travel far to have a truly spectacular world-class overland adventure. There are, of course, some major overland hot spots in North America, but it is also important not to overlook the less-traveled routes and destinations found all across the continent. In a large majority of locations in America, Canada and Mexico, there are sure to be points of interest worth visiting, many times on non-paved routes, close by.
The States
America is, of course, a truly spectacular hotbed of impressive natural and man-made wonders worth visiting, with overland routes between them that are at least as interesting as the destinations. The country's national park system is arguably one of the most spectacular in the world; many of the parks are surrounded by BLM (Bureau of Land Management) land that is free to explore, and often times, offers the best off-road driving, campsites and vistas around.
Classic overland routes like the Mojave Road in the Southwest appeal to the off-road and desert adventurer, while no less impressive routes like California's Route 1, the Pacific Coast Highway, provides a glorious paved throughway, with spectacular ocean vistas at every turn. On the other side of the country, the public Class 4 dirt roads of Vermont are no less spectacular, and many times, much less traveled. Eastern paved routes like the Blue Ridge Parkway and the Tail of the Dragon, in the Southeast, offer paved routes through lush landscapes.
Into Alaska
One of the pinnacle overland destinations in North America, and the United States' crown jewel, has to be Alaska. It is a large, remote piece of land with very few roads, and immense natural beauty. While attractions like Mount Denali get all the press, lesser known, and much more fun to get to, locations, like the Kennecott mines in Wrangle-St. Elias National Park, should be on every overlander's must-visit list.
While you won't find much off-pavement travel opportunities on the Kenai Peninsula, it is well worth your attention, mostly because of its wildlife and unique landscapes. One of the top overland routes in the world is also found in Alaska: Dalton Highway. This 414-mile mixed-surface route takes you to some of the most remote countryside accessible by vehicle on the continent, and the end/beginning of the Pan-American Highway, easily the most famous of all overland routes on the planet.
Great White North
Canada offers up a lot of opportunities to explore really remote areas, as it is a very large country with relatively few people. The most well-known remote overland routes are in the West, like the Dempster Highway, Mackenzie Highway and the famous ALCAN (Alaska-Canadian) Highway. Besides these long-distance, mixed-surface routes, Western Canada also offers some extremely challenging and remote off-road routes for those overland travelers who really want to test their gear—and themselves—against the elements.
The northern shores of the Great Lakes offer unique vistas and historic small towns, while eastern routes, like the Trans-Labrador Highway, offer different vistas all together, but no less remote travels than their Western counterparts.
Probably the most coveted Canadian frontier for overland exploration is British Colombia. It offers truly remote rugged terrain, and jagged mountain peaks, that are sure to test man and machine. It also offers up historic overland routes through unique landscapes, such as the famous Telegraph Creek Road, along the Grand Canyon of the Stikine River. Telegraph Creek Road is accessed off the Cassiar Highway, which is a great place to launch your BC overland adventures, and is a major artery to adventures found further north, in the Yukon Territory and Alaska.
South of the Border
From Mayan ruins to remote sandy beaches—and the jungles, mountains and canyons in-between—Mexico offers up a diverse world to explore. It is, by far, the least expensive overland travel option in North America, and only requires a passport, vehicle insurance and a basic vehicle permit for North American overland travelers.
From tequila factories to butterfly reserves, there are truly destinations to satisfy everyone's tastes. A highlight travelers overlook too often is a visit to the Sumidero Canyon National Park, a 3,000-foot-deep, steep-walled canyon, widely thought of as the Grand Canyon of Mexico. You can only access it by boat, which picks up from the town of Chiapa de Corzo, but is well worth the effort to explore its depths.
Off the Beaten Path
While it is easy to access many impressive Mayan ruin sites all across Mexico, it is many times more rewarding to explore the lesser known ruins found off the beaten path. Listening to and seeing nature take over these historical sites—whether by oneself or with only a few other travelers—is a much different experience than the typical tourist traps that many of these sites have become.
One of the benefits of overland travel is that you can gain access to these off-the-beaten-path destinations, while also immersing yourself in the local culture along the route. The truly local taco stands and food carts, far away from the tourist centers, are always the best, and least expensive. Be sure to cool off and wash away some of that road grime from your Mexico overland adventures with a refreshing dip in one of the many cenotes (natural fresh-water sinkholes) found across Southeastern Mexico.
Baja California Peninsula
An overland destination all to itself is Mexico's Baja California Peninsula. You can access the peninsula by ferry from mainland Mexico, from the East, or via land at the U.S. border to the North. Besides the main North/South highway, Mex 1, there are very few paved roads, other than a few streets in each town.
The off-road adventures are nearly limitless, and overlanders are forging new routes all the time. The diversity of terrain is also a surprise to many, as some think the peninsula contains only entirely low, sandy deserts—forgetting about the rocky mountains and sandy beaches that make up much of its terrain.
Some of the classic destinations all overland travelers should visit (with a properly sorted 4×4), include: Mike's Sky Ranch, Coco's Corner, Misión San Borja, San Juanico and Punta San Francisquito, just to name a few. Be sure to bring plenty of water and fuel on your Baja adventures, because resupplies can be few and far between. If you really want to test your off-road driving skills and overland adventuremobile, try to retrace race course segments from the big Baja desert races, like the SCORE Baja 1,000.
Opportunity for Adventure
The world is a huge place full of natural, and man-made, wonders. While it is important to experience other cultures, explore the depths of exotic foreign environments and give yourself context to global issues, it is also important to open your eyes to the immense beauty and opportunity for adventure that are just outside your front door. North America is an overland traveler's oasis, with grandeur and diversity rarely rivaled anywhere else on earth.
---
Editor's note: A version of this article first appeared in the Winter 2016 issue of Tread magazine, then on treadmagazine.com in January 2017.