Northwest Overland Rally 2019: Friendships New and Old Flourish on a Farm Field
When the travel bug bites, most people feel the urge to hit the open road. That's exactly what most overlanders do, right? But where to? Which direction do you head first? Let your friends—or rather Internet friends—help lead your way. Whether it's to experience the life-changing adventure others found or to show off to these friends your favorite remote area to camp for a couple nights, the overlanding community continually comes together to enjoy landscapes, delicious food, and laughter. When it's not in foreign countries or out in the BLM, they band together at events such as Northwest Overland Rally.
The Northwest Overland Rally, which took place June 20-23, 2019, in Plain, Washington, drew a comfortable crowd of all ages, from kids to retirees. Activities were planned for everyone, whether you took classes or cruised the vendor booths, there was always something to see. Tread got the opportunity to travel out in caravan from Seattle with Adventure Ready and truly got a taste of what it's like to band together for a short road trip and camp with your crew.
Only two to three hours outside of Seattle, depending on traffic, we found the drive out to Plain beautiful and engaging, with many water crossings through the mountainous terrain. Rain, wind or sun, the event continues on, with only small bits of drizzle affecting us which quickly faded away by the time the public showed up on Thursday afternoon. From the time the gates opened at 1pm, people arrived to fill the grass field with their camp setups or settle into their vendor booths. Can't make it on Thursday because of the day job? Don't fret. Those who can't get away early can choose to show up on Friday morning.
"There is even fun to be had on Sunday morning, if you are up to it and not antsy to pack up and get home. You name it, it is offered."
Classes and events start at 9am, with exercise opportunities for the early risers, and continue throughout the day to fill the schedule on both Friday and Saturday. There is even fun to be had on Sunday morning, if you are up to it and not antsy to pack up and get home. You name it, it is offered. Everything from recovery classes, cooking classes, photography and navigation to whiskey tastings fill the day and afternoon. Sign up for a trail run and take your vehicle out for a spin in the Cascades. The technical course was consistently busy, with always something to see and learn going on. As we all know, overlanding is a family adventure, and that fact shone through with various women-specific and kid-specific activities and classes. There really was something for everyone.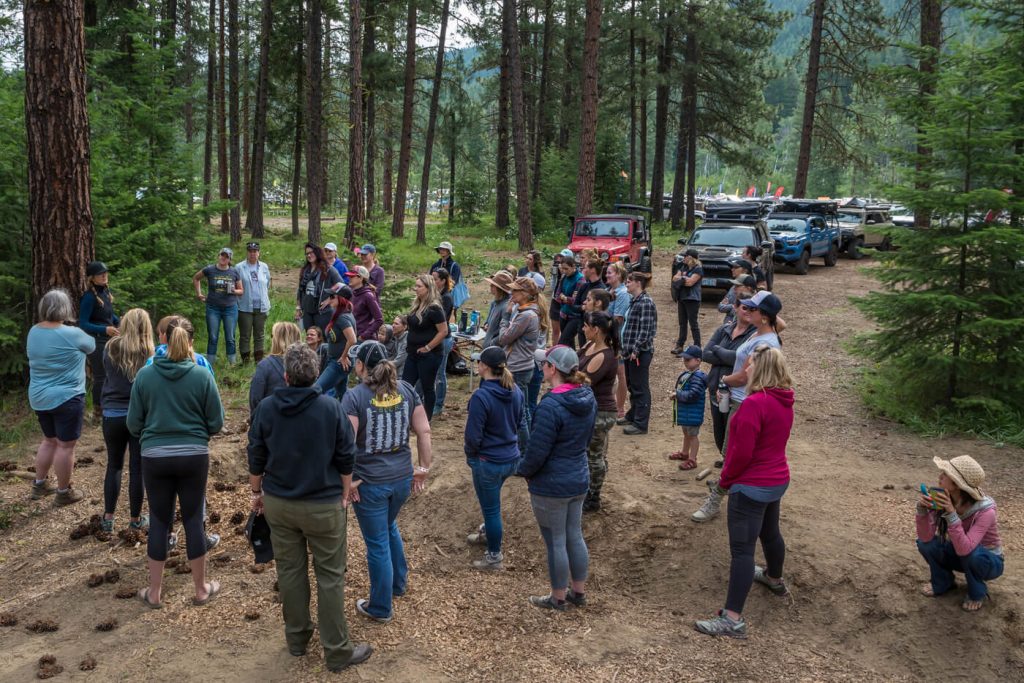 Many vendors host gatherings where you can explore their products and learn a little more about what they do. Rebelle Rally hosted a women-only happy hour with Women Overlanding the World where they paid homage to their sponsors and appreciation for each other—and yes, gave out some free goods.  This was something found throughout the weekend, giveaways and raffles galore. Each day rounds off at the campfire with an evening talk from those with interesting tales of travels abroad and everyone's favorite, the big raffle. Have the winning ticket and you could win anything from a Stanley cup and a t-shirt to a rooftop tent. All the wonderful vendors and sponsors donate items to send people home with new goods and smiles on their faces.
"You really get the chance to interact with those you have admired from afar, check out rigs up close, share a beer together and walk alongside each other…"
Many attendees come from all over the world to gather and share their stories of exploration, culture or learn a new skill in a class. While some of the crowd may be weekend campers, there are also those who have spent years and years traveling many miles though Africa, South America, Southeast Asia, Europe or the U.S and Canada. And the best part, people of all backgrounds and experience levels get the opportunity to band together. It's easy to compare notes, meet those who've done your dream journey before you or have a chat that will inspire future travels. There's nothing better than the ability to give or take advice from previous experiences. Many attendees are the very people you follow on Instagram or YouTube. This is one event where you really get the chance to interact with those you have admired from afar, check out rigs up close, share a beer together and walk alongside each other to the nightly campfire.
Whether one attends for ideas to build a vehicle or to show off the vehicle that took time, heart and soul to build, camping amongst your friends and the community is incomparable to anything else. Perhaps because there is a silent understanding of having each other's backs, friendly conversation was a constant when walking around the field. People caught up with those they hadn't seen since the year prior. Others who were meeting for the first time learned about each other's travels and aspirations. Kids easily found friends to play with and there was a dog to pet around every corner. In fact, the community banded together to find a lost cat who wandered off in the middle of the night. Luckily, it found safe harbor under hostess Marianne's vehicle and eventually made its way home to its parents.
Beautiful skies, great weather, and amazing people created everlasting memories for all of us who attended. Connecting with like-minded people is never tiring, only exciting, and doing it in an environment that is not only gorgeous, but also easy to maneuver, heightened this top-notch event. While nothing beats the Pacific Northwest in the summer time, working Northwest Overland Rally into your schedule is something you'll be thanking yourself about for years to come. We think you'll end up becoming a regular each year—as long as you aren't too far away on your next big adventure.
Special thanks to Adventure Ready, @longliveadventure and @trip_like_us for your instrumental part in making this trip possible. Stay tuned for more tales about this adventure.