AEV Prospector XL Truck Camper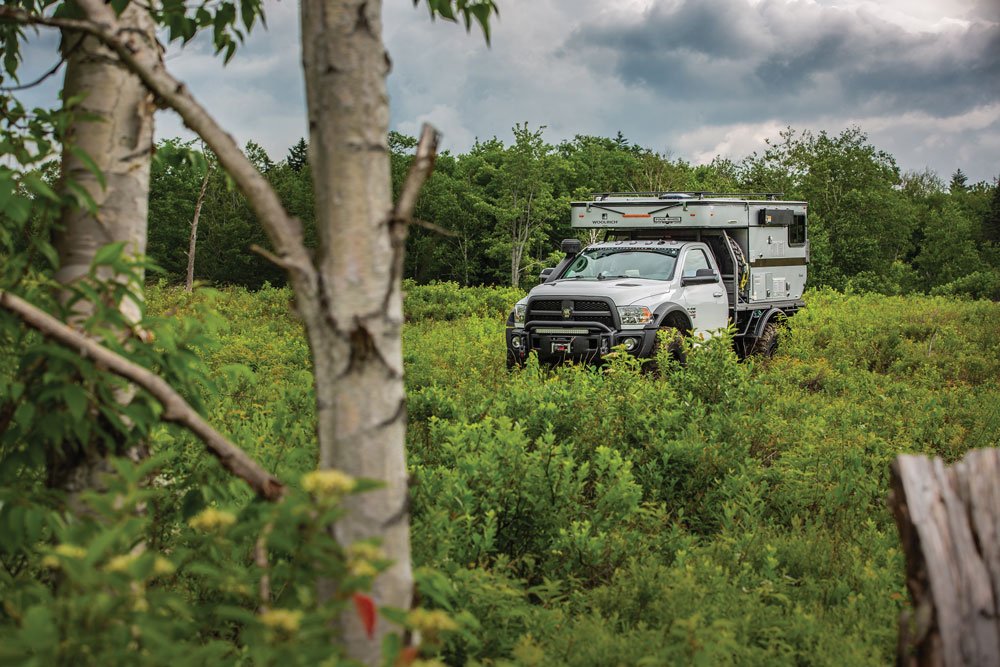 An AEV Overland Journey
Pete Stajduhar is a Connecticut native and electrical contractor by trade. He specializes in power systems for places like hospitals, marinas, and remote islands. This is to say that Stajduhar thrives on engineering challenges and appreciates integrated systems that work together flawlessly. In order to find out how he came to build and explore in this custom AEV Prospector XL Tray Bed with Woolrich Edition Hawk Flatbed Four Wheel Camper (FWC) we need to step back in time about seven years.
Family (Off) Road Trip
At that time Stajduhar was looking for a vehicle that he could road trip in cross country with his then 11-year-old son. He settled on a Jeep JKU and Mobi trailer combo, but didn't settle for just any Jeep Wrangler. He instead talked his local dealership into becoming an AEV (American Expedition Vehicles) distributor and commissioned an AEV Jeep JKU on 37s.
After receiving the built Jeep from AEV, he and his son started their big trip with some rocky and muddy trails at the Vermont Overland Rally. The adventure then continued across the U.S., with stops at Arches National Park and the classic trails of Southern Utah, before continuing to California to camp at the edge of the Pacific in San Diego. "I fell in love with the overland travel experience on that trip—moving from place to place, watching the landscape change before my eyes, spending time with family, and meeting new people from all walks of life," Stajduhar says.
The AEV Family
A passion for overland travel has been part of Stajduhar's life ever since that first trip creating unforgettable memories with his son. Back at home and working the daily grind, he got wind of a new AEV build in the works: the limited-edition Brute. A precursor to the modern Jeep Gladiator, the Brute featured the Ram Power Wagon's 6.4L Hemi V-8 motor, a double-cab pickup-style Jeep body, 37-inch tires, locking differentials, and a ton of custom AEV touches.
"I FELL IN LOVE WITH THE OVERLAND TRAVEL EXPERIENCE … MOVING FROM PLACE TO PLACE, WATCHING THE LANDSCAPE CHANGE BEFORE MY EYES, SPENDING TIME WITH FAMILY, AND MEETING NEW PEOPLE FROM ALL WALKS OF LIFE."
As soon as the Brute was officially announced, Stajduhar placed his order. "I like the way (AEV founder) Dave Harrington works—the way things come across his desk. He doesn't let a new product or vehicle into the world until he is completely happy with it." Stajduhar took delivery of the new Brute double cab on a Friday and by the following Wednesday he was already in Kentucky wheeling with the AEV crew.
You may be asking yourself, doesn't he have an AEV Prospector as well? It may be worth putting something in here about it.
Limited-Edition Truck
A few years later, AEV's Harrington built a personal rig based on a single-cab Cummins diesel Ram 2500. It was AEV's first experiment with fullsize trucks, and it was a monster. The build featured a custom tray bed for hauling toys, an AEV heat-reduction hood, AEV snorkel, AEV DualSport suspension kit, AEV front bumper, and new AEV Highmark fender flares. With the suspension lift and big flares, the truck was able to accommodate massive 41-inch mud-terrain tires. The build garnered a lot of attention, which led AEV to build a limited run of 10 Ram Prospector XL Tray Bed vehicles. Of course, Stajduhar had to have one.
Intrigued by the prospect of a vehicle that truly suited his 6-foot-4-inch frame, Stajduhar once again showed his love of AEV-built vehicles, snagging Tray Bed #3 of 10. His build, based on a 2017 Ram 2500 single-cab chassis, included a Warn 16.5ti winch and 40-inch LED light bar in the AEV front bumper, ARB twin compressor, and ARB air lockers front and rear. While this truck is truly amazing as it rolls out of the AEV factory, Stajduhar wasn't satisfied just yet and had a special purpose in mind for the tray bed.
Limited-Edition Camper
Always an admirer of FWC for their simplicity and durability, Stajduhar's interest was piqued when they announced a Woolrich limited-edition offering. The special camper features durable and classic Woolrich Heathered Gray wool upholstery, custom Buffalo Check pillows and blankets, and other exclusive interior treatments. Only 100 of these special, limited-edition campers would be made.
Stajduhar couldn't think of a better combo than the limited-edition AEV Prospector XL Tray Bed and the limited-edition Woolrich Hawk Flatbed FWC—capability, comfort, durability, and luxury all rolled into one ultimate overland vehicle.
Overland Build Specialists
To make it all come together, Stajduhar tapped the team at Main Line Overland (MLO). Not only are they the East Coast FWC dealer, but have a long history of creating impressive flatbed overland truck camper builds. Besides ordering up the camper, Stajduhar had the MLO team add a bunch of overland-specific touches to his new go-anywhere rig, and make sure all the systems worked flawlessly together.
MLO secured Woolrich FWC number 30 of 100, a Hawk Flatbed Model with a smooth silver aluminum exterior to complement the AEV Tray Bed. They also ordered up a color-matched Norweld tunnel box and tire carrier to secure the massive 41-inch spare and provide lockable storage for items such as a Tembo Tusk Skottle, Blue Ridge overland gear bags, Pro Eagle off-road jack, and a tool kit.
While at MLO's shop, a Titan 30-gallon transfer fuel tank was installed under the truck, in the stock spare tire location to add to the big truck's range. Rear airbags were added to the AEV suspension package to better handle and manage varying loads on the tray bed, especially with the big camper.
The finishing touches on the camper were a set of accordion steps to get in and out of the side-access door in comfort, and a Quick-Pitch shower tent mounted to the camper wall for some privacy for the outdoor shower system. On the camper roof, Yakima bars were installed to carry kayaks and other outdoor gear, as well as 160 watts of Overland Solar rooftop panel to keep the house batteries topped off. On the back of the camper, a rack was fitted with two 3-gallon Rotopax and a set of Maxtrax traction boards.
Overland Capability & Comfort
While Stajduhar has been used to driving very capable off-road vehicles, he has not experienced the comfort and luxury afforded by the FWC before. While traveling cross country in tents and small off-road trailers was fun, this flatbed camper setup takes things to all-new levels of enjoyment for Stajduhar's whole family. "The camper is so easy to set up—just pop it up wherever you are and take a nap or eat lunch out of the elements. Everyone can't believe the amount of room inside, from the queen-size bed to the rear dinette and kitchen. I also love the heater and the outside shower, and the Woolrich cushions and pillows are super cozy," Stajduhar says.
The Adventures Will Roll On
Stajduhar has now had a few seasons to enjoy this new overland adventuremobile. He has several trips up and down the East Coast, mostly to North Carolina and his favorite haunts in Vermont, under his belt. This spring was meant to be the biggest test yet for his Prospector XL build, with an extended trip planned across Canada to Alaska and the Arctic Circle, but COVID-19 restrictions have delayed that adventure. Other travel plans in the works include the Outer Banks, another trip out west to Utah, and weekend surfcasting trips along the New England coast. "It's a kick taking this camper on the beach. I find myself pulling out a lot of stuck vehicles in the sand—people cheering and taking pictures—it's a lot of fun." With a larger-than-life personality, and a supersized AEV- and MLO-built rig to go along with it, Stajduhar soaks it all in with a smile.
"THE SPECIAL CAMPER FEATURES DURABLE AND CLASSIC WOOLRICH HEATHERED GRAY WOOL UPHOLSTERY, CUSTOM BUFFALO CHECK PILLOWS AND BLANKETS, AND OTHER EXCLUSIVE INTERIOR TREATMENTS. ONLY 100 OF THESE SPECIAL, LIMITED-EDITION CAMPERS WOULD BE MADE."
There Can Always Be More AEV
Stajduhar recently expanded his AEV vehicle collection with a crew cab 3500 AEV Prospector XL. The AEV build includes a DualSport 3-inch suspension kit, Salta HD wheels, and 37-inch BFGoodrich KO2 tires. Stajduhar loves the tray bed program so much a Norweld 6.5-foot deluxe tray with storage boxes was added. This build is his daily driver/work truck, so instead of a camper on the tray a Norweld Canopy with drawers for tools and a drop-down fridge slide for cooling down lunches and beverages on remote job sites was fitted. Yep, you heard that right. Stajduhar rolls up to his work sites in an AEV Ram on 37s with a custom-outfitted tray bed and canopy system. Can you think of a more badass work truck? We can't!
"THIS SPRING WAS MEANT TO BE THE BIGGEST TEST YET FOR HIS PROSPECTOR XL BUILD, WITH AN EXTENDED TRIP PLANNED ACROSS CANADA TO ALASKA AND THE ARCTIC CIRCLE, BUT COVID-19 RESTRICTIONS HAVE DELAYED THAT ADVENTURE."
You can follow Main Line Overland's coverage of this amazing vehicle on Instagram at #BrutusTheTruckCamper.
SPECS
2017 AEV Prospector XL
BASE CHASSIS: 2017 WHITE DODGE RAM 2500 SINGLE-CAB HD BASE CUMMINS 6.7L DIESEL ENGINE
AEV PROSPECTOR XL: AEV HEAT-REDUCTION HOOD, ARB FRONT AND REAR AIR LOCKERS, RB TWIN AIR COMPRESSOR, AEV DIFFERENTIAL COVERS, AEV 3-INCH DUALSPORT SUSPENSION, AEV 17X10 KATLA WHEELS WITH FULLSIZE SPARE, 41-INCH INTERCO IROK MUD TERRAIN TIRES, PROCAL SPEEDOMETER CALIBRATION, HIGHMARK FENDER FLARES, RAM HYDRAULIC STEERING ASSIST, WARN 16.5TI WINCH WITH ROLLER FAIRLEAD AND WARN LINK, 40-INCH LED LIGHT BAR
CAMPER: WOOLRICH EDITION FWC HAWK FLATBED CAMPER (#030/100)
MODIFICATIONS: YAKIMA TRACKS AND LOAD BARS ON ROOF, 160-WATT OVERLAND SOLAR ROOFTOP PANEL AND CONTROLLER, CAMPER BACK RACK WITH 2X3 GAL ROTOPAX AND MAXTRAX, NORWELD FULLSIZE TUNNEL BOX AND TIRE CARRIER (PAINT-MATCHED TO AEV TRAY BED COLOR), FIRESTONE RIDE RITE AIRBAGS ON DAYSTAR CRADLES, TITAN 30-GALLON TRANSFER TANK WITH IN-CAB SWITCH
Editor's Note: A version of this article first appeared in the September/October 2020 print issue of Tread Magazine.