Toyota Build and Best New Products at SEMA360

Monday, November 2, 2020 kicked off the first day of SEMA360 for the automotive aftermarket industry. With most people curious as to how such a massive, iconic event such as SEMA Show, that normally takes place in Las Vegas every year, could be recreated in a virtual format, many were pleasantly surprised with the easy-to-use interface and wealth of information provided.
Highlights of the day included an opening Keynote Q &A with Mike Rowe and Tanner Foust, a press conference with Toyota, and SEMA Best New Products Award winners announced. And if that isn't enough, participants and media are able to spend the week viewing the Manufacturer Showcase, New Products Showcase, or the Builders Showcase.
To prime us for all things automotive, Tanner Foust and Mike Rowe remind us that finding a career that fuels your passion is special. Tanner and Mike share their own automotive experiences and discuss how they overlap with the common goal to encourage more people to get involved in the aftermarket trade. Tanner explains how enthusiasts are the reason why we will never have a shortage of support in the automotive aftermarket industry. And we have to agree with him. He even mentions the Ford F150 we saw in Moab, UT, at #Moab4x4Expo with the bedside that converts into a full camp kitchen.
Shortly after, Toyota held a press conference where they announced three build reveals, one of which is the 4WD Toyota Owner Magazine Overland-Ready Tacoma. A truck that aligns with Toyota's 'go anywhere and. push your journey forward' ruggedness and reliability, the Tacoma TRD Off-Road pickup sports heavy duty features to promote the outdoor lifestyle we all connect with, and a Magnuson Supercharger for a punch of fun and excitement.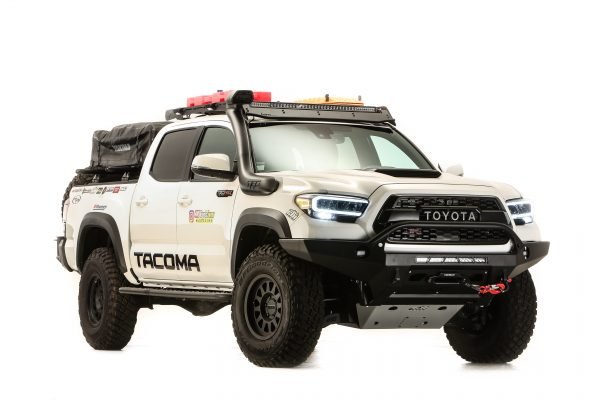 The afternoon brought the announcement SEMA360 winners in the industry's Best New Products Award. With more than 2,200 products in the SEMA360 New Product Showcase, 16 categories are judged with one winner and two runners-up in each category. Some winners may be of interest to you and your off-road build. In the Exterior Accessory Product category, Go Rhino Big Country Truck Accessories earned runner up for the SRM 500 Roof Rack, along with TrailFX for their Roof Rack for Jeep JL. Dometic won runner up for the Interior Accessory Product category for their CCF-T Center Console Refrigerator. Mobile Electronics Product winner went to Cedar Electronics for the Escort Redline 360c with Energizer Generators earning runner up for the Energizer Arc3 Lithium-iron Phosphate 300Wh, 350W Portable Power Station. Not to be forgotten, of course, is the Off-Road/4-Wheel Drive Product category where Warn took winner for the HUB Wireless Receiver & App. ARB 4×4 Accessories was named runner up for their Air Compressor – Pressure Control Unit, along with Westin/Superwinch for their Overland Cargo Rack. Mickey Thompson Tires & Wheels, won the Tire and Related Product category for the Baja Boss A/T. And lastly, we want to recognize the Van/Pickup/Sport-Utility Product category where Warn Industries won runner up for the Warn Ascent XP Bumpers.
Monday has come and gone and we're looking forward to sinking our teeth into another day of #SEMA360 to bring you standout builds, other industry news and new to market products worth sharing.