3 AWD SUVs Delivering Technology
Getting Behind the Wheels of 3 AWDs That Deliver New Technology to the SUV Segment
The Texas Motor Press Association held its first Texas Off-Road Invitational event at General Sam's Offroad Park in Huntsville, Texas. Several auto manufacturers brought their newest all-wheel-drive (AWD) and four-wheel-drive vehicles for nearly three dozen automotive journalists to test off-road in order to receive the newly coveted "Off-Road Truck of the Year" or "Off-Road SUV of the Year" awards, which are presented by the press association. Numerous AWDs were featured. From five- to eight-passenger SUVs, entry-level runabouts to extraordinary top-of-the-line luxury models, a plethora of adventuremobiles were driven. Three off-tarmac AWDs in particular caught our eye when testing capability, technology, and off-pavement prowess.
2019 Rolls-Royce Cullinan SUV
Fuel economy: 12 city, 20 highway, and 14 combined
MSRP: $406,225.
Thoughts:  Now this isn't something you see (or drive) every day. The new Cullinan is Rolls-Royce's first SUV. This fullsize luxury vehicle undoubtedly turned heads. Most will never drive a Rolls-Royce, let alone, drive it off-road.
Driving Impressions: This 563hp 6.75L V-12, twin-turbo equipped SUV was dreamy. Akin to driving around a lavish living room, but one that could tackle hard-packed dirt, muddy lakes, and ruts.
Tech Highlights: Its self-leveling air suspension and electronically controlled front and rear dampers gave me a cushy, relaxed, and smooth ride and provided quite the juxtaposition: having the utmost refinement and extravagance while putting it through its off-road paces during a raging thunderstorm.
2019 Honda Passport Elite SUV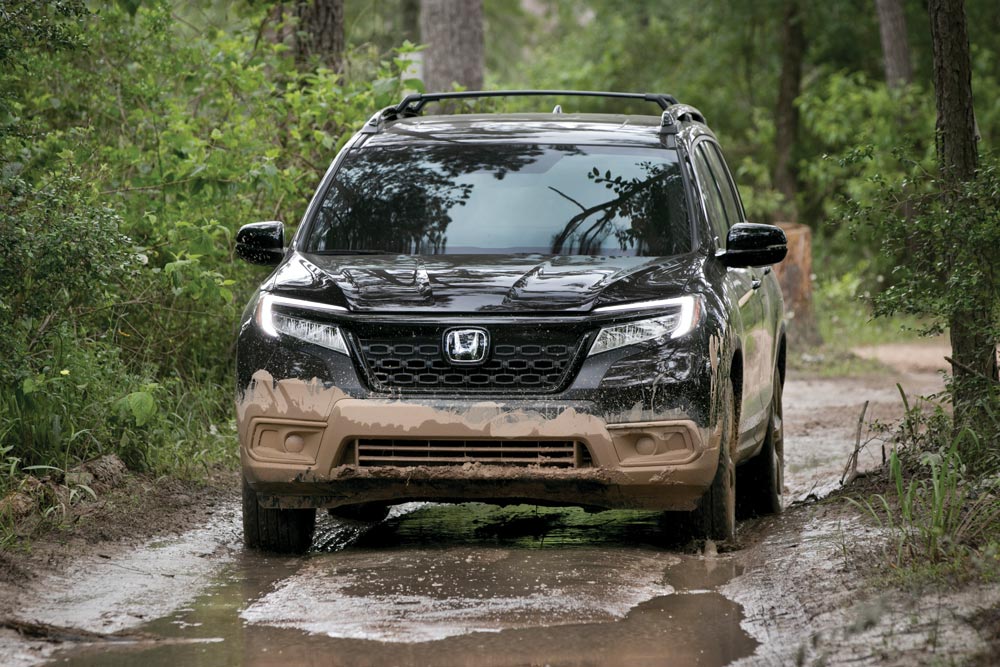 Fuel economy: 19 city, 24 highway, and 21 combined
MSRP: $44,725
Thoughts: The Honda Passport is back in an impressive way, but different than earlier iterations. This midsize five-passenger SUV is quite capable of handling dirt, sand, and mud-filled waters. "The Honda Passport is [a] great all-around town car with the capabilities to get off the beaten path … it'd be a great tool for the urban dweller to get outside," states Jeremy Birenbaum, another attending automotive journalist.
Driving Impressions: The 280hp 3.5L VTEC V-6 engine is mated to a nine-speed automatic transmission, and it seamlessly shifted during changes in terrain and angle. The Passport's suspension easily ate up bumps and divots: it was a comfortable ride, even when on three wheels.
Tech Highlights: The Passport Elite offered up a spacious interior and safety features like collision mitigation braking, forward collision warning, lane keeping assist, and road departure mitigation. Additionally, interior technology niceties make this a comfortable cruiser for light-duty off-tarmac adventures.
2020 Kia Telluride SX SUV
Fuel economy: 19 city, 24 highway, and 21 combined
MSRP: $46,860
Thoughts: "The Kia Telluride is every bit as capable as the commercials portray. It conquered the trails with ease and provided a comfortable and stylish ride for drivers and occupants," says Eileen Falkenberg-Hull, vice president of the Texas Motor Press Association. Add this to other accolades it's received; potential customers need to take note. Its features, agility, and driving characteristics—on and off road—continue to impress. It'll never be a Jeep Wrangler or a Toyota 4Runner, but it's not meant to be. However, it's a great platform for owners to build on or leave stock as a great adventure rig to get to trailheads or remote areas.
Driving Impressions: The 291hp 3.8L V-6 powered SUV has 8 inches of ground clearance, multiple driving modes, and a center lock mode for off-pavement playfulness (keeping AWD distribution at 50/50). It easily chomps up dirt, sand, and mud. The only Texas upgrade was 18-inch stock Kia Sorento wheels, with Yokohama Geolandar all-terrain tires (versus stock 20-inch rims and touring rubber).
Tech Highlights: The Telluride SX has safety features normally found in more expensive rigs, and great technology—it's the best bang for the buck.
Editor's Note: A version of this article first appeared in the September/October 2019 print issue of Tread Magazine.